New computational approaches capture molecular motion from cryo-EM images and provide a more complete understanding of protein dynamics.
Access options
Subscribe to Journal
Get full journal access for 1 year
$119.00
only $9.92 per issue
All prices are NET prices.
VAT will be added later in the checkout.
Tax calculation will be finalised during checkout.
Rent or Buy article
Get time limited or full article access on ReadCube.
from$8.99
All prices are NET prices.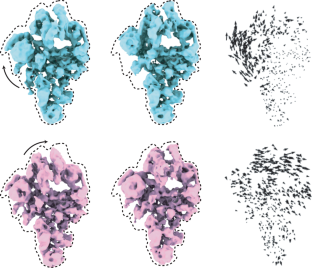 References
1.

Zhong, E. D., Bepler, T., Berger, B. & Davis, J. H. Nat. Methods 18, 176–185 (2021).

2.

Chen, M. & Ludtke, S. Nat. Methods https://doi.org/10.1038/s41592-021-01220-5 (2021).

3.

Yip, K. M., Fischer, N., Paknia, E., Chari, A. & Stark, H. Nature 587, 157–161 (2020).

4.

Nakane, T. et al. Nature 587, 152–156 (2020).

5.

Cheng, Y., Grigorieff, N., Penczek, P. A. & Walz, T. Cell 161, 438–449 (2015).

6.

Punjani, A. & Fleet, D. J. Preprint at bioRxiv https://doi.org/10.1101/2021.04.22.440893 (2021).
Ethics declarations
Competing interests
The author declares no competing interests.
About this article
Cite this article
Grant, T. Neural networks learn the motions of molecular machines. Nat Methods 18, 869–871 (2021). https://doi.org/10.1038/s41592-021-01235-y