Abstract
Acoustic reporter genes (ARGs) that encode air-filled gas vesicles enable ultrasound-based imaging of gene expression in genetically modified bacteria and mammalian cells, facilitating the study of cellular function in deep tissues. Despite the promise of this technology for biological research and potential clinical applications, the sensitivity with which ARG-expressing cells can be visualized is currently limited. Here we present burst ultrasound reconstructed with signal templates (BURST)—an ARG imaging paradigm that improves the cellular detection limit by more than 1,000-fold compared to conventional methods. BURST takes advantage of the unique temporal signal pattern produced by gas vesicles as they collapse under acoustic pressure above a threshold defined by the ARG. By extracting the unique pattern of this signal from total scattering, BURST boosts the sensitivity of ultrasound to image ARG-expressing cells, as demonstrated in vitro and in vivo in the mouse gastrointestinal tract and liver. Furthermore, in dilute cell suspensions, BURST imaging enables the detection of gene expression in individual bacteria and mammalian cells. The resulting abilities of BURST expand the potential use of ultrasound for non-invasive imaging of cellular functions.
Access options
Subscribe to Journal
Get full journal access for 1 year
$119.00
only $9.92 per issue
All prices are NET prices.
VAT will be added later in the checkout.
Tax calculation will be finalised during checkout.
Rent or Buy article
Get time limited or full article access on ReadCube.
from$8.99
All prices are NET prices.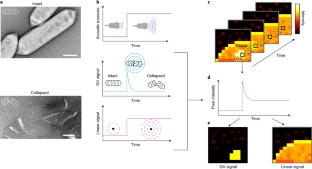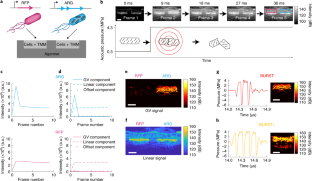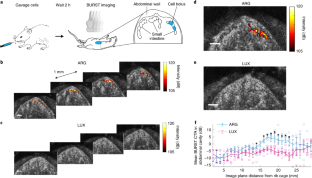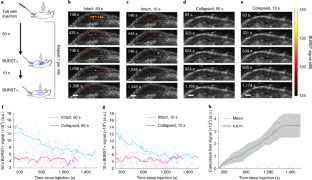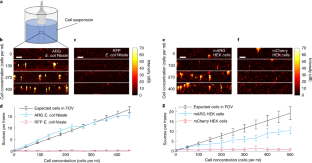 References
1.

Tsien, R. Y. The green fluorescent protein. Annu. Rev. Biochem. 67, 509–544 (1998).

2.

Ntziachristos, V. Going deeper than microscopy: the optical imaging frontier in biology. Nat. Methods 7, 603–614 (2010).

3.

Piraner, D. I. et al. Going deeper: biomolecular tools for acoustic and magnetic imaging and control of cellular function. Biochemistry 56, 5202–5209 (2017).

4.

Maresca, D. et al. Biomolecular ultrasound and sonogenetics. Annu. Rev. Chem. Biomol. Eng. 9, 229–252 (2018).

5.

Shapiro, M. G. et al. Biogenic gas nanostructures as ultrasonic molecular reporters. Nat. Nanotechnol. 9, 311–316 (2014).

6.

Bourdeau, R. W. et al. Acoustic reporter genes for noninvasive imaging of microorganisms in mammalian hosts. Nature 553, 86–90 (2018).

7.

Farhadi, A., Ho, G. H., Sawyer, D. P., Bourdeau, R. W. & Shapiro, M. G. Ultrasound imaging of gene expression in mammalian cells. Science 365, 1469–1475 (2019).

8.

Round, J. L. & Mazmanian, S. K. The gut microbiota shapes intestinal immune responses during health and disease. Nat. Rev. Immunol. 9, 313–323 (2009).

9.

Derrien, M. & van Hylckama Vlieg, J. E. T. Fate, activity, and impact of ingested bacteria within the human gut microbiota. Trends Microbiol. 23, 354–366 (2015).

10.

Simon, G. L. & Gorbach, S. L. Intestinal flora in health and disease. Gastroenterology 86, 174–193 (1984).

11.

Savage, D. C. Microbial ecology of the gastrointestinal tract. Annu. Rev. Microbiol. 31, 107–133 (1977).

12.

Donaldson, G. P., Lee, S. M. & Mazmanian, S. K. Gut biogeography of the bacterial microbiota. Nat. Rev. Microbiol. 14, 20–32 (2016).

13.

Riglar, D. T. & Silver, P. A. Engineering bacteria for diagnostic and therapeutic applications. Nat. Rev. Microbiol. 16, 214–225 (2018).

14.

Maresca, D. et al. Nonlinear ultrasound imaging of nanoscale acoustic biomolecules. Appl. Phys. Lett. 110, 073704 (2017).

15.

Maresca, D., Sawyer, D. P., Renaud, G., Lee-Gosselin, A. & Shapiro, M. G. Nonlinear X-Wave ultrasound imaging of acoustic biomolecules. Phys. Rev. X 8, 041002 (2018).

16.

Walsby, A. E. Gas vesicles. Microbiol. Rev. 58, 94–144 (1994).

17.

Pfeifer, F. Haloarchaea and the formation of gas vesicles. Life 5, 385–402 (2015).

18.

Bar-Zion, A. et al. Acoustically detonated biomolecules for genetically encodable inertial cavitation. Preprint at bioRxiv https://doi.org/10.1101/620567 (2019).

19.

Demené, C. et al. Spatiotemporal clutter filtering of ultrafast ultrasound data highly increases Doppler and fultrasound sensitivity. IEEE Trans. Med. Imaging 34, 2271–2285 (2015).

20.

Sheeran, P. S. & Dayton, P. A. Phase-change contrast agents for imaging and therapy. Curr. Pharm. Des. 18, 2152–2165 (2012).

21.

Stiel, A. C. et al. High-contrast imaging of reversibly switchable fluorescent proteins via temporally unmixed multispectral optoacoustic tomography. Opt. Lett. 40, 367–370 (2015).

22.

Yao, J. et al. Multiscale photoacoustic tomography using reversibly switchable bacterial phytochrome as a near-infrared photochromic probe. Nat. Methods 13, 67–73 (2016).

23.

Patterson, G., Davidson, M., Manley, S. & Lippincott-Schwartz, J. Superresolution imaging using single-molecule localization. Annu. Rev. Phys. Chem. 61, 345–367 (2010).

24.

Frinking, P. J. A., Céspedes, E. I., Kirkhorn, J., Torp, H. G. & de Jong, N. A new ultrasound contrast imaging approach based on the combination of multiple imaging pulses and a separate release burst. IEEE Trans. Ultrason. Ferroelectr. Freq. Control 48, 643–651 (2001).

25.

Meng, Z. et al. Ultrasound-responsive conversion of microbubbles to nanoparticles to enable background-free in vivo photoacoustic imaging. Nano Lett. 19, 8109–8117 (2019).

26.

Huynh, E. et al. In situ conversion of porphyrin microbubbles to nanoparticles for multimodality imaging. Nat. Nanotechnol. 10, 325–332 (2015).

27.

Yoon, Y. I. et al. Ultrasound-mediated gene and drug delivery using a microbubble-liposome particle system. Theranostics 4, 1133–1144 (2014).

28.

Ramnarine, K. V., Anderson, T. & Hoskins, P. R. Construction and geometric stability of physiological flow rate wall-less stenosis phantoms. Ultrasound Med. Biol. 27, 245–250 (2001).

29.

Hynynen, K. The threshold for thermally significant cavitation in dog's thigh muscle in vivo. Ultrasound Med. Biol. 17, 157–169 (1991).

30.

Zhang, Y. et al. Non-invasive multimodal functional imaging of the intestine with frozen micellar naphthalocyanines. Nat. Nanotechnol. 9, 631–638 (2014).

31.

Sheppard, M. et al. Dynamics of bacterial growth and distribution within the liver during Salmonella infection. Cell. Microbiol. 5, 593–600 (2003).

32.

Prindle, A. et al. Genetic circuits in Salmonella typhimurium. ACS Synth. Biol. 1, 458–464 (2012).

33.

Kaliss, N. & Pressman, D. Plasma and blood volumes of mouse organs, as determined with radioactive iodoproteins. Proc. Soc. Exp. Biol. Med. 75, 16–20 (1950).

34.

Fink, M. P. Animal models of sepsis. Virulence 5, 143–153 (2014).

35.

Lakshmanan, A. et al. Molecular engineering of acoustic protein nanostructures. ACS Nano 10, 7314–7322 (2016).

36.

Maresca, D. et al. Acoustic biomolecules enhance hemodynamic functional ultrasound imaging of neural activity. Neuroimage 209, 116467 (2020).

37.

Lu, G. J., Farhadi, A., Mukherjee, A. & Shapiro, M. G. Proteins, air and water: reporter genes for ultrasound and magnetic resonance imaging. Curr. Opin. Chem. Biol. 45, 57–63 (2018).

38.

Lippincott-Schwartz, J. & Patterson, G. H. Development and use of fluorescent protein markers in living cells. Science 300, 87–91 (2003).

39.

Betzig, E. et al. Imaging intracellular fluorescent proteins at nanometer resolution. Science 313, 1642–1645 (2006).

40.

Rust, M. J., Bates, M. & Zhuang, X. Sub-diffraction-limit imaging by stochastic optical reconstruction microscopy (STORM). Nat. Methods 3, 793–796 (2006).

41.

Keller, P. J., Schmidt, A. D., Wittbrodt, J. & Stelzer, E. H. K. Reconstruction of zebrafish early embryonic development by scanned light sheet microscopy. Science 322, 1065–1069 (2008).

42.

Danino, T., Lo, J., Prindle, A., Hasty, J. & Bhatia, S. N. In vivo gene expression dynamics of tumor-targeted bacteria. ACS Synth. Biol. 1, 465–470 (2012).

43.

Lakshmanan, A. et al. Preparation of biogenic gas vesicle nanostructures for use as contrast agents for ultrasound and MRI. Nat. Protoc. 12, 2050–2080 (2017).
Acknowledgements
We thank P. Dutka for assistance with electron microscopy, M. Swift for assistance with animal protocols and B. Jin for the supine mouse illustration. D.P.S. is supported by the NSF graduate research fellowship (award number 1745301). A.B.-Z. is supported by the European Union's Horizon 2020 research and innovation program under Marie Skłodowska-Curie grant agreement no. 792866. A.F. was supported by the NSERC graduate fellowship. This research was funded by the National Institutes of Health (grant no. R01-EB018975 (to M.G.S.)). Related research in the Shapiro laboratory is also supported by the Chan-Zuckerberg Initiative, Heritage Medical Research Institute, Burroughs Wellcome Career Award at the Scientific Interface, the Pew Scholarship in the Biomedical Sciences and the Packard Fellowship for Science and Engineering.
Ethics declarations
Competing interests
The California Institute of Technology has filed a patent application (US 16/736,581) related to the imaging method described in this article.
Additional information
Peer review information Nature Methods thanks Junjie Yao and the other, anonymous, reviewer(s) for their contribution to the peer review of this work. Nina Vogt was the primary editor on this article and managed its editorial process and peer review in collaboration with the rest of the editorial team.
Publisher's note Springer Nature remains neutral with regard to jurisdictional claims in published maps and institutional affiliations.
Supplementary information
Supplementary Fig. 1 and Supplementary Note 1.
About this article
Cite this article
Sawyer, D.P., Bar-Zion, A., Farhadi, A. et al. Ultrasensitive ultrasound imaging of gene expression with signal unmixing. Nat Methods 18, 945–952 (2021). https://doi.org/10.1038/s41592-021-01229-w
Received:

Accepted:

Published:

Issue Date: