Abstract
Calcium imaging has transformed neuroscience research by providing a methodology for monitoring the activity of neural circuits with single-cell resolution. However, calcium imaging is inherently susceptible to detection noise, especially when imaging with high frame rate or under low excitation dosage. Here we developed DeepCAD, a self-supervised deep-learning method for spatiotemporal enhancement of calcium imaging data that does not require any high signal-to-noise ratio (SNR) observations. DeepCAD suppresses detection noise and improves the SNR more than tenfold, which reinforces the accuracy of neuron extraction and spike inference and facilitates the functional analysis of neural circuits.
Relevant articles
Open Access articles citing this article.
Shivesh Chaudhary

,

Sihoon Moon

&

Hang Lu

Nature Communications Open Access 02 September 2022

Ali Özgür Argunşah

,

Ertunç Erdil

…

Devrim Ünay

Scientific Reports Open Access 20 July 2022
Access options
Subscribe to Nature+
Get immediate online access to the entire Nature family of 50+ journals
Subscribe to Journal
Get full journal access for 1 year
$99.00
only $8.25 per issue
All prices are NET prices.
VAT will be added later in the checkout.
Tax calculation will be finalised during checkout.
Buy article
Get time limited or full article access on ReadCube.
$32.00
All prices are NET prices.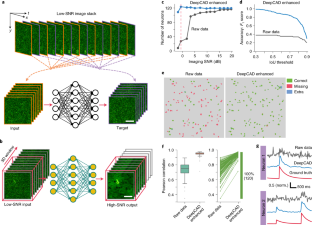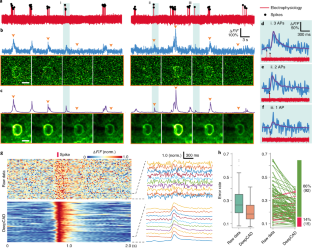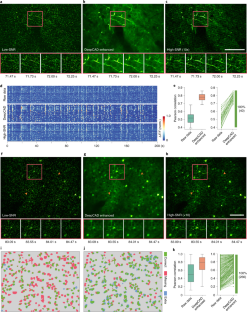 References
Grienberger, C. & Konnerth, A. Imaging calcium in neurons. Neuron 73, 862–885 (2012).

Lu, R. et al. Video-rate volumetric functional imaging of the brain at synaptic resolution. Nat. Neurosci. 20, 620–628 (2017).

Weisenburger, S. et al. Volumetric Ca2+ imaging in the mouse brain using hybrid multiplexed sculpted light microscopy. Cell 177, 1050–1066 e1014 (2019).

Chow, D. M. et al. Deep three-photon imaging of the brain in intact adult zebrafish. Nat. Methods 17, 605–608 (2020).

Calarco, J. A. & Samuel, A. D. Imaging whole nervous systems: insights into behavior from worms to fish. Nat. Methods 16, 14–15 (2019).

Sabatini, B. L., Oertner, T. G. & Svoboda, K. The life cycle of Ca2+ ions in dendritic spines. Neuron 33, 439–452 (2002).

Chen, T. W. et al. Ultrasensitive fluorescent proteins for imaging neuronal activity. Nature 499, 295–300 (2013).

Ji, N., Freeman, J. & Smith, S. L. Technologies for imaging neural activity in large volumes. Nat. Neurosci. 19, 1154–1164 (2016).

Svoboda, K. & Yasuda, R. Principles of two-photon excitation microscopy and its applications to neuroscience. Neuron 50, 823–839 (2006).

Skylaki, S., Hilsenbeck, O. & Schroeder, T. Challenges in long-term imaging and quantification of single-cell dynamics. Nat. Biotechnol. 34, 1137–1144 (2016).

Podgorski, K. & Ranganathan, G. Brain heating induced by near-infrared lasers during multiphoton microscopy. J. Neurophysiol. 116, 1012–1023 (2016).

Wang, T. et al. Quantitative analysis of 1300-nm three-photon calcium imaging in the mouse brain. eLife 9, e53205 (2020).

Dana, H. et al. High-performance calcium sensors for imaging activity in neuronal populations and microcompartments. Nat. Methods 16, 649–657 (2019).

Samantaray, N., Ruo-Berchera, I., Meda, A. & Genovese, M. Realization of the first sub-shot-noise wide field microscope. Light Sci. Appl. 6, e17005 (2017).

Weigert, M. et al. Content-aware image restoration: pushing the limits of fluorescence microscopy. Nat. Methods 15, 1090–1097 (2018).

Belthangady, C. & Royer, L. A. Applications, promises, and pitfalls of deep learning for fluorescence image reconstruction. Nat. Methods 16, 1215–1225 (2019).

Wang, H. et al. Deep learning enables cross-modality super-resolution in fluorescence microscopy. Nat. Methods 16, 103–110 (2019).

Ouyang, W. et al. Deep learning massively accelerates super-resolution localization microscopy. Nat. Biotechnol. 36, 460–468 (2018).

Lehtinen, J. et al. Noise2Noise: learning image restoration without clean data. in Proc. 35th International Conference on Machine Learning (eds Dy, J. & Krause, A.) 2965–2974 (PMLR, 2018).

Çiçek, Ö. et al. 3D U-Net: learning dense volumetric segmentation from sparse annotation. in Medical Image Computing and Computer-Assisted Intervention 424–432 (2016).

Maggioni, M., Katkovnik, V., Egiazarian, K. & Foi, A. Nonlocal transform-domain filter for volumetric data denoising and reconstruction. IEEE Trans. Image Process. 22, 119–133 (2013).

Batson, J. & Royer, L. Noise2Self: blind denoising by self-supervision. in Proc. 36th International Conference on Machine Learning (eds Chaudhuri, K. & Salakhutdinov, R.) 524–533 (PMLR, 2019).

Krull, A., Buchholz, T.-O. & Jug, F. Noise2Void—learning denoising from single noisy images. in Proc. IEEE Conference on Computer Vision and Pattern Recognition (eds Davis, L., Torr, P. & Zhu, S. C.) 2129–2137 (2019).

Pnevmatikakis, E. A. et al. Simultaneous denoising, deconvolution, and demixing of calcium imaging data. Neuron 89, 285–299 (2016).

Wu, Y. & He, K. Group normalization. in European Conference on Computer Vision (ECCV) 3–19 (2018).

Kingma, D. P. & Ba, J. L. Adam: a method for stochastic optimization. in International Conference on Learning Representations 1–15 (2015).

Deneux, T. et al. Accurate spike estimation from noisy calcium signals for ultrafast three-dimensional imaging of large neuronal populations in vivo. Nat. Commun. 7, 12190 (2016).

GENIE project. Simultaneous imaging and loose-seal cell-attached electrical recordings from neurons expressing a variety of genetically encoded calcium indicators. CRCNS.org (2015); https://doi.org/10.6080/K02R3PMN

Berens, P. et al. Community-based benchmarking improves spike rate inference from two-photon calcium imaging data. PLoS Comput. Biol. 14, e1006157 (2018).

Pnevmatikakis, E. A. & Giovannucci, A. NoRMCorre: an online algorithm for piecewise rigid motion correction of calcium imaging data. J. Neurosci. Methods 291, 83–94 (2017).

Caicedo, J. C. et al. Nucleus segmentation across imaging experiments: the 2018 Data Science Bowl. Nat. Methods 16, 1247–1253 (2019).

Giovannucci, A. et al. CaImAn an open source tool for scalable calcium imaging data analysis. eLife 8, e38173 (2019).

Zeiler, M. D. & Fergus, R. Visualizing and understanding convolutional networks. in European Conference on Computer Vision (ECCV) 818–833 (2014).
Acknowledgements
We acknowledge Y. Tang and Y. Yang (School of Medicine of Tsinghua University) for providing transgenic mice for imaging and the mesoscope imaging data for cross-system validation. We thank the Svoboda lab (Janelia Research Campus) for releasing their data of simultaneous electrophysiology and two-photon imaging. This work was supported by the National Natural Science Foundation of China (62088102, 61831014, 61531014, 62071272, 61927802 and 6181001011), the Beijing Municipal Science & Technology Commission (Z181100003118014), the National Key Research and Development Program of China (2020AAA0130000), and the Shenzhen Science and Technology Project under Grant (ZDYBH201900000002 and JCYJ20180508152042002). J.W. and H.Q. were also funded by the National Postdoctoral Program for Innovative Talent and Shuimu Tsinghua Scholar Program.
Ethics declarations
Competing interests
The authors declare no competing financial interests.
Additional information
Peer review information Nature Methods thanks Jaakko Lehtinen, Adam Packer and the other, anonymous, reviewer(s) for their contribution to the peer review of this work. Nina Vogt was the primary editor on this article and managed its editorial process and peer review in collaboration with the rest of the editorial team.
Publisher's note Springer Nature remains neutral with regard to jurisdictional claims in published maps and institutional affiliations.
Supplementary information
About this article
Cite this article
Li, X., Zhang, G., Wu, J. et al. Reinforcing neuron extraction and spike inference in calcium imaging using deep self-supervised denoising. Nat Methods 18, 1395–1400 (2021). https://doi.org/10.1038/s41592-021-01225-0
Received:

Accepted:

Published:

Issue Date:

DOI: https://doi.org/10.1038/s41592-021-01225-0
This article is cited by
Ali Özgür Argunşah
Ertunç Erdil
Devrim Ünay

Scientific Reports (2022)

Shivesh Chaudhary
Sihoon Moon
Hang Lu

Nature Communications (2022)

Zhi Lu
Yeyi Cai
Qionghai Dai

Nature Protocols (2022)