Abstract
Unbiased quantitative analysis of macroscopic biological samples demands fast imaging systems capable of maintaining high resolution across large volumes. Here we introduce RAPID (rapid autofocusing via pupil-split image phase detection), a real-time autofocus method applicable in every widefield-based microscope. RAPID-enabled light-sheet microscopy reliably reconstructs intact, cleared mouse brains with subcellular resolution, and allowed us to characterize the three-dimensional (3D) spatial clustering of somatostatin-positive neurons in the whole encephalon, including densely labeled areas. Furthermore, it enabled 3D morphological analysis of microglia across the entire brain. Beyond light-sheet microscopy, we demonstrate that RAPID maintains high image quality in various settings, from in vivo fluorescence imaging to 3D tracking of fast-moving organisms. RAPID thus provides a flexible autofocus solution that is suitable for traditional automated microscopy tasks as well as for quantitative analysis of large biological specimens.
Access options
Subscribe to Journal
Get full journal access for 1 year
$119.00
only $9.92 per issue
All prices are NET prices.
VAT will be added later in the checkout.
Tax calculation will be finalised during checkout.
Rent or Buy article
Get time limited or full article access on ReadCube.
from$8.99
All prices are NET prices.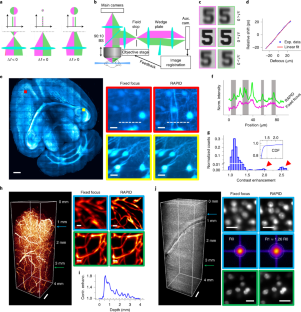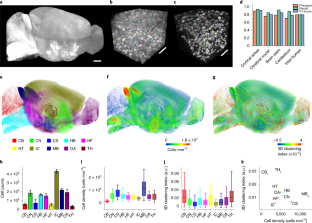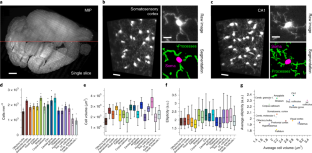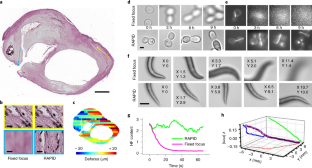 References
1.

Ueda, H. R. et al. Whole-brain profiling of cells and circuits in mammals by tissue clearing and light-sheet microscopy. Neuron 106, 369–387 (2020).

2.

Renier, N. et al. Mapping of brain activity by automated volume analysis of immediate early genes. Cell 165, 1789–1802 (2016).

3.

Nassi, J. J., Cepko, C. L., Born, R. T. & Beier, K. T. Neuroanatomy goes viral! Front. Neuroanat. 9, 44 (2015).

4.

Daigle, T. L. et al. A suite of transgenic driver and reporter mouse lines with enhanced brain-cell-type targeting and functionality. Cell 174, 465–480 (2018).

5.

Menegas, W. et al. Dopamine neurons projecting to the posterior striatum form an anatomically distinct subclass. eLife 4, e10032 (2015).

6.

Murakami, T. C. et al. A three-dimensional single-cell-resolution whole-brain atlas using CUBIC-X expansion microscopy and tissue clearing. Nat. Neurosci. 21, 625–637 (2018).

7.

Tomer, R., Ye, L., Hsueh, B. & Deisseroth, K. Advanced CLARITY for rapid and high-resolution imaging of intact tissues. Nat. Protoc. 9, 1682–1697 (2014).

8.

Royer, L. A. et al. Adaptive light-sheet microscopy for long-term, high-resolution imaging in living organisms. Nat. Biotechnol. 34, 1267–1278 (2016).

9.

Ryan, D. P. et al. Automatic and adaptive heterogeneous refractive index compensation for light-sheet microscopy. Nat. Commun. 8, 612 (2017).

10.

Chen, Y. et al. A versatile tiling light sheet microscope for imaging of cleared tissues. Cell Rep. 33, 108349 (2020).

11.

Matsumoto, K. et al. Advanced CUBIC tissue clearing for whole-organ cell profiling. Nat. Protoc. 14, 3506–3537 (2019).

12.

Li, Q., Bai, L., Xue, S. & Chen, L. Autofocus system for microscope. Opt. Eng. 41, 1289–1294 (2002).

13.

Suda, Y., Ishizaki, A., Ohtaka, K., Akashi, A. & Hiramatsu, A. Focus detection apparatus. US patent 4,634,255 (1987).

14.

Ebina, T. et al. 3D clustering of GABAergic neurons enhances inhibitory actions on excitatory neurons in the mouse visual cortex. Cell Rep. 9, 1896–1907 (2014).

15.

D'Souza, R. D., Bista, P., Meier, A. M., Ji, W. & Burkhalter, A. Spatial clustering of inhibition in mouse primary visual cortex. Neuron 104, 588–600 (2019).

16.

Ye, L. et al. Wiring and molecular features of prefrontal ensembles representing distinct experiences. Cell 165, 1776–1788 (2016).

17.

Ripley, B. D. The second-order analysis of stationary point processes. J. Appl. Prob. 13, 255–266 (1976).

18.

Kim, Y. et al. Brain-wide maps reveal stereotyped cell-type-based cortical architecture and subcortical sexual dimorphism. Cell 171, 456–469 (2017).

19.

de Biase, L. M. et al. Local cues establish and maintain region-specific phenotypes of basal ganglia microglia. Neuron 95, 341–356 (2017).

20.

Lawson, L. J., Perry, V. H., Dri, P. & Gordon, S. Heterogeneity in the distribution and morphology of microglia in the normal adult mouse brain. Neuroscience 39, 151–170 (1990).

21.

Weisenburger, S. et al. Volumetric Ca2+ imaging in the mouse brain using hybrid multiplexed sculpted light microscopy. Cell 177, 1050–1066 (2019).

22.

Ji, N., Milkie, D. E. & Betzig, E. Adaptive optics via pupil segmentation for high-resolution imaging in biological tissues. Nat. Methods 7, 141–147 (2010).

23.

Gu, M. & Sheppard, C. J. R. Effects of defocus and primary spherical aberration on images of a straight edge in confocal microscopy. Appl. Opt. 33, 625 (1994).

24.

Chakraborty, T. et al. Light-sheet microscopy of cleared tissues with isotropic, subcellular resolution. Nat. Methods 16, 1109–1113 (2019).

25.

Guenthner, C. J., Miyamichi, K., Yang, H. H., Heller, H. C. & Luo, L. Permanent genetic access to transiently active neurons via TRAP: targeted recombination in active populations. Neuron 78, 773–784 (2013).

26.

Chung, K. et al. Structural and molecular interrogation of intact biological systems. Nature 497, 332–337 (2013).

27.

Costantini, I. et al. A versatile clearing agent for multi-modal brain imaging. Sci. Rep. 5, 9808 (2015).

28.

di Giovanna, A. P. et al. Whole-brain vasculature reconstruction at the single capillary level. Sci. Rep. 8, 12573 (2018).

29.

Pan, C. et al. Shrinkage-mediated imaging of entire organs and organisms using uDISCO. Nat. Methods 13, 859–867 (2016).

30.

Jing, D. et al. Tissue clearing of both hard and soft tissue organs with the PEGASOS method. Cell Res. 28, 803–818 (2018).

31.

Müllenbroich, M. C. et al. Comprehensive optical and data management infrastructure for high-throughput light-sheet microscopy of whole mouse brains. Neurophotonics 2, 041404 (2015).

32.

Preibisch, S., Saalfeld, S. & Tomancak, P. Globally optimal stitching of tiled 3D microscopic image acquisitions. Bioinformatics 25, 1463–1465 (2009).

33.

Frasconi, P. et al. Large-scale automated identification of mouse brain cells in confocal light sheet microscopy images. Bioinformatics 30, i587–93 (2014).

34.

Galil, Z. Efficient algorithms for finding maximum matching in graphs. ACM Comput. Surv. 18, 23–38 (1986).

35.

Avants, B. B. et al. A reproducible evaluation of ANTs similarity metric performance in brain image registration. Neuroimage 54, 2033–2044 (2011).

36.

Jafari-Mamaghani, M., Andersson, M. & Krieger, P. Spatial point pattern analysis of neurons using Ripley's K-function in 3D. Front. Neuroinform. 4, 9 (2010).

37.

Berg, S. et al. ilastik: interactive machine learning for (bio)image analysis. Nat. Methods 16, 1226–1232 (2019).

38.

Kreshuk, A. & Zhang, C. Machine learning: advanced image segmentation using ilastik. Methods Mol. Biol. 2040, 449–463 (2019).
Acknowledgements
The authors thank F. Del Gallo from the University of Padova (Italy) for providing mouse brain with labeled microglia, I. Tolić from the Ruđer Bošković Institute (Croatia) for providing the fluorescent Schizosaccharomyces pombe, and R. Cicchi from the National Institute of Optics (Italy) for providing the histological slides used in this study. This project received funding from the European Union's Horizon 2020 research and innovation program under grant agreements no. 785907 (Human Brain Project) and 871124 (Laserlab-Europe), and from the H2020 EU program Excellent Science in conjunction with the European Research Council (ERC) under grant agreement ID no. 692943 (BrainBIT). The project has also been supported by the Italian Ministry for Education, University, and Research within the framework of the Flagship Project NanoMAX and of the Advance Lightsheet Microscopy Italian Mode of Euro-Bioimaging ERIC, and by Ente Cassa di Risparmio di Firenze (a private foundation). M.C.M. acknowledges a Marie Skłodowska-Curie fellowship (MSCA-IF-EF-ST grant agreement no. 842893).
Ethics declarations
Competing interests
L. Silvestri, M.C.M., L. Sacconi and F.S.P. are inventors of patent IT201600132604A1, which is related to RAPID. All other authors have no competing interests.
Additional information
Peer review information Nature Methods thanks Adam Glaser and the other, anonymous, reviewer(s) for their contribution to the peer review of this work. Rita Strack was the primary editor on this article and managed its editorial process and peer review in collaboration with the rest of the editorial team.
Publisher's note Springer Nature remains neutral with regard to jurisdictional claims in published maps and institutional affiliations.
Supplementary information
About this article
Cite this article
Silvestri, L., Müllenbroich, M.C., Costantini, I. et al. Universal autofocus for quantitative volumetric microscopy of whole mouse brains. Nat Methods 18, 953–958 (2021). https://doi.org/10.1038/s41592-021-01208-1
Received:

Accepted:

Published:

Issue Date: