Co-fractionation mass spectrometry (CF-MS) has the potential to measure thousands of protein complexes in a single experiment, but the field is still in its infancy. A meta-analysis of CF-MS data yields a core CF-MS interactome and a tool allowing researchers to align new results to published data.
Access options
Subscribe to Journal
Get full journal access for 1 year
$59.00
only $4.92 per issue
All prices are NET prices.
VAT will be added later in the checkout.
Tax calculation will be finalised during checkout.
Rent or Buy article
Get time limited or full article access on ReadCube.
from$8.99
All prices are NET prices.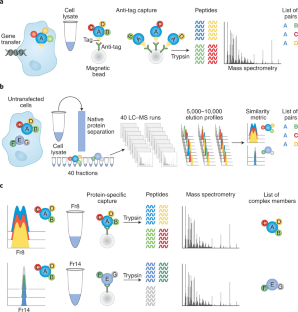 References
1.

Skinnider, M.A. & Foster, L.J. Nat. Methods https://doi.org/10.1038/s41592-021-01194-4 (2021).

2.

Hein, M. Y. et al. Cell 163, 712–723 (2015).

3.

Huttlin, E. L. et al. Nature 545, 505–509 (2017).

4.

Oughtred, R. et al. Protein Sci. 30, 187–200 (2021).

5.

Kristensen, A. R., Gsponer, J. & Foster, L. J. Nat. Methods 9, 907–909 (2012).

6.

Wan, C. et al. Nature 525, 339–344 (2015).

7.

Bradbury, A. & Plückthun, A. Nature 518, 27 (2015).

8.

Sikorski, K. et al. Nat. Methods 15, 909–912 (2018).
Acknowledgements
The authors thank Johanna Olweus for critical reading of the manuscript. F.L.-J. is partner in the National Network for Advance Proteomics Infrastructure (NAPI), which has received funding from the Norwegian Research Council.
Ethics declarations
Competing interests
The authors declare no competing interests.
About this article
Cite this article
Lund-Johansen, F., Tran, T. & Mehta, A. Towards reproducibility in large-scale analysis of protein–protein interactions. Nat Methods 18, 720–721 (2021). https://doi.org/10.1038/s41592-021-01202-7