Abstract
Cellular identity in complex multicellular organisms is determined in part by the physical organization of cells. However, large-scale investigation of the cellular interactome remains technically challenging. Here we develop cell interaction by multiplet sequencing (CIM-seq), an unsupervised and high-throughput method to analyze direct physical cell–cell interactions between cell types present in a tissue. CIM-seq is based on RNA sequencing of incompletely dissociated cells, followed by computational deconvolution into constituent cell types. CIM-seq estimates parameters such as number of cells and cell types in each multiplet directly from sequencing data, making it compatible with high-throughput droplet-based methods. When applied to gut epithelium or whole dissociated lung and spleen, CIM-seq correctly identifies known interactions, including those between different cell lineages and immune cells. In the colon, CIM-seq identifies a previously unrecognized goblet cell subtype expressing the wound-healing marker Plet1, which is directly adjacent to colonic stem cells. Our results demonstrate that CIM-seq is broadly applicable to unsupervised profiling of cell-type interactions in different tissue types.
Relevant articles
Open Access articles citing this article.
Zhaoyang Liu

,

Dongqing Sun

&

Chenfei Wang

Genome Biology Open Access 17 October 2022

P. Martinez

,

L. Ballarin

…

B. Rinkevich

BMC Biology Open Access 20 January 2022
Access options
Access Nature and 54 other Nature Portfolio journals
Get Nature+, our best-value online-access subscription
$29.99 / 30 days
cancel any time
Subscribe to this journal
Receive 12 print issues and online access
$209.00 per year
only $17.42 per issue
Rent or buy this article
Get just this article for as long as you need it
$39.95
Prices may be subject to local taxes which are calculated during checkout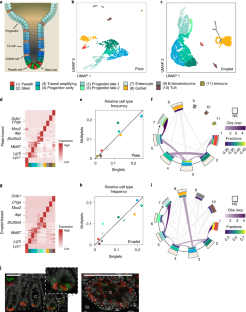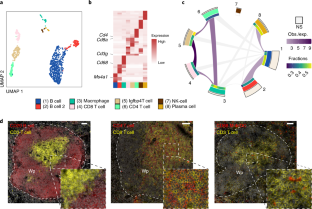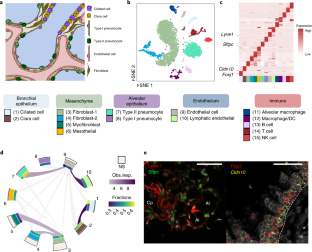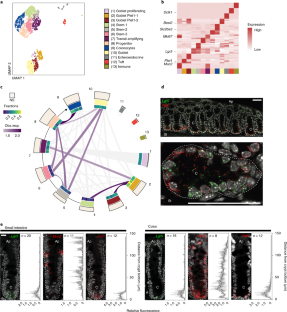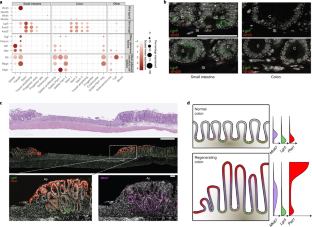 References
Sato, T. et al. Paneth cells constitute the niche for Lgr5 stem cells in intestinal crypts. Nature 469, 415–418 (2011).

Morrison, S. J. & Scadden, D. T. The bone marrow niche for haematopoietic stem cells. Nature 505, 327–334 (2014).

Regev, A. et al. Science forum: the Human Cell Atlas. eLife https://doi.org/10.7554/eLife.27041 (2017).

Crosetto, N., Bienko, M. & van Oudenaarden, A. Spatially resolved transcriptomics and beyond. Nat. Rev. Genet. 16, 57–66 (2015).

Codeluppi, S. et al. Spatial organization of the somatosensory cortex revealed by osmFISH. Nat. Methods 15, 932–935 (2018).

Wang, X. et al. Three-dimensional intact-tissue sequencing of single-cell transcriptional states. Science 361, eaat5691 (2018).

Vickovic, S. et al. High-definition spatial transcriptomics for in situ tissue profiling. Nat. Methods 16, 987–990 (2019).

Giladi, A. et al. Dissecting cellular crosstalk by sequencing physically interacting cells. Nat. Biotechnol. 38, 629–637 (2020).

Halpern, K. B. et al. Paired-cell sequencing enables spatial gene expression mapping of liver endothelial cells. Nat. Biotechnol. 36, 962–970 (2018).

Boisset, J.-C. et al. Mapping the physical network of cellular interactions. Nat. Methods 15, 547–553 (2018).

Wolock, S. L., Lopez, R. & Klein, A. M. Scrublet: computational identification of cell doublets in single-cell transcriptomic data. Cell Syst. 8, 281–291.e9 (2019).

Poli, R., Kennedy, J. & Blackwell, T. Particle swarm optimization: an overview. Swarm Intell. 1, 33–57 (2007).

Lee, H., Pine, P. S., McDaniel, J., Salit, M. & Oliver, B. External RNA controls Consortium beta version update. J. Genomics 4, 19–22 (2016).

Gehart, H. et al. Identification of enteroendocrine regulators by real-time single-cell differentiation mapping. Cell 176, 1158–1173.e16 (2019).

Beumer, J. et al. Enteroendocrine cells switch hormone expression along the crypt-to-villus BMP signalling gradient. Nat. Cell Biol. 20, 909–916 (2018).

Tetteh, P. W. et al. Replacement of lost Lgr5-positive stem cells through plasticity of their enterocyte-lineage daughters. Cell Stem Cell 18, 203–213 (2016).

Grün, D. et al. Single-cell messenger RNA sequencing reveals rare intestinal cell types. Nature 525, 251–255 (2015).

Haber, A. L. et al. A single-cell survey of the small intestinal epithelium. Nature 551, 333–339 (2017).

Rothenberg, M. E. et al. Identification of a cKit+ colonic crypt base secretory cell that supports Lgr5+ stem cells in mice. Gastroenterology 142, 1195–1205.e6 (2012).

Sasaki, N. et al. Reg4+ deep crypt secretory cells function as epithelial niche for Lgr5+ stem cells in colon. Proc. Natl Acad. Sci. USA 113, E5399–E5407 (2016).

Specian, R. D. & Oliver, M. G. Functional biology of intestinal goblet cells. Am. J. Physiol. 260, C183–C193 (1991).

Shoshkes-Carmel, M. et al. Subepithelial telocytes are an important source of Wnts that supports intestinal crypts. Nature 557, 242–246 (2018).

Valenta, T. et al. Wnt ligands secreted by subepithelial mesenchymal cells are essential for the survival of intestinal stem cells and gut homeostasis. Cell Rep. 15, 911–918 (2016).

Degirmenci, B., Valenta, T., Dimitrieva, S., Hausmann, G. & Basler, K. GLI1-expressing mesenchymal cells form the essential Wnt-secreting niche for colon stem cells. Nature 558, 449–453 (2018).

Zepp, J. A. et al. IL-17A-induced PLET1 expression contributes to tissue repair and colon tumorigenesis. J. Immunol. 199, 3849–3857 (2017).

Raymond, K. et al. Expression of the orphan protein Plet-1 during trichilemmal differentiation of anagen hair follicles. J. Investigative Dermatol. 130, 1500–1513 (2010).

Karrich, J. J. et al. Expression of Plet1 controls interstitial migration of murine small intestinal dendritic cells. Eur. J. Immunol. 49, 290–301 (2019).

Wang, X. et al. Bulk tissue cell type deconvolution with multi-subject single-cell expression reference. Nat. Commun. 10, 380 (2019).

Browaeys, R., Saelens, W. & Saeys, Y. NicheNet: modeling intercellular communication by linking ligands to target genes. Nat. Methods 17, 159–162 (2020).

Cabello-Aguilar, S. et al. SingleCellSignalR: inference of intercellular networks from single-cell transcriptomics. Nucleic Acids Res. 48, 10 (2020).

van den Brink, S. et al. Single-cell sequencing reveals dissociation-induced gene expression in tissue subpopulations. Nat. Methods 14, 935–936 (2017).

Picelli, S. et al. Full-length RNA-seq from single cells using Smart-seq2. Nat. Protoc. 9, 171–181 (2014).

Dobin, A. et al. STAR: ultrafast universal RNA-seq aligner. Bioinformatics 29, 15–21 (2013).

McKenna, A. et al. The Genome Analysis Toolkit: a MapReduce framework for analyzing next-generation DNA sequencing data. Genome Res. 20, 1297–1303 (2010).

Anders, S., Pyl, P. T. & Huber, W. HTSeq—a Python framework to work with high-throughput sequencing data. Bioinformatics 31, 166–169 (2015).

McGinnis, C. S., Murrow, L. M. & Gartner, Z. J. DoubletFinder: doublet detection in single-cell rna sequencing data using artificial nearest neighbors. Cell Syst. 8, 281–291.e9 (2019).

R Core Team. R: A Language and Environment for Statistical Computing (R Foundation for Statistical Computing, 2014); https://www.R-project.org/

Stuart, T. et al. Comprehensive integration of single-cell data. Cell 177, 1888–1902.e21 (2019).

Ab Wahab, M. N., Nefti-Meziani, S. & Atyabi, A. A comprehensive review of swarm optimization algorithms. PLoS ONE 10, e0122827 (2015).

Serviss, J. T. & Enge, M. Cell intereaction by multiplet sequencing, v.1.0 (GitHub, 2021); https://doi.org/10.5281/zenodo.4729935
Acknowledgements
We thank R. Toftgård, J. Taipale and members of the Enge and Gerling laboratories for scientific suggestions and for critically reading the paper. We also thank S. Quake, S. Darmanis and members of the Quake laboratory, who contributed valuable ideas in the early development of the CIM-seq method. We are grateful to X.L. Wang for help with animal breeding. The Enge laboratory is supported by SFO StratRegen, The Swedish Cancer Society, The Swedish Childhood Cancer Fund, Radiumhemmets forskningsfonder, The Swedish Research Council (2020-02940) and Cancer Research KI. The Gerling laboratory is supported by The Swedish Society for Medical Research, The Swedish Research Council (2018-02023), Åke Wiberg's Foundation, Jeansson's Foundation and The Swedish Society of Medicine. Microscopy was performed at the LCI Facility/Nikon Center of Excellence, Karolinska Institutet (supported by the Wallenberg Foundation, KI and KTH).
Ethics declarations
Competing interests
The authors declare no competing interests.
Additional information
Peer review information Nature Methods thanks Moshe Biton and the other, anonymous, reviewer(s) for their contribution to the peer review of this work. Lei Tang was the primary editor on this article and managed its editorial process and peer review in collaboration with the rest of the editorial team.
Publisher's note Springer Nature remains neutral with regard to jurisdictional claims in published maps and institutional affiliations.
Supplementary information
About this article
Cite this article
Andrews, N., Serviss, J.T., Geyer, N. et al. An unsupervised method for physical cell interaction profiling of complex tissues. Nat Methods 18, 912–920 (2021). https://doi.org/10.1038/s41592-021-01196-2
Received:

Accepted:

Published:

Issue Date:

DOI: https://doi.org/10.1038/s41592-021-01196-2