Abstract
Single-molecule Förster resonance energy transfer (smFRET) has become a versatile and widespread method to probe nanoscale conformation and dynamics. However, current experimental modalities often resort to molecule immobilization for long observation times and do not always approach the resolution limit of FRET-based nanoscale metrology. Here we present ABEL-FRET, an immobilization-free platform for smFRET measurements with ultrahigh resolving power in FRET efficiency. Importantly, single-molecule diffusivity is used to provide additional size and shape information for hydrodynamic profiling of individual molecules, which, together with the concurrently measured intramolecular conformation through FRET, enables a holistic and dynamic view of biomolecules and their complexes.
Access options
Subscribe to Journal
Get full journal access for 1 year
$119.00
only $9.92 per issue
All prices are NET prices.
VAT will be added later in the checkout.
Tax calculation will be finalised during checkout.
Rent or Buy article
Get time limited or full article access on ReadCube.
from$8.99
All prices are NET prices.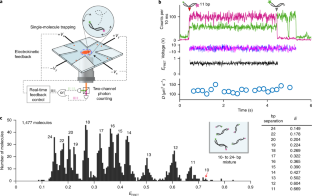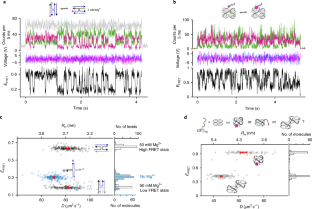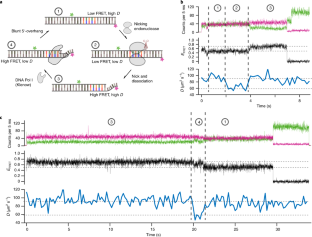 Code availability
Instrument control and analysis codes used to collect and analyze the data during the current study are supplied as Supplementary Software.
References
1.

Ha, T. et al. Probing the interaction between two single molecules: fluorescence resonance energy transfer between a single donor and a single acceptor. Proc. Natl Acad. Sci. USA 93, 6264–6268 (1996).

2.

Lerner, E. et al. Toward dynamic structural biology: two decades of single-molecule Förster resonance energy transfer. Science 359, eaan1133 (2018).

3.

Rasnik, I., McKinney, S. A. & Ha, T. Surfaces and orientations: much to FRET about? Acc. Chem. Res. 38, 542–548 (2005).

4.

Friedel, M., Baumketner, A. & Shea, J. E. Effects of surface tethering on protein folding mechanisms. Proc. Natl Acad. Sci. USA 103, 8396–8401 (2006).

5.

Cohen, A. E. & Moerner, W. E. Method for trapping and manipulating nanoscale objects in solution. Appl. Phys. Lett. 86, 093109 (2005).

6.

Dienerowitz, M., Howard, J. A. L., Quinn, S. D., Dienerowitz, F. & Leake, M. C. Single-molecule FRET dynamics of molecular motors in an ABEL trap. Methods https://doi.org/10.1016/j.ymeth.2021.01.012 (2021).

7.

Heitkamp, T. & Börsch, M. Fast ATP-dependent subunit rotation in reconstituted FoF1-ATP synthase trapped in solution. Preprint at https://arxiv.org/abs/2103.11986 (2021).

8.

Wang, Q. Enabling Multivariate Investigation of Single-molecule Dynamics in Solution by Counteracting Brownian Motion (Stanford University, 2014); https://searchworks.stanford.edu/view/10689150

9.

Wang, Q. & Moerner, W. E. Single-molecule motions enable direct visualization of biomolecular interactions in solution. Nat. Methods 11, 555–558 (2014).

10.

Watkins, L. P. & Yang, H. Information bounds and optimal analysis of dynamic single molecule measurements. Biophys. J. 86, 4015–4029 (2004).

11.

Holden, S. J. et al. Defining the limits of single-molecule FRET resolution in TIRF microscopy. Biophys. J. 99, 3102–3111 (2010).

12.

Nir, E. et al. Shot-noise limited single-molecule FRET histograms: comparison between theory and experiments. J. Phys. Chem. B 110, 22103–22124 (2006).

13.

Juette, M. F. et al. Single-molecule imaging of non-equilibrium molecular ensembles on the millisecond timescale. Nat. Methods 13, 341–344 (2016).

14.

Tyagi, S. et al. Continuous throughput and long-term observation of single-molecule FRET without immobilization. Nat. Methods 11, 297–300 (2014).

15.

Hanson, J. A. et al. Illuminating the mechanistic roles of enzyme conformational dynamics. Proc. Natl Acad. Sci. USA 104, 18055–18060 (2007).

16.

McKinney, S. A., Déclais, A.-C., Lilley, D. M. J. & Ha, T. Structural dynamics of individual Holliday junctions. Nat. Struct. Biol. 10, 93–97 (2003).

17.

Roy, R., Kozlov, A. G., Lohman, T. M. & Ha, T. SSB protein diffusion on single-stranded DNA stimulates RecA filament formation. Nature 461, 1092–1097 (2009).

18.

Joo, C. et al. Real-time observation of RecA filament dynamics with single monomer resolution. Cell 126, 515–527 (2006).

19.

Cristóvão, M. et al. Single-molecule multiparameter fluorescence spectroscopy reveals directional MutS binding to mismatched bases in DNA. Nucleic Acids Res. 40, 5448–5464 (2012).

20.

Lilley, D. M. J. Structures of helical junctions in nucleic acids. Q. Rev. Biophys. 33, 109–159 (2000).

21.

Roy, R., Kozlov, A. G., Lohman, T. M. & Ha, T. Dynamic structural rearrangements between DNA binding modes of E. coli SSB protein. J. Mol. Biol. 369, 1244–1257 (2007).

22.

Fijen, C. et al. A single-molecule FRET sensor for monitoring DNA synthesis in real time. Phys. Chem. Chem. Phys. 52, 541–553 (2017).

23.

Christian, T. D., Romano, L. J. & Rueda, D. Single-molecule measurements of synthesis by DNA polymerase with base-pair resolution. Proc. Natl Acad. Sci. USA 106, 21109–21114 (2009).

24.

Berezhna, S. Y., Gill, J. P., Lamichhane, R. & Millar, D. P. Single-molecule Förster resonance energy transfer reveals an innate fidelity checkpoint in DNA polymerase I. J. Am. Chem. Soc. 134, 11261–11268 (2012).

25.

Kapanidis, A. N. et al. Alternating-laser excitation of single molecules. Acc. Chem. Res. 38, 523–533 (2005).

26.

Hendrix, J. & Lamb, D. C. Pulsed interleaved excitation: principles and applications. Methods Enzymol. 518, 205–243.

27.

Sonnenfeld, A., Haran, G. & Boukobza, E. Immobilization in surface-tethered lipid vesicles as a new tool for single biomolecule spectroscopy. J. Phys. Chem. B 105, 12165–12170 (2001).

28.

Zhuang, X. et al. Correlating structural dynamics and function in single ribozyme molecules. Science 296, 1473–1476 (2002).

29.

Hellenkamp, B. et al. Precision and accuracy of single-molecule FRET measurements—a multi-laboratory benchmark study. Nat. Methods 15, 669–676 (2018).

30.

Lerner, E. et al. FRET-based dynamic structural biology: challenges, perspectives and an appeal for open-science practices. eLife 10, e60416 (2021).

31.

Wang, Q. & Moerner, W. E. An adaptive anti-Brownian electrokinetic trap with real-time information on single-molecule diffusivity and mobility. ACS Nano 5, 5792–5799 (2011).

32.

Wang, Q. & Moerner, W. E. Optimal strategy for trapping single fluorescent molecules in solution using the ABEL trap. Appl. Phys. B 99, 23–30 (2010).

33.

Ranka, J. K., Windeler, R. S. & Stentz, A. J. Visible continuum generation in air–silica microstructure optical fibers with anomalous dispersion at 800 nm. Opt. Lett. 25, 25 (2000).

34.

Wang, Q. & Moerner, W. E. Lifetime and spectrally resolved characterization of the photodynamics of single fluorophores in solution using the anti-Brownian electrokinetic trap. J. Phys. Chem. B 117, 4641–4648 (2013).

35.

Cohen, A. E. & Moerner, W. E. Controlling Brownian motion of single protein molecules and single fluorophores in aqueous buffer. Opt. Express 16, 6941 (2008).

36.

Wood, S. L. et al. Revealing conformational variants of solution-phase intrinsically disordered tau protein at the single-molecule level. Angew. Chem. Int. Ed. 56, 15584–15588 (2017).

37.

Witucki, G. L. A silane primer: chemistry and applications of aikoxy silanes. J. Coat. Technol. 65, 57–60 (1993).

38.

Watkins, L. P. & Yang, H. Detection of intensity change points in time-resolved single-molecule measurements. J. Phys. Chem. B 109, 617–628 (2005).

39.

Roy, R., Hohng, S. & Ha, T. A practical guide to single-molecule FRET. Nat. Methods 5, 507–516 (2008).

40.

Li, H. & Yang, H. Statistical learning of discrete states in time series. J. Phys. Chem. B 123, 689–701 (2019).

41.

Kim, H. D. et al. Mg2+-dependent conformational change of cRNA studied by fluorescence correlation and FRET on immobilized single molecules. Proc. Natl Acad. Sci. USA 99, 4284–4289 (2002).

42.

Laurence, T. A., Fore, S. & Huser, T. Fast, flexible algorithm for calculating photon correlations. Opt. Lett. 31, 829 (2006).

43.

Sorokina, M., Koh, H. R., Patel, S. S. & Ha, T. Fluorescent lifetime trajectories of a single fluorophore reveal reaction intermediates during transcription initiation. J. Am. Chem. Soc. 131, 9630–9631 (2009).

44.

Sanborn, M. E., Connolly, B. K., Gurunathan, K. & Levitus, M. Fluorescence properties and photophysics of the sulfoindocyanine Cy3 linked covalently to DNA. J. Phys. Chem. B 111, 11064–11074 (2007).

45.

Stennett, E. M. S., Ciuba, M. A., Lin, S. & Levitus, M. Demystifying PIFE: the photophysics behind the protein-induced fluorescence enhancement phenomenon in Cy3. J. Phys. Chem. Lett. 6, 1819–1823 (2015).
Acknowledgements
We thank H. Li for preparation of the adenylate kinase sample, M. Lee for modeling the hydrodynamic property of the HJ, H. Yang for valuable feedback, J. Shaevitz for comments on an early version of the manuscript, E. Gatzogiannis for the loan of a Picoharp 300 unit, R. Windeler (OFS Fitel) for the generous gift of the photonic crystal fiber patch and the staff at Princeton's PRISM clean room (E. Mills, R. Akhmechet, Z. Lewicka and D. Barth) for assistance with ABEL trap fabrication. We also thank the laboratories of A. Amodeo and S. Shvartsman for access to their gel imager. This work was supported by the Lewis–Sigler Fellowship of Princeton University and US Department of Energy Office of Basic Energy Sciences and Photosynthetic Systems Grant DE-SC0002423.
Ethics declarations
Competing interests
The authors declare no competing interests.
Additional information
Peer review information Nature Methods thanks Jens Michaelis and the other, anonymous, reviewer(s) for their contribution to the peer review of this work. Rita Strack was the primary editor on this article and managed its editorial process and peer review in collaboration with the rest of the editorial team.
Publisher's note Springer Nature remains neutral with regard to jurisdictional claims in published maps and institutional affiliations.
Supplementary information
About this article
Cite this article
Wilson, H., Wang, Q. ABEL-FRET: tether-free single-molecule FRET with hydrodynamic profiling. Nat Methods 18, 816–820 (2021). https://doi.org/10.1038/s41592-021-01173-9
Received:

Accepted:

Published:

Issue Date: