Abstract
Cytosine base editors (CBEs) have the potential to correct human pathogenic point mutations. However, their genome-wide specificity remains poorly understood. Here we report Detect-seq for the evaluation of CBE specificity. It enables sensitive detection of CBE-induced off-target sites at the genome-wide level. Detect-seq leverages chemical labeling and biotin pulldown to trace the editing intermediate deoxyuridine, thereby revealing the editome of CBE. In addition to Cas9-independent and typical Cas9-dependent off-target sites, we discovered edits outside the protospacer sequence (that is, out-of-protospacer) and on the target strand (which pairs with the single-guide RNA). Such unexpected off-target edits are prevalent and can exhibit a high editing ratio, while their occurrences exhibit cell-type dependency and cannot be predicted based on the sgRNA sequence. Moreover, we found out-of-protospacer and target-strand edits nearby the on-target sites tested, challenging the general knowledge that CBEs do not induce proximal off-target mutations. Collectively, our approaches allow unbiased analysis of the CBE editome and provide a widely applicable tool for specificity evaluation of various emerging genome editing tools.
Access options
Subscribe to Journal
Get full journal access for 1 year
$59.00
only $4.92 per issue
All prices are NET prices.
VAT will be added later in the checkout.
Tax calculation will be finalised during checkout.
Rent or Buy article
Get time limited or full article access on ReadCube.
from$8.99
All prices are NET prices.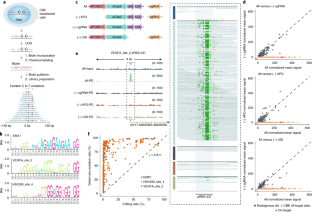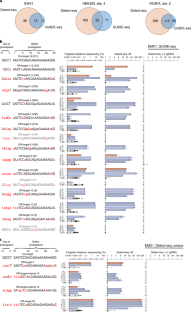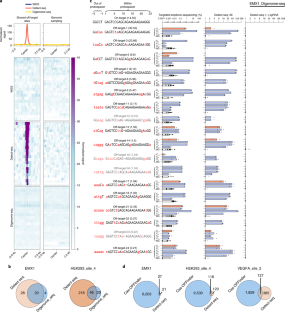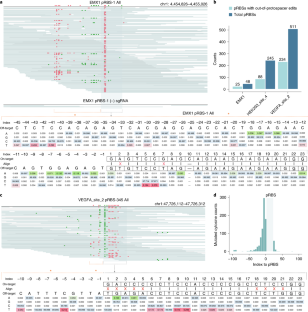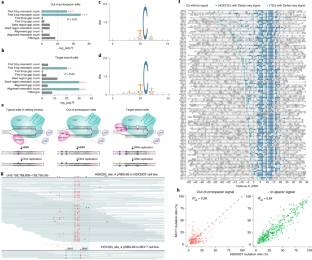 Data availability
All data generated for this paper have been deposited at NCBI GEO and are available under accession numbers GSE151265 and GSE152907. Source data are provided with this paper.
References
1.

Doudna, J. A. The promise and challenge of therapeutic genome editing. Nature 578, 229–236 (2020).

2.

Lee, J. et al. Recent advances in genome editing of stem cells for drug discovery and therapeutic application. Pharmacol. Ther. 209, 107501 (2020).

3.

Wang, D., Zhang, F. & Gao, G. CRISPR-based therapeutic genome editing: strategies and in vivo delivery by AAV vectors. Cell 181, 136–150 (2020).

4.

Komor, A. C., Badran, A. H. & Liu, D. R. CRISPR-based technologies for the manipulation of eukaryotic genomes. Cell 169, 559 (2017).

5.

Rees, H. A. & Liu, D. R. Base editing: precision chemistry on the genome and transcriptome of living cells. Nat. Rev. Genet. 19, 770–788 (2018).

6.

Anzalone, A. V., Koblan, L. W. & Liu, D. R. Genome editing with CRISPR–Cas nucleases, base editors, transposases and prime editors. Nat. Biotechnol. 38, 824–844 (2020).

7.

Gaudelli, N. M. et al. Programmable base editing of A*T to G*C in genomic DNA without DNA cleavage. Nature 551, 464–471 (2017).

8.

Komor, A. C., Kim, Y. B., Packer, M. S., Zuris, J. A. & Liu, D. R. Programmable editing of a target base in genomic DNA without double-stranded DNA cleavage. Nature 533, 420–424 (2016).

9.

Nishida, K. et al. Targeted nucleotide editing using hybrid prokaryotic and vertebrate adaptive immune systems. Science 353, aaf8729 (2016).

10.

Dunbar, C. E. et al. Gene therapy comes of age. Science 359, eaan4672 (2018).

11.

Grunewald, J. et al. Transcriptome-wide off-target RNA editing induced by CRISPR-guided DNA base editors. Nature 569, 433–437 (2019).

12.

Jin, S. et al. Cytosine, but not adenine, base editors induce genome-wide off-target mutations in rice. Science 364, 292–295 (2019).

13.

Kim, D. et al. Genome-wide target specificities of CRISPR RNA-guided programmable deaminases. Nat. Biotechnol. 35, 475–480 (2017).

14.

McGrath, E. et al. Targeting specificity of APOBEC-based cytosine base editor in human iPSCs determined by whole genome sequencing. Nat. Commun. 10, 5353 (2019).

15.

Zhou, C. et al. Off-target RNA mutation induced by DNA base editing and its elimination by mutagenesis. Nature 571, 275–278 (2019).

16.

Zuo, E. et al. Cytosine base editor generates substantial off-target single-nucleotide variants in mouse embryos. Science 364, 289–292 (2019).

17.

Shu, X. et al. Genome-wide mapping reveals that deoxyuridine is enriched in the human centromeric DNA. Nat. Chem. Biol. 14, 680–687 (2018).

18.

Xia, B. et al. Bisulfite-free, base-resolution analysis of 5-formylcytosine at the genome scale. Nat. Methods 12, 1047–1050 (2015).

19.

Zhu, C. et al. Single-cell 5-formylcytosine landscapes of mammalian early embryos and ESCs at single-base resolution. Cell Stem Cell 20, 720–731 e725 (2017).

20.

Zeng, H. et al. Bisulfite-free, nanoscale analysis of 5-hydroxymethylcytosine at single base resolution. J. Am. Chem. Soc. 140, 13190–13194 (2018).

21.

Tsai, S. Q. et al. GUIDE-seq enables genome-wide profiling of off-target cleavage by CRISPR-Cas nucleases. Nat. Biotechnol. 33, 187–197 (2015).

22.

Wienert, B. et al. Unbiased detection of CRISPR off-targets in vivo using DISCOVER-Seq. Science 364, 286–289 (2019).

23.

Hong, J. & Gresham, D. Incorporation of unique molecular identifiers in TruSeq adapters improves the accuracy of quantitative sequencing. Biotechniques 63, 221–226 (2017).

24.

Salk, J. J., Schmitt, M. W. & Loeb, L. A. Enhancing the accuracy of next-generation sequencing for detecting rare and subclonal mutations. Nat. Rev. Genet. 19, 269–285 (2018).

25.

Saraconi, G., Severi, F., Sala, C., Mattiuz, G. & Conticello, S. G. The RNA editing enzyme APOBEC1 induces somatic mutations and a compatible mutational signature is present in esophageal adenocarcinomas. Genome Biol. 15, 417 (2014).

26.

Doman, J. L., Raguram, A., Newby, G. A. & Liu, D. R. Evaluation and minimization of Cas9-independent off-target DNA editing by cytosine base editors. Nat. Biotechnol. 38, 620–628 (2020).

27.

Bae, S., Park, J. & Kim, J. S. Cas-OFFinder: a fast and versatile algorithm that searches for potential off-target sites of Cas9 RNA-guided endonucleases. Bioinformatics 30, 1473–1475 (2014).

28.

Huai, C. et al. Structural insights into DNA cleavage activation of CRISPR-Cas9 system. Nat. Commun. 8, 1375 (2017).

29.

Jiang, F. et al. Structures of a CRISPR-Cas9 R-loop complex primed for DNA cleavage. Science 351, 867–871 (2016).

30.

Zuo, E. et al. A rationally engineered cytosine base editor retains high on-target activity while reducing both DNA and RNA off-target effects. Nat. Methods 17, 600–604 (2020).

31.

Li, X. et al. Base editing with a Cpf1-cytidine deaminase fusion. Nat. Biotechnol. 36, 324–327 (2018).

32.

Wang, X. et al. Cas12a base editors induce efficient and specific editing with low DNA damage response. Cell Rep. 31, 107723 (2020).

33.

Kim, D., Lim, K., Kim, D. E. & Kim, J. S. Genome-wide specificity of dCpf1 cytidine base editors. Nat. Commun. 11, 4072 (2020).

34.

Kim, D. et al. Genome-wide analysis reveals specificities of Cpf1 endonucleases in human cells. Nat. Biotechnol. 34, 863–868 (2016).

35.

Kleinstiver, B. P. et al. Genome-wide specificities of CRISPR-Cas Cpf1 nucleases in human cells. Nat. Biotechnol. 34, 869–874 (2016).

36.

Sakata, R. C. et al. Base editors for simultaneous introduction of C-to-T and A-to-G mutations. Nat. Biotechnol. 38, 865–869 (2020).

37.

Zhang, X. et al. Dual base editor catalyzes both cytosine and adenine base conversions in human cells. Nat. Biotechnol. 38, 856–860 (2020).

38.

Grunewald, J. et al. A dual-deaminase CRISPR base editor enables concurrent adenine and cytosine editing. Nat. Biotechnol. 38, 861–864 (2020).

39.

Li, C. et al. Targeted, random mutagenesis of plant genes with dual cytosine and adenine base editors. Nat. Biotechnol. 38, 875–882 (2020).

40.

Kurt, I. C. et al. CRISPR C-to-G base editors for inducing targeted DNA transversions in human cells. Nat. Biotech. 39, 41–46 (2020).

41.

Zhao, D. et al. Glycosylase base editors enable C-to-A and C-to-G base changes. Nat. Biotech. 39, 35–40 (2020).

42.

Mok, B. Y. et al. A bacterial cytidine deaminase toxin enables CRISPR-free mitochondrial base editing. Nature 583, 631–637 (2020).
Acknowledgements
We thank W. Wei (Peking University) and J. Hu (Peking University) for discussion, W. Wei together with J. Chen (ShanghaiTech University) for kindly providing related plasmids, and J. Liu (Peking University) for help with experiments. We thank the National Center for Protein Sciences at Peking University in Beijing, China, for assistance with FACS and the Fragment Analyzer. Bioinformatics analysis was performed on the High-Performance Computing Platform of the School of Life Sciences. This work was supported by the National Natural Science Foundation of China (grant nos. 21825701 and 91953201), National Key R&D Program (grant no. 2019YFA0110900) and the Peking University Ge Li and Ning Zhao Education Fund.
Ethics declarations
Competing interests
The authors have filed patent applications on related sequencing technologies.
Additional information
Peer review Information Nature Methods thanks Jia Chen and the other, anonymous, reviewer(s) for their contribution to the peer review of this work. Lei Tang was the primary editor on this article and managed its editorial process and peer review in collaboration with the rest of the editorial team.
Publisher's note Springer Nature remains neutral with regard to jurisdictional claims in published maps and institutional affiliations.
Supplementary information
About this article
Cite this article
Lei, Z., Meng, H., Lv, Z. et al. Detect-seq reveals out-of-protospacer editing and target-strand editing by cytosine base editors. Nat Methods 18, 643–651 (2021). https://doi.org/10.1038/s41592-021-01172-w
Received:

Accepted:

Published:

Issue Date: