Abstract
Recent efforts have shown that structural variations (SVs) can disrupt three-dimensional genome organization and induce enhancer hijacking, yet no computational tools exist to identify such events from chromatin interaction data. Here, we develop NeoLoopFinder, a computational framework to identify the chromatin interactions induced by SVs, including interchromosomal translocations, large deletions and inversions. Our framework can automatically resolve complex SVs, reconstruct local Hi-C maps surrounding the breakpoints, normalize copy number variation and allele effects and predict chromatin loops induced by SVs. We applied NeoLoopFinder in Hi-C data from 50 cancer cell lines and primary tumors and identified tens of recurrent genes associated with enhancer hijacking. To experimentally validate NeoLoopFinder, we deleted the hijacked enhancers in prostate adenocarcinoma cells using CRISPR–Cas9, which significantly reduced expression of the target oncogene. In summary, NeoLoopFinder enables identification of critical oncogenic regulatory elements that can potentially reveal therapeutic targets.
Access options
Subscribe to Journal
Get full journal access for 1 year
$59.00
only $4.92 per issue
All prices are NET prices.
VAT will be added later in the checkout.
Tax calculation will be finalised during checkout.
Rent or Buy article
Get time limited or full article access on ReadCube.
from$8.99
All prices are NET prices.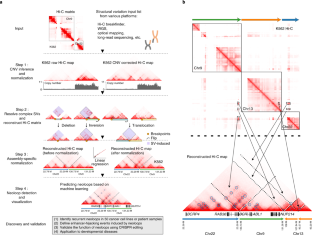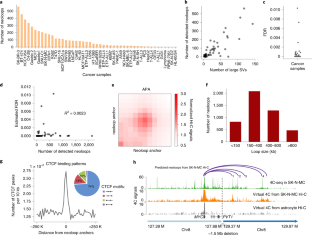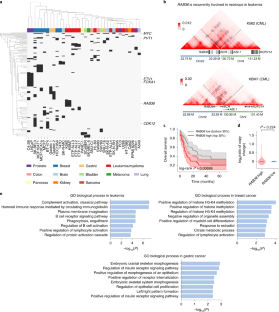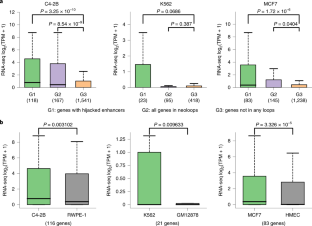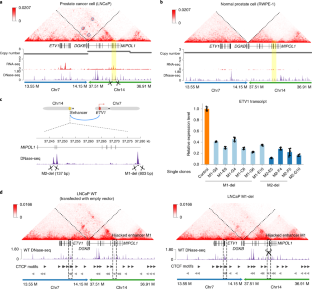 Data availability
The cancer Hi-C datasets analyzed in this study are summarized in Supplementary Table 1. Details of all the other datasets collected for the validation and downstream analysis are summarized in Supplementary Table 7. Data used for survival analysis in leukemia and gastric cancer were downloaded from the cBioPortal for Cancer Genomics (https://www.cbioportal.org)45. The list of cancer-related genes was obtained from the Bushman Lab (http://www.bushmanlab.org/assets/doc/allOnco_May2018.tsv). The 4C-seq data for the MYC gene promoter in SK-N-MC cells, and the Hi-C data generated for wild-type and enhancer-deleted LNCaP cells have been uploaded to the gene expression omnibus (GEO; https://www.ncbi.nlm.nih.gov/geo/) under accession code GSE161493. Source data are provided with this paper.
References
1.

Futreal, P. A. et al. A census of human cancer genes. Nat. Rev. Cancer 4, 177–183 (2004).

2.

Consortium, E. P. An integrated encyclopedia of DNA elements in the human genome. Nature 489, 57–74 (2012).

3.

Bernstein, B. E. et al. The NIH Roadmap Epigenomics Mapping Consortium. Nat. Biotechnol. 28, 1045–1048 (2010).

4.

Weischenfeldt, J. et al. Pan-cancer analysis of somatic copy-number alterations implicates IRS4 and IGF2 in enhancer hijacking. Nat. Genet. 49, 65–74 (2017).

5.

Spielmann, M., Lupianez, D. G. & Mundlos, S. Structural variation in the 3D genome. Nat. Rev. Genet. 19, 453–467 (2018).

6.

Groschel, S. et al. A single oncogenic enhancer rearrangement causes concomitant EVI1 and GATA2 deregulation in leukemia. Cell 157, 369–381 (2014).

7.

Drier, Y. et al. An oncogenic MYB feedback loop drives alternate cell fates in adenoid cystic carcinoma. Nat. Genet. 48, 265–272 (2016).

8.

Franke, M. et al. Formation of new chromatin domains determines pathogenicity of genomic duplications. Nature 538, 265–269 (2016).

9.

Northcott, P. A. et al. The whole-genome landscape of medulloblastoma subtypes. Nature 547, 311–317 (2017).

10.

Yang, M. et al. 13q12.2 deletions in acute lymphoblastic leukemia lead to upregulation of FLT3 through enhancer hijacking. Blood https://doi.org/10.1182/blood.2019004684 (2020).

11.

Ooi, W. F. et al. Integrated paired-end enhancer profiling and whole-genome sequencing reveals recurrent CCNE1 and IGF2 enhancer hijacking in primary gastric adenocarcinoma. Gut 69, 1039–1052 (2020).

12.

Martin-Garcia, D. et al. CCND2 and CCND3 hijack immunoglobulin light-chain enhancers in cyclin D1(−) mantle cell lymphoma. Blood 133, 940–951 (2019).

13.

Haller, F. et al. Enhancer hijacking activates oncogenic transcription factor NR4A3 in acinic cell carcinomas of the salivary glands. Nat. Commun. 10, 368 (2019).

14.

Zimmerman, M. W. et al. MYC drives a subset of high-risk pediatric neuroblastomas and is activated through mechanisms including enhancer hijacking and focal enhancer amplification. Cancer Discov. 8, 320–335 (2018).

15.

Ryan, R. J. et al. Detection of enhancer-associated rearrangements reveals mechanisms of oncogene dysregulation in B-cell lymphoma. Cancer Discov. 5, 1058–1071 (2015).

16.

Northcott, P. A. et al. Enhancer hijacking activates GFI1 family oncogenes in medulloblastoma. Nature 511, 428–434 (2014).

17.

He, B. et al. Diverse noncoding mutations contribute to deregulation of cis-regulatory landscape in pediatric cancers. Sci. Adv. 6, eaba3064 (2020).

18.

Lieberman-Aiden, E. et al. Comprehensive mapping of long-range interactions reveals folding principles of the human genome. Science 326, 289–293 (2009).

19.

Wang, S. et al. HiNT: a computational method for detecting copy number variations and translocations from Hi-C data. Genome Biol. 21, 73 (2020).

20.

Dixon, J. R. et al. Integrative detection and analysis of structural variation in cancer genomes. Nat. Genet. 50, 1388–1398 (2018).

21.

Chakraborty, A. & Ay, F. Identification of copy number variations and translocations in cancer cells from Hi-C data. Bioinformatics 34, 338–345 (2018).

22.

Rao, S. S. P. et al. A 3D map of the human genome at kilobase resolution reveals principles of chromatin looping. Cell 159, 1665–1680 (2014).

23.

Imakaev, M. et al. Iterative correction of Hi-C data reveals hallmarks of chromosome organization. Nat. Methods 9, 999–1003 (2012).

24.

Yang, T. et al. HiCRep: assessing the reproducibility of Hi-C data using a stratum-adjusted correlation coefficient. Genome Res 27, 1939–1949 (2017).

25.

Wu, H. J. & Michor, F. A computational strategy to adjust for copy number in tumor Hi-C data. Bioinformatics 32, 3695–3701 (2016).

26.

Vidal, E. et al. OneD: increasing reproducibility of Hi-C samples with abnormal karyotypes. Nucleic Acids Res. 46, e49 (2018).

27.

Servant, N., Varoquaux, N., Heard, E., Barillot, E. & Vert, J. P. Effective normalization for copy number variation in Hi-C data. BMC Bioinformatics 19, 313 (2018).

28.

Salameh, T. J. et al. A supervised learning framework for chromatin loop detection in genome-wide contact maps. Nat. Commun. 11, 3428 (2020).

29.

Fudenberg, G. et al. Formation of chromosomal domains by loop extrusion. Cell Rep. 15, 2038–2049 (2016).

30.

Sanborn, A. L. et al. Chromatin extrusion explains key features of loop and domain formation in wild-type and engineered genomes. Proc. Natl Acad. Sci. USA 112, E6456–E6465 (2015).

31.

Crane, E. et al. Condensin-driven remodelling of X chromosome topology during dosage compensation. Nature 523, 240–244 (2015).

32.

Dixon, J. R. et al. Topological domains in mammalian genomes identified by analysis of chromatin interactions. Nature 485, 376–380 (2012).

33.

Derderian, C., Orunmuyi, A. T., Olapade-Olaopa, E. O. & Ogunwobi, O. O. PVT1 signaling is a mediator of cancer progression. Front Oncol. 9, 502 (2019).

34.

Quereda, V. et al. Therapeutic targeting of CDK12/CDK13 in triple-negative breast cancer. Cancer Cell 36, 545–558 e547 (2019).

35.

Parolia, A. et al. Distinct structural classes of activating FOXA1 alterations in advanced prostate cancer. Nature 571, 413–418 (2019).

36.

Kuleshov, M. V. et al. Enrichr: a comprehensive gene set enrichment analysis web server 2016 update. Nucleic Acids Res. 44, W90–W97 (2016).

37.

Spangle, J. M. et al. PI3K/AKT signaling regulates H3K4 methylation in breast cancer. Cell Rep. 15, 2692–2704 (2016).

38.

Baena, E. et al. ETV1 directs androgen metabolism and confers aggressive prostate cancer in targeted mice and patients. Genes Dev. 27, 683–698 (2013).

39.

Gasi, D. et al. Overexpression of full-length ETV1 transcripts in clinical prostate cancer due to gene translocation. PLoS ONE 6, e16332 (2011).

40.

Kragesteen, B. K. et al. Dynamic 3D chromatin architecture contributes to enhancer specificity and limb morphogenesis. Nat. Genet. 50, 1463–1473 (2018).

41.

Despang, A. et al. Functional dissection of the Sox9-Kcnj2 locus identifies nonessential and instructive roles of TAD architecture. Nat. Genet. 51, 1263–1271 (2019).

42.

Ay, F., Bailey, T. L. & Noble, W. S. Statistical confidence estimation for Hi-C data reveals regulatory chromatin contacts. Genome Res 24, 999–1011 (2014).

43.

Wang, Y. et al. The 3D Genome Browser: a web-based browser for visualizing 3D genome organization and long-range chromatin interactions. Genome Biol. 19, 151 (2018).

44.

Boeva, V. et al. Control-FREEC: a tool for assessing copy number and allelic content using next-generation sequencing data. Bioinformatics 28, 423–425 (2012).

45.

Liu, J. et al. An integrated TCGA pan-cancer clinical data resource to drive high-quality survival outcome analytics. Cell 173, 400–416 e411 (2018).

46.

Wang, X. T., Cui, W. & Peng, C. HiTAD: detecting the structural and functional hierarchies of topologically associating domains from chromatin interactions. Nucleic Acids Res. 45, e163 (2017).

47.

Abdennur, N. & Mirny, L. A. Cooler: scalable storage for Hi-C data and other genomically labeled arrays. Bioinformatics 36, 311–316 (2020).

48.

Xu, W. et al. CoolBox: a interactive genomic data explorer for Jupyter Notebook. Preprint at bioRxiv https://doi.org/10.1101/614222 (2019).

49.

Ramirez, F. et al. deepTools2: a next generation web server for deep-sequencing data analysis. Nucleic Acids Res. 44, W160–W165 (2016).

50.

Kaul, A., Bhattacharyya, S. & Ay, F. Identifying statistically significant chromatin contacts from Hi-C data with FitHiC2. Nat. Protoc. 15, 991–1012 (2020).
Acknowledgements
F.Y. is supported by NIH grants R35GM124820 and R01HG009906. We thank H. Yang and the rest of the Yue laboratory for discussion.
Ethics declarations
Competing interests
F.Y. and X.W. are listed as inventors of a provisional patent titled 'Detection of chromatin interactions in re-arranged genomes'. F.Y. is a cofounder of Sariant Therapeutics, Inc.
Additional information
Peer review Information Nature Methods thanks the anonymous reviewers for their contribution to the peer review of this work. L. Tang was the primary editor on this article and managed its editorial process and peer review in collaboration with the rest of the editorial team.
Publisher's note Springer Nature remains neutral with regard to jurisdictional claims in published maps and institutional affiliations.
Supplementary information
About this article
Cite this article
Wang, X., Xu, J., Zhang, B. et al. Genome-wide detection of enhancer-hijacking events from chromatin interaction data in rearranged genomes. Nat Methods 18, 661–668 (2021). https://doi.org/10.1038/s41592-021-01164-w
Received:

Accepted:

Published:

Issue Date: