CEPT, a small-molecule cocktail, improves the viability of human pluripotent stem cells, protects cells during culture and cryopreservation, and promotes in vitro differentiation and organoid formation.
Access options
Subscribe to Journal
Get full journal access for 1 year
$59.00
only $4.92 per issue
All prices are NET prices.
VAT will be added later in the checkout.
Tax calculation will be finalised during checkout.
Rent or Buy article
Get time limited or full article access on ReadCube.
from$8.99
All prices are NET prices.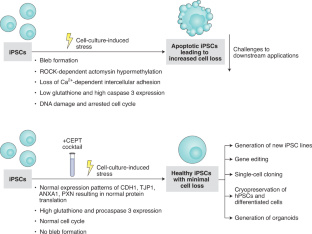 References
1.

Deinsberger, J., Reisinger, D. & Weber, B. NPJ Regen. Med. 5, 15 (2020).

2.

Chen, Y. et al. Nat. Meth. https://doi.org/10.1038/s41592-021-01126-2 (2021).

3.

Thomson, J. A. et al. Science 282, 1145–1147 (1998).

4.

Watanabe, K. et al. Nat. Biotechnol. 25, 681–686 (2007).

5.

Ohgushi, M. et al. Cell Stem Cell 7, 225–239 (2010).

6.

Takahashi, K. et al. Cell 131, 861–872 (2007).

7.

Takahashi, K. & Yamanaka, S. Cell 126, 663–676 (2006).

8.

Kitahata, S. et al. Sci. Rep. 9, 2891 (2019).
Ethics declarations
Competing interests
The author declares no competing interests.
About this article
Cite this article
Pal, R. A small-molecule cocktail that beats cellular stress. Nat Methods 18, 457–458 (2021). https://doi.org/10.1038/s41592-021-01127-1