Abstract
Clustered regularly interspaced short palindromic repeat interference (CRISPRi), based on the fusion of inactive Cas9 (dCas9) to the Krüppel-associated box (KRAB) repressor, is a powerful platform for silencing gene expression. However, it suffers from incomplete silencing of target genes. We assayed 57 KRAB domains for their repressive potency and identified the ZIM3 KRAB domain as an exceptionally potent repressor. We establish that ZIM3 KRAB–dCas9 fusion silences gene expression more efficiently than existing platforms.
Access options
Subscribe to Journal
Get full journal access for 1 year
$59.00
only $4.92 per issue
All prices are NET prices.
VAT will be added later in the checkout.
Tax calculation will be finalised during checkout.
Rent or Buy article
Get time limited or full article access on ReadCube.
from$8.99
All prices are NET prices.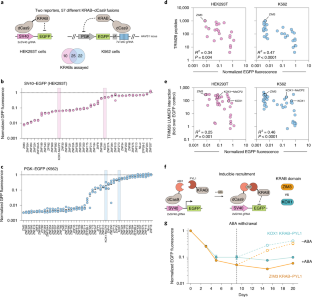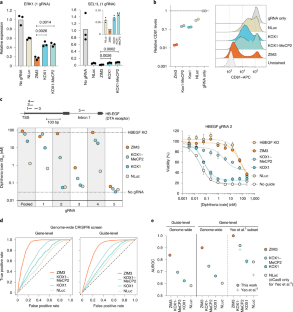 Data availability
All raw data generated during this project are available from the authors upon request. RNA sequencing data are available at NCBI SRA under BioProject no. PRJNA640683. ZIM3 KRAB lentiviral plasmids are available at Addgene with IDs 154472 (pLX303-ZIM3-KRAB-dCas9), 154473 (pHR-UCOE-SFFV-dCas9-mCherry-ZIM3-KRAB), 154474 (pLX303-ABI1-dCas9) and 154761 (pLX301-ZIM3-KRAB-PYL1). All other plasmids are available from the authors upon request. Source data are provided with this paper.
References
1.

Gilbert, L. A. et al. Genome-scale CRISPR-mediated control of gene repression and activation. Cell 159, 647–661 (2014).

2.

Kampmann, M. CRISPRi and CRISPRa screens in mammalian cells for precision biology and medicine. ACS Chem. Biol. 13, 406–416 (2018).

3.

Qi, L. S. et al. Repurposing CRISPR as an RNA-guided platform for sequence-specific control of gene expression. Cell 152, 1173–1183 (2013).

4.

Horlbeck, M. A. et al. Compact and highly active next-generation libraries for CRISPR-mediated gene repression and activation. eLife 5, e19760 (2016).

5.

Yeo, N. C. et al. An enhanced CRISPR repressor for targeted mammalian gene regulation. Nat Methods 15, 611–616 (2018).

6.

Sanson, K. R. et al. Optimized libraries for CRISPR-Cas9 genetic screens with multiple modalities. Nat Commun 9, 1–15 (2018).

7.

Margolin, J. F. et al. Kruppel-associated boxes are potent transcriptional repression domains. Proc. Natl Acad. Sci. USA 91, 4509–4513 (1994).

8.

Vissing, H., Meyer, W. K.-H., Aagaard, L., Tommerup, N. & Thiesen, H.-J. Repression of transcriptional activity by heterologous KRAB domains present in zinc finger proteins. FEBS Lett. 369, 153–157 (1995).

9.

Schmitges, F. W. et al. Multiparameter functional diversity of human C2H2 zinc finger proteins. Genome Res. 26, 1742–1752 (2016).

10.

Murphy, K. E. et al. The transcriptional repressive activity of KRAB zinc finger proteins does not correlate with their ability to recruit TRIM28. PLoS ONE 11, e0163555 (2016).

11.

Gao, Y. et al. Complex transcriptional modulation with orthogonal and inducible dCas9 regulators. Nat. Methods 13, 1043–1049 (2016).

12.

Amabile, A. et al. Inheritable silencing of endogenous genes by hit-and-run targeted epigenetic editing. Cell 167, 219–232.e14 (2016).

13.

Ecco, G., Imbeault, M. & Trono, D. KRAB zinc finger proteins. Development 144, 2719–2729 (2017).

14.

Helleboid, P. et al. The interactome of KRAB zinc finger proteins reveals the evolutionary history of their functional diversification. EMBO J. 38, https://doi.org/10.15252/embj.2018101220 (2019).

15.

Huttlin, E. L. et al. Dual proteome-scale networks reveal cell-specific remodeling of the human interactome. Preprint available at biorxiv http://biorxiv.org/lookup/doi/10.1101/2020.01.19.905109 (2020).

16.

Barrios-Rodiles, M. et al. High-throughput mapping of a dynamic signaling network in mammalian cells. Science 307, 1621–1625 (2005).

17.

Taipale, M. et al. Quantitative analysis of hsp90-client interactions reveals principles of substrate recognition. Cell 150, 987–1001 (2012).

18.

Wiznerowicz, M. et al. The Kruppel-associated box repressor domain can trigger de novo promoter methylation during mouse early embryogenesis. J. Bio. Chem. 282, 34535–34541 (2007).

19.

Ying, Y. et al. The Krüppel-associated box repressor domain induces reversible and irreversible regulation of endogenous mouse genes by mediating different chromatin states. Nucleic Acids Res. 43, 1549–1561 (2015).

20.

Naglich, J. G., Metherall, J. E., Russell, D. W. & Eidels, L. Expression cloning of a diphtheria toxin receptor: identity with a heparin-binding EGF-like growth factor precursor. Cell 69, 1051–1061 (1992).

21.

Hart, T. et al. Evaluation and design of genome-wide CRISPR/SpCas9 knockout screens. G3 7, 2719–2727 (2017).

22.

Dixit, A. et al. Perturb-Seq: dissecting molecular circuits with scalable single-cell RNA profiling of pooled genetic screens. Cell 167, 1853–1866.e17 (2016).

23.

Norman, T. M. et al. Exploring genetic interaction manifolds constructed from rich single-cell phenotypes. Science 365, 786–793 (2019).

24.

Dobin, A. et al. STAR: ultrafast universal RNA-seq aligner. Bioinformatics 29, 15–21 (2013).

25.

Anders, S., Pyl, P. T. & Huber, W. HTSeq–a Python framework to work with high-throughput sequencing data. Bioinformatics 31, 166–169 (2015).

26.

Robinson, M. D., McCarthy, D. J. & Smyth, G. K. edgeR: a Bioconductor package for differential expression analysis of digital gene expression data. Bioinformatics 26, 139–140 (2010).

27.

Robinson, M. D. & Oshlack, A. A scaling normalization method for differential expression analysis of RNA-seq data. Genome Biol. 11, R25 (2010).

28.

Li, W. et al. MAGeCK enables robust identification of essential genes from genome-scale CRISPR/Cas9 knockout screens. Genome Biol. 15, 554 (2014).

29.

Hart, T. & Moffat, J. BAGEL: a computational framework for identifying essential genes from pooled library screens. BMC Bioinformatics 17, 164 (2016).

30.

Thakore, P. I. et al. Highly specific epigenome editing by CRISPR-Cas9 repressors for silencing of distal regulatory elements. Nat. Methods 12, 1143–1149 (2015).
Acknowledgements
We thank C. Mogg, F. Nowlan and A. Li for their expert help during the project and T. Hughes and F. Schmitges for complementary DNA clones encoding KRAB-domain proteins. We also acknowledge the Donnelly Sequencing Centre for their help with RNA-seq and the Lunenfeld-Tanenbaum Research Institute Sequencing Facility for gRNA library sequencing. This project was supported by Natural Sciences and Engineering Research Council (NSERC) graduate fellowship to D.S., University of Toronto's Medicine by Design initiative postdoctoral fellowship to H.L. University of Toronto Open Fellowship Award to N.A. and Ontario Early Researcher Award, Tier 2 Canada Research Chair and CIFAR Azrieli Global Scholar Award to M.T. The research in M.T.'s laboratory is supported by Canadian Institutes of Health Research (CIHR), NSERC, CIFAR, Canada Research Chairs program and the University of Toronto's Medicine by Design initiative.
Ethics declarations
Competing interests
The authors have submitted an intellectual property claim for using the technology for therapeutic applications.
Additional information
Peer review information Lei Tang was the primary editor on this article and managed its editorial process and peer review in collaboration with the rest of the editorial team.
Publisher's note Springer Nature remains neutral with regard to jurisdictional claims in published maps and institutional affiliations.
Supplementary information
About this article
Cite this article
Alerasool, N., Segal, D., Lee, H. et al. An efficient KRAB domain for CRISPRi applications in human cells. Nat Methods 17, 1093–1096 (2020). https://doi.org/10.1038/s41592-020-0966-x
Received:

Accepted:

Published:

Issue Date: