Abstract
In interphase, the human genome sequence folds in three dimensions into a rich variety of locus-specific contact patterns. Cohesin and CTCF (CCCTC-binding factor) are key regulators; perturbing the levels of either greatly disrupts genome-wide folding as assayed by chromosome conformation capture methods. Still, how a given DNA sequence encodes a particular locus-specific folding pattern remains unknown. Here we present a convolutional neural network, Akita, that accurately predicts genome folding from DNA sequence alone. Representations learned by Akita underscore the importance of an orientation-specific grammar for CTCF binding sites. Akita learns predictive nucleotide-level features of genome folding, revealing effects of nucleotides beyond the core CTCF motif. Once trained, Akita enables rapid in silico predictions. Accounting for this, we demonstrate how Akita can be used to perform in silico saturation mutagenesis, interpret eQTLs, make predictions for structural variants and probe species-specific genome folding. Collectively, these results enable decoding genome function from sequence through structure.
Relevant articles
Open Access articles citing this article.
Connie Huang

,

Richard W. Shuai

…

Nilah M. Ioannidis

Nature Genetics Open Access 30 November 2023

Adam Klie

,

David Laub

…

Hannah Carter

Nature Computational Science Open Access 16 November 2023

Gherman Novakovsky

,

Oriol Fornes

…

Wyeth W. Wasserman

Genome Biology Open Access 27 June 2023
Access options
Access Nature and 54 other Nature Portfolio journals
Get Nature+, our best-value online-access subscription
$29.99 / 30 days
cancel any time
Subscribe to this journal
Receive 12 print issues and online access
$259.00 per year
only $21.58 per issue
Rent or buy this article
Prices vary by article type
from$1.95
to$39.95
Prices may be subject to local taxes which are calculated during checkout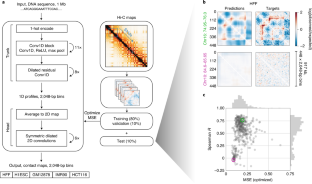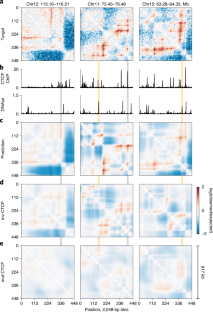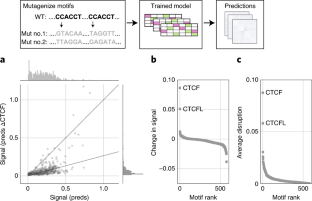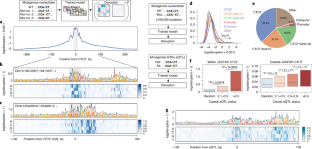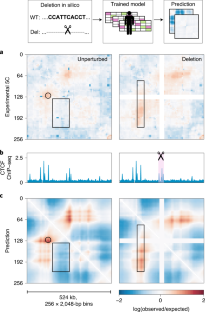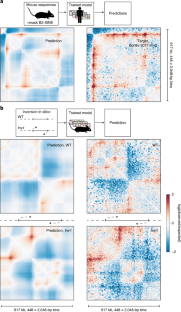 Data availability
Datasets analyzed in this study are publicly available from: GEO (www.ncbi.nlm.nih.gov/geo/, Hi-C: GSE63525, GSE104334, GSE96107, 5C: GSE77142, Capture-C: GSE116794), 4D Nucleome Data Portal (https://data.4dnucleome.org/, Micro-C: 4DNESWST3UBH, 4DNES14CNC1I), UCSC (http://hgdownload.cse.ucsc.edu/goldenpath/hg38/database/), ENCODE data portal (www.encodeproject.org/), JASPAR (http://expdata.cmmt.ubc.ca/JASPAR/downloads/UCSC_tracks/2018/hg38/tsv/), GENCODE (https://www.gencodegenes.org/human/) and FANTOM5 (https://fantom.gsc.riken.jp/data/).
References
Merkenschlager, M. & Nora, E. P. CTCF and cohesin in genome folding and transcriptional gene regulation. Annu. Rev. Genomics Hum. Genet. 17, 17–43 (2016).

Krijger, P. H. L. & de Laat, W. Regulation of disease-associated gene expression in the 3D genome. Nat. Rev. Mol. Cell Biol. 17, 771–782 (2016).

Fudenberg, G., Abdennur, N., Imakaev, M., Goloborodko, A. & Mirny, L. A. Emerging evidence of chromosome folding by loop extrusion. Cold Spring Harb. Symp. Quant. Biol. 82, 45–55 (2017).

Rodríguez-Carballo, E. et al. The HoxD cluster is a dynamic and resilient TAD boundary controlling the segregation of antagonistic regulatory landscapes. Genes Dev. 31, 2264–2281 (2017).

Despang, A. et al. Functional dissection of the Sox9-Kcnj2 locus identifies nonessential and instructive roles of TAD architecture. Nat. Genet. 51, 1263–1271 (2019).

Cao, F., Zhang, Y., Loh, Y. P., Cai, Y. & Fullwood, M. J. Predicting chromatin interactions between open chromatin regions from DNA sequences. Preprint at bioRxiv https://doi.org/10.1101/720748 (2019).

Belokopytova, P. S., Nuriddinov, M. A., Mozheiko, E. A., Fishman, D. & Fishman, V. Quantitative prediction of enhancer-promoter interactions. Genome Res. 30, 72–84 (2020).

Zhang, S., Chasman, D., Knaack, S. & Roy, S. In silico prediction of high-resolution Hi-C interaction matrices. Nat. Commun. 10, 5449 (2019).

Li, W., Wong, W. H. & Jiang, R. DeepTACT: predicting 3D chromatin contacts via bootstrapping deep learning. Nucleic Acids Res. 47, e60 (2019).

Whalen, S., Truty, R. M. & Pollard, K. S. Enhancer–promoter interactions are encoded by complex genomic signatures on looping chromatin. Nat. Genet. 48, 488–496 (2016).

Trieu, T., Martinez-Fundichely, A. & Khurana, E. DeepMILO: a deep learning approach to predict the impact of non-coding sequence variants on 3D chromatin structure. Genome Biol. 21, 79 (2020).

Forcato, M. et al. Comparison of computational methods for Hi-C data analysis. Nat. Methods 14, 679–685 (2017).

Alipanahi, B., Delong, A., Weirauch, M. T. & Frey, B. J. Predicting the sequence specificities of DNA- and RNA-binding proteins by deep learning. Nat. Biotechnol. 33, 831–838 (2015).

Kelley, D. R., Snoek, J. & Rinn, J. L. Basset: learning the regulatory code of the accessible genome with deep convolutional neural networks. Genome Res. 26, 990–999 (2016).

Zhou, J. & Troyanskaya, O. G. Predicting effects of noncoding variants with deep learning-based sequence model. Nat. Methods 12, 931–934 (2015).

Koo, P. K., Anand, P., Paul, S. B. & Eddy, S. R. Inferring sequence-structure preferences of RNA-binding proteins with convolutional residual networks. Preprint at bioRxiv https://doi.org/10.1101/418459 (2018).

Shrikumar, A., Greenside, P., Shcherbina, A. & Kundaje, A. Not just a black box: Learning important features through propagating activation differences. Preprint at arXiv https://arxiv.org/abs/1605.01713v3 (2016).

Kelley, D. R. et al. Sequential regulatory activity prediction across chromosomes with convolutional neural networks. Genome Res. 28, 739–750 (2018).

Kelley, D. R. Cross-species regulatory sequence activity prediction. PLoS Comput. Biol. 16, e1008050 (2020).

Imakaev, M. et al. Iterative correction of Hi-C data reveals hallmarks of chromosome organization. Nat. Methods 9, 999–1003 (2012).

Yang, T. et al. HiCRep: assessing the reproducibility of Hi-C data using a stratum-adjusted correlation coefficient. Genome Res. 27, 1939–1949 (2017).

Nora, E. P. et al. Targeted degradation of CTCF decouples local insulation of chromosome domains from genomic compartmentalization. Cell 169, 930–944.e22 (2017).

Wutz, G. et al. Topologically associating domains and chromatin loops depend on cohesin and are regulated by CTCF, WAPL, and PDS5 proteins. EMBO J. 36, 3573–3599 (2017).

Khan, A. et al. JASPAR 2018: update of the open-access database of transcription factor binding profiles and its web framework. Nucleic Acids Res. 46, D260–D266 (2018).

Pollard, K. S., Hubisz, M. J., Rosenbloom, K. R. & Siepel, A. Detection of nonneutral substitution rates on mammalian phylogenies. Genome Res. 20, 110–121 (2010).

Grant, C. E., Bailey, T. L. & Noble, W. S. FIMO: scanning for occurrences of a given motif. Bioinformatics 27, 1017–1018 (2011).

Rhee, H. S. & Pugh, B. F. Comprehensive genome-wide protein-DNA interactions detected at single-nucleotide resolution. Cell 147, 1408–1419 (2011).

Nakahashi, H. et al. A genome-wide map of CTCF multivalency redefines the CTCF code. CellReports 3, 1678–1689 (2013).

Hnisz, D. et al. Activation of proto-oncogenes by disruption of chromosome neighborhoods. Science 351, 1454–1458 (2016).

Dixon, J. R. et al. Topological domains in mammalian genomes identified by analysis of chromatin interactions. Nature 485, 376–380 (2012).

Bonev, B. et al. Multiscale 3D genome rewiring during mouse neural development. Cell 171, 557–572.e24 (2017).

Schmidt, D. et al. Waves of retrotransposon expansion remodel genome organization and CTCF binding in multiple mammalian lineages. Cell 148, 335–348 (2012).

Kaaij, L. J. T., Mohn, F., van der Weide, R. H., de Wit, E. & Bühler, M. The ChAHP complex counteracts chromatin looping at CTCF sites that emerged from SINE expansions in mouse. Cell 178, 1437–1451.e14 (2019).

Kraft, K. et al. Serial genomic inversions induce tissue-specific architectural stripes, gene misexpression and congenital malformations. Nat. Cell Biol. 21, 305–310 (2019).

Schwessinger, R. et al. DeepC: Predicting chromatin interactions using megabase scaled deep neural networks and transfer learning. Preprint at bioRxiv https://doi.org/10.1101/724005 (2019).

Krietenstein, N. et al. Ultrastructural details of mammalian chromosome architecture. Mol. Cell 78, 554–565.e7 (2020).

Davis, C. A. et al. The encyclopedia of DNA elements (ENCODE): data portal update. Nucleic Acids Res. 46, D794–D801 (2018).

Gupta, S., Stamatoyannopoulos, J. A., Bailey, T. L. & Noble, W. S. Quantifying similarity between motifs. Genome Biol. 8, R24 (2007).

Goloborodko, A., Venev, S., Abdennur, N. A. & Di Tommaso, P. mirnylab/distiller-nf: v.0.3.3 https://doi.org/10.5281/zenodo.3350937 (Zenodo, 2019).

Abdennur, N. & Mirny, L. Cooler: scalable storage for Hi-C data and other genomically-labeled arrays. Bioinformatics 36, 311–316 (2019).

Rao, S. S. P. et al. A 3D map of the human genome at kilobase resolution reveals principles of chromatin looping. Cell 159, 1665–1680 (2014).

Rao, S. S. P. et al. Cohesin loss eliminates all loop domains. Cell 171, 305–320.e24 (2017).

Wang, S., Sun, S., Li, Z., Zhang, R. & Xu, J. Accurate de novo prediction of protein contact map by ultra-deep learning model. PLoS Comput. Biol. 13, e1005324 (2017).

Abadi, M. et al. TensorFlow (2015).

Chollet, F. et al. Keras (GitHub, 2015).

Kandasamy, K. et al. Tuning hyperparameters without grad students: scalable and robust Bayesian optimisation with dragonfly. Preprint at arXiv https://arxiv.org/abs/1903.06694 (2019).

Quinlan, A. R. & Hall, I. M. BEDTools: a flexible suite of utilities for comparing genomic features. Bioinformatics 26, 841–842 (2010).

Flyamer, I. et al. Phlya/adjustText (Zenodo) https://doi.org/10.5281/zenodo.1494343 (2018).

Aguet, F. et al. The GTEx Consortium atlas of genetic regulatory effects across human tissues. Preprint at bioRxiv https://doi.org/10.1101/787903 (2019).

Wang, G., Sarkar, A., Carbonetto, P. & Stephens, M. A simple new approach to variable selection in regression, with application to genetic fine-mapping. Preprint at bioRxiv https://doi.org/10.1101/501114 (2019).

Smit, A. F. A., Hubley, R. & Green, P. RepeatMasker Open-4.0. 2013-2015 (2015).

Hsieh, T.-H. S. et al. Resolving the 3D landscape of transcription-linked mammalian chromatin folding. Mol. Cell 78, 539–553.e8 (2020).

Virtanen, P. et al. SciPy 1.0: fundamental algorithms for scientific computing in Python. Nat. Methods 17, 261–272 (2020).

van der Walt, S., Colbert, S. C. & Varoquaux, G. The NumPy array: a structure for efficient numerical computation. Comput. Sci. Eng. 13, 22–30 (2011).

Reback, J. et al. pandas-dev/pandas: Pandas 1.0.3 (Zenodo, 2020); https://doi.org/10.5281/zenodo.3715232

Perez, F. & Granger, B. E. IPython: a system for interactive scientific computing. Comput. Sci. Eng. 9, 21–29 (2007).

Hunter, J. D. Matplotlib: a 2D graphics environment. Comput. Sci. Eng. 9, 90–95 (2007).

Waskom, M. et al. seaborn: v0.5.0 (November 2014) (Zenodo, 2014); https://doi.org/10.5281/zenodo.12710

Fulco, C. P. et al. Activity-by-contact model of enhancer-promoter regulation from thousands of CRISPR perturbations. Nat. Genet. 51, 1664–1669 (2019).

Beagan, J. A. et al. YY1 and CTCF orchestrate a 3D chromatin looping switch during early neural lineage commitment. Genome Res. 27, 1139–1152 (2017).

Weintraub, A. S. et al. YY1 Is a structural regulator of enhancer-promoter loops. Cell 171, 1573–1588.e28 (2017).
Acknowledgements
We thank V. Agarwal, H. Yuan and E. Nora for feedback on the manuscript; L. Chumpitaz-Diaz and M. Pittman for feedback on tutorials; N. Abdennur and P. Kerpedjiev for help with higlass visualization and V. Heinrich for sharing mapped Capture-C reads. We also thank J. Ulirsch, Q. Wang and H. Finucane for sharing GTEx SuSiE fine mapping. G.F. and K.S.P. were funded by Gladstone Institutes, the National Heart, Lung and Blood Institute (grant no. HL098179) and the National Institute of Mental Health (grant no. MH109907).
Ethics declarations
Competing interests
D.R.K. is a paid employee of Calico Life Sciences, LLC. All other authors declare no competing interests.
Additional information
Peer review information Lin Tang was the primary editor on this article and managed its editorial process and peer review in collaboration with the rest of the editorial team.
Publisher's note Springer Nature remains neutral with regard to jurisdictional claims in published maps and institutional affiliations.
Supplementary information
Supplementary Table 1, legend for Data 1, Notes 1–3 and references.
Predictions across the test set for the human-trained model.
About this article
Cite this article
Fudenberg, G., Kelley, D.R. & Pollard, K.S. Predicting 3D genome folding from DNA sequence with Akita. Nat Methods 17, 1111–1117 (2020). https://doi.org/10.1038/s41592-020-0958-x
Received:

Accepted:

Published:

Issue Date:

DOI: https://doi.org/10.1038/s41592-020-0958-x