Abstract
The ability to directly measure acetylcholine (ACh) release is an essential step toward understanding its physiological function. Here we optimized the GRABACh (GPCR-activation-based ACh) sensor to achieve substantially improved sensitivity in ACh detection, as well as reduced downstream coupling to intracellular pathways. The improved version of the ACh sensor retains the subsecond response kinetics, physiologically relevant affinity and precise molecular specificity for ACh of its predecessor. Using this sensor, we revealed compartmental ACh signals in the olfactory center of transgenic flies in response to external stimuli including odor and body shock. Using fiber photometry recording and two-photon imaging, our ACh sensor also enabled sensitive detection of single-trial ACh dynamics in multiple brain regions in mice performing a variety of behaviors.
Relevant articles
Open Access articles citing this article.
Miguel Skirzewski

,

Oren Princz-Lebel

…

Timothy J. Bussey

Nature Communications Open Access 24 December 2022

Daisuke Ino

,

Yudai Tanaka

…

Masaaki Nishiyama

Nature Methods Open Access 22 September 2022
Access options
Subscribe to Nature+
Get immediate online access to Nature and 55 other Nature journal
Subscribe to Journal
Get full journal access for 1 year
$99.00
only $8.25 per issue
All prices are NET prices.
VAT will be added later in the checkout.
Tax calculation will be finalised during checkout.
Buy article
Get time limited or full article access on ReadCube.
$32.00
All prices are NET prices.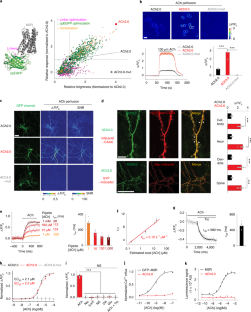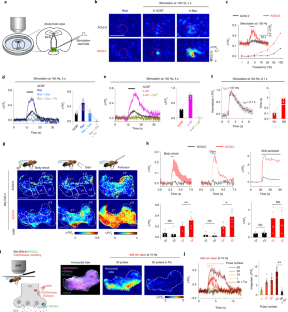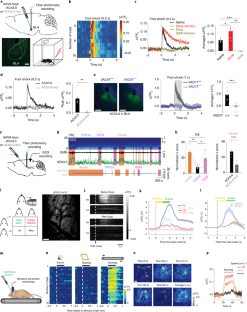 Data availability
The plasmids pAAV-hsyn-ACh3.0 and pAAV-hsyn-DIO-ACh3.0 have been deposited to Addgene (121922 and 121933) and are available. The transgenic Drosophila and related materials have been deposited to the Bloomington Drosophila Stock Center (flies: FBti0210605, FBti0210606, FBti0210607 and FBti0210608; plasmids: FBtp0140745, FBtp0140746, FBtp0140747 and FBtp0140748) and are available. Source data are provided with this paper.
Code availability
The custom-written MATLAB, Arduino and TDT programs will be provided upon request.
References
Dale, H. H. The action of certain esters and ethers of choline, and their relation to muscarine. J. Pharmacol. Exp. Ther. 6, 147–190 (1914).

Hasselmo, M. E. The role of acetylcholine in learning and memory. Curr. Opin. Neurobiol. 16, 710–715 (2006).

Winkler, J., Suhr, S., Gage, F., Thal, L. & Fisher, L. Essential role of neocortical acetylcholine in spatial memory. Nature 375, 484–487 (1995).

Krnjević, K. & Miledi, R. Acetylcholine in mammalian neuromuscular transmission. Nature 182, 805–806 (1958).

Magleby, K. L. & Stevens, C. F. A quantitative description of end-plate currents. J. Physiol. 223, 173–197 (1972).

Marrosu, F. et al. Microdialysis measurement of cortical and hippocampal acetylcholine release during sleep–wake cycle in freely moving cats. Brain Res. 671, 329–332 (1995).

Nguyen, Q.-T. et al. An in vivo biosensor for neurotransmitter release and in situ receptor activity. Nat. Neurosci. 13, 127–132 (2010).

Jing, M. et al. A genetically encoded fluorescent acetylcholine indicator for in vitro and in vivo studies. Nat. Biotechnol. 36, 726–737 (2018).

Zhang, X., Noyes, N. C., Zeng, J., Li, Y. & Davis, R. L. Aversive training induces both presynaptic and postsynaptic suppression in Drosophila. J. Neurosci. 39, 9164–9172 (2019).

Zhu, P. K. et al. Nanoscopic visualization of restricted nonvolume cholinergic and monoaminergic transmission with genetically encoded sensors. Nano Lett. 20, 4073–4083 (2020).

Tautermann, C. S. et al. Molecular basis for the long duration of action and kinetic selectivity of tiotropium for the muscarinic M3 receptor. J. Med. Chem. 56, 8746–8756 (2013).

Disse, B. et al. Ba 679 BR, a novel long-acting anticholinergic bronchodilator. Life Sci. 52, 537–544 (1993).

Falkenburger, B. H., Jensen, J. B. & Hille, B. Kinetics of M1 muscarinic receptor and G protein signaling to phospholipase C in living cells. J. Gen. Physiol. 135, 81–97 (2010).

Ziegler, N., Bätz, J., Zabel, U., Lohse, M. J. & Hoffmann, C. FRET-based sensors for the human M1-, M3-, and M5-acetylcholine receptors. Bioorg. Med. Chem. 19, 1048–1054 (2011).

Wan, Q. et al. Mini G protein probes for active G protein-coupled receptors (GPCRs) in live cells. J. Biol. Chem. 293, 7466–7473 (2018).

Barnea, G. et al. The genetic design of signaling cascades to record receptor activation. Proc. Natl Acad. Sci. USA 105, 64–69 (2008).

Dana, H. et al. Sensitive red protein calcium indicators for imaging neural activity. eLife 5, e12727 (2016).

Zhang, J. et al. Presynaptic excitation via GABAB receptors in habenula cholinergic neurons regulates fear memory expression. Cell 166, 716–728 (2016).

Yao Yang, M., Armstrong, J. D., Vilinsky, I., Strausfeld, N. J. & Kaiser, K. Subdivision of the Drosophila mushroom bodies by enhancer-trap expression patterns. Neuron 15, 45–54 (1995).

Klapoetke, N. C. et al. Independent optical excitation of distinct neural populations. Nat. Methods 11, 338–346 (2014).

Vazquez, J. & Baghdoyan, H. A. Basal forebrain acetylcholine release during REM sleep is significantly greater than during waking. Am. J. Physiol. Regul. Integr. Comp. Physiol. 280, R598–R601 (2001).

Picciotto, M. R., Higley, M. J. & Mineur, Y. S. Acetylcholine as a neuromodulator: cholinergic signaling shapes nervous system function and behavior. Neuron 76, 116–129 (2012).

Jiang, L. et al. Cholinergic signaling controls conditioned fear behaviors and enhances plasticity of cortical–amygdala circuits. Neuron 90, 1057–1070 (2016).

Li, X. et al. Generation of a whole-brain atlas for the cholinergic system and mesoscopic projectome analysis of basal forebrain cholinergic neurons. Proc. Natl Acad. Sci. USA 115, 415–420 (2018).

Seltzer, B. Donepezil: a review. Expert Opin. Drug Metab. Toxicol. 1, 527–536 (2005).

Martins-Silva, C. et al. Novel strains of mice deficient for the vesicular acetylcholine transporter: insights on transcriptional regulation and control of locomotor behavior. PLoS ONE 6, e17611 (2011).

Xu, M. et al. Basal forebrain circuit for sleep–wake control. Nat. Neurosci. 18, 1641–1647 (2015).

Cheung, J., Maire, P., Kim, J., Sy, J. & Hires, S. A. The sensorimotor basis of whisker-guided anteroposterior object localization in head-fixed mice. Curr. Biol. 29, 3029–3040 (2019).

Zong, W. et al. Fast high-resolution miniature two-photon microscopy for brain imaging in freely behaving mice. Nat. Methods 14, 713–719 (2017).

Patriarchi, T. et al. Ultrafast neuronal imaging of dopamine dynamics with designed genetically encoded sensors. Science 360, eaat4422 (2018).

Feng, J. et al. A genetically encoded fluorescent sensor for rapid and specific in vivo detection of norepinephrine. Neuron 102, 745–761 (2019).

Liang, R., Broussard, G. J. & Tian, L. Imaging chemical neurotransmission with genetically encoded fluorescent sensors. ACS Chem. Neurosci. 6, 84–93 (2015).

Jing, M., Zhang, Y., Wang, H. & Li, Y. G-protein-coupled receptor-based sensors for imaging neurochemicals with high sensitivity and specificity. J. Neurochem. 151, 279–288 (2019).

Sun, F. et al. A genetically encoded fluorescent sensor enables rapid and specific detection of dopamine in flies, fish, and mice. Cell 174, 481–496 (2018).

Al-Onaizi, M. A. et al. Regulation of cognitive processing by hippocampal cholinergic tone. Cereb. Cortex 27, 1615–1628 (2017).

Gibson, D. G. et al. Enzymatic assembly of DNA molecules up to several hundred kilobases. Nat. Methods 6, 343–345 (2009).

Janickova, H. et al. Selective decrease of cholinergic signaling from pedunculopontine and laterodorsal tegmental nuclei has little impact on cognition but markedly increases susceptibility to stress. FASEB J. 33, 7018–7036 (2019).
Acknowledgements
We thank Y. Rao (Peking University) for generously sharing a two-photon microscope and X. Lei (Peking University) for providing support of the Opera Phenix High-Content Screening System at PKU–CLS. We thank W. Inoue (University of Western Ontario) for kindly sharing the Multi Conditioning System foot-shocker. Work at the University of Western Ontario was supported by the Canada First Research Excellence Fund (CFREF; to L.M.S., V.F.P., T.J.B. and M.A.M.P.) and CIHR (PJT 159781 to V.F.P.). O.K. was supported by an OGS PhD Fellowship and the Jonathan and Joshua Graduate Scholarship. M.S. was supported by CFREF. This work was supported by the General Research Program of the National Natural Science Foundation of China (projects 31671118 to Yulong Li and 31327901 to H.C.), the NIH BRAIN Initiative (grant U01NS103558 to Yulong Li), the Beijing Brain Initiative of the Beijing Municipal Science & Technology Commission (Z181100001518004 to Yulong Li), the Junior Thousand Talent Program of China and grants from the Peking–Tsinghua Center for Life Sciences and the State Key Laboratory of Membrane Biology at the Peking University School of Life Science (to Yulong Li).
Ethics declarations
Competing interests
M.J. and Yulong Li have filed patent applications, the value of which could be affected by this publication.
Additional information
Peer review information Nina Vogt was the primary editor on this article and managed its editorial process and peer review in collaboration with the rest of the editorial team.
Publisher's note Springer Nature remains neutral with regard to jurisdictional claims in published maps and institutional affiliations.
Supplementary information
About this article
Cite this article
Jing, M., Li, Y., Zeng, J. et al. An optimized acetylcholine sensor for monitoring in vivo cholinergic activity. Nat Methods 17, 1139–1146 (2020). https://doi.org/10.1038/s41592-020-0953-2
Received:

Accepted:

Published:

Issue Date:

DOI: https://doi.org/10.1038/s41592-020-0953-2