Abstract
Genetically encoded dopamine sensors based on green fluorescent protein (GFP) enable high-resolution imaging of dopamine dynamics in behaving animals. However, these GFP-based variants cannot be readily combined with commonly used optical sensors and actuators, due to spectral overlap. We therefore engineered red-shifted variants of dopamine sensors called RdLight1, based on mApple. RdLight1 can be combined with GFP-based sensors with minimal interference and shows high photostability, permitting prolonged continuous imaging. We demonstrate the utility of RdLight1 for receptor-specific pharmacological analysis in cell culture, simultaneous assessment of dopamine release and cell-type-specific neuronal activity and simultaneous subsecond monitoring of multiple neurotransmitters in freely behaving rats. Dual-color photometry revealed that dopamine release in the nucleus accumbens evoked by reward-predictive cues is accompanied by a rapid suppression of glutamate release. By enabling multiplexed imaging of dopamine with other circuit components in vivo, RdLight1 opens avenues for understanding many aspects of dopamine biology.
Access options
Subscribe to Journal
Get full journal access for 1 year
$59.00
only $4.92 per issue
All prices are NET prices.
VAT will be added later in the checkout.
Tax calculation will be finalised during checkout.
Rent or Buy article
Get time limited or full article access on ReadCube.
from$8.99
All prices are NET prices.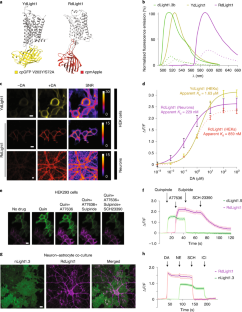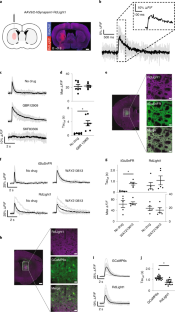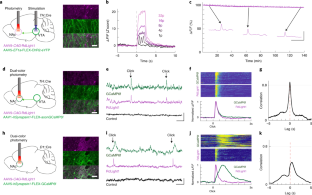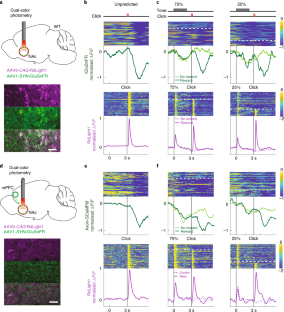 References
1.

Patriarchi, T. et al. Ultrafast neuronal imaging of dopamine dynamics with designed genetically encoded sensors. Science 360, eaat4422 (2018).

2.

Sun, F. et al. A genetically encoded fluorescent sensor enables rapid and specific detection of dopamine in flies, fish, and mice. Cell 174, 481–496.e19 (2018).

3.

de Jong, J. W. et al. A neural circuit mechanism for encoding aversive stimuli in the mesolimbic dopamine system. Neuron 101, 133–151.e7 (2019).

4.

Mohebi, A. et al. Dissociable dopamine dynamics for learning and motivation. Nature 570, 65–70 (2019).

5.

Zhao, Y. et al. An expanded palette of genetically encoded Ca2+ indicators. Science 333, 1888–1891 (2011).

6.

Dana, H. et al. Sensitive red protein calcium indicators for imaging neural activity. Elife 5, e12727 (2016).

7.

Kruss, S. et al. High-resolution imaging of cellular dopamine efflux using a fluorescent nanosensor array. Proc. Natl Acad. Sci. USA 114, 1789–1794 (2017).

8.

Beyene, A. G. et al. Imaging striatal dopamine release using a nongenetically encoded near infrared fluorescent catecholamine nanosensor. Sci. Adv. 5, eaaw3108 (2019).

9.

Wachter, R. M., Elsliger, M. A., Kallio, K., Hanson, G. T. & Remington, S. J. Structural basis of spectral shifts in the yellow-emission variants of green fluorescent protein. Structure 6, 1267–1277 (1998).

10.

Orm, M. et al. Crystal structure of the Aequorea victoria green fluorescent protein. Science 273, 1392–1395 (1996).

11.

Nagai, T. et al. A variant of yellow fluorescent protein with fast and efficient maturation for cell-biological applications. Nat. Biotechnol. 20, 87–90 (2002).

12.

Ade, K., Wan, Y., Chen, M., Gloss, B. & Calakos, N. An improved BAC transgenic fluorescent reporter line for sensitive and specific identification of striatonigral medium spiny neurons. Front. Syst. Neurosci. 5, 32 (2011).

13.

Eichel, K. et al. Catalytic activation of β-arrestin by GPCRs. Nature 557, 381–386 (2018).

14.

Kebabian, J. W. et al. A-77636: a potent and selective dopamine D1 receptor agonist with antiparkinsonian activity in marmosets. Eur. J. Pharmacol. 229, 203–209 (1992).

15.

Oe, Y. et al. Distinct temporal integration of noradrenaline signaling by astrocytic second messengers during vigilance. Nat. Commun. 11, 471 (2020).

16.

Marvin, J. S. et al. An optimized fluorescent probe for visualizing glutamate neurotransmission. Nat Methods 10, 162–170 (2013).

17.

Villette, V. et al. Ultrafast two-photon imaging of a high-gain voltage indicator in awake behaving mice. Cell 179, 1590–1608.e23 (2019).

18.

Chen, T.-W. et al. Ultrasensitive fluorescent proteins for imaging neuronal activity. Nature 499, 295–300 (2013).

19.

Witten, I. B. et al. Recombinase-driver rat lines: tools, techniques, and optogenetic application to dopamine-mediated reinforcement. Neuron 72, 721–733 (2011).

20.

Hamid, A. A. et al. Mesolimbic dopamine signals the value of work. Nat. Neurosci. 19, 117–126 (2016).

21.

Stujenske, J. M., Spellman, T. & Gordon, J. A. Modeling the spatiotemporal dynamics of light and heat propagation for in vivo optogenetics. Cell Rep. 12, 525–534 (2015).

22.

Broussard, G. J. et al. In vivo measurement of afferent activity with axon-specific calcium imaging. Nat. Neurosci. 21, 1272–1280 (2018).

23.

Pettibone, J. R. et al. Knock-in rat lines with Cre recombinase at the dopamine D1 and adenosine 2a receptor loci. Eneuro https://doi.org/10.1523/ENEURO.0163-19.2019 (2019).

24.

Hnasko, T. S. et al. Vesicular glutamate transport promotes dopamine storage and glutamate corelease in vivo. Neuron 65, 643–656 (2010).

25.

Schultz, W. Dopamine reward prediction-error signalling: a two-component response. Nat. Rev. Neurosci. 17, 183–195 (2016).

26.

Kalivas, P. W. & Duffy, P. Dopamine regulation of extracellular glutamate in the nucleus accumbens. Brain Res. 761, 173–177 (1997).

27.

Nicola, S. M., Taha, S. A., Kim, S. W. & Fields, H. L. Nucleus accumbens dopamine release is necessary and sufficient to promote the behavioral response to reward-predictive cues. Neuroscience 135, 1025–1033 (2005).

28.

Marvin, J. S. et al. Stability, affinity, and chromatic variants of the glutamate sensor iGluSnFR. Nat. Methods 15, 936–939 (2018).

29.

Kazemipour, A. et al. Kilohertz frame-rate two-photon tomography. Nat. Methods 16, 778–786 (2019).

30.

Liu, R., Li, Z., Marvin, J. S. & Kleinfeld, D. Direct wavefront sensing enables functional imaging of infragranular axons and spines. Nat. Methods 16, 615–618 (2019).

31.

Dana, H. et al. High-performance calcium sensors for imaging activity in neuronal populations and microcompartments. Nat. Methods 16, 649–657 (2019).

32.

Gerfen, C. R. & Surmeier, D. J. Modulation of striatal projection systems by dopamine. Ann. Rev. Neurosci. 34, 441–466 (2011).

33.

Planert, H., Berger, T. K. & Silberberg, G. Membrane properties of striatal direct and indirect pathway neurons in mouse and rat slices and their modulation by dopamine. PLoS ONE 8, e57054 (2013).

34.

Ishikawa, A., Ambroggi, F., Nicola, S. M. & Fields, H. L. Dorsomedial prefrontal cortex contribution to behavioral and nucleus accumbens neuronal responses to incentive cues. J. Neurosci. 28, 5088–5098 (2008).

35.

Burgos-Robles, A., Bravo-Rivera, H. & Quirk, G. J. Prelimbic and infralimbic neurons signal distinct aspects of appetitive instrumental behavior. PLoS ONE 8, e57575 (2013).

36.

Ambroggi, F., Ishikawa, A., Fields, H. L. & Nicola, S. M. Basolateral amygdala neurons facilitate reward-seeking behavior by exciting nucleus accumbens neurons. Neuron 59, 648–661 (2008).

37.

Bamford, N. S., Wightman, R. M. & Sulzer, D. Dopamine's effects on corticostriatal synapses during reward-based behaviors. Neuron 97, 494–510 (2018).

38.

Rice, M. E. & Cragg, S. J. Dopamine spillover after quantal release: rethinking dopamine transmission in the nigrostriatal pathway. Brain Res. Rev. 58, 303–313 (2008).

39.

Hnasko, T. S., Hjelmstad, G. O., Fields, H. L. & Edwards, R. H. Ventral tegmental area glutamate neurons: electrophysiological properties and projections. J. Neurosci. 32, 15076–15085 (2012).

40.

McFarland, K. & Kalivas, P. W. The circuitry mediating cocaine-induced reinstatement of drug-seeking behavior. J. Neurosci. 21, 8655–8663 (2001).

41.

Hioki, H. et al. Efficient gene transduction of neurons by lentivirus with enhanced neuron-specific promoters. Gene Ther. 14, 872–882 (2007).

42.

Feng, J. et al. A genetically encoded fluorescent sensor for rapid and specific in vivo detection of norepinephrine. Neuron 102, 745–761.e8 (2019).

43.

Jing, M. et al. A genetically encoded fluorescent acetylcholine indicator for in vitro and in vivo studies. Nat. Biotechnol. 36, 726–737 (2018).

44.

Qian, Y. et al. A genetically encoded near-infrared fluorescent calcium ion indicator. Nat. Methods 16, 171–174 (2019).

45.

Ravotto, L., Duffet, L., Zhou, X., Weber, B. & Patriarchi, T. A bright and colorful future for G-protein coupled receptor sensors. Front. Cell. Neurosci. 14, 67 (2020).

46.

Ke, M.-T., Fujimoto, S. & Imai, T. SeeDB: a simple and morphology-preserving optical clearing agent for neuronal circuit reconstruction. Nat. Neurosci. 16, 1154–1161 (2013).

47.

Quan, J. & Tian, J. Circular polymerase extension cloning. Methods Mol. Biol. 1116, 103–117 (2014).

48.

Tian, L. et al. Imaging neural activity in worms, flies and mice with improved GCaMP calcium indicators. Nat. Methods 6, 875–881 (2009).

49.

Song, Y. et al. High-resolution comparative modeling with RosettaCM. Structure 21, 1735–1742 (2013).

50.

Rasmussen, S. G. F. et al. Structure of a nanobody-stabilized active state of the β2 adrenoceptor. Nature 469, 175–180 (2011).

51.

Chen, Y. et al. Structural insight into enhanced calcium indicator GCaMP3 and GCaMPJ to promote further improvement. Protein Cell 4, 299–309 (2013).

52.

Bender, B. J. et al. Protocols for molecular modeling with Rosetta3 and RosettaScripts. Biochemistry 55, 4748–4763 (2016).

53.

Kotowski, S. J., Hopf, F. W., Seif, T., Bonci, A. & von Zastrow, M. Endocytosis promotes rapid dopaminergic signaling. Neuron 71, 278–290 (2011).

54.

Patriarchi, T. et al. Imaging neuromodulators with high spatiotemporal resolution using genetically encoded indicators. Nat. Protoc. 14, 3471–3505 (2019).

55.

Irannejad, R. et al. Conformational biosensors reveal GPCR signalling from endosomes. Nature 495, 534–538 (2013).

56.

Ellis, B. et. al. flowCore: basic structures for flow cytometry data. R package version 1.52.1. (2019).

57.

Tewson, P. H., Martinka, S., Shaner, N. C., Hughes, T. E. & Quinn, A. M. New DAG and cAMP sensors optimized for live-cell assays in automated laboratories. J. Biomol. Screen 21, 298–305 (2016).
Acknowledgements
This work was supported by NIH DP2MH107056 (L.T.); BRAIN Initiative awards U01NS090604, U01NS013522 (L.T. and M.V.Z), U01NS103571 (L.T) and U01NS094375 (J.B.); a Rita Allen Young Investigator Award (L.T.) and R01DA045783 (J.D.B.); the Olga Mayenfisch Foundation (T.P.); and the Novartis Foundation for medical-biological research (T.P.). We thank D. Jullie (UCSF) for advice and providing striatal neuronal culture. We thank J. Zhang and C.-H. Chen for advice on FACS experiments.
Ethics declarations
Competing interests
L.T. and G.O.M. are co-founders of Seven Biosciences.
Additional information
Peer review information Nina Vogt was the primary editor on this article and managed its editorial process and peer review in collaboration with the rest of the editorial team.
Publisher's note Springer Nature remains neutral with regard to jurisdictional claims in published maps and institutional affiliations.
Supplementary information
About this article
Cite this article
Patriarchi, T., Mohebi, A., Sun, J. et al. An expanded palette of dopamine sensors for multiplex imaging in vivo. Nat Methods 17, 1147–1155 (2020). https://doi.org/10.1038/s41592-020-0936-3
Received:

Accepted:

Published:

Issue Date: