Abstract
The actin cytoskeleton plays multiple critical roles in cells, from cell migration to organelle dynamics. The small and transient actin structures regulating organelle dynamics are challenging to detect with fluorescence microscopy, making it difficult to determine whether actin filaments are directly associated with specific membranes. To address these limitations, we developed fluorescent-protein-tagged actin nanobodies, termed 'actin chromobodies' (ACs), targeted to organelle membranes to enable high-resolution imaging of sub-organellar actin dynamics.
This is a preview of subscription content
Access options
Subscribe to Journal
Get full journal access for 1 year
$119.00
only $9.92 per issue
All prices are NET prices.
VAT will be added later in the checkout.
Tax calculation will be finalised during checkout.
Rent or Buy article
Get time limited or full article access on ReadCube.
from$8.99
All prices are NET prices.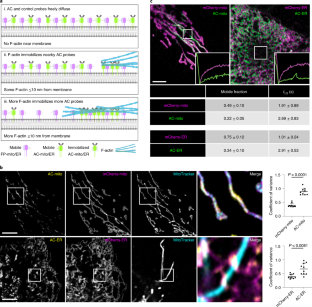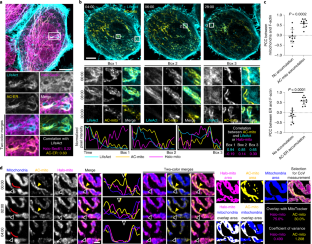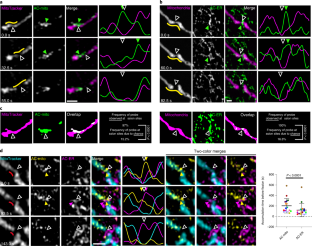 References
1.

Rocchetti, A., Hawes, C. & Kriechbaumer, V. Fluorescent labelling of the actin cytoskeleton in plants using a cameloid antibody. Plant Methods 10, 12 (2014).

2.

Melak, M., Plessner, M. & Grosse, R. Actin visualization at a glance. J. Cell Sci. 130, 525–530 (2017).

3.

Rapaport, D. Finding the right organelle. Targeting signals in mitochondrial outer-membrane proteins. EMBO Rep. 4, 948–952 (2003).

4.

Riedl, J. et al. Lifeact: a versatile marker to visualize F-actin. Nat. Methods 5, 605–607 (2008).

5.

Sprague, B. L. & McNally, J. G. FRAP analysis of binding: proper and fitting. Trends cell Biol. 15, 84–91 (2005).

6.

Sprague, B. L., Pego, R. L., Stavreva, D. A. & McNally, J. G. Analysis of binding reactions by fluorescence recovery after photobleaching. Biophys. J. 86, 3473–3495 (2004).

7.

Panza, P., Maier, J., Schmees, C., Rothbauer, U. & Sollner, C. Live imaging of endogenous protein dynamics in zebrafish using chromobodies. Development 142, 1879–1884 (2015).

8.

Moore, A. S., Wong, Y. C., Simpson, C. L. & Holzbaur, E. L. Dynamic actin cycling through mitochondrial subpopulations locally regulates the fission–fusion balance within mitochondrial networks. Nat. Commun. 7, 12886 (2016).

9.

Manor, U. et al. A mitochondria-anchored isoform of the actin-nucleating spire protein regulates mitochondrial division. eLife 4, e08828 (2015).

10.

Chakrabarti, R. et al. INF2-mediated actin polymerization at the ER stimulates mitochondrial calcium uptake, inner membrane constriction and division. J. Cell Biol. 217, 251–268 (2018).

11.

Korobova, F., Ramabhadran, V. & Higgs, H. N. An actin-dependent step in mitochondrial fission mediated by the ER-associated formin INF2. Science 339, 464–467 (2013).

12.

Korobova, F., Gauvin, T. J. & Higgs, H. N. A role for myosin II in mammalian mitochondrial fission. Curr. Biol. 24, 409–414 (2014).

13.

Yang, C. & Svitkina, T. M. Ultrastructure and dynamics of the actin–myosin II cytoskeleton during mitochondrial fission. Nat. Cell Biol. 21, 603–613 (2019).

14.

De Vos, K. J., Allan, V. J., Grierson, A. J. & Sheetz, M. P. Mitochondrial function and actin regulate dynamin-related protein 1-dependent mitochondrial fission. Curr. Biol. 15, 678–683 (2005).

15.

Li, S. et al. Transient assembly of F-actin on the outer mitochondrial membrane contributes to mitochondrial fission. J. Cell Biol. 208, 109–123 (2015).

16.

Ji, W. K., Hatch, A. L., Merrill, R. A., Strack, S. & Higgs, H. N. Actin filaments target the oligomeric maturation of the dynamin GTPase Drp1 to mitochondrial fission sites. eLife 4, e11553 (2015).

17.

Shirai, Y. M. et al. Cortical actin nodes: their dynamics and recruitment of podosomal proteins as revealed by super-resolution and single-molecule microscopy. PLoS ONE 12, e0188778 (2017).

18.

Bisaria, A., Hayer, A., Garbett, D., Cohen, D. & Meyer, T. Membrane-proximal F-actin restricts local membrane protrusions and directs cell migration. Science 368, 1205–1210 (2020).

19.

Lam, S. S. et al. Directed evolution of APEX2 for electron microscopy and proximity labeling. Nat. Methods 12, 51–54 (2015).

20.

Branon, T. C. et al. Efficient proximity labeling in living cells and organisms with TurboID. Nat. Biotechnol. 36, 880–887 (2018).

21.

Wales, P. et al. Calcium-mediated actin reset (CaAR) mediates acute cell adaptations. eLife 5, e19850 (2016).

22.

Schindelin, J. et al. Fiji: an open-source platform for biological-image analysis. Nat. Methods 9, 676–682 (2012).

23.

Ridler, T. & Calvard, S. Picture thresholding using an iterative selection method. IEEE Trans. Syst. Man Cybern. 8, 630–632 (1978).

24.

Lippincott-Schwartz, J., Snapp, E. L. & Phair, R. D. The development and enhancement of FRAP as a key tool for investigating protein dynamics. Biophys. J. 115, 1146–1155 (2018).

25.

Borgese, N., Gazzoni, I., Barberi, M., Colombo, S. & Pedrazzini, E. Targeting of a tail-anchored protein to endoplasmic reticulum and mitochondrial outer membrane by independent but competing pathways. Mol. Biol. Cell 12, 2482–2496 (2001).

26.

Omari, S. et al. Noncanonical autophagy at ER exit sites regulates procollagen turnover. Proc. Natl Acad. Sci. USA 115, E10099–E10108 (2018).

27.

Subach, O. M., Cranfill, P. J., Davidson, M. W. & Verkhusha, V. V. An enhanced monomeric blue fluorescent protein with the high chemical stability of the chromophore. PLoS ONE 6, e28674 (2011).

28.

Geiser, M., Cebe, R., Drewello, D. & Schmitz, R. Integration of PCR fragments at any specific site within cloning vectors without the use of restriction enzymes and DNA ligase. BioTechniques 31, 88–90 (2001).
Acknowledgements
We are grateful to S. Harada (Salk Institute for Biological Studies) for help with the cartoon diagram for Fig. 1. We thank C. Obara and J. Lippincott-Schwartz (Janelia Farms) for critical feedback and suggestions on the manuscript. This work was also greatly improved by feedback on our initial bioRxiv preprint received via Twitter. The Waitt Advanced Biophotonics Center is funded by the Waitt Foundation and Core Grant application National Cancer Institute (NCI) Cancer Center Support Grant (CCSG; CA014195). This work was supported by the Transgenic Core Facility of the Salk Institute with funding from the National Institutes of Health (NIH)–NCI CCSG (P30 014195). The laboratory of R.G. is funded by grants from the Human Frontier Science Program (HFSP; RGP0021/2016) and the Cluster of Excellence Centre for Integrative Biological Signaling Studies (CIBSS; EXC-2189). G.S.S. is supported by a NIH grant (no. R01 AR069876) and the Salk Institute Audrey Geisel Chair in Biomedical Science. The laboratory of O.A.Q. is supported by a National Institute of General Medical Sciences grant (NIGMS; R15 GM119077) and funding from the University of Richmond School of Arts & Sciences.
Ethics declarations
Competing interests
The authors declare no competing interests.
Additional information
Peer review information Rita Strack was the primary editor on this article and managed its editorial process and peer review in collaboration with the rest of the editorial team.
Publisher's note Springer Nature remains neutral with regard to jurisdictional claims in published maps and institutional affiliations.
Supplementary information
About this article
Cite this article
Schiavon, C.R., Zhang, T., Zhao, B. et al. Actin chromobody imaging reveals sub-organellar actin dynamics. Nat Methods 17, 917–921 (2020). https://doi.org/10.1038/s41592-020-0926-5
Received:

Accepted:

Published:

Issue Date:
Further reading
Austin E. Y. T. Lefebvre
Dennis Ma
Michelle A. Digman

Nature Methods (2021)

Gerald S. Shadel
Peter D. Adams
Stefania Zambetti

GeroScience (2021)

Nature Methods (2020)