Abstract
Enhancers are important non-coding elements, but they have traditionally been hard to characterize experimentally. The development of massively parallel assays allows the characterization of large numbers of enhancers for the first time. Here, we developed a framework using Drosophila STARR-seq to create shape-matching filters based on meta-profiles of epigenetic features. We integrated these features with supervised machine-learning algorithms to predict enhancers. We further demonstrated that our model could be transferred to predict enhancers in mammals. We comprehensively validated the predictions using a combination of in vivo and in vitro approaches, involving transgenic assays in mice and transduction-based reporter assays in human cell lines (153 enhancers in total). The results confirmed that our model can accurately predict enhancers in different species without re-parameterization. Finally, we examined the transcription factor binding patterns at predicted enhancers versus promoters. We demonstrated that these patterns enable the construction of a secondary model that effectively distinguishes enhancers and promoters.
Access options
Subscribe to Journal
Get full journal access for 1 year
$242.00
only $20.17 per issue
All prices are NET prices.
VAT will be added later in the checkout.
Rent or Buy article
Get time limited or full article access on ReadCube.
from$8.99
All prices are NET prices.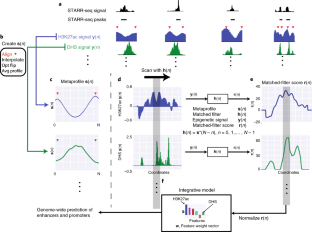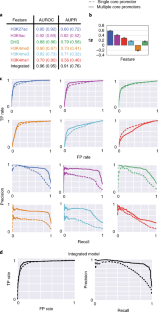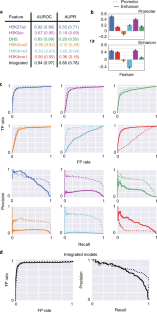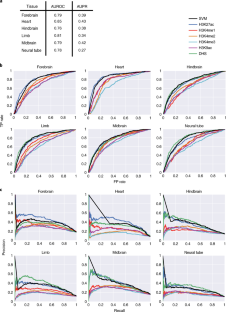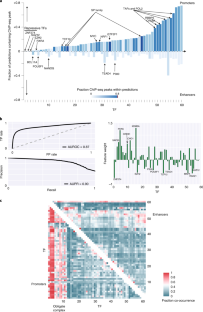 Data availability
A detailed description of the datasets used in each part of the study is in the corresponding section of Supplementary Methods. Specifically, the Drosophila epigenetics datasets used in this study were generated by the modENCODE consortium, available online (http://data.modencode.org). The mouse epigenetics datasets were generated by the ENCODE and Roadmap Epigenomics consortium, available online (https://www.encodeproject.org). We downloaded the Drosophila STARR-seq data28 and the mouse FIREWACh data32 from previous studies. Results from transgenic-mouse enhancer assays were generated by the Pennacchio lab at LBNL. Experimental results are summarized in Supplementary Tables 4–9, with the mouse images and additional details available on the VISTA Enhancer Browser (https://enhancer.lbl.gov). The human-cell-line enhancer reporter assay results were generated by the Sutton lab at Yale University. Experiment results are summarized in Supplementary Table 10. More detailed results for each cell line are available in Supplementary Data 1.
Code availability
We have implemented our methods in Python. The source code and the output annotations referenced in the paper are available at the website http://matchedfilter.gersteinlab.org. A dockerized image is also provided at this site.
References
1.

Banerji, J., Rusconi, S. & Schaffner, W. Expression of a beta-globin gene is enhanced by remote SV40 DNA sequences. Cell 27, 299–308 (1981).

2.

Levo, M. et al. Unraveling determinants of transcription factor binding outside the core binding site. Genome Res. 25, 1018–1029 (2015).

3.

Slattery, M. et al. Absence of a simple code: how transcription factors read the genome. Trends Biochem. Sci. 39, 381–399 (2014).

4.

Corradin, O. & Scacheri, P. C. Enhancer variants: evaluating functions in common disease. Genome Med. 6, 85 (2014).

5.

Gusev, A. et al. Partitioning heritability of regulatory and cell-type-specific variants across 11 common diseases. Am. J. Hum. Genet. 95, 535–552 (2014).

6.

Wray, G. A. The evolutionary significance of cis-regulatory mutations. Nat. Rev. Genet.8, 206–216 (2007).

7.

Erwin, G. D. et al. Integrating diverse datasets improves developmental enhancer prediction. PLoS Comput. Biol. 10, e1003677 (2014).

8.

Pennacchio, L. A., Bickmore, W., Dean, A., Nobrega, M. A. & Bejerano, G. Enhancers: five essential questions. Nat. Rev. Genet 14, 288–295 (2013).

9.

Pennacchio, L. A. et al. In vivo enhancer analysis of human conserved non-coding sequences. Nature 444, 499–502 (2006).

10.

Visel, A. et al. Ultraconservation identifies a small subset of extremely constrained developmental enhancers. Nat. Genet 40, 158–160 (2008).

11.

Nord, A. S. et al. Rapid and pervasive changes in genome-wide enhancer usage during mammalian development. Cell 155, 1521–1531 (2013).

12.

Visel, A. et al. ChIP–seq accurately predicts tissue-specific activity of enhancers. Nature 457, 854–858 (2009).

13.

Andersson, R. et al. An atlas of active enhancers across human cell types and tissues. Nature 507, 455–461 (2014).

14.

Ghandi, M., Lee, D., Mohammad-Noori, M. & Beer, M. A. Enhanced regulatory sequence prediction using gapped k-mer features. PLoS Comput Biol. 10, e1003711 (2014).

15.

Narlikar, L. et al. Genome-wide discovery of human heart enhancers. Genome Res. 20, 381–392 (2010).

16.

Yip, K. Y. et al. Classification of human genomic regions based on experimentally determined binding sites of more than 100 transcription-related factors. Genome Biol. 13, R48 (2012).

17.

Arnold, C. D. et al. Genome-wide quantitative enhancer activity maps identified by STARR-seq. Science 339, 1074–1077 (2013).

18.

Maston, G. A., Landt, S. G., Snyder, M. & Green, M. R. Characterization of enhancer function from genome-wide analyses. Annu. Rev. Genomics Hum. Genet. 13, 29–57 (2012).

19.

Shlyueva, D., Stampfel, G. & Stark, A. Transcriptional enhancers: from properties to genome-wide predictions. Nat. Rev. Genet 15, 272–286 (2014).

20.

Yanez-Cuna, J. O. et al. Dissection of thousands of cell type-specific enhancers identifies dinucleotide repeat motifs as general enhancer features. Genome Res. 24, 1147–1156 (2014).

21.

Creyghton, M. P. et al. Histone H3K27ac separates active from poised enhancers and predicts developmental state. Proc. Natl Acad. Sci. USA 107, 21931–21936 (2010).

22.

Heintzman, N. D. et al. Distinct and predictive chromatin signatures of transcriptional promoters and enhancers in the human genome. Nat. Genet. 39, 311–318 (2007).

23.

Gasperini, M., Tome, J. M. & Shendure, J. Towards a comprehensive catalogue of validated and target-linked human enhancers. Nat. Rev. Genet 21, 292–310 (2020).

24.

Liu, Y. et al. Functional assessment of human enhancer activities using whole-genome STARR-sequencing. Genome Biol. 18, 219 (2017).

25.

Boyle, A. P. et al. Comparative analysis of regulatory information and circuits across distant species. Nature 512, 453–456 (2014).

26.

Cheng, C. & Gerstein, M. Modeling the relative relationship of transcription factor binding and histone modifications to gene expression levels in mouse embryonic stem cells. Nucleic Acids Res. 40, 553–568 (2012).

27.

Cheng, Y. et al. Principles of regulatory information conservation between mouse and human. Nature 515, 371 (2014).

28.

Dong, X. et al. Modeling gene expression using chromatin features in various cellular contexts. Genome Biol. 13, R53 (2012).

29.

Gerstein, M. B. et al. Comparative analysis of the transcriptome across distant species. Nature 512, 445–448 (2014).

30.

Gjoneska, E. et al. Conserved epigenomic signals in mice and humans reveal immune basis of Alzheimer's disease. Nature 518, 365–369 (2015).

31.

Yue, F. et al. A comparative encyclopedia of DNA elements in the mouse genome. Nature 515, 355–364 (2014).

32.

Zabidi, M. A. et al. Enhancer-core-promoter specificity separates developmental and housekeeping gene regulation. Nature 518, 556–559 (2015).

33.

Cotney, J. et al. Chromatin state signatures associated with tissue-specific gene expression and enhancer activity in the embryonic limb. Genome Res. 22, 1069–1080 (2012).

34.

Ernst, J. et al. Mapping and analysis of chromatin state dynamics in nine human cell types. Nature 473, 43–49 (2011).

35.

Burges, C. J. C. A tutorial on support vector machines for pattern recognition. Data Min. Knowl. Discov. 2, 121–167 (1998).

36.

Roadmap Epigenomics, C. et al. Integrative analysis of 111 reference human epigenomes. Nature 518, 317–330 (2015).

37.

Consortium, E. P. An integrated encyclopedia of DNA elements in the human genome. Nature 489, 57–74 (2012).

38.

Koch, C. M. et al. The landscape of histone modifications across 1% of the human genome in five human cell lines. Genome Res. 17, 691–707 (2007).

39.

Rajagopal, N. et al. RFECS: a random-forest based algorithm for enhancer identification from chromatin state. PLoS Comput. Biol. 9, e1002968 (2013).

40.

Murtha, M. et al. FIREWACh: high-throughput functional detection of transcriptional regulatory modules in mammalian cells. Nat. Methods 11, 559–565 (2014).

41.

Bailey, S. D. et al. ZNF143 provides sequence specificity to secure chromatin interactions at gene promoters. Nat. Commun. 2, 6186 (2015).

42.

Muerdter, F. et al. Resolving systematic errors in widely used enhancer activity assays in human cells. Nat. Methods 15, 141–149 (2018).

43.

Kumar, V. B. V. K., Mahalanobis, A. & Juday, R. D. Correlation Pattern Recognition (Cambridge University Press, 2005).

44.

Mod, E. C. et al. Identification of functional elements and regulatory circuits by Drosophila modENCODE. Science 330, 1787–1797 (2010).

45.

Blanchard, G., Bousquet, O. & Massaer, P. Statistical performance of support vector machines. Ann. Stat. 36, 489–531 (2008).

46.

Hoerl, A. E. & Kennard, R. W. Ridge regression: biased estimation for nonorthogonal problems. Technometrics 12, 55–67 (1970).

47.

Breiman, L. Random forests. Mach. Learn. 45, 5–32 (2001).

48.

Stuart, R. & Norvig, P. Artificial Intelligence: A Modern Approach 2nd edn (Pearson, 2003).

49.

Pedregosa, F. et al. Scikit-learn: machine learning in python. J. Mach. Learn. Res. 12, 2825–2830 (2011).

50.

Diao, Y. et al. A tiling-deletion-based genetic screen for cis-regulatory element identification in mammalian cells. Nat. Methods 14, 629–635 (2017).

51.

Villar, D. et al. Enhancer evolution across 20 mammalian species. Cell 160, 554–566 (2015).

52.

Harrow, J. et al. GENCODE: the reference human genome annotation for The ENCODE Project. Genome Res. 22, 1760–1774 (2012).

53.

Kothary, R. et al. Inducible expression of an hsp68-lacZ hybrid gene in transgenic mice. Development 105, 707–714 (1989).

54.

Ernst, J. & Kellis, M. ChromHMM: automating chromatin-state discovery and characterization. Nat. Methods 9, 215–216 (2012).

55.

Firpi, H. A., Ucar, D. & Tan, K. Discover regulatory DNA elements using chromatin signatures and artificial neural network. Bioinformatics 26, 1579–1586 (2010).

56.

Lu, Y., Qu, W., Shan, G. & Zhang, C. DELTA: a distal enhancer locating tool based on adaboost algorithm and shape features of chromatin modifications. PLoS One 10, e0130622 (2015).

57.

He, Y. et al. Improved regulatory element prediction based on tissue-specific local epigenomic signatures. Proc. Natl Acad. Sci. USA 114, E1633–E1640 (2017).

58.

Hoffman, M. M. et al. Unsupervised pattern discovery in human chromatin structure through genomic segmentation. Nat. Methods 9, 473–476 (2012).

59.

Arner, E. et al. Transcribed enhancers lead waves of coordinated transcription in transitioning mammalian cells. Science 347, 1010–1014 (2015).

60.

Kleftogiannis, D., Kalnis, P. & Bajic, V. B. DEEP: a general computational framework for predicting enhancers. Nucleic Acids Res. 43, e6 (2015).
Acknowledgements
M. Gerstein was supported by NIH grant HG009446-01. A.V. and L.A.P. were supported by NHLBI grant R24HL123879 and NHGRI grants R01HG003988, U54HG006997 and UM1HG009421, where research was conducted at the E.O. Lawrence Berkeley National Laboratory and performed under Department of Energy Contract DE-AC02-05CH11231, University of California. We thank A. Paccanaro, D. Galeano, M. Torres and Y. Wu for their insightful scientific discussions. We thank all ENCODE consortium members for their feedback on this work.
Ethics declarations
Competing interests
The authors declare no competing interests.
Additional information
Peer review information Nicole Rusk and Lin Tang were the primary editors on this article and managed its editorial process and peer review in collaboration with the rest of the editorial team.
Publisher's note Springer Nature remains neutral with regard to jurisdictional claims in published maps and institutional affiliations.
Supplementary information
Supplementary Methods, Tables 1–10 and Figs. 1–12
The raw data for human validation experiments in all four cell lines
About this article
Cite this article
Sethi, A., Gu, M., Gumusgoz, E. et al. Supervised enhancer prediction with epigenetic pattern recognition and targeted validation. Nat Methods 17, 807–814 (2020). https://doi.org/10.1038/s41592-020-0907-8
Received:

Accepted:

Published:

Issue Date: