Producing reliable atomic- or close-to-atomic-resolution structures of RNA-only molecules has been a formidable task. Ribosolve can solve sub-nanometer-resolution cryo-EM structures of unbound RNA molecules with unprecedented accuracy and speed.
Access options
Subscribe to Journal
Get full journal access for 1 year
$259.00
only $21.58 per issue
All prices are NET prices.
VAT will be added later in the checkout.
Rent or Buy article
Get time limited or full article access on ReadCube.
from$8.99
All prices are NET prices.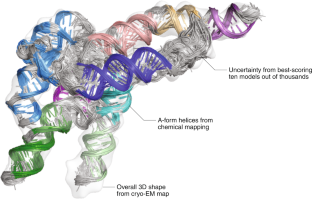 Ethics declarations
Competing interests
The author declares no competing interest.
About this article
Cite this article
Richardson, J.S. A new way to see RNAs. Nat Methods 17, 663–664 (2020). https://doi.org/10.1038/s41592-020-0888-7