Abstract
Understanding metabolism is indispensable in unraveling the mechanistic basis of many physiological and pathological processes. However, in situ metabolic imaging tools are still lacking. Here we introduce a framework for mid-infrared (MIR) metabolic imaging by coupling the emerging high-information-throughput MIR microscopy with specifically designed IR-active vibrational probes. We present three categories of small vibrational tags including azide bond, 13C-edited carbonyl bond and deuterium-labeled probes to interrogate various metabolic activities in cells, small organisms and mice. Two MIR imaging platforms are implemented including broadband Fourier transform infrared microscopy and discrete frequency infrared microscopy with a newly incorporated spectral region (2,000–2,300 cm−1). Our technique is uniquely suited to metabolic imaging with high information throughput. In particular, we performed single-cell metabolic profiling including heterogeneity characterization, and large-area metabolic imaging at tissue or organ level with rich spectral information.
Access options
Subscribe to Journal
Get full journal access for 1 year
$242.00
only $20.17 per issue
All prices are NET prices.
VAT will be added later in the checkout.
Rent or Buy article
Get time limited or full article access on ReadCube.
from$8.99
All prices are NET prices.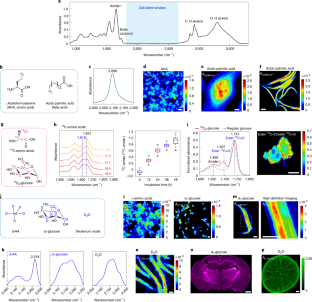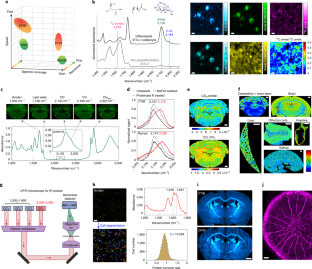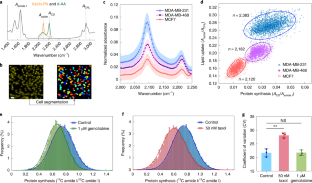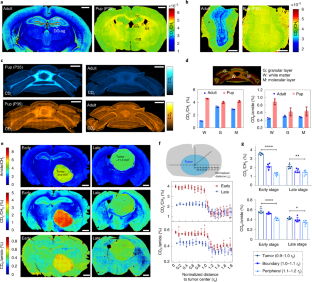 References
1.

Kandel, E. R. The molecular biology of memory storage: a dialogue between genes and synapses. Science 294, 1030 (2001).

2.

Roche, F. K., Marsick, B. M. & Letourneau, P. C. Protein synthesis in distal axons is not required for growth cone responses to guidance cues. J. Neurosci. 29, 638 (2009).

3.

Hinz, F. I., Dieterich, D. C., Tirrell, D. A. & Schuman, E. M. Noncanonical amino acid labeling in vivo to visualize and affinity purify newly synthesized proteins in larval zebrafish. ACS Chem. Neurosci. 3, 40–49 (2012).

4.

Zilberter, Y. & Zilberter, M. The vicious circle of hypometabolism in neurodegenerative diseases: ways and mechanisms of metabolic correction. J. Neurosci. Res. 95, 2217–2235 (2017).

5.

Hebert, S. L. & Nair, K. S. Protein and energy metabolism in type 1 diabetes. Clin. Nutr. 29, 13–17 (2010).

6.

Pavlova, N. N. & Thompson, C. B. The emerging hallmarks of cancer metabolism. Cell Metab. 23, 27–47 (2016).

7.

Kim, M. M., Parolia, A., Dunphy, M. P. & Venneti, S. Non-invasive metabolic imaging of brain tumours in the era of precision medicine. Nat. Rev. Clin. Oncol. 13, 725–739 (2016).

8.

Steinhauser, M. L. et al. Multi-isotope imaging mass spectrometry quantifies stem cell division and metabolism. Nature 481, 516–519 (2012).

9.

Palonpon, A. F., Sodeoka, M. & Fujita, K. Molecular imaging of live cells by Raman microscopy. Curr. Opin. Chem. Biol. 17, 708–715 (2013).

10.

Wei, L. et al. Live-cell bioorthogonal chemical imaging: stimulated Raman scattering microscopy of vibrational probes. Acc. Chem. Res. 49, 1494–1502 (2016).

11.

Shen, Y., Hu, F. & Min, W. Raman imaging of small biomolecules. Annu. Rev. Biophysics. 48, 347–369 (2019).

12.

Hu, F., Shi, L. & Min, W. Biological imaging of chemical bonds by stimulated Raman scattering microscopy. Nat. Methods 16, 830–842 (2019).

13.

Lee, H. J. et al. Assessing cholesterol storage in live cells and C. elegans by stimulated Raman scattering imaging of phenyl-diyne cholesterol. Sci. Rep. 5, 7930 (2015).

14.

Schiessl, K. T. et al. Phenazine production promotes antibiotic tolerance and metabolic heterogeneity in Pseudomonas aeruginosa biofilms. Nat. Commun. 10, 762 (2019).

15.

Shi, L. et al. Optical imaging of metabolic dynamics in animals. Nat. Commun. 9, 2995 (2018).

16.

Zhang, L. et al. Spectral tracing of deuterium for imaging glucose metabolism. Nat. Biomed. Eng. 3, 402–413 (2019).

17.

Lin-Vien, D., Colthup, N. B., Fateley, W. G. & Grasselli, J. G. The Handbook of Infrared and Raman Characteristic Frequencies of Organic Molecules (Academic Press, 1991).

18.

Ma, J., Pazos, I. M., Zhang, W., Culik, R. M. & Gai, F. Site-specific infrared probes of proteins. Annu. Rev. Phys. Chem. 66, 357–377 (2015).

19.

Suydam, I. T. & Boxer, S. G. Vibrational Stark effects calibrate the sensitivity of vibrational probes for electric fields in proteins. Biochemistry 42, 12050–12055 (2003).

20.

Pilling, M. & Gardner, P. Fundamental developments in infrared spectroscopic imaging for biomedical applications. Chem. Soc. Rev. 45, 1935–1957 (2016).

21.

Yeh, K., Kenkel, S., Liu, J.-N. & Bhargava, R. Fast infrared chemical imaging with a quantum cascade laser. Anal. Chem. 87, 485–493 (2015).

22.

Haase, K., Kröger-Lui, N., Pucci, A., Schönhals, A. & Petrich, W. Real-time mid-infrared imaging of living microorganisms. J. Biophotonics. 9, 61–66 (2016).

23.

Gazi, E. et al. A FTIR microspectroscopic study of the uptake and metabolism of isotopically labelled fatty acids by metastatic prostate cancer. Vib. Spectrosc. 50, 99–105 (2009).

24.

Bai, Y., Zhang, D., Li, C., Liu, C. & Cheng, J.-X. Bond-selective imaging of cells by mid-infrared photothermal microscopy in high wavenumber region. J. Phys. Chem. B. 121, 10249–10255 (2017).

25.

Clède, S. et al. Synchrotron radiation FTIR detection of a metal-carbonyl tamoxifen analog. Correlation with luminescence microscopy to study its subcellular distribution. Biotechnol. Adv. 31, 393–395 (2013).

26.

McCoy, S. & Caughey, W. S. Infrared studies of azido, cyano, and other derivatives of metmyoglobin, methemoglobin, and hemins. Biochemistry 9, 2387–2393 (1970).

27.

Błasiak, B., Londergan, C. H., Webb, L. J. & Cho, M. Vibrational probes: from small molecule solvatochromism theory and experiments to applications in complex systems. Acc. Chem. Res. 50, 968–976 (2017).

28.

Prescher, J. A. & Bertozzi, C. R. Chemistry in living systems. Nat. Chem. Biol. 1, 13–21 (2005).

29.

Pazos, I. M., Ghosh, A., Tucker, M. J. & Gai, F. Ester carbonyl vibration as a sensitive probe of protein local electric field. Angew. Chem. Int. Ed. 53, 6080–6084 (2014).

30.

Muhamadali, H., Chisanga, M., Subaihi, A. & Goodacre, R. Combining Raman and FT-IR spectroscopy with quantitative isotopic labeling for differentiation of E. coli cells at community and single cell levels. Anal. Chem. 87, 4578–4586 (2015).

31.

Cheng, J.-X. & Xie, X. S. Vibrational spectroscopic imaging of living systems: an emerging platform for biology and medicine. Science 350, aaa8870 (2015).

32.

Wrobel, T. P. & Bhargava, R. Infrared spectroscopic imaging advances as an analytical technology for biomedical sciences. Anal. Chem. 90, 1444–1463 (2018).

33.

Yeh, K., Lee, D. & Bhargava, R. Multicolor discrete frequency infrared spectroscopic imaging. Anal. Chem. 91, 2177–2185 (2019).

34.

Hosios, AaronM. et al. Amino acids rather than glucose account for the majority of cell mass in proliferating mammalian cells. Dev. Cell. 36, 540–549 (2016).

35.

Peng, S. K., Ho, K. J. & Taylor, C. B. Biologic effects of prolonged exposure to deuterium oxide. A behavioral, metabolic, and morphologic study. Arch. Pathol. 94, 81–89 (1972).

36.

Hodel, A., Gebbers, J. O., Cottier, H. & Laissue, J. A. Effects of prolonged moderate body deuteration on proliferative activity in major cell renewal systems in mice. Life Sci. 30, 1987–1996 (1982).

37.

Ran, S., Berisha, S., Mankar, R., Shih, W.-C. & Mayerich, D. Mitigating fringing in discrete frequency infrared imaging using time-delayed integration. Biomed. Opt. Express 9, 832–843 (2018).

38.

Mittal, S. et al. Simultaneous cancer and tumor microenvironment subtyping using confocal infrared microscopy for all-digital molecular histopathology. Proc. Natl Acad. Sci. USA 115, E5651 (2018).

39.

Liu, Y.-L. et al. Assessing metastatic potential of breast cancer cells based on EGFR dynamics. Sci. Rep. 9, 3395 (2019).

40.

Knobloch, M. et al. Metabolic control of adult neural stem cell activity by Fasn-dependent lipogenesis. Nature 493, 226–230 (2013).

41.

Snaidero, N. & Simons, M. Myelination at a glance. J. Cell Sci. 127, 2999 (2014).

42.

Ji, M. et al. Rapid, label-free detection of brain tumors with stimulated Raman scattering microscopy. Sci. Transl. Med. 5, 201ra119 (2013).

43.

Röhrig, F. & Schulze, A. The multifaceted roles of fatty acid synthesis in cancer. Nat. Rev. Cancer 16, 732–749 (2016).

44.

Clemens, M. J. Targets and mechanisms for the regulation of translation in malignant transformation. Oncogene 23, 3180–3188 (2004).

45.

Zhang, D. et al. Depth-resolved mid-infrared photothermal imaging of living cells and organisms with submicrometer spatial resolution. Sci. Adv. 2, e1600521 (2016).

46.

Shi, J. et al. High-resolution, high-contrast mid-infrared imaging of fresh biological samples with ultraviolet-localized photoacoustic microscopy. Nat. Photonics 13, 609–615 (2019).

47.

Dazzi, A. & Prater, C. B. AFM-IR: technology and applications in nanoscale infrared spectroscopy and chemical imaging. Chem. Rev. 117, 5146–5173 (2017).

48.

Andrew Chan, K. L. & Kazarian, S. G. Attenuated total reflection Fourier-transform infrared (ATR-FTIR) imaging of tissues and live cells. Chem. Soc. Rev. 45, 1850–1864 (2016).

49.

Pleitez, M. A. et al. Label-free metabolic imaging by mid-infrared optoacoustic microscopy in living cells. Nat. Biotechnol. 38, 293–296 (2020).

50.

Pupeza, I. et al. Field-resolved infrared spectroscopy of biological systems. Nature 577, 52–59 (2020).

51.

Wei, L. et al. Imaging complex protein metabolism in live organisms by stimulated Raman scattering microscopy with isotope labeling. ACS Chem. Biol. 10, 901–908 (2015).

52.

Baker, M. J. et al. Using Fourier transform IR spectroscopy to analyze biological materials. Nat. Protoc. 9, 1771–1791 (2014).

53.

Carpenter, A. E. et al. CellProfiler: image analysis software for identifying and quantifying cell phenotypes. Genome Biol. 7, R100 (2006).
Acknowledgements
We thank K.A. McHose and L. Tisinger from Agilent Inc. for technical supports on FTIR microscope and Lu Wei for helpful discussion. W.M. acknowledges support from NIH R01 (GM128214 and GM128214-02S1) and R01 (EB029523). L.E.P.D. was supported by NIH/NIAID grant no. R01 AI103369.
Ethics declarations
Competing interests
The authors declare no competing interests.
Additional information
Peer review information Rita Strack was the primary editor on this article and managed its editorial process and peer review in collaboration with the rest of the editorial team.
Publisher's note Springer Nature remains neutral with regard to jurisdictional claims in published maps and institutional affiliations.
Supplementary information
About this article
Cite this article
Shi, L., Liu, X., Shi, L. et al. Mid-infrared metabolic imaging with vibrational probes. Nat Methods 17, 844–851 (2020). https://doi.org/10.1038/s41592-020-0883-z
Received:

Accepted:

Published:

Issue Date: