Abstract
We have developed CRISPR-assisted RNA–protein interaction detection method (CARPID), which leverages CRISPR–CasRx-based RNA targeting and proximity labeling to identify binding proteins of specific long non-coding RNAs (lncRNAs) in the native cellular context. We applied CARPID to the nuclear lncRNA XIST, and it captured a list of known interacting proteins and multiple previously uncharacterized binding proteins. We generalized CARPID to explore binders of the lncRNAs DANCR and MALAT1, revealing the method's wide applicability in identifying RNA-binding proteins.
Relevant articles
Open Access articles citing this article.
Yihao Liu

,

Minmin Shi

…

Baiyong Shen

Journal of Hematology & Oncology Open Access 07 May 2022

Louis Delhaye

,

Edith De Bruycker

…

Sven Eyckerman

Scientific Reports Open Access 27 January 2022

Roy Matkovic

,

Marina Morel

…

Florence Margottin-Goguet

Nature Communications Open Access 10 January 2022
Access options
Subscribe to Nature+
Get immediate online access to the entire Nature family of 50+ journals
Subscribe to Journal
Get full journal access for 1 year
$99.00
only $8.25 per issue
All prices are NET prices.
VAT will be added later in the checkout.
Tax calculation will be finalised during checkout.
Buy article
Get time limited or full article access on ReadCube.
$32.00
All prices are NET prices.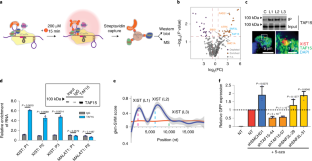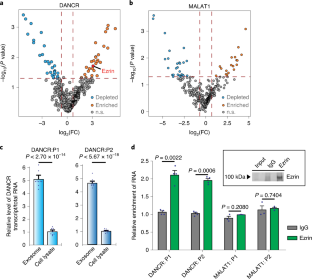 Data availability
Sequencing data have been deposited in the GEO under the accession number GSE137556. The secondary structure prediction data of XIST lncRNA from PARIS analysis used in Extended Data Fig. 2 were from a previous study (GEO accession: GSE74353)10 and are available in Supplementary Data 1 after additional processing. The raw sequence reads for TAF15 HTR-SELEX are available in Supplementary Data 2. Mass spectrometry raw data have been deposited to iProX database under the project ID number IPX0001797000. The TAF15 CLIP-seq data used in Extended Data Fig. 4c,d were from a previous study (GEO accession: GSE77700)12. Source data are provided with this paper.
References
Castello, A. et al. Insights into RNA biology from an atlas of mammalian mRNA-binding proteins. Cell 149, 1393–1406 (2012).

Licatalosi, D. D., Ye, X. & Jankowsky, E. Approaches for measuring the dynamics of RNA-protein interactions. Wiley Interdiscip Rev. RNA 11, e1565 (2020).

Ramanathan, M., Porter, D. F. & Khavari, P. A. Methods to study RNA–protein interactions. Nat. Methods 16, 225–234 (2019).

Baranello, L., Kouzine, F., Sanford, S. & Levens, D. ChIP bias as a function of cross-linking time. Chromosome Res. 24, 175–181 (2016).

Ramanathan, M. et al. RNA–protein interaction detection in living cells. Nat. Methods 15, 207–212 (2018).

Myers, S. A. et al. Discovery of proteins associated with a predefined genomic locus via dCas9–APEX-mediated proximity labeling. Nat. Methods 15, 437–439 (2018).

Konermann, S. et al. Transcriptome engineering with RNA-targeting type VI-D CRISPR effectors. Cel 173, 665–676 e614 (2018).

Minajigi, A. et al. Chromosomes. A comprehensive Xist interactome reveals cohesin repulsion and an RNA-directed chromosome conformation. Science 349, aab2276 (2015).

Lee, J. T. Epigenetic regulation by long noncoding RNAs. Science 338, 1435–1439 (2012).

Lu, Z. et al. RNA duplex map in living cells reveals higher-order transcriptome structure. Cell. 165, 1267–1279 (2016).

Mira-Bontenbal, H. & Gribnau, J. New Xist-interacting proteins in X-chromosome inactivation. Curr. Biol. 26, 1383 (2016).

Kapeli, K. et al. Distinct and shared functions of ALS-associated proteins TDP-43, FUS and TAF15 revealed by multisystem analyses. Nat. Commun. 7, 12143 (2016).

Hakimi, M. A. et al. A chromatin remodelling complex that loads cohesin onto human chromosomes. Nature 418, 994–998 (2002).

Chan, K. M., Zhang, H., Malureanu, L., van Deursen, J. & Zhang, Z. Diverse factors are involved in maintaining X chromosome inactivation. Proc. Natl Acad. Sci. USA 108, 16699–16704 (2011).

Yildirim, E., Sadreyev, R. I., Pinter, S. F. & Lee, J. T. X-chromosome hyperactivation in mammals via nonlinear relationships between chromatin states and transcription. Nat. Struct. Mol. Biol. 19, 56–61 (2011).

Jegu, T. et al. Xist RNA antagonizes the SWI/SNF chromatin remodeler BRG1 on the inactive X chromosome. Nat. Struct. Mol. Biol. 26, 96–109 (2019).

Kretz, M. et al. Suppression of progenitor differentiation requires the long noncoding RNA ANCR. Genes Dev. 26, 338–343 (2012).

Hutchinson, J. N. et al. A screen for nuclear transcripts identifies two linked noncoding RNAs associated with SC35 splicing domains. BMC Genomics 8, 39 (2007).

Li, J. et al. Prognostic value of ezrin in various cancers: a systematic review and updated meta-analysis. Sci. Rep. 5, 17903 (2015).

Wilusz, J. E., Freier, S. M. & Spector, D. L. 3′ end processing of a long nuclear-retained noncoding RNA yields a tRNA-like cytoplasmic RNA. Cell 135, 919–932 (2008).

Trendel, J. et al. The human RNA-binding proteome and its dynamics during translational arrest. Cell 176, 391–403 e319 (2019).

Queiroz, R. M. L. et al. Comprehensive identification of RNA–protein interactions in any organism using orthogonal organic phase separation (OOPS). Nat. Biotechnol. 37, 169–178 (2019).

Urdaneta, E. C. et al. Purification of cross-linked RNA–protein complexes by phenol-toluol extraction. Nat. Commun. 10, 990 (2019).

Yi, W. et al. CRISPR-assisted detection of RNA–protein interactions in living cells. Protoc. Exch. https://doi.org/10.21203/rs.3.pex-904/v1 (2020).

Lorenz, R. et al. ViennaRNA Package 2.0. Algorithms Mol. Biol. 6, 26 (2011).

Breitling, R., Armengaud, P., Amtmann, A. & Herzyk, P. Rank products: a simple, yet powerful, new method to detect differentially regulated genes in replicated microarray experiments. FEBS Lett. 573, 83–92 (2004).

Yue, M., Charles Richard, J. L., Yamada, N., Ogawa, A. & Ogawa, Y. Quick fluorescent in situ hybridization protocol for Xist RNA combined with immunofluorescence of histone modification in X-chromosome inactivation. J. Vis. Exp., e52053 (2014).

Arttu Jolma, J. Z. et al. Binding specificities of human RNA binding proteins towards structured and linear RNA sequences. Preprint at bioRxiv https://doi.org/10.1101/317909 (2019).

Ghandi, M., Lee, D., Mohammad-Noori, M. & Beer, M. A. Enhanced regulatory sequence prediction using gapped k-mer features. PLoS Comput. Biol. 10, e1003711 (2014).

Szklarczyk, D. et al. STRING v11: protein–protein association networks with increased coverage, supporting functional discovery in genome-wide experimental datasets. Nucleic Acids Res. 47, D607–D613 (2019).

Shannon, P. et al. Cytoscape: a software environment for integrated models of biomolecular interaction networks. Genome Res. 13, 2498–2504 (2003).

Huang da, W., Sherman, B. T. & Lempicki, R. A. Systematic and integrative analysis of large gene lists using DAVID bioinformatics resources. Nat. Protoc. 4, 44–57 (2009).

Huang da, W., Sherman, B. T. & Lempicki, R. A. Bioinformatics enrichment tools: paths toward the comprehensive functional analysis of large gene lists. Nucleic Acids Res. 37, 1–13 (2009).

Hou, Z. et al. A cost-effective RNA sequencing protocol for large-scale gene expression studies. Sci. Rep. 5, 9570 (2015).

Kim, D., Langmead, B. & Salzberg, S. L. HISAT: a fast spliced aligner with low memory requirements. Nat. Methods 12, 357–360 (2015).

Kim, D., Paggi, J. M., Park, C., Bennett, C. & Salzberg, S. L. Graph-based genome alignment and genotyping with HISAT2 and HISAT-genotype. Nat. Biotechnol. 37, 907–915 (2019).

Feng, J. et al. GFOLD: a generalized fold change for ranking differentially expressed genes from RNA-seq data. Bioinformatics 28, 2782–2788 (2012).

Rozowsky, J. et al. AlleleSeq: analysis of allele-specific expression and binding in a network framework. Mol. Syst. Biol. 7, 522 (2011).

Hou, J. et al. Extensive allele-specific translational regulation in hybrid mice. Mol. Syst. Biol. 11, 825 (2015).

Luga, V. et al. Exosomes mediate stromal mobilization of autocrine Wnt–PCP signaling in breast cancer cell migration. Cell. 151, 1542–1556 (2012).
Acknowledgements
We are grateful to B. Ren (UC San Diego) and D. Leung (HKUST) for insightful comments during manuscript preparation. This work was supported by the City University of Hong Kong (7200595, 7005314, 9667188 and 9610424 to J. Yan), the National Natural Science Foundation of China (81873642 to J. Yan and 31900443 to W.S.), Research Grants Council of Hong Kong (21100615, 11102118, 11101919, C7007-17GF to K.M.C., and 21101917, 11103318 to L.Z.), the Shenzhen Science and Technology Fund Program (JCYJ20170818104203065, JCYJ20180307124019360 to K.M.C., JCYJ20170413141047772, JCYJ20180507181659781 to L.Z.); Opening Foundation of Key Laboratory of Resource Biology and Biotechnology in Western China (Northwest University), the Chinese Ministry of Education (J. Ye); and the Hong Kong Epigenomics Project of the EpiHK consortium (Lo Ka Chung Charitable Foundation) (J. Yan and K.M.C.).
Ethics declarations
Competing interests
The authors declare no competing interests.
Additional information
Peer review information Lei Tang was the primary editor on this article and managed its editorial process and peer review in collaboration with the rest of the editorial team.
Publisher's note Springer Nature remains neutral with regard to jurisdictional claims in published maps and institutional affiliations.
Supplementary information
About this article
Cite this article
Yi, W., Li, J., Zhu, X. et al. CRISPR-assisted detection of RNA–protein interactions in living cells. Nat Methods 17, 685–688 (2020). https://doi.org/10.1038/s41592-020-0866-0
Received:

Accepted:

Published:

Issue Date:

DOI: https://doi.org/10.1038/s41592-020-0866-0