Abstract
CRISPR–Cas9 screens have emerged as a transformative approach to systematically probe gene functions. The quality and success of these screens depends on the frequencies of loss-of-function alleles, particularly in negative-selection screens widely applied for probing essential genes. Using optimized screening workflows, we performed essentialome screens in cancer cell lines and embryonic stem cells and achieved dropout efficiencies that could not be explained by common frameshift frequencies. We find that these superior effect sizes are mainly determined by the impact of in-frame mutations on protein function, which can be predicted based on amino acid composition and conservation. We integrate protein features into a 'Bioscore' and fuse it with improved predictors of single-guide RNA activity and indel formation to establish a score that captures all relevant processes in CRISPR–Cas9 mutagenesis. This Vienna Bioactivity CRISPR score (www.vbc-score.org) outperforms previous prediction tools and enables the selection of sgRNAs that effectively produce loss-of-function alleles.
Access options
Subscribe to Journal
Get full journal access for 1 year
$119.00
only $9.92 per issue
All prices are NET prices.
VAT will be added later in the checkout.
Tax calculation will be finalised during checkout.
Rent or Buy article
Get time limited or full article access on ReadCube.
from$8.99
All prices are NET prices.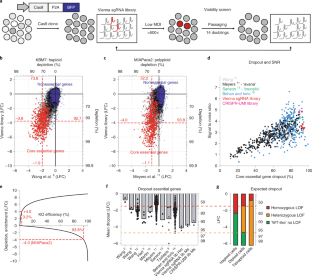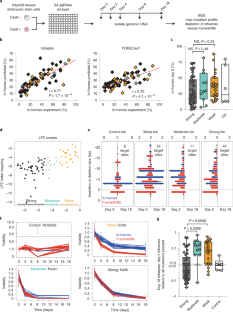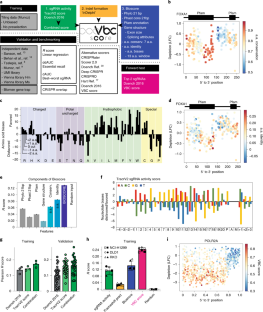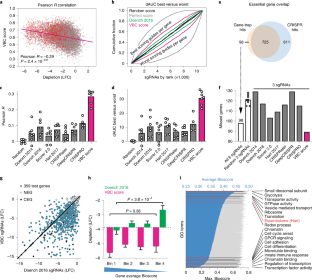 References
1.

Koike-Yusa, H., Li, Y., Tan, E.-P., Velasco-Herrera, M. D. C. & Yusa, K. Genome-wide recessive genetic screening in mammalian cells with a lentiviral CRISPR-guide RNA library. Nat. Biotechnol. 32, 267–273 (2013).

2.

Wang, T., Wei, J. J., Sabatini, D. M. & Lander, E. S. Genetic screens in human cells using the CRISPR-Cas9 system. Science 343, 80–84 (2014).

3.

Shalem, O. et al. Genome-scale CRISPR-Cas9 knockout screening in human cells. Science 343, 84–87 (2014).

4.

Sanjana, N. E., Shalem, O. & Zhang, F. Improved vectors and genome-wide libraries for CRISPR screening. Nat. Methods 11, 783–784 (2014).

5.

Hart, T. et al. High-resolution CRISPR screens reveal fitness genes and genotype-specific cancer liabilities. Cell 163, 1515–1526 (2015).

6.

Wang, T. et al. Identification and characterization of essential genes in the human genome. Science 350, 1096–1101 (2015).

7.

Shi, J. et al. Discovery of cancer drug targets by CRISPR–Cas9 screening of protein domains. Nat. Biotechnol. 33, 661–667 (2015).

8.

Tzelepis, K. et al. A CRISPR dropout screen identifies genetic vulnerabilities and therapeutic targets in acute myeloid leukemia. Cell Rep. 17, 1193–1205 (2016).

9.

Munoz, D. M. et al. CRISPR screens provide a comprehensive assessment of cancer vulnerabilities but generate false-positive hits for highly amplified genomic regions. Cancer Disco. 6, 900–913 (2016).

10.

Aguirre, A. J. et al. Genomic copy number dictates a gene-independent cell response to CRISPR/Cas9 targeting. Cancer Disco. 6, 914–929 (2016).

11.

Meyers, R. M. et al. Computational correction of copy number effect improves specificity of CRISPR–Cas9 essentiality screens in cancer cells. Nat. Genet. 49, 1779–1784 (2017).

12.

Wang, T. et al. Gene essentiality profiling reveals gene networks and synthetic lethal interactions with oncogenic ras. Cell 168, 890–903.e15 (2017).

13.

Sanson, K. R. et al. Optimized libraries for CRISPR–Cas9 genetic screens with multiple modalities. Nat. Commun. 9, 5416 (2018).

14.

Steinhart, Z. et al. Genome-wide CRISPR screens reveal a Wnt-FZD5 signaling circuit as a druggable vulnerability of RNF43-mutant pancreatic tumors. Nat. Med. 23, 60–68 (2017).

15.

Martin, T. D. et al. A role for mitochondrial translation in promotion of viability in K-Ras mutant cells. Cell Rep. 20, 427–438 (2017).

16.

Behan, F. M. et al. Prioritization of cancer therapeutic targets using CRISPR–Cas9 screens. Nature 568, 511–516 (2019).

17.

Hart, T. et al. Evaluation and design of genome-wide CRISPR/SpCas9 knockout screens. Genes Genome. Genet. 7, 2719–2727 (2017).

18.

Hart, T., Brown, K. R., Sircoulomb, F., Rottapel, R. & Moffat, J. Measuring error rates in genomic perturbation screens: gold standards for human functional genomics. Mol. Syst. Biol. 10, 733–733 (2014).

19.

van Overbeek, M. et al. DNA repair profiling reveals nonrandom outcomes at Cas9-mediated breaks. Mol. Cell 63, 633–646 (2016).

20.

Allen, F. et al. Predicting the mutations generated by repair of Cas9-induced double-strand breaks. Nat. Biotechnol. 498, 349 (2018).

21.

Shen, M. W. et al. Predictable and precise template-free CRISPR editing of pathogenic variants. Nature 563, 646–651 (2018).

22.

Chakrabarti, A. M. et al. Target-specific precision of CRISPR-mediated genome editing. Mol. Cell 73, 699–713 (2018).

23.

Smits, A. H. et al. Biological plasticity rescues target activity in CRISPR knock outs. Nat. Methods 346, 1258096–1258097 (2019).

24.

Anderson, J. L. et al. mRNA processing in mutant zebrafish lines generated by chemical and CRISPR-mediated mutagenesis produces unexpected transcripts that escape nonsense-mediated decay. PLoS Genet. 13, e1007105 (2017).

25.

Mou, H. et al. CRISPR/Cas9-mediated genome editing induces exon skipping by alternative splicing or exon deletion. Genome Biol. 18, 108–108 (2017).

26.

Tuladhar, R. et al. CRISPR–Cas9-based mutagenesis frequently provokes on-target mRNA misregulation. Nat. Commun. 10, 4010–4056 (2019).

27.

Schoonenberg, V. A. C. et al. CRISPRO: identification of functional protein coding sequences based on genome editing dense mutagenesis. Genome Biol. 19, 169 (2018).

28.

Tarumoto, Y. et al. LKB1, Salt-inducible kinases, and MEF2C are linked dependencies in acute myeloid leukemia. Mol. Cell 69, 1017–1027.e6 (2018).

29.

Michlits, G. et al. CRISPR-UMI: single-cell lineage tracing of pooled CRISPR–Cas9 screens. Nat. Methods 14, 1191–1197 (2017).

30.

Doench, J. G. et al. Rational design of highly active sgRNAs for CRISPR–Cas9-mediated gene inactivation. Nat. Biotechnol. 32, 1262–1267 (2014).

31.

Andersson, B. S. et al. KBM-7, a human myeloid leukemia cell line with double Philadelphia chromosomes lacking normal c-ABL and BCR transcripts. Leukemia 9, 2100–2108 (1995).

32.

Kotecki, M., Reddy, P. S. & Cochran, B. H. Isolation and characterization of a near-haploid human cell line. Exp. Cell Res. 252, 273–280 (1999).

33.

Doench, J. G. Optimized sgRNA design to maximize activity and minimize off-target effects of CRISPR–Cas9. Nat. Biotechnol. 34, 184–191 (2016).

34.

Chen, B. et al. Dynamic imaging of genomic loci in living human cells by an optimized CRISPR/Cas system. Cell 155, 1479–1491 (2013).

35.

Elling, U. et al. Forward and reverse genetics through derivation of haploid mouse embryonic stem cells. Cell. Stem Cell 9, 563–574 (2011).

36.

Elling, U. et al. A reversible haploid mouse embryonic stem cell biobank resource for functional genomics. Nature 550, 114–118 (2017).

37.

Allen, F. et al. Predicting the mutations generated by repair of Cas9-induced double-strand breaks. Nat. Biotechnol. 37, 64–72 (2019).

38.

He, W. et al. De novo identification of essential protein domains from CRISPR–Cas9 tiling-sgRNA knockout screens. Nat. Commun. 10, 4510–4541 (2019).

39.

Blanchette, M. et al. Aligning multiple genomic sequences with the threaded blockset aligner. Genome Res. 14, 708–715 (2004).

40.

Ma, J. et al. CRISPR-DO for genome-wide CRISPR design and optimization. Bioinformatics 32, 3336–3338 (2016).

41.

Adzhubei, I. A. et al. A method and server for predicting damaging missense mutations. Nat. Methods 7, 248–249 (2010).

42.

Sim, N.-L. et al. SIFT web server: predicting effects of amino acid substitutions on proteins. Nucleic Acids Res. 40, W452–W457 (2012).

43.

Chari, R., Yeo, N. C., Chavez, A. & Church, G. M. sgRNA Scorer 2.0: a species-independent model to predict CRISPR/Cas9 activity. ACS Synth. Biol. 6, 902–904 (2017).

44.

Labuhn, M. et al. Refined sgRNA efficacy prediction improves large- and small-scale CRISPR-Cas9 applications. Nucleic Acids Res. 46, 1375–1385 (2018).

45.

Chuai, G. et al. DeepCRISPR: optimized CRISPR guide RNA design by deep learning. Genome Biol. 19, 18–80 (2018).

46.

Blomen, V. A. et al. Gene essentiality and synthetic lethality in haploid human cells. Science 350, 1092–1096 (2015).

47.

Ashburner, M. et al. Gene ontology: tool for the unification of biology. The gene ontology consortium. Nat. Genet. 25, 25–29 (2000).

48.

Michlits, G., Burkard, T. R., Novatchkova, M. & Elling, U. CRISPR-UMI step by step: a protocol for robust CRISPR screening. Protoc. Exch. https://doi.org/10.1038/protex.2017.111 (2017).

49.

Capra, J. A. & Singh, M. Predicting functionally important residues from sequence conservation. Bioinformatics 23, 1875–1882 (2007).

50.

Rauscher, B., Heigwer, F., Breinig, M., Winter, J. & Boutros, M. GenomeCRISPR—a database for high-throughput CRISPR/Cas9 screens. Nucleic Acids Res. 45, D679–D686 (2017).

51.

Finn, R. D. et al. The pfam protein families database: towards a more sustainable future. Nucleic Acids Res. 44, D279–D285 (2016).

52.

El-Gebali, S. et al. The Pfam protein families database in 2019. Nucleic Acids Res. 47, D427–D432 (2019).

53.

Rosenbloom, K. R. et al. The UCSC genome browser database: 2015 update. Nucleic Acids Res. 43, D670–D681 (2015).
Acknowledgements
We thank all members of our laboratories for constructive discussions and M. Weißenböck, T. Hoffmann and O. Kaya for experimental support. We are grateful to A. Stark and J. Brennecke for advice throughout this study, and to A. Andersen (Life Science Editors) for manuscript editing. We thank M. Schuler, M. Lenter, D. Mennerich and B. Ingelheim for support with library generation, A. Sommer and his team at the Vienna BioCenter Core Facilities (VBCF) (www.vbcf.ac.at) for NGS services, IMBA/IMP services for continuous support and the VBCF Information Management team and the IMBA/IMP IT team for help with building the website. We thank D. Hoepfner for continuous helpful discussions and I. Kaminski (kaminskigrafik.ch) for logo design. This work was funded by the European Research Council (ERC-StG-336860 to J.Z.) and the Austrian Science Fund (SFB-F4710 to J.Z.). Research at IMP/IMBA is generously supported by Boehringer Ingelheim, the Austrian Research Promotion Agency (Headquarter grant FFG-852936) and the Austrian Academy of Sciences.
Ethics declarations
Competing interests
The authors declare no competing interests.
Additional information
Peer review information Lei Tang was the primary editor on this article and managed its editorial process and peer review in collaboration with the rest of the editorial team.
Publisher's note Springer Nature remains neutral with regard to jurisdictional claims in published maps and institutional affiliations.
Supplementary information
About this article
Cite this article
Michlits, G., Jude, J., Hinterndorfer, M. et al. Multilayered VBC score predicts sgRNAs that efficiently generate loss-of-function alleles. Nat Methods 17, 708–716 (2020). https://doi.org/10.1038/s41592-020-0850-8
Received:

Accepted:

Published:

Issue Date: