Abstract
Although label-free cell sorting is desirable for providing pristine cells for further analysis or use, current approaches lack molecular specificity and speed. Here, we combine real-time fluorescence and deformability cytometry with sorting based on standing surface acoustic waves and transfer molecular specificity to image-based sorting using an efficient deep neural network. In addition to general performance, we demonstrate the utility of this method by sorting neutrophils from whole blood without labels.
Access options
Subscribe to Journal
Get full journal access for 1 year
$259.00
only $21.58 per issue
All prices are NET prices.
VAT will be added later in the checkout.
Rent or Buy article
Get time limited or full article access on ReadCube.
from$8.99
All prices are NET prices.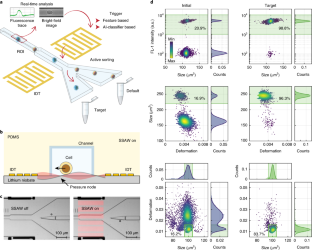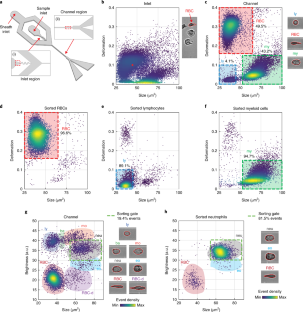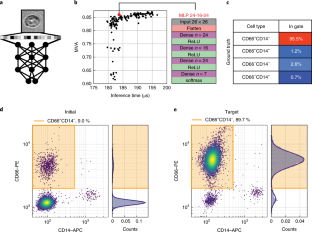 Code availability
Shape-Out and AID are open source and available on GitHub at URLs provided in the Methods. Shape-In is commercially available from Zellmechanik Dresden GmbH. The C++ code used for sorting is custom-built for the hardware used in the set-up and available onsite to interested parties.
References
1.

Dainiak, M. B., Kumar, A., Galaev, I. Y. & Mattiasson, B. in Cell Separation 1–18 (Springer, 2007).

2.

Wyatt Shields, Iv,C., Reyes, C. D. & López, G. P. Microfluidic cell sorting: a review of the advances in the separation of cells from debulking to rare cell isolation. Lab Chip 15, 1230–1249 (2015).

3.

Baron, C. S. et al. Cell type purification by single-cell transcriptome-trained sorting. Cell 179, 527–542 (2019).

4.

Stamm, C. et al. Autologous bone-marrow stem-cell transplantation for myocardial regeneration. Lancet 361, 45–46 (2003).

5.

Bartsch, U. et al. Retinal cells integrate into the outer nuclear layer and differentiate into mature photoreceptors after subretinal transplantation into adult mice. Exp. Eye Res. 86, 691–700 (2008).

6.

Miltenyi, S., Müller, W., Weichel, W. & Radbruch, A. High gradient magnetic cell separation with MACS. Cytometry 11, 231–238 (1990).

7.

Bonner, W. A., Hulett, H. R., Sweet, R. G. & Herzenberg, L. A. Fluorescence activated cell sorting. Rev. Sci. Instrum. 43, 404–409 (1972).

8.

Shapiro, H. M. Practical Flow Cytometry (John Wiley & Sons, 2003).

9.

Preira, P. et al. Passive circulating cell sorting by deformability using a microfluidic gradual filter. Lab Chip 13, 161–170 (2013).

10.

Wang, G. et al. Microfluidic cellular enrichment and separation through differences in viscoelastic deformation. Lab Chip 15, 532–540 (2015).

11.

Beech, J. P., Holm, S. H., Adolfsson, K. & Tegenfeldt, J. O. Sorting cells by size, shape and deformability. Lab Chip 12, 1048–1051 (2012).

12.

Otto, O. et al. Real-time deformability cytometry: on-the-fly cell mechanical phenotyping. Nat. Methods 12, 199–202 (2015).

13.

Toepfner, N. et al. Detection of human disease conditions by single-cell morpho-rheological phenotyping of blood. eLife 7, e29213 (2018).

14.

Nitta, N. et al. Intelligent image-activated cell sorting. Cell 175, 266–276 (2018).

15.

Rosendahl, P. et al. Real-time fluorescence and deformability cytometry. Nat. Methods 15, 355 (2018).

16.

Nawaz, A. A. et al. Acoustofluidic fluorescence activated cell sorter. Anal. Chem. 87, 12051–12058 (2015).

17.

Girault, M. et al. An on-chip imaging droplet-sorting system: a real-time shape recognition method to screen target cells in droplets with single cell resolution. Sci. Rep. 7, 40072 (2017).

18.

Girardo, S. et al. Standardized microgel beads as elastic cell mechanical probes. J. Mater. Chem. B 6, 6245–6261 (2018).

19.

Mietke, A. et al. Extracting cell stiffness from real-time deformability cytometry: theory and experiment. Biophys. J. 109, 2023–2036 (2015).

20.

Mokbel, M. et al. Numerical simulation of real-time deformability cytometry to extract cell mechanical properties. ACS Biomater. Sci. Eng. 3, 2913–2962 (2017).

21.

Hartono, D. et al. On-chip measurements of cell compressibility via acoustic radiation. Lab Chip 11, 4072–4080 (2011).

22.

Gustafson, M. P. et al. A method for identification and analysis of non-overlapping myeloid immunophenotypes in humans. PLoS One 10, e0121546 (2015).

23.

Bashant, K. R. et al. Real-time deformability cytometry reveals sequential contraction and expansion during neutrophil priming. J. Leukoc. Biol. 105, 1143–1153 (2019).

24.

Di Carlo, D., Irimia, D., Tompkins, R. G. & Toner, M. Continuous inertial focusing, ordering, and separation of particles in microchannels. Proc. Natl Acad. Sci. USA 104, 18892–18897 (2007).

25.

Ding, X. et al. Surface acoustic wave microfluidics. Lab Chip 13, 3626–3649 (2013).

26.

Bradski, G. The OpenCV library. Dr Dobb's J. Softw. Tools 25, 120–126 (2000).

27.

Herold, C. Mapping of deformation to apparent Young's modulus in real-time deformability cytometry. Preprint at https://arxiv.org/abs/1704.00572 (2017).

28.

Kräter, M. et al. AIDeveloper: deep learning image classification in life science and beyond. Preprint at https://doi.org/10.1101/2020.03.03.975250 (2020).

29.

Nickolls, J., Buck, I., Garland, M. & Skadron, K. Scalable parallel programming with CUDA. Queue 6, 40 (2008).

30.

Abadi, M. et al. TensorFlow: large-scale machine learning on heterogeneous dstributed systems. Preprint at https://arxiv.org/abs/1603.04467 (2016).

31.

Al-Rfou, R. et al. Theano: a Python framework for fast computation of mathematical expressions. Preprint at https://arxiv.org/abs/1605.02688 (2016).

32.

Glaubitz, M. et al. A novel contact model for AFM indentation experiments on soft spherical cell-like particles. Soft Matter 10, 6732–6741 (2014).
Acknowledgements
We thank D. Soteriou (MPL Erlangen) for engaging discussions, and C. Schweitzer (MPL Erlangen) and I. Richter (TU Dresden) for technical assistance. We further thank the Microstructure Facility at the Center for Molecular and Cellular Bioengineering (CMCB) at Technische Universität Dresden (in part funded by the State of Saxony and the European Fund for Regional Development) for the production of the microgel beads and hosting the chip fabrication. The HL60/S4 cells were a kind gift of D. E. Olins and A. L. Olins (University of New England), and Kc167 cells were a kind gift of B. Baum (University College London). The authors acknowledge funding from the Alexander von Humboldt-Stiftung (Alexander von Humboldt Professorship to J.G.), ERC Starting Grant (starting grant LightTouch no. 282060 to J.G.), European Commission through LAPASO ITN project (EU FP7/2007-2013, no. 607350), a DKMS 'Mechthild Harf Research Grant' (DKMS-SLS-MHG-2016-02 to A.J.) and German Research Foundation (no. GU 612/5-1 to J.G.).
Ethics declarations
Competing interests
M.U., M. Kräter, N.T., M. Kubankova, R.G., S.A., F.R., A.T., S.G. and A.J. declare no competing interests. A.A.N., M.H., M.N. and J.G. have applied for patent protection of this method. P.R., C.H. and P.M. work for Zellmechanik Dresden GmbH, the company which sells devices based on RT-FDC technology. P.R. and C.H. hold shares of Zellmechanik Dresden GmbH.
Additional information
Peer review information Rita Strack was the primary editor on this article and managed its editorial process and peer review in collaboration with the rest of the editorial team.
Publisher's note Springer Nature remains neutral with regard to jurisdictional claims in published maps and institutional affiliations.
Integrated supplementary information
Supplementary Information
About this article
Cite this article
Nawaz, A.A., Urbanska, M., Herbig, M. et al. Intelligent image-based deformation-assisted cell sorting with molecular specificity. Nat Methods 17, 595–599 (2020). https://doi.org/10.1038/s41592-020-0831-y
Received:

Accepted:

Published:

Issue Date:
Further reading
Satoshi Yamaguchi

,

Risa Takagi

,

Tsuyoshi Hosogane

,

Yuki Ohashi

,

Yoko Sakai

,

Shouichi Sakakihara

,

Ryota Iino

,

Kazuhito V. Tabata

,

Hiroyuki Noji

&

Akimitsu Okamoto

ACS Applied Bio Materials (2020)

Kerwin Kwek Zeming

,

Yuko Sato

,

Lu Yin

,

Nai-Jia Huang

,

Lan Hiong Wong

,

Hooi Linn Loo

,

Ying Bena Lim

,

Chwee Teck Lim

,

Jianzhu Chen

,

Peter R. Preiser

&

Jongyoon Han

Lab on a Chip (2020)

Akihiro Isozaki

,

Jeffrey Harmon

,

Yuqi Zhou

,

Shuai Li

,

Yuta Nakagawa

,

Mika Hayashi

,

Hideharu Mikami

,

Cheng Lei

&

Keisuke Goda

Lab on a Chip (2020)