Abstract
We present the Single-Cell Clustering Assessment Framework, a method for the automated identification of putative cell types from single-cell RNA sequencing (scRNA-seq) data. By iteratively applying a machine learning approach to a given set of cells, we simultaneously identify distinct cell groups and a weighted list of feature genes for each group. The differentially expressed feature genes discriminate the given cell group from other cells. Each such group of cells corresponds to a putative cell type or state, characterized by the feature genes as markers. Benchmarking using expert-annotated scRNA-seq datasets shows that our method automatically identifies the 'ground truth' cell assignments with high accuracy.
Access options
Subscribe to Journal
Get full journal access for 1 year
$119.00
only $9.92 per issue
All prices are NET prices.
VAT will be added later in the checkout.
Tax calculation will be finalised during checkout.
Rent or Buy article
Get time limited or full article access on ReadCube.
from$8.99
All prices are NET prices.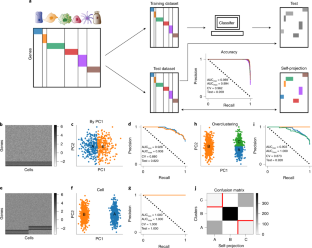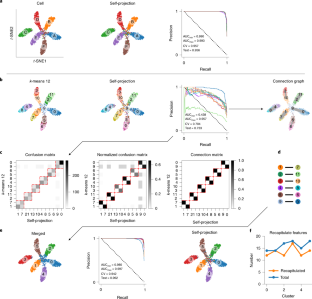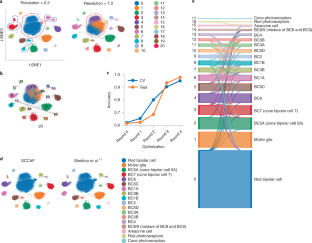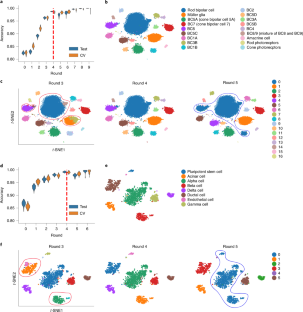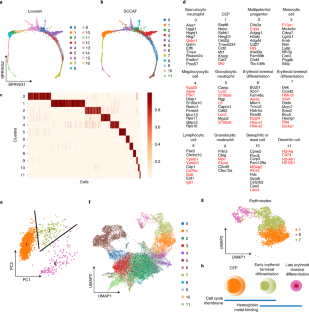 Data availability
The datasets together with the accession codes are as follows: pancreas12, accession no. GSE84133; cortex30, accession no. GSE60361; retinal bipolar neurons11, accession no. GSE81904; pancreatic islets13, accession no. E-MTAB-5061; visual cortex31, accession no. GSE102827; hematopoiesis35, GSE89754; hematopoiesis36, accession no. GSE92575; cortex51, accession no. GSE71585; cortex33, accession no. GSE115746; liver32, accession no. GSE124395; liver50, accession no. GSE115469. Source data for Figs. 1–5 are included with this paper.
References
1.

Hooke, R. Micrographia: or Some Physiological Descriptions of Minute Bodies Made by Magnifying Glasses. With Observations and Inquiries Thereupon (J. Martyn and J. Allestry, 1665).

2.

Arendt, D. et al. The origin and evolution of cell types. Nat. Rev. Genet. 17, 744–757 (2016).

3.

Nagasawa, T. Microenvironmental niches in the bone marrow required for B-cell development. Nat. Rev. Immunol. 6, 107–116 (2006).

4.

Trapnell, C. Defining cell types and states with single-cell genomics. Genome Res. 25, 1491–1498 (2015).

5.

Rozenblatt-Rosen, O., Stubbington, M. J. T., Regev, A. & Teichmann, S. A. The Human Cell Atlas: from vision to reality. Nature 550, 451–453 (2017).

6.

Regev, A. et al. The Human Cell Atlas. eLife 6, e27041 (2017).

7.

Wolf, F. A., Angerer, P. & Theis, F. J. SCANPY: large-scale single-cell gene expression data analysis. Genome Biol. 19, 15 (2018).

8.

Butler, A., Hoffman, P., Smibert, P., Papalexi, E. & Satija, R. Integrating single-cell transcriptomic data across different conditions, technologies, and species. Nat. Biotechnol. 36, 411–420 (2018).

9.

Traag, V. A., Waltman, L. & van Eck, N. J. From Louvain to Leiden: guaranteeing well-connected communities. Sci. Rep. 9, 5233 (2019).

10.

Blondel, V. D., Guillaume, J.-L., Lambiotte, R. & Lefebvre, E. Fast unfolding of communities in large networks. J. Stat. Mech: Theory Exp. 2008, P10008 (2008).

11.

Shekhar, K. et al. Comprehensive classification of retinal bipolar neurons by single-cell transcriptomics. Cell 166, 1308–1323.e30 (2016).

12.

Baron, M. et al. A single-cell transcriptomic map of the human and mouse pancreas reveals inter- and intra-cell population structure. Cell Syst. 3, 346–360.e4 (2016).

13.

Segerstolpe, Å. et al. Single-cell transcriptome profiling of human pancreatic islets in health and type 2 diabetes. Cell Metab. 24, 593–607 (2016).

14.

Han, X. et al. Mapping the Mouse Cell Atlas by Microwell-Seq. Cell 173, 1307 (2018).

15.

Kiselev, V. Y. et al. SC3: consensus clustering of single-cell RNA-seq data. Nat. Methods 14, 483–486 (2017).

16.

Zhang, J. M., Fan, J., Fan, H. C., Rosenfeld, D. & Tse, D. N. An interpretable framework for clustering single-cell RNA-Seq datasets. BMC Bioinformatics 19, 93 (2018).

17.

de Kanter, J. K., Lijnzaad, P., Candelli T., Margaritis, T. & Holstege, F. C. P. CHETAH: a selective, hierarchical cell type identification method for single-cell RNA sequencing. Nucleic Acids Res. 47, e95 (2019).

18.

Xie, P. et al. SuperCT: a supervised-learning framework for enhanced characterization of single-cell transcriptomic profiles. Nucleic Acids Res. 47, e48 (2019).

19.

Pliner, H. A., Shendure, J. & Trapnell, C. Supervised classification enables rapid annotation of cell atlases. Nat. Methods 16, 983–986 (2019).

20.

Zhang, A. W. et al. Probabilistic cell-type assignment of single-cell RNA-seq for tumor microenvironment profiling. Nat. Methods 16, 1007–1015 (2019).

21.

Aran, D. et al. Reference-based analysis of lung single-cell sequencing reveals a transitional profibrotic macrophage. Nat. Immunol. 20, 163–172 (2019).

22.

Tan, Y. & Cahan, P. SingleCellNet: a computational tool to classify single cell RNA-seq data across platforms and across species. Cell Syst. 9, 207–213.e2 (2019).

23.

Wagner, F. & Yanai, I. Moana: a robust and scalable cell type classification framework for single-cell RNA-Seq data. Preprint at bioRxiv https://doi.org/10.1101/456129 (2018).

24.

Ma, F. & Pellegrini, M. ACTINN: automated identification of cell types in single cell RNA sequencing. Bioinformatics 36, 533–538 (2020).

25.

Lin, Y. et al. scClassify: hierarchical classification of cells. Preprint at bioRxiv https://doi.org/10.1101/776948 (2019).

26.

Ntranos, V., Yi, L., Melsted, P. & Pachter, L. A discriminative learning approach to differential expression analysis for single-cell RNA-seq. Nat. Methods 16, 163–166 (2019).

27.

Zappia, L., Phipson, B. & Oshlack, A. Splatter: simulation of single-cell RNA sequencing data. Genome Biol. 18, 174 (2017).

28.

Dimitriadis, G., Neto, J. P. & Kampff, A. R. t-SNE visualization of large-scale neural recordings. Neural Comput. 30, 1750–1774 (2018).

29.

Hubert, L. & Arabie, P. Comparing partitions. J. Classif. 2, 193–218 (1985).

30.

Zeisel, A. et al. Brain structure. Cell types in the mouse cortex and hippocampus revealed by single-cell RNA-seq. Science 347, 1138–1142 (2015).

31.

Hrvatin, S. et al. Single-cell analysis of experience-dependent transcriptomic states in the mouse visual cortex. Nat. Neurosci. 21, 120–129 (2018).

32.

Aizarani, N. et al. A human liver cell atlas reveals heterogeneity and epithelial progenitors. Nature 572, 199–204 (2019).

33.

Tasic, B. et al. Shared and distinct transcriptomic cell types across neocortical areas. Nature 563, 72–78 (2018).

34.

Tracy, C. A. & Widom, H. Level-spacing distributions and the Airy kernel. Comm. Math. Phys. 159, 151–174 (1994).

35.

Tusi, B. K. et al. Population snapshots predict early haematopoietic and erythroid hierarchies. Nature 555, 54–60 (2018).

36.

Giladi, A. et al. Single-cell characterization of haematopoietic progenitors and their trajectories in homeostasis and perturbed haematopoiesis. Nat. Cell Biol. 20, 836–846 (2018).

37.

McInnes, L., Healy, J., Saul, N. & Großberger, L. UMAP: Uniform Manifold Approximation and Projection. J. Open Source Softw. 3, 861 (2018).

38.

Becht, E. et al. Dimensionality reduction for visualizing single-cell data using UMAP. Nat. Biotechnol. 37, 38–44 (2019).

39.

Konstantinides, N. et al. Phenotypic convergence: distinct transcription factors regulate common terminal features. Cell 174, 622–635.e13 (2018).

40.

Gerber, T. et al. Single-cell analysis uncovers convergence of cell identities during axolotl limb regeneration. Science 362, eaaq0681 (2018).

41.

Pedregosa, F. et al. Scikit-learn: machine learning in Python. J. Mach. Learn. Res. 12, 2825–2830 (2011).

42.

Stehman, S. V. Selecting and interpreting measures of thematic classification accuracy. Remote Sens. Environ. 62, 77–89 (1997).

43.

Hunter, J. D. Matplotlib: a 2D graphics environment. Comput. Sci. Eng. 9, 90–95 (2007).

44.

Hill, C. Learning Scientific Programming with Python 333–401 (Cambridge Univ. Press, 2016).

45.

Svensson, V., Teichmann, S. A. & Stegle, O. SpatialDE: identification of spatially variable genes. Nat. Methods 15, 343–346 (2018).

46.

Leek, J. T. svaseq: removing batch effects and other unwanted noise from sequencing data. Nucleic Acids Res. 42, e161 (2014).

47.

Azizi, E., Prabhakaran, S., Carr, A. & Pe'er, D. Bayesian inference for single-cell clustering and imputing. Genom. Comput. Biol. 3, e46 (2017).

48.

Athar, A. et al. ArrayExpress update—from bulk to single-cell expression data. Nucleic Acids Res. 47, D711–D715 (2019).

49.

Allen Brain Atlas Data Portal. Cell types: overview of the data (Allen Institute, 2015); http://celltypes.brain-map.org

50.

MacParland, S. A. et al. Single cell RNA sequencing of human liver reveals distinct intrahepatic macrophage populations. Nat. Commun. 9, 4383 (2018).

51.

Tasic, B. et al. Adult mouse cortical cell taxonomy revealed by single cell transcriptomics. Nat. Neurosci. 19, 335–346 (2016).
Acknowledgements
We thank all members of the Teichmann and Brazma labs for helpful discussions. We thank S. Aldridge for proofreading the text. Z.M. is supported by the Single Cell Gene Expression Atlas grant from the Wellcome Trust (no. 108437/Z/15/Z).
Ethics declarations
Competing interests
In the last three years S.A.T. has consulted for Biogen, Genentech and Roche, and is a member of the Scientific Advisory Board of Foresite Labs and of the Functional Genomics & AI Scientific Advisory Board of GlaxoSmithKline.
Additional information
Peer review information Nicole Rusk and Lin Tang were the primary editors on this article and managed its editorial process and peer review in collaboration with the rest of the editorial team.
Publisher's note Springer Nature remains neutral with regard to jurisdictional claims in published maps and institutional affiliations.
Supplementary information
Supplementary Discussion, Supplementary Figs. 1–18, Supplementary Table 1
About this article
Cite this article
Miao, Z., Moreno, P., Huang, N. et al. Putative cell type discovery from single-cell gene expression data. Nat Methods 17, 621–628 (2020). https://doi.org/10.1038/s41592-020-0825-9
Received:

Accepted:

Published:

Issue Date: