Abstract
We designed a head-mounted three-photon microscope for imaging deep cortical layer neuronal activity in a freely moving rat. Delivery of high-energy excitation pulses at 1,320 nm required both a hollow-core fiber whose transmission properties did not change with fiber movement and dispersion compensation. These developments enabled imaging at >1.1 mm below the cortical surface and stable imaging of layer 5 neuronal activity for >1 h in freely moving rats performing a range of behaviors.
Access options
Subscribe to Journal
Get full journal access for 1 year
$119.00
only $9.92 per issue
All prices are NET prices.
VAT will be added later in the checkout.
Tax calculation will be finalised during checkout.
Rent or Buy article
Get time limited or full article access on ReadCube.
from$8.99
All prices are NET prices.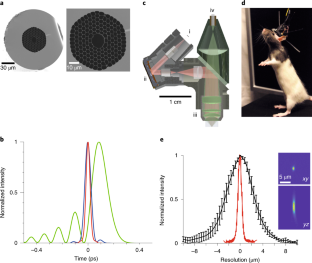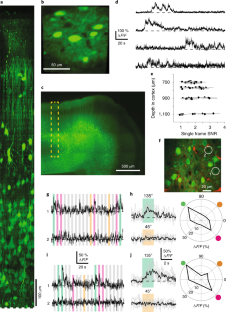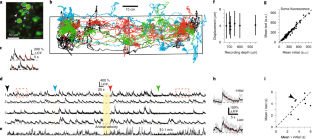 Code availability
The code supporting the plots and other findings in the manuscript are available from the corresponding author upon reasonable request.
References
1.

Helmchen, F., Fee, M. S., Tank, D. W. & Denk, W. A miniature head-mounted two-photon microscope. High-resolution brain imaging in freely moving animals. Neuron 31, 903–912 (2001).

2.

Sawinski, J. et al. Visually evoked activity in cortical cells imaged in freely moving animals. Proc. Natl Acad. Sci. USA 106, 19557–19562 (2009).

3.

Zong, W. et al. Fast high-resolution miniature two-photon microscopy for brain imaging in freely behaving mice. Nat. Methods 14, 713–719 (2017).

4.

Horton, N. G. et al. In vivo three-photon microscopy of subcortical structures within an intact mouse brain. Nat. Photonics 7, 205–209 (2013).

5.

Wang, T. et al. Three-photon imaging of mouse brain structure and function through the intact skull. Nat. Methods 15, 789–792 (2018).

6.

Yildirim, M., Sugihara, H., So, P. T. C. & Sur, M. Functional imaging of visual cortical layers and subplate in awake mice with optimized three-photon microscopy. Nat. Commun. 10, 177 (2019).

7.

Russell, P. Photonic crystal fibers. Science 299, 358–362 (2003).

8.

Frosz, M. H., Roth, P., Günendi, M. C. & Russell, P. S. J. Analytical formulation for the bend loss in single-ring hollow-core photonic crystal fibers. Photonics Res. 5, 88–91 (2017).

9.

Ouzounov, D. G., Wang, T., Wu, C. & Xu, C. GCaMP6 ΔF/F dependence on the excitation wavelength in 3-photon and 2-photon microscopy of mouse brain activity. Biomed. Opt. Express 10, 3343–3352 (2019).

10.

Bouwmans, G. et al. Properties of a hollow-core photonic bandgap fiber at 850 nm wavelength. Opt. Express 11, 1613–1620 (2003).

11.

Proctor, B. & Wise, F. Quartz prism sequence for reduction of cubic phase in a mode-locked TiAl2O3 laser. Opt. Lett. 17, 1295–1297 (1992).

12.

Horton, N. G. & Xu, C. Dispersion compensation in three-photon fluorescence microscopy at 1,700 nm. Biomed. Opt. Express 6, 1392–1397 (2015).

13.

Piyawattanametha, W. et al. Fast-scanning two-photon fluorescence imaging based on a microelectromechanical systems two-dimensional scanning mirror. Opt. Lett. 31, 2018–2020 (2006).

14.

Mittmann, W. et al. Two-photon calcium imaging of evoked activity from L5 somatosensory neurons in vivo. Nat. Neurosci. 14, 1089–1093 (2011).

15.

Girman, S. V., Sauve, Y. & Lund, R. D. Receptive field properties of single neurons in rat primary visual cortex. J. Neurophysiol. 82, 301–311 (1999).

16.

Wallace, D. J. et al. Rats maintain an overhead binocular field at the expense of constant fusion. Nature 498, 65–69 (2013).

17.

Hopt, A. & Neher, E. Highly nonlinear photodamage in two-photon fluorescence microscopy. Biophys. J. 80, 2029–2036 (2001).

18.

Koester, H. J., Baur, D., Uhl, R. & Hell, S. W. Ca2+ fluorescence imaging with pico- and femtosecond two-photon excitation: signal and photodamage. Biophys. J. 77, 2226–2236 (1999).

19.

Harvey, C. D., Coen, P. & Tank, D. W. Choice-specific sequences in parietal cortex during a virtual-navigation decision task. Nature 484, 62–68 (2012).

20.

Nimmerjahn, A., Kirchhoff, F., Kerr, J. N. & Helmchen, F. Sulforhodamine 101 as a specific marker of astroglia in the neocortex in vivo. Nat. Methods 1, 31–37 (2004).

21.

Brainard, D. H. The Psychophysics Toolbox. Spat. Vis. 10, 433–436 (1997).

22.

Pelli, D. G. The VideoToolbox software for visual psychophysics: transforming numbers into movies. Spat. Vis. 10, 437–442 (1997).

23.

Euler, T. et al. Eyecup scope—optical recordings of light stimulus-evoked fluorescence signals in the retina. Pflügers Arch. 457, 1393–1414 (2009).

24.

Strickland, D. & Mourou, G. Compression of amplified chirped optical pulses. Opt. Commun. 55, 447–449 (1985).

25.

Pachitariu, M. et al. Suite2p: beyond 10,000 neurons with standard two-photon microscopy. Preprint at bioRxiv https://doi.org/10.1101/061507 (2017).

26.

Dombeck, D. A., Khabbaz, A. N., Collman, F., Adelman, T. L. & Tank, D. W. Imaging large-scale neural activity with cellular resolution in awake, mobile mice. Neuron 56, 43–57 (2007).

27.

Chen, T. W. et al. Ultrasensitive fluorescent proteins for imaging neuronal activity. Nature 499, 295–300 (2013).
Acknowledgements
We thank K. Briggman for comments on an earlier version of this manuscript, C. Xu (Cornell University) for his generous gift of an initial fiber to test, and both him and W. Denk for insightful discussions. We thank R. Pohle for assistance with editing. We thank U. Czubayko, J. Klesing and R. Beck for help with histology. We thank M. Bräuer, R. Honnef, M. Strauβfeld and Z. Amir from the mechanical workshop for production of microscope parts. Funding was obtained from Stiftung Caesar and the Max Planck Society and from Deutsche Forschungsgemeinschaft (DFG, German Research Foundation) under SFB 1089-227953431.
Ethics declarations
Competing interests
The authors declare no competing interests.
Additional information
Peer review information Nina Vogt was the primary editor on this article and managed its editorial process and peer review in collaboration with the rest of the editorial team.
Publisher's note Springer Nature remains neutral with regard to jurisdictional claims in published maps and institutional affiliations.
Supplementary information
About this article
Cite this article
Klioutchnikov, A., Wallace, D.J., Frosz, M.H. et al. Three-photon head-mounted microscope for imaging deep cortical layers in freely moving rats. Nat Methods 17, 509–513 (2020). https://doi.org/10.1038/s41592-020-0817-9
Received:

Accepted:

Published:

Issue Date:
Further reading
Science China Chemistry (2021)

Lab Animal (2020)