Abstract
Recombinant adeno-associated viruses (rAAVs) are efficient gene delivery vectors via intravenous delivery; however, natural serotypes display a finite set of tropisms. To expand their utility, we evolved AAV capsids to efficiently transduce specific cell types in adult mouse brains. Building upon our Cre-recombination-based AAV targeted evolution (CREATE) platform, we developed Multiplexed-CREATE (M-CREATE) to identify variants of interest in a given selection landscape through multiple positive and negative selection criteria. M-CREATE incorporates next-generation sequencing, synthetic library generation and a dedicated analysis pipeline. We have identified capsid variants that can transduce the central nervous system broadly, exhibit bias toward vascular cells and astrocytes, target neurons with greater specificity or cross the blood–brain barrier across diverse murine strains. Collectively, the M-CREATE methodology accelerates the discovery of capsids for use in neuroscience and gene-therapy applications.
Relevant articles
Open Access articles citing this article.
Young Woo Noh

,

Chaehyun Yook

…

Eunjoon Kim

Communications Biology Open Access 18 August 2022

Ahram Jang

&

Maria K. Lehtinen

Fluids and Barriers of the CNS Open Access 26 May 2022

Lea Jessica Flitsch

,

Kathleen Börner

…

Oliver Brüstle

Scientific Reports Open Access 19 May 2022
Access options
Subscribe to Nature+
Get immediate online access to Nature and 55 other Nature journal
Subscribe to Journal
Get full journal access for 1 year
$99.00
only $8.25 per issue
All prices are NET prices.
VAT will be added later in the checkout.
Tax calculation will be finalised during checkout.
Buy article
Get time limited or full article access on ReadCube.
$32.00
All prices are NET prices.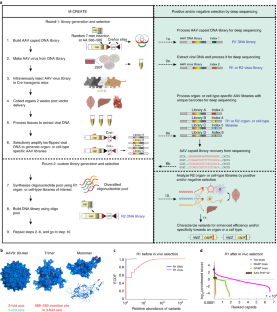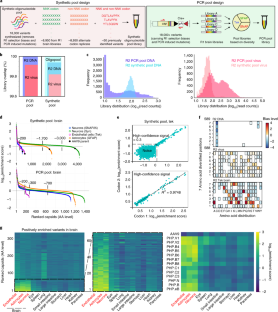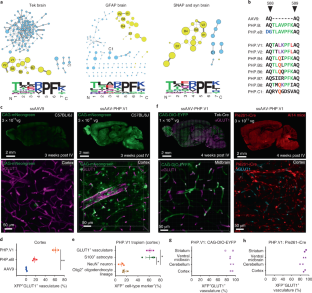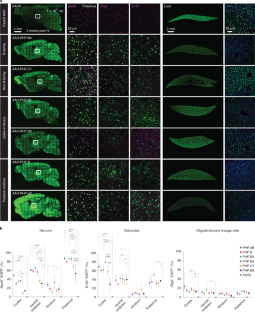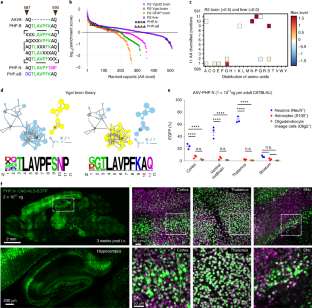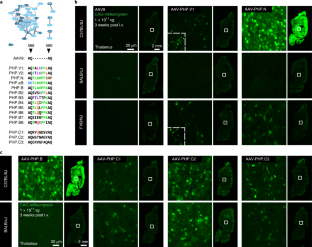 Data availability
The NGS datasets using the synthetic pool and PCR pool selection methods that are reported in this article are available under the SRA accession code PRJNA610987. The following vector plasmids are deposited on Addgene for distribution (http://www.addgene.org) AAV-PHP.V1: 127847, AAV-PHP.V2: 127848, AAV-PHP.B4: 127849, and AAV-PHP.N: 127851, and viruses may be available for commonly packaged genomes. Other plasmids or viruses not available at Addgene may be requested from Caltech, CLOVER Center (http://clover.caltech.edu/). GenBank: AAV-PHP.V1: MT162422, AAV-PHP.V2: MT162423, AAV-PHP.N: MT162424, AAV- PHP.C1: MT162425, AAV-PHP.C2: MT162426, AAV-PHP.C3: MT162427, AAV-PHP.B4: MT162428, AAV-PHP.B5: MT162429, AAV-PHP.B6: MT162430, AAV-PHP.B7: MT162431 and AAV-PHP.B8: MT162432.
References
Wu, Z., Asokan, A. & Samulski, R. J. Adeno-associated virus serotypes: vector toolkit for human gene therapy. Mol. Ther. J. Am. Soc. Gene Ther. 14, 316–327 (2006).

Naso, M. F., Tomkowicz, B., Perry, W. L. & Strohl, W. R. Adeno-associated virus (AAV) as a vector for gene therapy. Biodrugs 31, 317–334 (2017).

Daya, S. & Berns, K. I. Gene therapy using adeno-associated virus vectors. Clin. Microbiol. Rev. 21, 583–593 (2008).

Gaj, T., Epstein, B. E. & Schaffer, D. V. Genome engineering using adeno-associated virus: basic and clinical research applications. Mol. Ther. 24, 458–464 (2016).

Deverman, B. E., Ravina, B. M., Bankiewicz, K. S., Paul, S. M. & Sah, D. W. Y. Gene therapy for neurological disorders: progress and prospects. Nat. Rev. Drug Discov. 17, 767 (2018).

Sen, D. Improving clinical efficacy of adeno associated vectors by rational capsid bioengineering. J. Biomed. Sci. 21, 103 (2014).

Lee, E. J., Guenther, C. M. & Suh, J. Adeno-associated virus (AAV) vectors: rational design strategies for capsid engineering. Curr. Opin. Biomed. Eng. 7, 58–63 (2018).

Bartlett, J. S., Kleinschmidt, J., Boucher, R. C. & Samulski, R. J. Targeted adeno-associated virus vector transduction of nonpermissive cells mediated by a bispecific F(ab'gamma)2 antibody. Nat. Biotechnol. 17, 181–186 (1999).

Davidsson, M. et al. A systematic capsid evolution approach performed in vivo for the design of AAV vectors with tailored properties and tropism. Proc. Natl Acad. Sci. USA 116, 27053–27062 (2019).

Bedbrook, C. N., Deverman, B. E. & Gradinaru, V. Viral strategies for targeting the central and peripheral nervous systems. Annu. Rev. Neurosci. 41, 323–348 (2018).

Kotterman, M. A. & Schaffer, D. V. Engineering adeno-associated viruses for clinical gene therapy. Nat. Rev. Genet. 15, 445–451 (2014).

Grimm, D. et al. In vitro and in vivo gene therapy vector evolution via multispecies interbreeding and retargeting of adeno-associated viruses. J. Virol. 82, 5887–5911 (2008).

Maheshri, N., Koerber, J. T., Kaspar, B. K. & Schaffer, D. V. Directed evolution of adeno-associated virus yields enhanced gene delivery vectors. Nat. Biotechnol. 24, 198–204 (2006).

Excoffon, K. J. D. A. et al. Directed evolution of adeno-associated virus to an infectious respiratory virus. Proc. Natl Acad. Sci. USA 106, 3865–3870 (2009).

Pulicherla, N. et al. Engineering liver-detargeted AAV9 vectors for cardiac and musculoskeletal gene transfer. Mol. Ther. J. Am. Soc. Gene Ther. 19, 1070–1078 (2011).

Ying, Y. et al. Heart-targeted adeno-associated viral vectors selected by in vivo biopanning of a random viral display peptide library. Gene Ther. 17, 980–990 (2010).

Müller, O. J. et al. Random peptide libraries displayed on adeno-associated virus to select for targeted gene therapy vectors. Nat. Biotechnol. 21, 1040–1046 (2003).

Ogden, P. J., Kelsic, E. D., Sinai, S. & Church, G. M. Comprehensive AAV capsid fitness landscape reveals a viral gene and enables machine-guided design. Science 366, 1139–1143 (2019).

Pekrun, K. et al. Using a barcoded AAV capsid library to select for clinically relevant gene therapy vectors. JCI Insight 4, pii: 131610 (2019).

Dalkara, D. et al. In vivo-directed evolution of a new adeno-associated virus for therapeutic outer retinal gene delivery from the vitreous. Sci. Transl. Med. 5, 189ra76 (2013).

Davis, A. S. et al. Rational design and engineering of a modified adeno-associated virus (AAV1)-based vector system for enhanced retrograde gene delivery. Neurosurgery 76, 216–225 (2015). discussion 225.

Tordo, J. et al. A novel adeno-associated virus capsid with enhanced neurotropism corrects a lysosomal transmembrane enzyme deficiency. Brain 141, 2014–2031 (2018).

Ojala, D. S. et al. In vivo selection of a computationally designed SCHEMA AAV library yields a novel variant for infection of adult neural stem cells in the SVZ. Mol. Ther. J. Am. Soc. Gene Ther. 26, 304–319 (2018).

Tervo, D. G. R. et al. A designer AAV variant permits efficient retrograde access to projection neurons. Neuron 92, 372–382 (2016).

Körbelin, J. et al. A brain microvasculature endothelial cell-specific viral vector with the potential to treat neurovascular and neurological diseases. EMBO Mol. Med. 8, 609–625 (2016).

Deverman, B. E. et al. Cre-dependent selection yields AAV variants for widespread gene transfer to the adult brain. Nat. Biotechnol. 34, 204–209 (2016).

Chan, K. Y. et al. Engineered AAVs for efficient noninvasive gene delivery to the central and peripheral nervous systems. Nat. Neurosci. 20, 1172–1179 (2017).

Lee, Y., Messing, A., Su, M. & Brenner, M. GFAP promoter elements required for region-specific and astrocyte-specific expression. Glia 56, 481–493 (2008).

Kisanuki, Y. Y. et al. Tie2-Cre transgenic mice: a new model for endothelial cell-lineage analysis in vivo. Dev. Biol. 230, 230–242 (2001).

de Leeuw, C. N. et al. rAAV-compatible MiniPromoters for restricted expression in the brain and eye. Mol. Brain 9, 52 (2016).

Rincon, M. Y. et al. Widespread transduction of astrocytes and neurons in the mouse central nervous system after systemic delivery of a self-complementary AAV-PHP.B vector. Gene Ther. 25, 83 (2018).

Hordeaux, J. et al. The GPI-Linked protein LY6A drives AAV-PHP.B transport across the blood-brain barrier. Mol. Ther. 27, 912–921 (2019).

Matsuzaki, Y. et al. Neurotropic properties of AAV-PHP.B are shared among diverse inbred strains of mice. Mol. Ther. 27, 700–704 (2019).

Huang, Q. et al. Delivering genes across the blood-brain barrier: LY6A, a novel cellular receptor for AAV-PHP.B capsids. PLoS One 14, e0225206 (2019).

Challis, R. C. et al. Systemic AAV vectors for widespread and targeted gene delivery in rodents. Nat. Protoc. 14, 379–414 (2019).

Batista, A. R. et al. Ly6a differential expression in blood–brain barrier is responsible for strain specific central nervous system transduction profile of AAV-PHP.B. Hum. Gene Ther. 31, 90–102 (2019).

Hordeaux, J. et al. The neurotropic properties of AAV-PHP.B are limited to C57BL/6J mice. Mol. Ther. 26, 664–668 (2018).

Sweeney, M. D., Zhao, Z., Montagne, A., Nelson, A. R. & Zlokovic, B. V. Blood–brain barrier: from physiology to disease and back. Physiol. Rev. 99, 21–78 (2019).

Betley, J. N. & Sternson, S. M. Adeno-associated viral vectors for mapping, monitoring and manipulating neural circuits. Hum. Gene Ther. 22, 669–677 (2011).

Sweeney, M. D., Sagare, A. P. & Zlokovic, B. V. Blood–brain barrier breakdown in Alzheimer disease and other neurodegenerative disorders. Nat. Rev. Neurol. 14, 133–150 (2018).

Lykken, E. A., Shyng, C., Edwards, R. J., Rozenberg, A. & Gray, S. J. Recent progress and considerations for AAV gene therapies targeting the central nervous system. J. Neurodev. Disord. 10, 16 (2018).

Vlasov, K., Van Dort, C. J. & Solt, K. in Methods in Enzymology vol. 603 (eds. Eckenhoff, R. G. & Dmochowski, I. J.) 181–196 (Academic Press, 2018).

Hwang, B., Lee, J. H. & Bang, D. Single-cell RNA sequencing technologies and bioinformatics pipelines. Exp. Mol. Med. 50, 96 (2018).

Paulk, N. K. et al. Bioengineered viral platform for intramuscular passive vaccine delivery to human skeletal muscle. Mol. Ther. Methods Clin. Dev. 10, 144–155 (2018).

Harris, J. A. et al. Anatomical characterization of Cre driver mice for neural circuit mapping and manipulation. Front. Neural Circuits 8, 76 (2014).

Garcia, A. D. R., Doan, N. B., Imura, T., Bush, T. G. & Sofroniew, M. V. GFAP-expressing progenitors are the principal source of constitutive neurogenesis in adult mouse forebrain. Nat. Neurosci. 7, 1233–1241 (2004).

Zhu, Y. et al. Ablation of NF1 function in neurons induces abnormal development of cerebral cortex and reactive gliosis in the brain. Genes Dev. 15, 859–876 (2001).

Madisen, L. et al. A robust and high-throughput Cre reporting and characterization system for the whole mouse brain. Nat. Neurosci. 13, 133–140 (2010).

Choi, H. M. T. et al. Third-generation in situ hybridization chain reaction: multiplexed, quantitative, sensitive, versatile, robust. Development 145, dev165753 (2018).

Renier, N. et al. iDISCO: a simple, rapid method to immunolabel large tissue samples for volume imaging. Cell 159, 896–910 (2014).

Hama, H. et al. ScaleS: an optical clearing palette for biological imaging. Nat. Neurosci. 18, 1518–1529 (2015).

DiMattia, M. A. et al. Structural insight into the unique properties of adeno-associated virus serotype 9. J. Virol. 86, 6947–6958 (2012).

Shannon, P. et al. Cytoscape: a software environment for integrated models of biomolecular interaction networks. Genome Res. 13, 2498–2504 (2003).

Schneider, T. D. & Stephens, R. M. Sequence logos: a new way to display consensus sequences. Nucleic Acids Res. 18, 6097–6100 (1990).

Crooks, G. E. WebLogo: a sequence logo generator. Genome Res. 14, 1188–1190 (2004).
Acknowledgements
We thank the following alumni and current members of the Gradinaru group for their assistance in this study: K. Y. Chan and R. Challis for performing mouse injections, R. Hurt for performing preliminary characterization of vectors, Y. Lei for assistance with cloning, K. Beadle for vector production, E. Sullivan for tissue sectioning, E. Mackey for tissue sectioning and mouse colony management, N. Flytzanis and N. Goeden for their contributions towards histology, imaging, data analysis and manuscript preparation, P. Anguiano for administrative assistance, and the entire Gradinaru group for discussions. We thank L. V. Sibener at Stanford University for sharing the Matlab scripts used in amino acid clustering analysis. We thank the Biological Imaging Facility at Caltech (supported by Caltech Beckman Institute and the Arnold and Mabel Beckman Foundation). We also thank the Millard and Muriel Jacobs Genetics and Genomics Laboratory at Caltech; and Integrative Genomics Core at City of Hope for providing sequencing service. This work was primarily supported by grants from the National Institutes of Health (NIH) to V.G.: NIH Director's New Innovator DP2NS087949 and PECASE, NIH BRAIN R01MH117069, NIH Pioneer DP1OD025535 and SPARC 1OT2OD024899. Additional funding includes the Vallee Foundation (V.G.), the Moore Foundation (V.G.), the CZI Neurodegeneration Challenge Network (V.G.), and the NSF NeuroNex Technology Hub grant 1707316 (V.G.), the Heritage Medical Research Institute (V.G.) and the Beckman Institute for CLARITY, Optogenetics and Vector Engineering Research (CLOVER) for technology development and dissemination (V.G.).
Ethics declarations
Competing interests
The California Institute of Technology has filed and licensed a patent application for the work described in this manuscript with S.R.K., B.E.D., and V.G. listed as inventors (Caltech disclosure reference no. CIT 8198).
Additional information
Peer review information Nina Vogt was the primary editor on this article and managed its editorial process and peer review in collaboration with the rest of the editorial team
Publisher's note Springer Nature remains neutral with regard to jurisdictional claims in published maps and institutional affiliations.
Integrated supplementary information
Supplementary information
About this article
Cite this article
Ravindra Kumar, S., Miles, T.F., Chen, X. et al. Multiplexed Cre-dependent selection yields systemic AAVs for targeting distinct brain cell types. Nat Methods 17, 541–550 (2020). https://doi.org/10.1038/s41592-020-0799-7
Received:

Accepted:

Published:

Issue Date:

DOI: https://doi.org/10.1038/s41592-020-0799-7