Abstract
We demonstrate single-particle charge detection mass spectrometry on an Orbitrap for the analysis of megadalton biomolecular assemblies. We establish that the signal amplitudes of individual ions scale linearly with their charge, which can be used to resolve mixed ion populations, determine charge states and thus also determine the masses of individual ions. This enables the ultrasensitive analysis of heterogeneous protein assemblies including immunoglobulin oligomers, ribosomes, proteinaceous nanocontainers and genome-packed adeno-associated viruses.
Relevant articles
Open Access articles citing this article.
Raphael Reher

,

Allegra T. Aron

…

Daniel Petras

Nature Communications Open Access 08 August 2022

Tobias P. Wörner

,

Konstantin Aizikov

…

Albert J. R. Heck

Nature Chemistry Open Access 10 March 2022
Access options
Subscribe to Nature+
Get immediate online access to the entire Nature family of 50+ journals
Subscribe to Journal
Get full journal access for 1 year
$99.00
only $8.25 per issue
All prices are NET prices.
VAT will be added later in the checkout.
Tax calculation will be finalised during checkout.
Buy article
Get time limited or full article access on ReadCube.
$32.00
All prices are NET prices.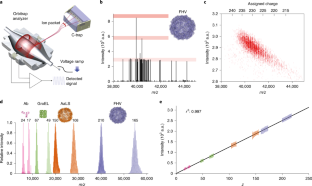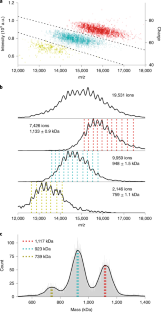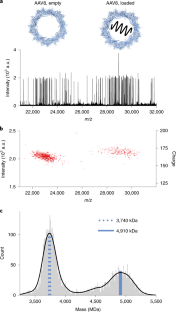 Data availability
For each of the figures and supplementary figures, the underlying centroided and filtered data are available in Supplementary Data. On request, the raw data are available from the corresponding author.
Code availability
A python class and an exemplary script for single-particle data processing are available as Supplementary Software.
References
Leney, A. C. & Heck, A. J. R. Native mass spectrometry: what is in the name? J. Am. Soc. Mass Spectrom. 28, 5–13 (2017).

Mehmood, S., Allison, T. M. & Robinson, C. V. Mass spectrometry of protein complexes: from origins to applications. Annu. Rev. Phys. Chem. 66, 453–474 (2015).

Snijder, J. & Heck, A. J. R. Analytical approaches for size and mass analysis of large protein assemblies. Annu. Rev. Anal. Chem. 7, 43–64 (2014).

Mann, M., Meng, C. K. & Fenn, J. B. Interpreting mass spectra of multiply charged ions. Anal. Chem. 61, 1702–1708 (1989).

Chang, H.-C. Ultrahigh-mass mass spectrometry of single biomolecules and bioparticles. Annu. Rev. Anal. Chem. 2, 169–185 (2010).

Keifer, D. Z. & Jarrold, M. F. Single-molecule mass spectrometry. Mass Spectrom. Rev. 36, 715–733 (2017).

Hanay, M. S. et al. Single-protein nanomechanical mass spectrometry in real time. Nat. Nanotechnol. 7, 602–608 (2012).

Sage, E. et al. Neutral particle mass spectrometry with nanomechanical systems. Nat. Commun. 6, e6482 (2015).

Elliott, A. G. et al. Simultaneous measurements of mass and collisional cross-section of single ions with charge detection mass spectrometry. Anal. Chem. 89, 7701–7708 (2017).

Doussineau, T. et al. Mass determination of entire amyloid fibrils by using mass spectrometry. Angew. Chem. - Int. Ed. 55, 2340–2344 (2016).

Pierson, E. E., Keifer, D. Z., Asokan, A. & Jarrold, M. F. Resolving adeno-associated viral particle diversity with charge detection mass spectrometry. Anal. Chem. 88, 6718–6725 (2016).

Dominguez-Medina, S. et al. Neutral mass spectrometry of virus capsids above 100 megadaltons with nanomechanical resonators. Science 362, 918–922 (2018).

Rose, R. J., Damoc, E., Denisov, E., Makarov, A. & Heck, A. J. R. High-sensitivity Orbitrap mass analysis of intact macromolecular assemblies. Nat. Methods 9, 1084–1086 (2012).

Makarov, A. & Denisov, E. Dynamics of ions of intact proteins in the Orbitrap mass analyzer. J. Am. Soc. Mass Spectrom. 20, 1486–1495 (2009).

Kafader, J. O. et al. Measurement of individual ions sharply increases the resolution of Orbitrap mass spectra of proteins. Anal. Chem. 91, 2776–2783 (2019).

Bruce, J. E. et al. Trapping, detection, and mass measurement of individual ions in a Fourier transform ion cyclotron resonance mass spectrometer. J. Am. Chem. Soc. 116, 7839–7847 (1994).

Sage, E. et al. Single-particle mass spectrometry with arrays of frequency-addressed nanomechanical resonators. Nat. Commun. 9, 3283 (2018).

Pacholarz, K. J. & Barran, P. E. Use of a charge reducing agent to enable intact mass analysis of cysteine-linked antibody-drug-conjugates by native mass spectrometry. EuPA Open Proteom. 11, 23–27 (2016).

Hiramoto, E. et al. The IgM pentamer is an asymmetric pentagon with an open groove that binds the AIM protein. Sci. Adv. 4, eaau1199 (2018).

Snijder, J. et al. Defining the stoichiometry and cargo load of viral and bacterial nanoparticles by orbitrap mass spectrometry. J. Am. Chem. Soc. 136, 7295–7299 (2014).

van de Waterbeemd, M. et al. High-fidelity mass analysis unveils heterogeneity in intact ribosomal particles. Nat. Methods 14, 283–286 (2017).

Fort, K. L. et al. Expanding the structural analysis capabilities on an Orbitrap-based mass spectrometer for large macromolecular complexes. Analyst 143, 100–105 (2017).

Chambers, M. C. et al. A cross-platform toolkit for mass spectrometry and proteomics. Nat. Biotechnol. 30, 918–920 (2012).

Veesler, D. et al. Architecture of a dsDNA viral capsid in complex with its maturation protease. Structure 22, 230–237 (2014).

Sigmund, F. et al. Bacterial encapsulins as orthogonal compartments for mammalian cell engineering. Nat. Commun. 9, e1990 (2018).
Acknowledgements
We greatly appreciate the several collaborators who provided samples to us that we used in the work presented here. We acknowledge the D. Hilvert group at the ETH Zurich for providing the AaLS-neg samples, the J. Schuurman group at Genmab for providing the mutant IgG samples, the S. Rooijakkers group at the Medical Microbiology Department, University Medical Center, Utrecht, in particular P. Aerts and C. Gosselaar-de Haas, for providing the IgM samples, and the A. Routh group at the University of Texas Medical Branch, in particular E. Jaworski, for providing the FHV samples. This work was supported by the Netherlands Organization for Scientific Research through the Spinoza Award (no. SPI.2017.028) to A.J.R.H. J.S. was further supported by the NWO Gravitation project Institute for Chemical Immunology (no. 024.002.009). Additional support came through the European Union Horizon 2020 INFRAIA project Epic-XS (project no. 823839).
Ethics declarations
Competing interests
A.A.M. is an employee of Thermo Fisher Scientific, the company that commercializes Orbitrap-based mass analyzers.
Additional information
Peer review information Allison Doerr was the primary editor on this article and managed its editorial process and peer review in collaboration with the rest of the editorial team.
Publisher's note Springer Nature remains neutral with regard to jurisdictional claims in published maps and institutional affiliations.
Integrated supplementary information
Supplementary information
About this article
Cite this article
Wörner, T.P., Snijder, J., Bennett, A. et al. Resolving heterogeneous macromolecular assemblies by Orbitrap-based single-particle charge detection mass spectrometry. Nat Methods 17, 395–398 (2020). https://doi.org/10.1038/s41592-020-0770-7
Received:

Accepted:

Published:

Issue Date:

DOI: https://doi.org/10.1038/s41592-020-0770-7