Abstract
An Orbitrap-based ion analysis procedure determines the direct charge for numerous individual protein ions to generate true mass spectra. This individual ion mass spectrometry (I2MS) method for charge detection enables the characterization of highly complicated mixtures of proteoforms and their complexes in both denatured and native modes of operation, revealing information not obtainable by typical measurements of ensembles of ions.
Access options
Subscribe to Journal
Get full journal access for 1 year
$242.00
only $20.17 per issue
All prices are NET prices.
VAT will be added later in the checkout.
Rent or Buy article
Get time limited or full article access on ReadCube.
from$8.99
All prices are NET prices.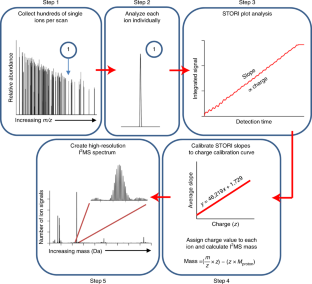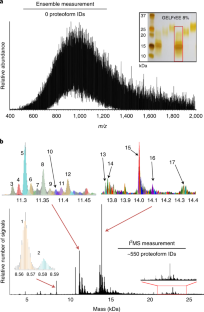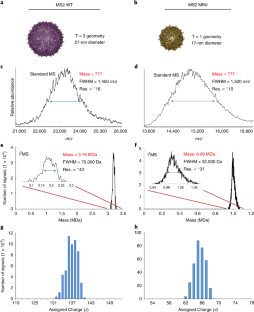 Data availability
Datasets utilized for the I2MS analyses can be found on the MassiVE repository, MSV000083840. Source data are available for Figs. 2 and 3 and Supplementary Figs. 2–4 and 9. Additional desired data that support the charge-determination findings of this study are available from the corresponding authors upon request.
Code availability
Custom compiled code associated with the I2MS creation process is available via Supplementary Software or from the corresponding authors upon reasonable request.
References
1.

Aebersold, R. & Mann, M. Mass spectrometry-based proteomics. Nature 422, 198–207 (2003).

2.

Elliott, A. G., Harper, C. C., Lin, H.-W. & Williams, E. R. Mass, mobility and MSn measurements of single ions using charge detection mass spectrometry. Analyst 142, 2760–2769 (2017).

3.

Keifer, D. Z., Pierson, E. E. & Jarrold, M. F. Charge detection mass spectrometry: weighing heavier things. Analyst 142, 1654–1671 (2017).

4.

Benner, W. H. A gated electrostatic ion trap to repetitiously measure the charge and m/z of large electrospray ions. Anal. Chem. 69, 4162–4168 (1997).

5.

Schmidt, H. T., Cederquist, H., Jensen, J. & Fardi, A. Conetrap: a compact electrostatic ion trap. Nucl. Instrum. Methods Phys. Res., Sect. B 173, 523–527 (2001).

6.

Makarov, A. & Denisov, E. Dynamics of ions of intact proteins in the orbitrap mass analyzer. J. Am. Soc. Mass. Spectrom. 20, 1486–1495 (2009).

7.

Rose, R. J., Damoc, E., Denisov, E., Makarov, A. & Heck, A. J. R. High-sensitivity orbitrap mass analysis of intact macromolecular assemblies. Nat. Methods 9, 1084 (2012).

8.

Kafader, J. O. et al. Measurement of individual ions sharply increases the resolution of orbitrap mass spectra of proteins. Anal. Chem. 91, 2776–2783 (2019).

9.

Contino, N. C. & Jarrold, M. F. Charge detection mass spectrometry for single ions with a limit of detection of 30 charges. Int. J. Mass Spectrom. 345-347, 153–159 (2013).

10.

Kafader, J. O. et al. STORI plots enable accurate tracking of individual ion signals. J. Am. Soc. Mass. Spectrom. 30, 2200–2203 (2019).

11.

Tran, J. C. et al. Mapping intact protein isoforms in discovery mode using top-down proteomics. Nature 480, 254 (2011).

12.

Gómez, S. M., Nishio, J. N., Faull, K. F. & Whitelegge, J. P. The chloroplast grana proteome defined by intact mass measurements from liquid chromatography mass spectrometry. Mol. Cell Proteom. 1, 46–59 (2002).

13.

Smith, R. D. et al. An accurate mass tag strategy for quantitative and high-throughput proteome measurements. Proteomics 2, 513–523 (2002).

14.

The Human Protein Atlas https://www.proteinatlas.org (2019).

15.

Lermyte, F., Tsybin, Y. O., O'Connor, P. B. & Loo, J. A. Top or Middle? Up or Down? toward a standard lexicon for protein top-down and allied mass spectrometry approaches. J. Am. Soc. Mass. Spectrom. 30, 1149–1157 (2019).

16.

Schachner, L. F. et al. Standard proteoforms and their complexes for native mass spectrometry. J. Am. Soc. Mass. Spectrom. 30, 1190–1198 (2019).

17.

Sobott, F. & Robinson, C. V. Characterising electrosprayed biomolecules using tandem-MS—the noncovalent GroEL chaperonin assembly. Int. J. Mass Spectrom. 236, 25–32 (2004).

18.

Valegård, K., Liljas, L., Fridborg, K. & Unge, T. The three-dimensional structure of the bacterial virus MS2. Nature 345, 36–41 (1990).

19.

Asensio, M. A. et al. A selection for assembly reveals that a single amino acid mutant of the bacteriophage MS2 coat protein forms a smaller virus-like particle. Nano Lett. 16, 5944–5950 (2016).

20.

Hartman, E. C. et al. Quantitative characterization of all single amino acid variants of a viral capsid-based drug delivery vehicle. Nat. Commun. 9, 1385–1385 (2018).

21.

Fornelli, L. et al. Advancing top-down analysis of the human proteome using a benchtop quadrupole-orbitrap mass spectrometer. J. Proteome Res. 16, 609–618 (2017).

22.

Anderson, L. C. et al. Identification and characterization of human proteoforms by top-down LC-21 Tesla FT-ICR mass spectrometry. J. Proteome Res. 16, 1087–1096 (2017).

23.

LeDuc, R. D. et al. Accurate estimation of context-dependent false discovery rates in top-down proteomics. Mol. Cell Proteom. 18, 796–805 (2019).

24.

Ntai, I. et al. Applying label-free quantitation to top down proteomics. Anal. Chem. 86, 4961–4968 (2014).

25.

Durbin, K. R., Skinner, O. S., Fellers, R. T. & Kelleher, N. L. Analyzing internal fragmentation of electrosprayed ubiquitin ions during beam-type collisional dissociation. J. Am. Soc. Mass. Spectrom. 26, 782–787 (2015).

26.

Freeke, J., Robinson, C. V. & Ruotolo, B. T. Residual counter ions can stabilise a large protein complex in the gas phase. Int. J. Mass spectrom. 298, 91–98 (2010).

27.

Skinner, O. S. et al. An informatic framework for decoding protein complexes by top-down mass spectrometry. Nat. Methods 13, 237 (2016).
Acknowledgements
This work was funded by the Intensifying Innovation program from Thermo Fisher Scientific and was carried out in collaboration with the National Resource for Translational and Developmental Proteomics under Grant P41 GM108569 from the National Institute of General Medical Sciences, National Institutes of Health with additional support from the Sherman Fairchild Foundation, and the instrumentation award (S10OD025194) from NIH Office of Director. In addition, we would like to thank Luca Fornelli and Timothy K. Toby for collecting and analyzing the HEK-293 LC–MS runs utilized for our intact-mass-tag I2MS analysis.
Ethics declarations
Competing interests
V.Z., A.A.M., J.T.M., D.L.S., P.F.Y. and M.W.S. are employees of Thermo Fisher Scientific.
Additional information
Peer review information Allison Doerr was the primary editor on this article and managed its editorial process and peer review in collaboration with the rest of the editorial team.
Publisher's note Springer Nature remains neutral with regard to jurisdictional claims in published maps and institutional affiliations.
Integrated supplementary information
Supplementary information
About this article
Cite this article
Kafader, J.O., Melani, R.D., Durbin, K.R. et al. Multiplexed mass spectrometry of individual ions improves measurement of proteoforms and their complexes. Nat Methods 17, 391–394 (2020). https://doi.org/10.1038/s41592-020-0764-5
Received:

Revised:

Accepted:

Published:

Issue Date:
Further reading
Srujan Gandham

,

Xianyi Su

,

Jacqueline Wood

,

Angela L. Nocera

,

Sarath Chandra Alli

,

Lara Milane

,

Alan Zimmerman

,

Mansoor Amiji

&

Alexander R. Ivanov

Trends in Biotechnology (2020)