Abstract
Understanding information processing in the brain requires monitoring neuronal activity at high spatiotemporal resolution. Using an ultrafast two-photon fluorescence microscope empowered by all-optical laser scanning, we imaged neuronal activity in vivo at up to 3,000 frames per second and submicrometer spatial resolution. This imaging method enabled monitoring of both supra- and subthreshold electrical activity down to 345 μm below the brain surface in head-fixed awake mice.
Access options
Subscribe to Journal
Get full journal access for 1 year
$119.00
only $9.92 per issue
All prices are NET prices.
VAT will be added later in the checkout.
Tax calculation will be finalised during checkout.
Rent or Buy article
Get time limited or full article access on ReadCube.
from$8.99
All prices are NET prices.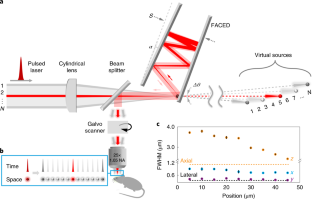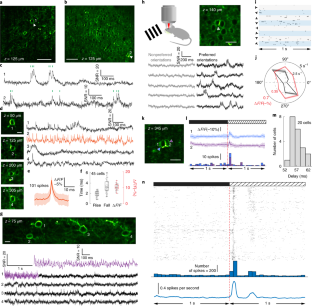 Data availability
Raw image sequences used to generate all spontaneous activity traces and representative sensory-evoked activity traces in Fig. 2 are deposited at https://figshare.com/articles/Image_sequences_for_Fig_2/11492712. The raw image sequences for the other data presented in Fig. 2 are not available at a public repository due to their large size (>1 TB) but are available upon reasonable request to the correspondence authors.
References
1.

Lin, M. Z. & Schnitzer, M. J. Genetically encoded indicators of neuronal activity. Nat. Neurosci. 19, 1142–1153 (2016).

2.

Chen, T. et al. Ultrasensitive fluorescent proteins for imaging neuronal activity. Nature 499, 295–300 (2013).

3.

Marvin, J. S. et al. An optimized fluorescent probe for visualizing glutamate neurotransmission. Nat. Methods 10, 162–170 (2013).

4.

Helmchen, F. & Denk, W. Deep tissue two-photon microscopy. Nat. Methods 2, 932–940 (2005).

5.

Ji, N., Freeman, J. & Smith, S. L. Technologies for imaging neural activity in large volumes. Nat. Neurosci. 19, 1154–1164 (2016).

6.

Yang, W. & Yuste, R. In vivo imaging of neural activity. Nat. Methods 14, 349–359 (2017).

7.

Cao, G. et al. Genetically targeted optical electrophysiology in intact neural circuits. Cell 154, 904–913 (2013).

8.

Gong, Y. et al. High-speed recording of neural spikes in awake mice and flies with a fluorescent voltage sensor. Science 350, 1361–1366 (2015).

9.

Adam, Y. et al. Voltage imaging and optogenetics reveal behaviour-dependent changes in hippocampal dynamics. Nature 569, 413–417 (2019).

10.

Villette, V. et al. Ultrafast two-photon imaging of a high-gain voltage indicator in awake behaving mice. Cell 179, 1590–1608 (2019).

11.

Chamberland, S. et al. Fast two-photon imaging of subcellular voltage dynamics in neuronal tissue with genetically encoded indicators. eLife 6, e25690 (2017).

12.

Kazemipour, A. et al. Kilohertz frame-rate two-photon tomography. Nat. Methods 16, 778–786 (2019).

13.

Zhang, T., Hernandez, O. & Chrapkiewicz, R. et al. Kilohertz two-photon brain imaging in awake mice. Nat. Methods 16, 1119–1122 (2019).

14.

Chan, A. C. S. et al. Speed-dependent resolution analysis of ultrafast laser-scanning fluorescence microscopy. J. Opt. Soc. Am. B 31, 755–764 (2014).

15.

Wu, J. L. et al. Ultrafast laser-scanning time-stretch imaging at visible wavelengths. Light. Sci. Appl. 6, e16196 (2016).

16.

Marvin, J. S. et al. Stability, affinity and chromatic variants of the glutamate sensor iGluSnFR. Nat. Methods 15, 936–939 (2018).

17.

Yang, H. H. et al. Subcellular imaging of voltage and calcium signals reveals neural processing in vivo. Cell 166, 245–257 (2016).

18.

Buzsáki, G. Theta oscillations in the hippocampus. Neuron 33, 325–340 (2002).

19.

Alonso, A. & Llinás, R. R. Subthreshold Na+-dependent theta-like rhythmicity in stellate cells of entorhinal cortex layer II. Nature 342, 175–177 (1989).

20.

Tan, A. et al. Orientation selectivity of synaptic input to neurons in mouse and cat primary visual cortex. J. Neurosci. 31, 12339–12350 (2011).

21.

Li, Y. T. et al. Synaptic basis for differential orientation selectivity between complex and simple cells in mouse visual cortex. J. Neurosci. 35, 11081–11093 (2015).

22.

Resulaj, A., Ruediger, S., Olsen, S. R. & Scanziani, M. First spikes in visual cortex enable perceptual discrimination. eLife 7, e34044 (2018).

23.

Ma, W. et al. Visual representations by cortical somatostatin inhibitory neurons—selective but with weak and delayed responses. J. Neurosci. 30, 14371–14379 (2010).

24.

Donnert, G., Eggeling, C. & Hell, S. W. Major signal increase in fluorescence microscopy through dark-state relaxation. Nat. Methods 4, 81–86 (2007).

25.

Tsyboulski, D., Orlova, N., Ledochowitsch, P. & Saggau, P. Two-photon frequency division multiplexing for functional in vivo imaging: a feasibility study. Opt. Express 27, 4488–4503 (2019).

26.

Chauhan, V., Bowlan, P., Cohen, J. & Trebino, R. Single-diffraction-grating and prism pulse compressors. Appl. Opt. 4, 619–624 (2010).

27.

Sun, W., Tan, Z., Mensh, B. D. & Ji, N. Thalamus provides layer 4 of primary visual cortex with orientation- and direction-tuned inputs. Nature Neurosci. 19, 308–315 (2016).

28.

Wilt, B. A., Fitzgerald, J. E. & Schnitzer, M. J. Photon shot noise limits on optical detection of neuronal spikes and estimation of spike timing. Biophys. J. 104, 51–62 (2013).

29.

Wardill, T. J. et al. A neuron-based screening platform for optimizing genetically-encoded calcium indicators. PLoS ONE 8, e77728 (2013).

30.

Madisen, L. et al. Transgenic mice for intersectional targeting of neural sensors and effectors with high specificity and performance. Neuron 85, 942–958 (2015).

31.

Madisen, L. et al. A robust and high-throughput Cre reporting and characterization system for the whole mouse brain. Nat. Neurosci. 13, 133–140 (2010).

32.

Schindelin, J. et al. Fiji: an open-source platform for biological-image analysis. Nat. Methods 9, 676–682 (2012).
Acknowledgements
We thank C. Rodriguez for help with the laser system; E. Carroll for help with electronics; R. Lu for help with visual stimulation experiments; G. Cao (Janelia Research Campus) for providing cultured neuron samples; J. Marvin and L. Looger (Janelia Research Campus) for providing glutamate sensors; and the Janelia JET team for designing and assembling the dispersion compensation unit. This work was supported by the Howard Hughes Medical Institute (J.W., Y.L., C.-L.H., N.J.) and an American Epilepsy Society predoctoral fellowship (M.C.); the China Scholarship Council Joint PhD Training Program (D.S.); Stanford Neuroscience PhD Program training grant (no. 5T32MH020016) and the Post-9/11 GI Bill (S.W.E.); the Research Grants Council of the Hong Kong Special Administrative Region of China (grant nos. 17209017, 17259316, 17207715 to J.W. and K.K.T.); and NIH BRAIN Initiative grants (nos. 1U01NS103464 and 1RF1MH114105 to M.Z.L. and 1UF1NS107696 to J.W., N.J. and K.K.T.).
Ethics declarations
Competing interests
K.K.T. and the University of Hong Kong have filed a US patent application (14/733,454) that relates to the all-optical laser-scanning imaging methods.
Additional information
Peer review information Nina Vogt was the primary editor on this article and managed its editorial process and peer review in collaboration with the rest of the editorial team.
Publisher's note Springer Nature remains neutral with regard to jurisdictional claims in published maps and institutional affiliations.
Integrated supplementary information
Supplementary information
About this article
Cite this article
Wu, J., Liang, Y., Chen, S. et al. Kilohertz two-photon fluorescence microscopy imaging of neural activity in vivo. Nat Methods 17, 287–290 (2020). https://doi.org/10.1038/s41592-020-0762-7
Received:

Accepted:

Published:

Issue Date: