Abstract
Imaging neurons and neural circuits over large volumes at high speed and subcellular resolution is a difficult task. Incorporating a Bessel focus module into a two-photon fluorescence mesoscope, we achieved rapid volumetric imaging of neural activity over the mesoscale with synaptic resolution. We applied the technology to calcium imaging of entire dendritic spans of neurons as well as neural ensembles within multiple cortical regions over two hemispheres of the awake mouse brain.
This is a preview of subscription content
Access options
Subscribe to Nature+
Get immediate online access to the entire Nature family of 50+ journals
Subscribe to Journal
Get full journal access for 1 year
$119.00
only $9.92 per issue
All prices are NET prices.
VAT will be added later in the checkout.
Tax calculation will be finalised during checkout.
Buy article
Get time limited or full article access on ReadCube.
$32.00
All prices are NET prices.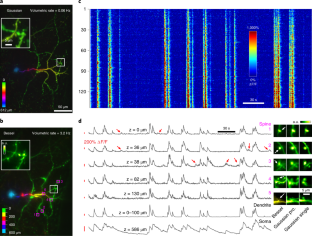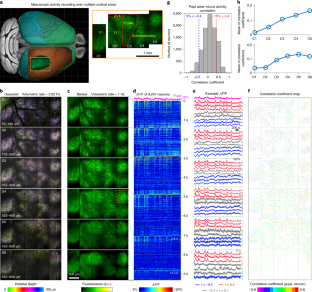 References
Sofroniew, N. J., Flickinger, D., King, J. & Svoboda, K. A large field of view two-photon mesoscope with subcellular resolution for in vivo imaging. eLife 5, e14472 (2016).

Botcherby, E. J., Juškaitis, R. & Wilson, T. Scanning two photon fluorescence microscopy with extended depth of field. Opt. Commun. 268, 253–260 (2006).

Thériault, G., Cottet, M., Castonguay, A., McCarthy, N. & De Koninck, Y. Extended two-photon microscopy in live samples with Bessel beams: steadier focus, faster volume scans, and simpler stereoscopic imaging. Front. Cell. Neurosci. 8, 139 (2014).

Lu, R. et al. Video-rate volumetric functional imaging of the brain at synaptic resolution. Nat. Neurosci. 20, 620–628 (2017).

Lu, R., Tanimoto, M., Koyama, M. & Ji, N. 50 Hz volumetric functional imaging with continuously adjustable depth of focus. Biomed. Opt. Express 9, 1964–1976 (2018).

Welford, W. T. Use of annular apertures to increase focal depth. J. Opt. Soc. Am. 50, 749–752 (1960).

De Paola, V. et al. Cell type-specific structural plasticity of axonal branches and boutons in the adult neocortex. Neuron 49, 861–875 (2006).

Chen, T.-W. et al. Ultrasensitive fluorescent proteins for imaging neuronal activity. Nature 499, 295–300 (2013).

Häusser, M., Spruston, N. & Stuart, G. J. Diversity and dynamics of dendritic signaling. Science 290, 739–744 (2000).

Manita, S., Miyakawa, H., Kitamura, K. & Murayama, M. Dendritic spikes in sensory perception. Front. Cell. Neurosci. 11, 29 (2017).

Reimer, J. et al. Pupil fluctuations track fast switching of cortical states during quiet wakefulness. Neuron 84, 355–362 (2014).

Pakan, J. M. et al. Behavioral-state modulation of inhibition is context-dependent and cell type specific in mouse visual cortex. eLife 5, e14985 (2016).

Pachitariu, M. et al. Suite2p: beyond 10,000 neurons with standard two-photon microscopy. Preprint at bioRxiv https://www.biorxiv.org/content/10.1101/061507 (2017).

Liu, H., Wu, Z., Li, X., Cai, D. & Huang, T. S. Constrained nonnegative matrix factorization for image representation. IEEE Trans. Pattern Anal. Mach. Intell. 34, 1299–1311 (2012).

Pnevmatikakis, E. A. et al. Simultaneous denoising, deconvolution, and demixing of calcium imaging data. Neuron 89, 285–299 (2016).

Zhou, P. et al. Efficient and accurate extraction of in vivo calcium signals from microendoscopic video data. eLife 7, e28728 (2018).

Ji, N., Freeman, J. & Smith, S. L. Technologies for imaging neural activity in large volumes. Nat. Neurosci. 19, 1154–1164 (2016).

Szalay, G. et al. Fast 3D imaging of spine, dendritic, and neuronal assemblies in behaving animals. Neuron 92, 723–738 (2016).

Stirman, J. N., Smith, I. T., Kudenov, M. W. & Smith, S. L. Wide field-of-view, multi-region, two-photon imaging of neuronal activity in the mammalian brain. Nat. Biotechnol. 34, 857–862 (2016).

Tsai, P. S. et al. Ultra-large field-of-view two-photon microscopy. Opt. Express 23, 13833–13847 (2015).

Horton, N. G. et al. In vivo three-photon microscopy of subcortical structures within an intact mouse brain. Nat. Photonics 7, 205–209 (2013).

Ouzounov, D. G. et al. In vivo three-photon imaging of activity of GCaMP6-labeled neurons deep in intact mouse brain. Nat. Methods 14, 388–390 (2017).

Rodríguez, C., Liang, Y., Lu, R. & Ji, N. Three-photon fluorescence microscopy with an axially elongated Bessel focus. Opt. Lett. 43, 1914–1917 (2018).

Thériault, G., De Koninck, Y. & McCarthy, N. Extended depth of field microscopy for rapid volumetric two-photon imaging. Opt. Express 21, 10095–10104 (2013).

Pnevmatikakis, E. A. & Giovannucci, A. NoRMCorre: an online algorithm for piecewise rigid motion correction of calcium imaging data. J. Neurosci. Methods 291, 83–94 (2017).

Guizar-Sicairos, M., Thurman, S. T. & Fienup, J. R. Efficient subpixel image registration algorithms. Opt. Lett. 33, 156–158 (2008).

Kerlin, A. M., Andermann, M. L., Berezovskii, V. K. & Reid, R. C. Broadly tuned response properties of diverse inhibitory neuron subtypes in mouse visual cortex. Neuron 67, 858–871 (2010).
Acknowledgements
The authors thank N. Sofroniew for demonstrations on cranial window preparation; D. Flickinger for troubleshooting, optical alignments and helpful discussions; B. Mohar and A. Kerlin for help with system alignments and ScanImage operations; V. Custard for administrative support; J. Zheng for assistance with ScanImage; and M. Pachitariu for sharing the mesoscope and helpful discussions. R.L., Y.L., K.S. and N.J. were supported by the Howard Hughes Medical Institute. G.M. and N.J. were supported by NIH grant no. NINDS U01NS103489. P.Z. and L.P. were supported by NIH grant nos. R01-EB22913 and U01NS103489, the National Science Foundation (NeuroNex award no. DBI-1707398) and the Gatsby Foundation (GAT3708).
Ethics declarations
Competing interests
The mesoscope (K.S.) and Bessel focus scanning (R.L. and N.J.) intellectual property has been licensed to Thorlabs by the Howard Hughes Medical Institute.
Additional information
Peer review information Nina Vogt was the primary editor on this article and managed its editorial process and peer review in collaboration with the rest of the editorial team.
Publisher's note Springer Nature remains neutral with regard to jurisdictional claims in published maps and institutional affiliations.
Integrated supplementary information
Supplementary information
About this article
Cite this article
Lu, R., Liang, Y., Meng, G. et al. Rapid mesoscale volumetric imaging of neural activity with synaptic resolution. Nat Methods 17, 291–294 (2020). https://doi.org/10.1038/s41592-020-0760-9
Received:

Accepted:

Published:

Issue Date:

DOI: https://doi.org/10.1038/s41592-020-0760-9