Abstract
Despite the widespread adoption of organoids as biomimetic tissue models, methods to comprehensively analyze cell-type-specific post-translational modification (PTM) signaling networks in organoids are absent. Here, we report multivariate single-cell analysis of such networks in organoids and organoid cocultures. Simultaneous analysis by mass cytometry of 28 PTMs in >1 million single cells derived from small intestinal organoids reveals cell-type- and cell-state-specific signaling networks in stem, Paneth, enteroendocrine, tuft and goblet cells, as well as enterocytes. Integrating single-cell PTM analysis with thiol-reactive organoid barcoding in situ (TOBis) enables high-throughput comparison of signaling networks between organoid cultures. Cell-type-specific PTM analysis of colorectal cancer organoid cocultures reveals that shApc, KrasG12D and Trp53R172H cell-autonomously mimic signaling states normally induced by stromal fibroblasts and macrophages. These results demonstrate how standard mass cytometry workflows can be modified to perform high-throughput multivariate cell-type-specific signaling analysis of healthy and cancerous organoids.
Your institute does not have access to this article
Relevant articles
Open Access articles citing this article.
Marta Codrich

,

Emiliano Dalla

…

Gianluca Tell

Journal of Experimental & Clinical Cancer Research Open Access 21 June 2021

Dimitra Georgopoulou

,

Maurizio Callari

…

Carlos Caldas

Nature Communications Open Access 31 March 2021
Access options
Subscribe to Nature+
Get immediate online access to the entire Nature family of 50+ journals
Subscribe to Journal
Get full journal access for 1 year
$119.00
only $9.92 per issue
All prices are NET prices.
VAT will be added later in the checkout.
Tax calculation will be finalised during checkout.
Buy article
Get time limited or full article access on ReadCube.
$32.00
All prices are NET prices.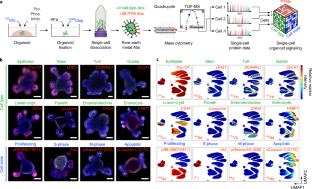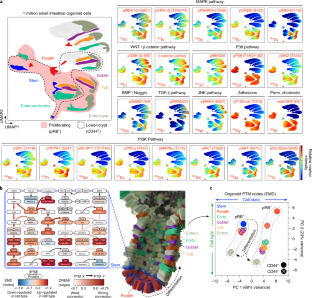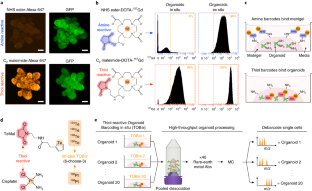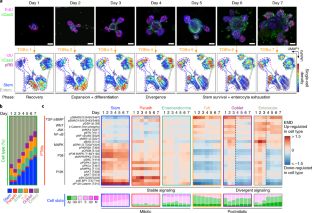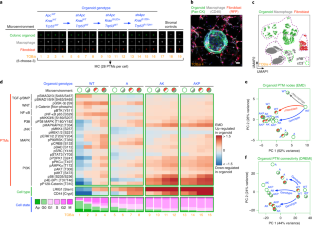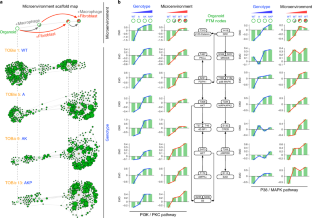 References
Clevers, H. Modeling development and disease with organoids. Cell 165, 1586–1597 (2016).

Pastula, A. et al. Three-dimensional gastrointestinal organoid culture in combination with nerves or fibroblasts: a method to characterize the gastrointestinal stem cell niche. Stem Cells Int. 2016, 3710836 (2016).

Dijkstra, K. K. et al. Generation of tumor-reactive T cells by co-culture of peripheral blood lymphocytes and tumor organoids. Cell 174, 1586–1598.e12 (2018).

Tuveson, D. & Clevers, H. Cancer modeling meets human organoid technology. Science 364, 952–955 (2019).

Pawson, T. & Scott, J. D. Protein phosphorylation in signaling—50 years and counting. Trends Biochem. Sci. 30, 286–290 (2005).

Miller-Jensen, K., Janes, K. A., Brugge, J. S. & Lauffenburger, D. A. Common effector processing mediates cell-specific responses to stimuli. Nature 448, 604–608 (2007).

Tape, C. J. et al. Oncogenic KRAS regulates tumor cell signaling via stromal reciprocation. Cell 165, 910–920 (2016).

Simmons, A. J. et al. Cytometry-based single-cell analysis of intact epithelial signaling reveals MAPK activation divergent from TNF-ɑ-induced apoptosis in vivo. Mol. Syst. Biol. 11, 835 (2015).

Tape, C. J. Systems biology analysis of heterocellular signaling. Trends Biotechnol. 34, 627–637 (2016).

Haber, A. L. et al. A single-cell survey of the small intestinal epithelium. Nature 551, 333–339 (2017).

Spitzer, M. H. & Nolan, G. P. Mass cytometry: single cells, many features. Cell 165, 780–791 (2016).

Bendall, S. C. et al. Single-cell mass cytometry of differential immune and drug responses across a human hematopoietic continuum. Science 332, 687–696 (2011).

Sato, T. et al. Single Lgr5 stem cells build crypt-villus structures in vitro without a mesenchymal niche. Nature 459, 262–265 (2009).

Behbehani, G. K., Bendall, S. C., Clutter, M. R., Fantl, W. J. & Nolan, G. P. Single-cell mass cytometry adapted to measurements of the cell cycle. Cytom. A 81, 552–566 (2012).

Fienberg, H. G., Simonds, E. F., Fantl, W. J., Nolan, G. P. & Bodenmiller, B. A platinum-based covalent viability reagent for single-cell mass cytometry. Cytom. A 81, 467–475 (2012).

Yin, X. et al. Niche-independent high-purity cultures of Lgr5+ intestinal stem cells and their progeny. Nat. Methods 11, 106–112 (2014).

Rapsomaniki, M. A. et al. CellCycleTRACER accounts for cell cycle and volume in mass cytometry data. Nat. Commun. 9, 632 (2018).

Kim, T. H. et al. Broadly permissive intestinal chromatin underlies lateral inhibition and cell plasticity. Nature 506, 511–515 (2014).

Levine, J. H. et al. Data-driven phenotypic dissection of AML reveals progenitor-like cells that correlate with prognosis. Cell 162, 184–197 (2015).

Orlova, D. Y. et al. Earth Mover's Distance (EMD): a true metric for comparing biomarker expression levels in cell populations. PLoS ONE 11, e0151859 (2016).

Krishnaswamy, S. et al. Systems biology. Conditional density-based analysis of T cell signaling in single-cell data. Science 346, 1250689 (2014).

Nusse, R. & Clevers, H. Wnt/β-catenin signaling, disease, and emerging therapeutic modalities. Cell 169, 985–999 (2017).

Gehart, H. & Clevers, H. Tales from the crypt: new insights into intestinal stem cells. Nat. Rev. Gastroenterol. Hepatol. 16, 19–34 (2019).

Massague, J. TGFβ signalling in context. Nat. Rev. Mol. Cell Biol. 13, 616–630 (2012).

Zunder, E. R. et al. Palladium-based mass tag cell barcoding with a doublet-filtering scheme and single-cell deconvolution algorithm. Nat. Protoc. 10, 316–333 (2015).

Bodenmiller, B. et al. Multiplexed mass cytometry profiling of cellular states perturbed by small-molecule regulators. Nat. Biotechnol. 30, 858–867 (2012).

Willis, L. M. et al. Tellurium-based mass cytometry barcode for live and fixed cells. Cytom. A 93, 685–694 (2018).

McCarthy, R. L., Mak, D. H., Burks, J. K. & Barton, M. C. Rapid monoisotopic cisplatin based barcoding for multiplexed mass cytometry. Sci. Rep. 7, 3779 (2017).

The Cancer Genome Atlas Network. Comprehensive molecular characterization of human colon and rectal cancer. Nature 487, 330–337 (2012).

Isella, C. et al. Stromal contribution to the colorectal cancer transcriptome. Nat. Genet. 47, 312–319 (2015).

Calon, A. et al. Stromal gene expression defines poor-prognosis subtypes in colorectal cancer. Nat. Genet. 47, 320–329 (2015).

Lan, J. et al. M2 macrophage-derived exosomes promote cell migration and invasion in colon cancer. Cancer Res. 79, 145–158 (2018).

Tape, C. J. The heterocellular emergence of colorectal cancer. Trends Cancer 3, 79–88 (2017).

Dow, L. E. et al. Apc restoration promotes cellular differentiation and reestablishes crypt homeostasis in colorectal cancer. Cell 161, 1539–1552 (2015).

O'Rourke, K. P. et al. Transplantation of engineered organoids enables rapid generation of metastatic mouse models of colorectal cancer. Nat. Biotechnol. 35, 577–582 (2017).

Spitzer, M. H. et al. IMMUNOLOGY. An interactive reference framework for modeling a dynamic immune system. Science 349, 1259425 (2015).

Cruz-Acuna, R. et al. Synthetic hydrogels for human intestinal organoid generation and colonic wound repair. Nat. Cell Biol. 19, 1326–1335 (2017).

Neal, J. T. et al. Organoid modeling of the tumor immune microenvironment. Cell 175, 1972–1988.e16 (2018).

van de Wetering, M. et al. Prospective derivation of a living organoid biobank of colorectal cancer patients. Cell 161, 933–945 (2015).

Vlachogiannis, G. et al. Patient-derived organoids model treatment response of metastatic gastrointestinal cancers. Science 359, 920–926 (2018).

Machado, L. et al. In situ fixation redefines quiescence and early activation of skeletal muscle stem cells. Cell Rep. 21, 1982–1993 (2017).

Han, G., Spitzer, M. H., Bendall, S. C., Fantl, W. J. & Nolan, G. P. Metal-isotope-tagged monoclonal antibodies for high-dimensional mass cytometry. Nat. Protoc. 13, 2121–2148 (2018).

Han, G. et al. Atomic mass tag of bismuth-209 for increasing the immunoassay multiplexing capacity of mass cytometry. Cytom. A 91, 1150–1163 (2017).

Chevrier, S. et al. Compensation of signal spillover in suspension and imaging mass cytometry. Cell Syst. 6, 612–620 e615 (2018).

Finck, R. et al. Normalization of mass cytometry data with bead standards. Cytom. A 83, 483–494 (2013).

Schindelin, J. et al. Fiji: an open-source platform for biological-image analysis. Nat. Methods 9, 676–682 (2012).

Khalil, H., Nie, W., Edwards, R. A. & Yoo, J. Isolation of primary myofibroblasts from mouse and human colon tissue. J. Vis. Exp. https://doi.org/10.3791/50611 (2013).

McInnes, L., Healy, J. & Melville, J. UMAP: Uniform Manifold Approximation and Projection for dimension reduction. Preprint at https://arxiv.org/abs/1802.03426 (2018).

van Dijk, D. et al. Recovering gene interactions from single-cell data using data diffusion. Cell 174, 716–729.e27 (2018).
Acknowledgements
We are grateful to L. Dow (Cornell University) for sharing CRC organoids, X. Lu (University of Oxford) for sharing murine intestines and O. Ornatsky (Fluidigm) for providing monoisotopic cisplatin (195Pt and 196Pt). We thank the UCL CI Flow-Core for MC support and L. McInnes for UMAP advice. Graphical organoid renderings were designed by J. Claus (Phospho Biomedical Animation). This work was supported by Cancer Research UK (grant no. C60693/A23783, C.J.T.), UCLH Biomedical Research Centre (grant no. BRC422, C.J.T.), The Royal Society (grant no. RSG\R1\180234, C.J.T.) and Rosetrees Trust (grant no. A1989, C.J.T.).
Ethics declarations
Competing interests
M.N. has pending intellectual property on the use of tellurium reagents for mass cytometry applications which has been licensed to Fluidigm Corporation.
Additional information
Peer review information Nina Vogt and Nicole Rusk were the primary editors on this article and managed its editorial process and peer review in collaboration with the rest of the editorial team.
Publisher's note Springer Nature remains neutral with regard to jurisdictional claims in published maps and institutional affiliations.
Integrated supplementary information
Supplementary Information
Supplementary Figs. 1–9 and Tables 1–4.
Parameters for single-cell signaling data analysis markers selected and parameters used for UMAP, PCA and Scaffold analysis.
About this article
Cite this article
Qin, X., Sufi, J., Vlckova, P. et al. Cell-type-specific signaling networks in heterocellular organoids. Nat Methods 17, 335–342 (2020). https://doi.org/10.1038/s41592-020-0737-8
Received:

Accepted:

Published:

Issue Date:

DOI: https://doi.org/10.1038/s41592-020-0737-8