Abstract
We have developed a miniature two-photon microscope equipped with an axial scanning mechanism and a long-working-distance miniature objective to enable multi-plane imaging over a volume of 420 × 420 × 180 μm3 at a lateral resolution of ~1 μm. Together with the detachable design that permits long-term recurring imaging, our miniature two-photon microscope can help decipher neuronal mechanisms in freely behaving animals.
Access options
Subscribe to Journal
Get full journal access for 1 year
$259.00
only $21.58 per issue
All prices are NET prices.
VAT will be added later in the checkout.
Rent or Buy article
Get time limited or full article access on ReadCube.
from$8.99
All prices are NET prices.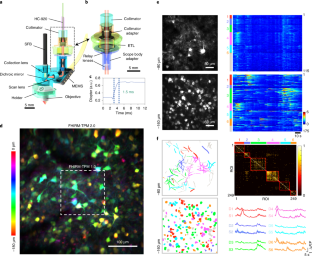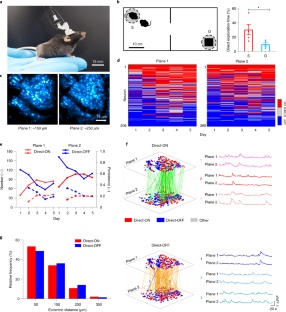 Data availability
The technical drawings of the FHIRM 2.0 are available in Supplementary Dataset 1. All other details required for setting up the complete system are provided in the Methods and Supplementary Notes. Supporting data for Figs. 1c–f and 2b–g and other Extended data figures are available from the corresponding authors upon request. Owing to the size of the datasets, they are not available on a public server.
References
1.

Ghosh, K. K. et al. Miniaturized integration of a fluorescence microscope. Nat. Methods 8, 871–878 (2011).

2.

Liberti, W. A., Perkins, L. N., Leman, D. P. & Gardner, T. J. An open source, wireless capable miniature microscope system. J. Neural Eng. 14, 045001 (2017).

3.

Zhang, L. et al. Miniscope GRIN lens system for calcium imaging of neuronal activity from deep brain structures in behaving animals. Curr. Protoc. Neurosci. 86, e56 (2019).

4.

Chen, S. et al. Miniature fluorescence microscopy for imaging brain activity in freely-behaving animals. Neurosci. Bull. https://doi.org/10.1007/s12264-020-00561-z (2020).

5.

Wallace, D. J. & Kerr, J. N. D. Circuit interrogation in freely moving animals. Nat. Methods 16, 9–11 (2019).

6.

Helmchen, F., Fee, M. S., Tank, D. W. & Denk, W. A miniature head-mounted two-photon microscope: high-resolution brain imaging in freely moving animals. Neuron 31, 903–912 (2001).

7.

Engelbrecht, C. J., Johnston, R. S., Seibel, E. J. & Helmchen, F. Ultra-compact fiber-optic two-photon microscope for functional fluorescence imaging in vivo. Opt. Express 16, 5556–5564 (2008).

8.

Piyawattanametha, W. et al. In vivo brain imaging using a portable 2.9 g two-photon microscope based on a microelectromechanical systems scanning mirror. Opt. Lett. 34, 2309–2311 (2009).

9.

Sawinski, J. et al. Visually evoked activity in cortical cells imaged in freely moving animals. Proc. Natl Acad. Sci. USA 106, 19557–19562 (2009).

10.

Zong, W. et al. Fast high-resolution miniature two-photon microscopy for brain imaging in freely behaving mice. Nat. Methods 14, 713–719 (2017).

11.

Ozbay, B. N. et al. Three dimensional two-photon brain imaging in freely moving mice using a miniature fiber coupled microscope with active axial-scanning. Sci. Rep. 8, 8108 (2018).

12.

Zong, W. & Chen, L. in Advanced Optical Methods for Brain Imaging Vol. 5, Ch. 9 (eds Keiser G. et al.) Progress in Optical Science and Photonics (Springer, 2018).

13.

Aharoni, D., Khakh, B. S., Silva, A. J. & Golshani, P. All the light that we can see: a new era in miniaturized microscopy. Nat. Methods 16, 11–13 (2019).

14.

Skocek, O. et al. High-speed volumetric imaging of neuronal activity in freely moving rodents. Nat. Methods 15, 429–432 (2018).

15.

Fahrbach, F. O. et al. Rapid 3D light-sheet microscopy with a tunable lens. Opt. Express 21, 21010–21026 (2013).

16.

Grewe, B. F., Voigt, F. F., van 't Hoff, M. & Helmchen, F. Fast two-layer two-photon imaging of neuronal cell populations using an electrically tunable lens. Biomed. Opt. Express 2, 2035–2046 (2011).

17.

Jia, H., Rochefort, N. L., Chen, X. & Konnerth, A. Dendritic organization of sensory input to cortical neurons in vivo. Nature 464, 1307–1312 (2010).

18.

Liang, B. et al. Distinct and dynamic ON and OFF neural ensembles in the prefrontal cortex code social exploration. Neuron 100, 700–714 (2018).

19.

Kingsbury, L. et al. Cortical representations of conspecific sex shape social behavior. Neuron 107, 941–953 (2020).

20.

Pnevmatikakis, E. A. & Giovannucci, A. NoRMCorre: an online algorithm for piecewise rigid motion correction of calcium imaging data. J. Neurosci. 291, 83–94 (2017).

21.

Cichon, J. & Gan, W. B. Branch-specific dendritic Ca2+ spikes cause persistent synaptic plasticity. Nature 520, 180–185 (2015).
Acknowledgements
We thank D. Zhang, F. Zeng, Z. Feng, W. Gao, W. Huang, J. Wang and Z. Zhou from Peking University; T. Gao from Southern Medical University; and Y. Guo, Q. Fu, X. Li, W. Jiang, Y. Li and Y. Zhang from Beijing Transcend Vivoscope Biotech Co. for valuable comments on the optics, biological experiments and data processing; I.C. Bruce for manuscript editing; and Domilight Optics for assistance with objective fabrication. The work was supported by grants from the National Natural Science Foundation of China (grant nos. 31327901, 92054301, 81925022, 61975002, 31830036, 31821091 and 8182780030), the Major State Basic Research Program of China (grant nos. 2016YFA0500400 and 2016YFA0500403), the Beijing Natural Science Foundation (grant no. Z20J00059) and the National Postdoctoral Program for Innovative Talents (grant no. BX20190011).
Ethics declarations
Competing interests
Y.H., D.W. and Y.X. are employees of the company Transcend Vivoscope, which develops and sells microscopes. The other authors declare no competing interests.
Additional information
Peer review information Nature Methods thanks the anonymous reviewers for their contribution to the peer review of this work. Nina Vogt was the primary editor on this article and managed its editorial process and peer review in collaboration with the rest of the editorial team.
Publisher's note Springer Nature remains neutral with regard to jurisdictional claims in published maps and institutional affiliations.
Supplementary information
About this article
Cite this article
Zong, W., Wu, R., Chen, S. et al. Miniature two-photon microscopy for enlarged field-of-view, multi-plane and long-term brain imaging. Nat Methods 18, 46–49 (2021). https://doi.org/10.1038/s41592-020-01024-z
Received:

Accepted:

Published:

Issue Date: