Abstract
Animal behavior is encoded in neuronal circuits in the brain. To elucidate the function of these circuits, it is necessary to identify, record from and manipulate networks of connected neurons. Here we present BAcTrace (Botulinum-Activated Tracer), a genetically encoded, retrograde, transsynaptic labeling system. BAcTrace is based on Clostridium botulinum neurotoxin A, Botox, which we engineered to travel retrogradely between neurons to activate an otherwise silent transcription factor. We validated BAcTrace at three neuronal connections in the Drosophila olfactory system. We show that BAcTrace-mediated labeling allows electrophysiological recording of connected neurons. Finally, in a challenging circuit with highly divergent connections, BAcTrace correctly identified 12 of 16 connections that were previously observed by electron microscopy.
This is a preview of subscription content
Access options
Subscribe to Nature+
Get immediate online access to the entire Nature family of 50+ journals
Subscribe to Journal
Get full journal access for 1 year
$119.00
only $9.92 per issue
All prices are NET prices.
VAT will be added later in the checkout.
Tax calculation will be finalised during checkout.
Buy article
Get time limited or full article access on ReadCube.
$32.00
All prices are NET prices.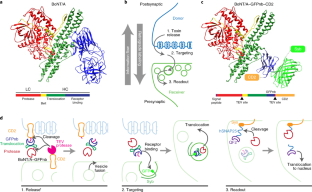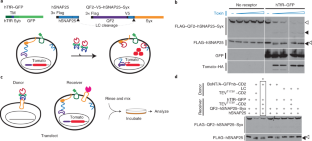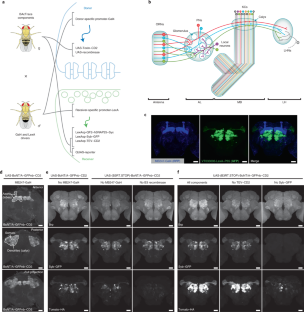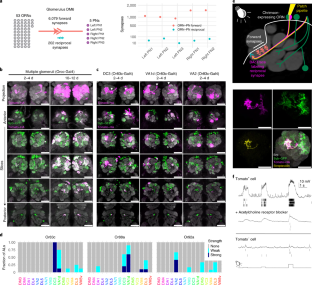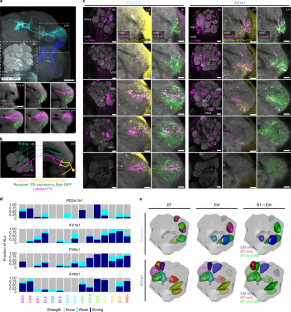 Data availability
All data necessary for confirming the conclusions presented in the article are represented fully within the article. In addition, all raw and processed brain images and blots are freely available from the authors. All fly strains used are listed in Supplementary Tables 12–15 and are available either from the Bloomington Stock Center (Supplementary Table 17) or from the authors. All plasmids are available upon request from the authors and their sequences are deposited in GenBank as described in Supplementary Tables 9 and 12–14. Brain confocal stacks used for making ORN and LHN plots are available from the Zenodo repository47. Source data are provided with this paper.
References
Luo, L., Callaway, E. M. & Svoboda, K. Genetic dissection of neural circuits: a decade of progress. Neuron 98, 256–281 (2018).

Ugur, B., Chen, K. & Bellen, H. J. Drosophila tools and assays for the study of human diseases. Dis. Model. Mech. 9, 235–244 (2016).

Venken, K. J. T., Simpson, J. H. & Bellen., H. J. Genetic manipulation of genes and cells in the nervous system of the fruit fly. Neuron 72, 202–230 (2011).

Ohyama, T. et al. A multilevel multimodal circuit enhances action selection in Drosophila. Nature 520, 633–639 (2015).

Zheng, Z. et al. A complete electron microscopy volume of the brain of adult Drosophila melanogaster. Cell 174, 730–743 (2018).

Takemura, S.-Y, Lu, Z. & Meinertzhagen, I. A. Synaptic circuits of the Drosophila optic lobe: the input terminals to the medulla. J. Comp. Neurol. 509, 493–513 (2008).

Talay, M. et al. Transsynaptic mapping of second-order taste neurons in flies by trans-Tango. Neuron 96, 783–795 (2017).

Huang, T.-H. et al. Tracing neuronal circuits in transgenic animals by transneuronal control of transcription (TRACT). eLife 6, e32027 (2017).

Dong, M. et al. Sv2 is the protein receptor for botulinum neurotoxin A. Science 312, 592–596 (2006).

Montal, M. Botulinum neurotoxin: a marvel of protein design. Annu. Rev. Biochem. 79, 591–617 (2010).

Pirazzini, M., Rossetto, O., Eleopra, R. & Montecucco, C. Botulinum neurotoxins: biology, pharmacology, and toxicology. Pharmacol. Rev. 69, 200–235 (2017).

Pauli, A. et al. Cell-type-specific TEV protease cleavage reveals cohesin functions in Drosophila neurons. Dev. Cell 14, 239–251 (2008).

Kubala, M. H., Kovtun, O., Alexandrov, K. & Collins, B. M. Structural and thermodynamic analysis of the GFP:GFP-nanobody complex. Protein Sci. 19, 2389–2401 (2010).

Riabinina, O. et al. Improved and expanded Q-system reagents for genetic manipulations. Nat. Methods 12, 219–222 (2015).

Washbourne, P., Pellizzari, R., Baldini, G., Wilson, M. C. & Montecucco, C. Botulinum neurotoxin types A and E require the SNARE motif in SNAP-25 for proteolysis. FEBS Lett. 418, 1–5 (1997).

Gupta, G. D. et al. Analysis of endocytic pathways in Drosophila cells reveals a conserved role for GBF1 in internalization via GEECs. PLoS ONE 4, e6768 (2009).

Tobin, W. F., Wilson, R. I. & Lee, W.-C. A. Wiring variations that enable and constrain neural computation in a sensory microcircuit. eLife 6, e24838 (2017).

Masse, N. Y., Turner, G. C. & Jefferis, G. S. X. E. Olfactory information processing in Drosophila. Curr. Biol. 19, R700–R713 (2009).

Turner, G. C., Bazhenov, M. & Laurent, G. Olfactory representations by Drosophila mushroom body neurons. J. Neurophysiol. 99, 734–746 (2008).

Murthy, M., Fiete, I. & Laurent, G. Testing odor response stereotypy in the Drosophila mushroom body. Neuron 59, 1009–1023 (2008).

Caron, S. J. C., Ruta, V., Abbott, L. F. & Axel., R. Random convergence of olfactory inputs in the Drosophila mushroom body. Nature 497, 113–117 (2013).

Gruntman, E. & Turner, G. C. Integration of the olfactory code across dendritic claws of single mushroom body neurons. Nat. Neurosci. 16, 1821–1829 (2013).

Nern, A., Pfeiffer, B. D., Svoboda, K. & Rubin., G. M. Multiple new site-specific recombinases for use in manipulating animal genomes. Proc. Natl Acad. Sci. USA 108, 14198–14203 (2011).

Aso, Y. et al. The neuronal architecture of the mushroom body provides a logic for associative learning. eLife 3, e04577 (2014).

Couto, A., Alenius, M. & Dickson., B. J. Molecular, anatomical, and functional organization of the Drosophila olfactory system. Curr. Biol. 15, 1535–1547 (2005).

Fishilevich, E. & Vosshall, L. B. Genetic and functional subdivision of the Drosophila antennal lobe. Curr. Biol. 15, 1548–1553 (2005).

Rybak, J. et al. Synaptic circuitry of identified neurons in the antennal lobe of Drosophila melanogaster. J. Comp. Neurol. 524, 1920–1956 (2016).

Klapoetke, N. C. et al. Independent optical excitation of distinct neural populations. Nat. Methods 11, 338–346 (2014).

Dolan, M.-J. et al. Communication from learned to innate olfactory processing centers is required for memory retrieval in Drosophila. Neuron 100, 651–668 (2018).

Huoviala, P. et al. Neural circuit basis of aversive odour processing in Drosophila from sensory input to descending output. Preprint at bioRxiv https://doi.org/10.1101/394403 (2018).

Dolan, M.-J. et al. Neurogenetic dissection of the Drosophila lateral horn reveals major outputs, diverse behavioural functions, and interactions with the mushroom body. eLife 8, e43079 (2019).

Butcher, N. J., Friedrich, A. B., Lu, Z., Tanimoto, H. & Meinertzhagen., I. A. Different classes of input and output neurons reveal new features in microglomeruli of the adult Drosophila mushroom body calyx. J. Comp. Neurol. 520, 2185–2201 (2012).

Frechter, S. et al. Functional and anatomical specificity in a higher olfactory centre. eLife 8, e44590 (2019).

Felsenberg, J. et al. Integration of parallel opposing memories underlies memory extinction. Cell 175, 709–722 (2018).

Sayin, S. et al. A neural circuit arbitrates between persistence and withdrawal in hungry Drosophila. Neuron 104, 544–558 (2019).

Kazama, H. & Wilson, R. I. Origins of correlated activity in an olfactory circuit. Nat. Neurosci. 12, 1136–1144 (2009).

Kornfeld, J. & Denk, W. Progress and remaining challenges in high-throughput volume electron microscopy. Curr. Opin. Neurobiol. 50, 261–267 (2018).

Schlegel, P., Costa, M. & Jefferis, G. S. X. E. Learning from connectomics on the fly. Curr. Opin. Insect Sci. 24, 96–105 (2017).

Bates, A. S., Janssens, J., Jefferis, G. S. X. E. & Aerts, S. Neuronal cell types in the fly: single-cell anatomy meets single-cell genomics. Curr. Opin. Neurobiol. 56, 125–134 (2019).

Lacy, D. B., Tepp, W., Cohen, A. C., DasGupta, B. R. & Stevens, R. C. Crystal structure of botulinum neurotoxin type A and implications for toxicity. Nat. Struct. Biol. 5, 898–902 (1998).

Cachero, S. & Jefferis., G. S. X. E. Drosophila olfaction: the end of stereotypy? Neuron 59, 843–845 (2008).

Pfeiffer, B. D. et al. Refinement of tools for targeted gene expression in Drosophila. Genetics 186, 735–755 (2010).

Pfeiffer, B. D., Truman, J. W. & Rubin, G. M. Using translational enhancers to increase transgene expression in Drosophila. Proc. Natl Acad. Sci. USA 109, 6626–6631 (2012).

Gibson, D. G. et al. Enzymatic assembly of DNA molecules up to several hundred kilobases. Nat. Methods 6, 343–345 (2009).

R Core Team. R: A Language and Environment for Statistical Computing (R Foundation for Statistical Computing, 2016).

Schindelin, J. et al. Fiji: an open-source platform for biological-image analysis. Nat. Methods 9, 676–682 (2012).

Cachero, S. et al. BAcTrace a new tool for retrograde tracing of neuronal circuits. Zenodo https://doi.org/10.5281/zenodo.3797211 (2020).

Chiang, A.-S. et al. Three-dimensional reconstruction of brain-wide wiring networks in Drosophila at single-cell resolution. Curr. Biol. 21, 1–11 (2011).

Costa, M., Manton, J. D., Ostrovsky, A. D., Prohaska, S. & Jefferis, G. S. X. E. NBLAST: rapid, sensitive comparison of neuronal structure and construction of neuron family databases. Neuron 91, 293–311 (2016).

Bates, A. S. et al. Complete connectomic reconstruction of olfactory projection neurons in the fly brain. Curr. Biol. 30, 3183–3199.e6 (2020).

Kohl, J., Ostrovsky, A. D., Frechter, S. & Jefferis., G. S. X. E. A bidirectional circuit switch reroutes pheromone signals in male and female brains. Cell 155, 1610–1623 (2013).

Davletov, B., Bajohrs, M. & Binz, T. Beyond Botox: advantages and limitations of individual botulinum neurotoxins. Trends Neurosci. 28, 446–452 (2005).

Phan, J. et al. Structural basis for the substrate specificity of tobacco etch virus protease. J. Biol. Chem. 277, 50564–50572 (2002).

Jeanne, J. M., Fişek, M. & Wilson, R. I. The organization of projections from olfactory glomeruli onto higher-order neurons. Neuron 98, 1198–1213.e6 (2018).
Acknowledgements
This work was supported by a Dorothy Hodgkin Fellowship from the Royal Society to S.C. (DH120072), ERC Starting (211089) and Consolidator (649111) grants and core support from the MRC (MC-U105188491) to G.S.X.E.J. We are grateful to B. Davletov (University of Sheffield), E. Ferrari (University of Lincoln) and J. Arsenault (University of Toronto) for sharing reagents and advice in early stages of the project. We acknowledge the Bloomington Drosophila Stock Center for fly stocks (NIH P40OD018537), the Developmental Studies Hybridoma Bank for antibodies and the Drosophila Genomics Resource Center (NIH grant 2P40OD010949) for plasmids. Finally, we thank R. Benton and all members of the Jefferis group for many insightful comments on the manuscript.
Ethics declarations
Competing interests
The authors declare no competing interests.
Additional information
Peer review information Nina Vogt was the primary editor on this article and managed its editorial process and peer review in collaboration with the rest of the editorial team.
Publisher's note Springer Nature remains neutral with regard to jurisdictional claims in published maps and institutional affiliations.
Supplementary information
Supplementary Figs. 1–8, Notes 1–10, Tables 1–17, Protocols 1 and 2, and References.
Source data
Western blot films used to make Fig. 2a,d.
Western blot films used to make Extended Data Fig. 2a,f,g.
About this article
Cite this article
Cachero, S., Gkantia, M., Bates, A.S. et al. BAcTrace, a tool for retrograde tracing of neuronal circuits in Drosophila. Nat Methods 17, 1254–1261 (2020). https://doi.org/10.1038/s41592-020-00989-1
Received:

Accepted:

Published:

Issue Date:

DOI: https://doi.org/10.1038/s41592-020-00989-1