Abstract
Although tremendous effort has been put into cell-type annotation, identification of previously uncharacterized cell types in heterogeneous single-cell RNA-seq data remains a challenge. Here we present MARS, a meta-learning approach for identifying and annotating known as well as new cell types. MARS overcomes the heterogeneity of cell types by transferring latent cell representations across multiple datasets. MARS uses deep learning to learn a cell embedding function as well as a set of landmarks in the cell embedding space. The method has a unique ability to discover cell types that have never been seen before and annotate experiments that are as yet unannotated. We apply MARS to a large mouse cell atlas and show its ability to accurately identify cell types, even when it has never seen them before. Further, MARS automatically generates interpretable names for new cell types by probabilistically defining a cell type in the embedding space.
Relevant articles
Open Access articles citing this article.
Jan Dohmen

,

Artem Baranovskii

…

Altuna Akalin

Genome Biology Open Access 30 May 2022

Jiayi Dong

,

Yin Zhang

&

Fei Wang

BMC Bioinformatics Open Access 05 May 2022

Scientific Reports Open Access 18 January 2022
Access options
Subscribe to Nature+
Get immediate online access to Nature and 55 other Nature journal
Subscribe to Journal
Get full journal access for 1 year
$99.00
only $8.25 per issue
All prices are NET prices.
VAT will be added later in the checkout.
Tax calculation will be finalised during checkout.
Buy article
Get time limited or full article access on ReadCube.
$32.00
All prices are NET prices.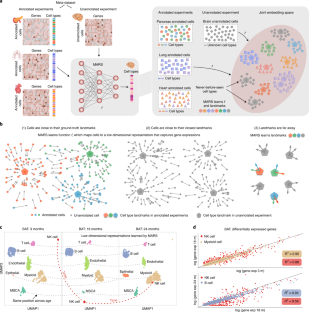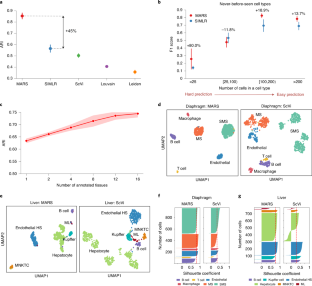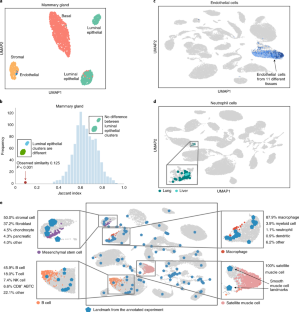 References
Park, J. et al. Single-cell transcriptomics of the mouse kidney reveals potential cellular targets of kidney disease. Science 360, 758–763 (2018).

McKenna, A. & Gagnon, J. A. Recording development with single cell dynamic lineage tracing. Development 146, dev169730 (2019).

Satija, R., Farrell, J. A., Gennert, D., Schier, A. F. & Regev, A. Spatial reconstruction of single-cell gene expression data. Nat. Biotech. 33, 495–502 (2015).

Montoro, D. T. et al. A revised airway epithelial hierarchy includes CFTR-expressing ionocytes. Nature 560, 319–324 (2018).

Han, X. et al. Mapping the mouse cell atlas by Microwell-seq. Cell 172, 1091–1107 (2018).

Schaum, N. et al. Single-cell transcriptomics of 20 mouse organs creates a Tabula Muris: the Tabula Muris consortium. Nature 562, 367–372 (2018).

Regev, A. et al. Science forum: the Human Cell Atlas. eLife 6, e27041 (2017).

Plasschaert, L. W. et al. A single-cell atlas of the airway epithelium reveals the CFTR-rich pulmonary ionocyte. Nature 560, 377–381 (2018).

Suo, S. et al. Revealing the critical regulators of cell identity in the mouse cell atlas. Cell Rep. 25, 1436–1445 (2018).

Aevermann, B. D. et al. Cell type discovery using single-cell transcriptomics: implications for ontological representation. Hum. Mol. Genet. 27, R40–R47 (2018).

Wu, H., Kirita, Y., Donnelly, E. L. & Humphreys, B. D. Advantages of single-nucleus over single-cell RNA sequencing of adult kidney: rare cell types and novel cell states revealed infibrosis. J. Am. Soc. Nephrol. 30, 23–32 (2019).

Lopez, R., Regier, J., Cole, M. B., Jordan, M. I. & Yosef, N. Deep generative modeling for single-cell transcriptomics. Nat. Methods 15, 1053–1058 (2018).

Ding, J., Condon, A. & Shah, S. P. Interpretable dimensionality reduction of single cell transcriptome data with deep generative models. Nat. Commun. 9, 2002 (2018).

Wang, J. et al. Data denoising with transfer learning in single-cell transcriptomics. Nat. Methods 16, 875–878 (2019).

Amodio, M. et al. Exploring single-cell data with deep multitasking neural networks. Nat. Methods 16, 1139–1145 (2019).

Eraslan, G., Simon, L. M., Mircea, M., Mueller, N. S. & Theis, F. J. Single-cell RNA-seq denoising using a deep count autoencoder. Nat. Commun. 10, 390 (2019).

Korsunsky, I. et al. Fast, sensitive and accurate integration of single-cell data with Harmony. Nat. Methods 16, 1289–1296 (2019).

Tyssowski, K. M. et al. Different neuronal activity patterns induce different gene expression programs. Neuron 98, 530–546 (2018).

Kotliar, D. et al. Identifying gene expression programs of cell-type identity and cellular activity with single-cell RNA-Seq. eLife 8, e43803 (2019).

Pliner, H. A., Shendure, J. & Trapnell, C. Supervised classification enables rapid annotation of cell atlases. Nat. Methods 16, 983–986 (2019).

Xu, C. et al. Probabilistic harmonization and annotation of single-cell transcriptomics data with deep generative models. Preprint at bioRxiv https://doi.org/10.1101/532895 (2020).

Stuart, T. et al. Comprehensive integration of single-cell data. Cell 177, 1888–1902 (2019).

Wang, T. et al. BERMUDA: a novel deep transfer learning method for single-cell RNA sequencing batch correction reveals hidden high-resolution cellular subtypes. Genome Biol. 20, 1–15 (2019).

Schmidhuber, J. Evolutionary Principles in Self-referential Learning. Diploma thesis, Technische Univ. München (1987).

Santoro, A., Bartunov, S., Botvinick, M., Wierstra, D. & Lillicrap, T. Meta-learning with memory-augmented neural networks. In Proc. International Conference on Machine Learning 33 (eds Balcan, M. F. et al.), 1842–1850 (PMLR, 2016).

Snell, J., Swersky, K. & Zemel, R. Prototypical networks for few-shot learning. Proc Adv. Neural Inform. Proc. Syst. 31 (eds Guyon, I. et al.), 4077–4087 (Curran Associates, 2017).

Finn, C., Abbeel, P. & Levine, S. Model-agnostic meta-learning for fast adaptation of deep networks. In Proc. International Conference on Machine Learning 34 (eds Precup, D. et al.) 1126–1135 (PMLR, 2017).

The Tabula Muris Consortium. A single cell transcriptomic atlas characterizes aging tissues in the mouse. Nature 583, 590–595 (2020).

Albright, J. W. & Albright, J. F. Age-associated impairment of murine natural killer activity. Proc. Natl Acad. Sci. USA 80, 6371–6375 (1983).

Nogusa, S., Ritz, B. W., Kassim, S. H., Jennings, S. R. & Gardner, E. M. Characterization of age-related changes in natural killer cells during primary influenza infection in mice. Mech. Ageing Dev. 129, 223–230 (2008).

Nair, S., Fang, M. & Sigal, L. J. The natural killer cell dysfunction of aged mice is due to the bone marrow stroma and is not restored by IL-15/IL-15Rα treatment. Aging Cell 14, 180–190 (2015).

Wang, B., Zhu, J., Pierson, E., Ramazzotti, D. & Batzoglou, S. Visualization and analysis of single-cell RNA-Seq data by kernel-based similarity learning. Nat. Methods 14, 414–416 (2017).

Traag, V. A., Waltman, L. & van Eck, N. J. From Louvain to Leiden: guaranteeing well-connected communities. Sci. Rep. 9, 5233 (2019).

Blondel, V. D., Guillaume, J.-L., Lambiotte, R. & Lefebvre, E. Fast unfolding of communities in large networks. J. Stat. Mech.: Theory Exp. 2008, P10008 (2008).

Wolf, F. A., Angerer, P. & Theis, F. J. SCANPY: large-scale single-cell gene expression data analysis. Genome Biol. 19, 15 (2018).

Butler, A., Hoffman, P., Smibert, P., Papalexi, E. & Satija, R. Integrating single-cell transcriptomic data across different conditions, technologies, and species. Nat. Biotechnology 36, 411–420 (2018).

Tian, L. et al. Benchmarking single cell RNA-sequencing analysis pipelines using mixture control experiments. Nat. Methods 16, 479–487 (2019).

Abdelaal, T. et al. A comparison of automatic cell identification methods for single-cell RNA sequencing data. Genome Biol. 20, 194 (2019).

Tasic, B. et al. Shared and distinct transcriptomic cell types across neocortical areas. Nature 563, 72–78 (2018).

Pollen, A. A. et al. Low-coverage single-cell mRNA sequencing reveals cellular heterogeneity and activated signaling pathways in developing cerebral cortex. Nat. Biotech. 32, 1053–1058 (2014).

Kolodziejczyk, A. A. et al. Single cell RNA-sequencing of pluripotent states unlocks modular transcriptional variation. Cell Stem Cell 17, 471–485 (2015).

McInnes, L., Healy, J. & Melville, J. UMAP: uniform manifold approximation and projection. J. Open Source Softw. 3, 861 (2018).

Ashburner, M. et al. Gene Ontology: tool for the unification of biology. Nat. Genet. 25, 25–29 (2000).

Hie, B., Bryson, B. & Berger, B. Efficient integration of heterogeneous single-cell transcriptomes using Scanorama. Nat. Biotech. 37, 685–691 (2019).

Haniffa, M. A., Collin, M. P., Buckley, C. D. & Dazzi, F. Mesenchymal stem cells: the fibroblasts new clothes? Haematologica 94, 258–263 (2009).

Hematti, P. Mesenchymal stromal cells and fibroblasts: a case of mistaken identity? Cytotherapy 14, 516–521 (2012).

Klopfenstein, D. et al. GOATOOLS: a Python library for Gene Ontology analyses. Sci. Rep. 8, 10872 (2018).
Acknowledgements
We gratefully acknowledge the support of DARPA under nos. FA865018C7880 (ASED) and N660011924033 (MCS); ARO under nos. W911NF-16-1-0342 (MURI) and W911NF-16-1-0171 (DURIP); the National Science Foundation (NSF) under nos. OAC-1835598 (CINES), OAC-1934578 (HDR), CCF-1918940 (Expeditions) and IIS-2030477 (RAPID); the Stanford Data Science Initiative, Wu Tsai Neurosciences Institute, Chan Zuckerberg Biohub, Amazon, Boeing, Chase, Docomo, Hitachi, JD.com, NVIDIA, Dell. J.L. is a Chan Zuckerberg Biohub investigator. M.Z. is supported, in part, by NSF grant nos. IIS-2030459 and IIS-2033384, and by the Harvard Data Science Initiative. A.O.P is supported by CZ Biohub. R.B.A. is supported by CZ Biohub and grant no. NIH GM102365.
Ethics declarations
Competing interests
The authors declare no competing interests.
Additional information
Peer review information Lin Tang was the primary editor on this article and managed its editorial process and peer review in collaboration with the rest of the editorial team.
Publisher's note Springer Nature remains neutral with regard to jurisdictional claims in published maps and institutional affiliations.
Supplementary information
About this article
Cite this article
Brbić, M., Zitnik, M., Wang, S. et al. MARS: discovering novel cell types across heterogeneous single-cell experiments. Nat Methods 17, 1200–1206 (2020). https://doi.org/10.1038/s41592-020-00979-3
Received:

Accepted:

Published:

Issue Date:

DOI: https://doi.org/10.1038/s41592-020-00979-3