Abstract
Long-read sequencing technologies have substantially improved the assemblies of many isolate bacterial genomes as compared to fragmented short-read assemblies. However, assembling complex metagenomic datasets remains difficult even for state-of-the-art long-read assemblers. Here we present metaFlye, which addresses important long-read metagenomic assembly challenges, such as uneven bacterial composition and intra-species heterogeneity. First, we benchmarked metaFlye using simulated and mock bacterial communities and show that it consistently produces assemblies with better completeness and contiguity than state-of-the-art long-read assemblers. Second, we performed long-read sequencing of the sheep microbiome and applied metaFlye to reconstruct 63 complete or nearly complete bacterial genomes within single contigs. Finally, we show that long-read assembly of human microbiomes enables the discovery of full-length biosynthetic gene clusters that encode biomedically important natural products.
Relevant articles
Open Access articles citing this article.
Worarat Kruasuwan

,

Piroon Jenjaroenpun

…

Thidathip Wongsurawat

Scientific Reports Open Access 20 March 2023

Jessica Dittmer

,

Marius Bredon

…

Didier Bouchon

ISME Communications Open Access 08 March 2023

Jose M. Haro-Moreno

,

Pedro J. Cabello-Yeves

…

Francisco Rodriguez-Valera

Environmental Microbiome Open Access 23 February 2023
Access options
Access Nature and 54 other Nature Portfolio journals
Get Nature+, our best-value online-access subscription
$29.99 per month
cancel any time
Subscribe to this journal
Receive 12 print issues and online access
$209.00 per year
only $17.42 per issue
Rent or buy this article
Get just this article for as long as you need it
$39.95
Prices may be subject to local taxes which are calculated during checkout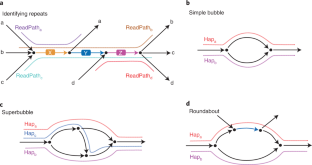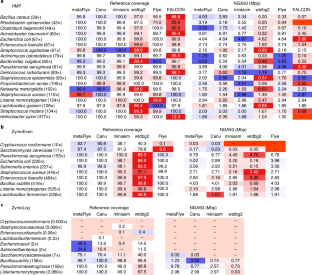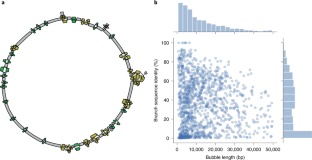 References
Jain, M. et al. Nanopore sequencing and assembly of a human genome with ultra-long reads. Nat. Biotechnol. 36, 338 (2018).

Miga, K. H. et al. Telomere-to-telomere assembly of a complete human X chromosome. Nature https://doi.org/10.1038/s41586-020-2547-7 (2020).

Tsai, Y. C. et al. Resolving the complexity of human skin metagenomes using single-molecule sequencing. MBio 7, e01948–15 (2016).

Driscoll, C. B., Otten, T. G., Brown, N. M. & Dreher, T. W. Towards long-read metagenomics: complete assembly of three novel genomes from bacteria dependent on a diazotrophic cyanobacterium in a freshwater lake co-culture. Stand. Genom. Sci. 12, 9 (2017).

Nicholls, S. M., Quick, J. C., Tang, S. & Loman, N. J. Ultra-deep, long-read nanopore sequencing of mock microbial community standards. GigaScience 8, 1–9 (2019).

Bertrand, D. et al. Hybrid metagenomic assembly enables high-resolution analysis of resistance determinants and mobile elements in human microbiomes. Nat. Biotechnol. 37, 937–944 (2019).

Somerville, V. et al. Long read-based de novo assembly of low complex metagenome samples results in finished genomes and reveals insights into strain diversity and an active phage system. BMC Microbiol. 19, 143 (2019).

Moss, E. L., Maghini, D. G. & Bhatt, A. S. Complete, closed bacterial genomes from microbiomes using nanopore sequencing. Nat. Biotechnol. 38, 701–707 (2020).

Stewart, R. D. et al. Compendium of 4,941 rumen metagenome-assembled genomes for rumen microbiome biology and enzyme discovery. Nat. Biotechnol. 37, 953–961 (2019).

Arumugam, K. et al. Annotated bacterial chromosomes from frame-shift-corrected long read metagenomic data. Microbiome 7, 61 (2019).

Hiraoka, S. et al. Metaepigenomic analysis reveals the unexplored diversity of DNA methylation in an environmental prokaryotic community. Nat. Commun. 10, 159 (2019).

Bickhart, D. M. et al. Assignment of virus and antimicrobial resistance genes to microbial hosts in a complex microbial community by combined long-read assembly and proximity ligation. Genome Biol. 20, 1–18 (2019).

Chin, C. S. et al. Phased diploid genome assembly with single-molecule real-time sequencing. Nat. Methods 13, 1050–1054 (2016).

Li, H. Minimap and miniasm: fast mapping and de novo assembly for noisy long sequences. Bioinformatics 32, 2103–2110 (2016).

Koren, S. et al. Canu: scalable and accurate long-read assembly via adaptive k-mer weighting and repeat separation. Genome Res. 27, 722–736 (2017).

Kolmogorov, M., Yuan, J., Lin, Y. & Pevzner, P. A. Assembly of long, error-prone reads using repeat graphs. Nat. Biotechnol. 37, 540–546 (2019).

Ruan, J. & Li, H. Fast and accurate long-read assembly with wtdbg2. Nat. Methods 17, 155–158 (2020).

Li, D., Liu, C. M., Luo, R., Sadakane, K. & Lam, T. W. MEGAHIT: an ultra-fast single-node solution for large and complex metagenomics assembly via succinct de Bruijn graph. Bioinformatics 31, 1674–1676 (2015).

Nurk, S., Meleshko, D., Korobeynikov, A. & Pevzner, P. A. metaSPAdes: a new versatile metagenomic assembler. Genome Res. 27, 824–834 (2017).

Truong, D. T., Tett, A., Pasolli, E., Huttenhower, C. & Segata, N. Microbial strain-level population structure and genetic diversity from metagenomes. Genome Res. 27, 626–638 (2017).

Ghurye, J., Treangen, T., Fedarko, M., Hervey, W. J. & Pop, M. MetaCarvel: linking assembly graph motifs to biological variants. Genome Biol. 20, 174 (2019).

Goltsman, D. S. A. et al. Metagenomic analysis with strain-level resolution reveals fine-scale variation in the human pregnancy microbiome. Genome Res. 28, 1467–1480 (2018).

Guo, J. et al. Horizontal gene transfer in an acid mine drainage microbial community. BMC Genomics 16, 496 (2015).

Eloe-Fadrosh, E. A. et al. Global metagenomic survey reveals a new bacterial candidate phylum in geothermal springs. Nat. Commun. 7, 10476 (2016).

Suzuki, Y. et al. Long-read metagenomic exploration of extrachromosomal mobile genetic elements in the human gut. Microbiome 7, 119 (2019).

Stevenson, L. J., Owen, J. G. & Ackerley, D. F. Metagenome driven discovery of nonribosomal peptides. ACS Chem. Biol. 14, 2115–2126 (2019).

Nijkamp, J. F., Pop, M., Reinders, M. J. T. & de Ridder, D. Exploring variation-aware contig graphs for (comparative) metagenomics using MaryGold. Bioinformatics 29, 2826–2834 (2013).

Onodera, T., Sadakane, K. & Shibuya, T. Detecting superbubbles in assembly graphs. In International Workshop on Algorithms in Bioinformatics, 338–348 (Springer, 2013).

Garg, S. et al. A haplotype-aware de novo assembly of related individuals using pedigree sequence graph. Bioinformatics 36, 2385–2392 (2020).

Sczyrba, A. et al. Critical assessment of metagenome interpretation - a benchmark of metagenomics software. Nat. Methods 14, 1063–1071 (2017).

Jain, C., Rodriguez-R, L. M., Phillippy, A. M., Konstantinidis, K. T. & Aluru, S. High throughput ANI analysis of 90 K prokaryotic genomes reveals clear species boundaries. Nat. Commun. 9, 1–8 (2018).

Wick, R. Badread: simulation of error-prone long reads. J. Open Source Softw. 4, 1316 (2019).

Mikheenko, A., Prjibelski, A., Saveliev, V., Antipov, D. & Gurevich, A. Versatile genome assembly evaluation with QUAST-LG. Bioinformatics 34, i142–i150 (2018).

Vaser, R., Sović, I., Nagarajan, N. & Šikić, M. Fast and accurate de novo genome assembly from long uncorrected reads. Genome Res. 27, 737–746 (2017).

Antipov, D., Raiko, M., Lapidus, A. & Pevzner, P. A. Plasmid detection and assembly in genomic and metagenomic data sets. Genome Res. 29, 961–968 (2019).

Latorre-Pérez, Adriel, Villalba-Bermell, Pascual, Pascual, Javier & Vilanova, Cristina Assembly methods for nanopore-based metagenomic sequencing: a comparative study. Sci. Rep. 10, 1–14 (2020).

Parks, D. H., Imelfort, M., Skennerton, C. T., Hugenholtz, P. & Tyson, G. W. CheckM: assessing the quality of microbial genomes recovered from isolates, single cells, and metagenomes. Genome Res. 25, 1043–1055 (2015).

Hyatt, D. et al. Prodigal: prokaryotic gene recognition and translation initiation site identification. BMC Bioinf. 11, 119 (2010).

Laetsch, D. R. & Blaxter, M. L. BlobTools: interrogation of genome assemblies. F1000Research 6, 1287 (2017).

Buchfink, B., Xie, C. & Huson, D. H. Fast and sensitive protein alignment using DIAMOND. Nat. Methods 12, 59–60 (2015).

UniProt Consortium. UniProt: a hub for protein information. Nucleic Acids Res. 43, D204–D212 (2014).

Walker, B. J. et al. Pilon: an integrated tool for comprehensive microbial variant detection and genome assembly improvement. PLoS ONE 9, e112963 (2014).

Minkin, I. & Medvedev, P. Scalable multiple whole-genome alignment and locally collinear block construction with SibeliaZ. Preprint at bioRxiv https://doi.org/10.1101/548123 (2019).

Kersten, R. D. et al. A mass spectrometry-guided genome mining approach for natural product peptidogenomics. Nat. Chem. Biol. 7, 794–802 (2011).

Ling, L. L. et al. A new antibiotic kills pathogens without detectable resistance. Nature 517, 455–459 (2015).

Meleshko, D. et al. BiosyntheticSPAdes: reconstructing biosynthetic gene clusters from assembly graphs. Genome Res. 29, 1352–1362 (2019).

Behsaz, B. et al. De novo peptide sequencing reveals many cyclopeptides in the human gut and other environments. Cell Syst. 10, 99–108 (2020).

Wilson, M. R. et al. The human gut bacterial genotoxin colibactin alkylates DNA. Science 363, eaar7785 (2019).

Mohimani, H. & Pevzner, P. A. Dereplication, sequencing and identification of peptidic natural products: from genome mining to peptidogenomics to spectral networks. Nat. Prod. Rep. 33, 73–86 (2016).

Quast, C. et al. The SILVA ribosomal RNA gene database project: improved data processing and web-based tools. Nucleic Acids Res. 41, D590–D596 (2012).

Wick, R. R., Schultz, M. B., Zobel, J. & Holt, K. E. Bandage: interactive visualization of de novo genome assemblies. Bioinformatics 31, 3350–3352 (2015).

Hunter, J. D. Matplotlib A 2D graphics environment. Comput. Sci. Eng. 9, 90 (2007).

Dolev, S., Ghanayim, M., Binun, B., Frenkel, S. & Sun, Y. S. Relationship of Jaccard and edit distance in malware clustering and online identification. In 2017 IEEE 16th International Symposium on Network Computing and Applications (NCA), 1–5 (IEEE, 2017).

Fu, L., Niu, B., Zhu, Z., Wu, S. & Li, W. CD-HIT: accelerated for clustering the next-generation sequencing data. Bioinformatics 28, 3150–3152 (2012).

Rognes, T., Flouri, T., Nichols, B., Quince, C. & Mahé, F. VSEARCH: a versatile open source tool for metagenomics. PeerJ 4, e2584 (2016).

Pruitt, K. D., Tatusova, T. & Maglott, D. R. NCBI reference sequences (RefSeq): a curated non-redundant sequence database of genomes, transcripts and proteins. Nucleic Acids Res. 35, D61–D65 (2007).

Li, X., Andersen, D. G., Kaminsky, M. & Freedman, M. J. Algorithmic improvements for fast concurrent cuckoo hashing. In Proceedings of the Ninth European Conference on Computer Systems, 27 (ACM, 2014).

Jiang, Z. et al. Ancestral reconstruction of segmental duplications reveals punctuated cores of human genome evolution. Nat. Genet. 39, 1361–1368 (2007).

Bankevich, A. & Pevzner, P. A. mosaicFlye: resolving long mosaic repeats using long error-prone reads. Preprint at bioRxiv, https://doi.org/10.1101/2020.01.15.908285 (2020).

Koren, S., Treangen, T. J. & Pop, M. Bambus 2: scaffolding metagenomes. Bioinformatics 27, 2964–2971 (2011).

Li, H. Minimap2: pairwise alignment for nucleotide sequences. Bioinformatics 34, 3094–3100 (2018).

Nurk, S. et al. Assembling genomes and mini-metagenomes from highly chimeric reads. J. Comp. Biol. 20, 714–737 (2013).

Brankovic, L. et al. Linear-time superbubble identification algorithm for genome assembly. Theor. Comput. Sci. 609, 374–383 (2016).

Zerbino, D. R. & Birney, E. Velvet: algorithms for de novo short read assembly using de Bruijn graphs. Genome Res. 18, 821–829 (2008).

Paten, B. et al. Superbubbles, ultrabubbles, and cacti. J. Computational Biol. 25, 649–663 (2018).

Supporting data for the manuscript "metaFlye: scalable long-read metagenome assembly using repeat graphs" (version 3.0) (Dataset). Zenodo https://doi.org/10.5281/zenodo.3986210 (2020).
Acknowledgements
We are grateful to Denis Bertrand and Niranjan Nagarajan for sharing the metagenomic datasets before journal publication. M.K. and P.A.P. were supported by the NSF/MCB-BSF grant 1715911. B.B. was supported by the US National Institutes of Health grant 2-P41-GM103484. D.B. was funded by USDA CRIS project 5090-31000-026-00-D and K.K., S.S. and T.S. by project 3040-31000-100-00D. A.G. and M.R. were supported by the Russian Science Foundation (grant 19-16-00049). Computational resources were provided in part by the Research Park Computer Center at St. Petersburg State University.
Ethics declarations
Competing interests
The authors declare no competing interests.
Additional information
Peer review information Lei Tang was the primary editor on this article and managed its editorial process and peer review in collaboration with the rest of the editorial team.
Publisher's note Springer Nature remains neutral with regard to jurisdictional claims in published maps and institutional affiliations.
Supplementary information
About this article
Cite this article
Kolmogorov, M., Bickhart, D.M., Behsaz, B. et al. metaFlye: scalable long-read metagenome assembly using repeat graphs. Nat Methods 17, 1103–1110 (2020). https://doi.org/10.1038/s41592-020-00971-x
Received:

Revised:

Accepted:

Published:

Issue Date:

DOI: https://doi.org/10.1038/s41592-020-00971-x