Abstract
We demonstrate gas cluster ion beam scanning electron microscopy (SEM), in which wide-area ion milling is performed on a series of thick tissue sections. This three-dimensional electron microscopy technique acquires datasets with <10 nm isotropic resolution of each section, and these can then be stitched together to span the sectioned volume. Incorporating gas cluster ion beam SEM into existing single-beam and multibeam SEM workflows should be straightforward, increasing reliability while improving z resolution by a factor of three or more.
Access options
Subscribe to Journal
Get full journal access for 1 year
$259.00
only $21.58 per issue
All prices are NET prices.
VAT will be added later in the checkout.
Rent or Buy article
Get time limited or full article access on ReadCube.
from$8.99
All prices are NET prices.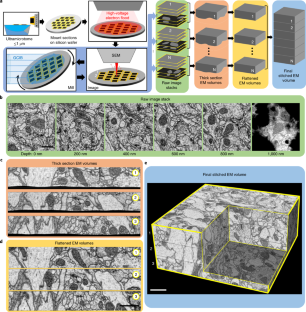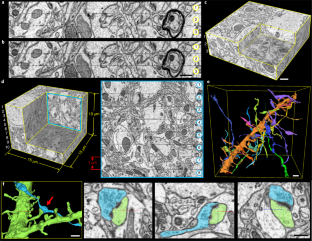 Data availability
The GCIB-SEM imaging data that support the findings of this study are available from the corresponding author upon reasonable request.
References
1.

Holtmaat, A. & Svoboda, K. Experience-dependent structural synaptic plasticity in the mammalian brain. Nat. Rev. Neurosci. 10, 647–658 (2009).

2.

Poo, M. M. et al. What is memory? The present state of the engram. BMC Biol. 14, 40 (2016).

3.

Lamprecht, R. & LeDoux, J. Structural plasticity and memory. Nat. Rev. Neurosci. 5, 45–54 (2004).

4.

Kasai, H., Matsuzaki, M., Noguchi, J., Yasumatsu, N. & Nakahara, H. Structure–stability–function relationships of dendritic spines. Trends Neurosci. 26, 360–368 (2003).

5.

Hoshiba, Y., Wada, T. & Hayashi-Takagi, A. Synaptic ensemble underlying the selection and consolidation of neuronal circuits during learning. Front. Neural Circuits 11, 12 (2017).

6.

Choi, J. H. et al. Interregional synaptic maps among engram cells underlie memory formation. Science 360, 430–435 (2018).

7.

Kornfeld, J. & Denk, W. Progress and remaining challenges in high-throughput volume electron microscopy. Curr. Opin. Neurobiol. 50, 261–267 (2018).

8.

Bock, D. D. et al. Network anatomy and in vivo physiology of visual cortical neurons. Nature 471, 177–182 (2011).

9.

Hayworth, K. J. et al. Imaging ATUM ultrathin section libraries with WaferMapper: a multi-scale approach to EM reconstruction of neural circuits. Front. Neural Circuits 8, 68 (2014).

10.

Horstmann, H., Körber, C., Sätzler, K., Aydin, D. & Kuner, T. Serial section scanning electron microscopy (S3EM) on silicon wafers for ultra-structural volume imaging of cells and tissues. PLoS ONE 7, e35172 (2012).

11.

Eberle, A. L. et al. High‐resolution, high‐throughput imaging with a multibeam scanning electron microscope. J. Microsc. 259, 114–120 (2015).

12.

Denk, W. & Horstmann, H. Serial block-face scanning electron microscopy to reconstruct three-dimensional tissue nanostructure. PLoS Biol. 2, e329 (2004).

13.

Xu, C. S. et al. Enhanced FIB-SEM systems for large-volume 3D imaging. eLife 6, e25916 (2017).

14.

Januszewski, M. et al. High-precision automated reconstruction of neurons with flood-filling networks. Nat. Methods 15, 605–610 (2018).

15.

Rading, D., Moellers, R., Cramer, H. G. & Niehuis, E. Dual beam depth profiling of polymer materials: comparison of C60 and Ar cluster ion beams for sputtering. Surf. Interface Anal. 45, 171–174 (2013).

16.

Aoki, T. & Matsuo, J. Molecular dynamics simulations of surface smoothing and sputtering process with glancing-angle gas cluster ion beams. Nucl. Instrum. Methods Phys. Res. B 257, 645–648 (2007).

17.

Calcagno, L., Compagnini, G. & Foti, G. Structural modification of polymer films by ion irradiation. Nucl. Instrum. Methods Phys. Res. B 65, 413–422 (1992).

18.

Hayworth, K. J. et al. Ultrastructurally smooth thick partitioning and volume stitching for large-scale connectomics. Nat. Methods 12, 319 (2015).

19.

Titze, B. Techniques to Prevent Sample Surface Charging and Reduce Beam Damage Effects for SBEM Imaging. Doctoral dissertation, Heidelberg Univ. (2013).

20.

Malloy, M., et al. in Alternative Lithographic Technologies VII Vol. 9423 (eds Resnick, D. J. & Bencher, C.) 942319 (SPIE, 2015).

21.

Hua, Y., Laserstein, P. & Helmstaedter, M. Large-volume en-bloc staining for electron microscopy-based connectomics. Nat. Commun. 6, 7923 (2015).

22.

Schindelin, J. et al. Fiji: an open-source platform for biological-image analysis. Nat. Methods 9, 676–682 (2012).

23.

Januszewski, M. & Jain, V. Segmentation-enhanced CycleGAN. Preprint at bioRxiv https://doi.org/10.1101/548081 (2019).

24.

Hayworth, K. J. et al. Gas cluster ion beam SEM for imaging of large tissue samples with 10 nm isotropic resolution. Code Ocean https://doi.org/10.24433/CO.4372524.v1 (2019).
Acknowledgements
We thank S. Clerc-Rosset (EPFL) for processing the mouse brain tissue. We thank J. Kornfeld (MIT) for allowing the use of a flood-filling network that was trained on one of his SBEM datasets. We thank A. Eberle (Zeiss) for MultiSEM imaging our GCIB-SEM samples. We thank Y. Kubota (SOKENDAI) for providing the copper tape used in our ATUM collection tests. We thank W. Denk (Max Planck Institute) and M. Kormacheva (Max Planck Institute) for useful discussions. This work was funded by the Howard Hughes Medical Institute.
Ethics declarations
Competing interests
A patent on the GCIB-SEM technology has been filed by HHMI. M.J. is an employee of Google AI.
Additional information
Peer review information Nina Vogt was the primary editor on this article and managed its editorial process and peer review in collaboration with the rest of the team.
Publisher's note Springer Nature remains neutral with regard to jurisdictional claims in published maps and institutional affiliations.
Supplementary information
About this article
Cite this article
Hayworth, K.J., Peale, D., Januszewski, M. et al. Gas cluster ion beam SEM for imaging of large tissue samples with 10 nm isotropic resolution. Nat Methods 17, 68–71 (2020). https://doi.org/10.1038/s41592-019-0641-2
Received:

Accepted:

Published:

Issue Date:
Further reading
Louis K Scheffer

,

C Shan Xu

,

Michal Januszewski

,

Zhiyuan Lu

,

Shin-ya Takemura

,

Kenneth J Hayworth

,

Gary B Huang

,

Kazunori Shinomiya

,

Jeremy Maitlin-Shepard

,

Stuart Berg

,

Jody Clements

,

Philip M Hubbard

,

William T Katz

,

Lowell Umayam

,

Ting Zhao

,

David Ackerman

,

Tim Blakely

,

John Bogovic

,

Tom Dolafi

,

Dagmar Kainmueller

,

Takashi Kawase

,

Khaled A Khairy

,

Laramie Leavitt

,

Peter H Li

,

Larry Lindsey

,

Nicole Neubarth

,

Donald J Olbris

,

Hideo Otsuna

,

Eric T Trautman

,

Masayoshi Ito

,

Alexander S Bates

,

Jens Goldammer

,

Tanya Wolff

,

Robert Svirskas

,

Philipp Schlegel

,

Erika Neace

,

Christopher J Knecht

,

Chelsea X Alvarado

,

Dennis A Bailey

,

Samantha Ballinger

,

Jolanta A Borycz

,

Brandon S Canino

,

Natasha Cheatham

,

Michael Cook

,

Marisa Dreher

,

Octave Duclos

,

Bryon Eubanks

,

Kelli Fairbanks

,

Samantha Finley

,

Nora Forknall

,

Audrey Francis

,

Gary Patrick Hopkins

,

Emily M Joyce

,

SungJin Kim

,

Nicole A Kirk

,

Julie Kovalyak

,

Shirley A Lauchie

,

Alanna Lohff

,

Charli Maldonado

,

Emily A Manley

,

Sari McLin

,

Caroline Mooney

,

Miatta Ndama

,

Omotara Ogundeyi

,

Nneoma Okeoma

,

Christopher Ordish

,

Nicholas Padilla

,

Christopher M Patrick

,

Tyler Paterson

,

Elliott E Phillips

,

Emily M Phillips

,

Neha Rampally

,

Caitlin Ribeiro

,

Madelaine K Robertson

,

Jon Thomson Rymer

,

Sean M Ryan

,

Megan Sammons

,

Anne K Scott

,

Ashley L Scott

,

Aya Shinomiya

,

Claire Smith

,

Kelsey Smith

,

Natalie L Smith

,

Margaret A Sobeski

,

Alia Suleiman

,

Jackie Swift

,

Satoko Takemura

,

Iris Talebi

,

Dorota Tarnogorska

,

Emily Tenshaw

,

Temour Tokhi

,

John J Walsh

,

Tansy Yang

,

Jane Anne Horne

,

Feng Li

,

Ruchi Parekh

,

Patricia K Rivlin

,

Vivek Jayaraman

,

Marta Costa

,

Gregory SXE Jefferis

,

Kei Ito

,

Stephan Saalfeld

,

Reed George

,

Ian A Meinertzhagen

,

Gerald M Rubin

,

Harald F Hess

,

Viren Jain

&

Stephen M Plaza

eLife (2020)