Abstract
Magnetic resonance imaging and spectroscopy are versatile methods for probing brain physiology, but their intrinsically low sensitivity limits the achievable spatial and temporal resolution. Here, we introduce a monolithically integrated NMR-on-a-chip needle that combines an ultra-sensitive 300 µm NMR coil with a complete NMR transceiver, enabling in vivo measurements of blood oxygenation and flow in nanoliter volumes at a sampling rate of 200 Hz.
Access options
Subscribe to Journal
Get full journal access for 1 year
$59.00
only $4.92 per issue
All prices are NET prices.
VAT will be added later in the checkout.
Tax calculation will be finalised during checkout.
Rent or Buy article
Get time limited or full article access on ReadCube.
from$8.99
All prices are NET prices.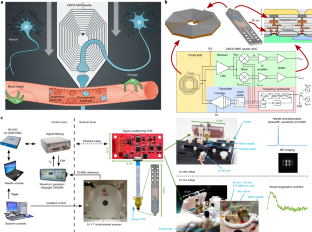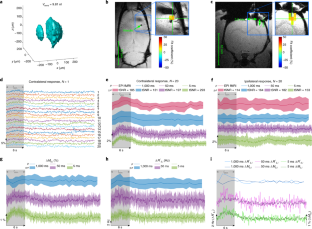 Data availability
The data that support the findings of this study are available from the corresponding authors upon request.
References
1.

Sun, N. et al. Palm NMR and 1-Chip NMR. IEEE J. Solid-State Circuits 46, 342–352 (2011).

2.

Ha, D., Paulsen, J., Sun, N., Song, Y.-Q. & Ham, D. Scalable NMR spectroscopy with semiconductor chips. Proc. Natl Acad. Sci. USA 111, 11955–11960 (2014).

3.

Anders, J., Handwerker, J., Ortmanns, M. & Boero, G. A low-power high-sensitivity single-chip receiver for NMR microscopy. J. Magn. Reson. 266, 41–50 (2016).

4.

Handwerker, J. et al. An array of fully-integrated quadrature TX/RX NMR field probes for MRI trajectory mapping. In European Solid-State Circuits Conference (ESSCIRC) 217–220 (IEEE, 2016); https://doi.org/10.1109/ESSCIRC.2016.7598281

5.

Grisi, M. et al. NMR spectroscopy of single sub-nL ova with inductive ultra-compact single-chip probes. Sci. Rep. 7, 44670 (2017).

6.

Trumbull, J. D., Glasgow, I. K., Beebe, D. J. & Magin, R. L. Integrating microfabricated fluidic systems and NMR spectroscopy. IEEE Trans. Biomed. Eng. 47, 3–7 (2000).

7.

Massin, C. et al. Planar microcoil-based microfluidic NMR probes. J. Magn. Reson. 164, 242–255 (2003).

8.

Paxinos, G. & Watson, C. The Rat Brain in Stereotaxic Coordinates 6th edn (Elsevier Academic, 2007).

9.

Duong, T. Q., Iadecola, C. & Kim, S.-G. Effect of hyperoxia, hypercapnia, and hypoxia on cerebral interstitial oxygen tension and cerebral blood flow. Magn. Reson. Med. 45, 61–70 (2001).

10.

Silva, A. C., Lee, S.-P., Yang, G., Iadecola, C. & Kim, S.-G. Simultaneous blood oxygenation level-dependent and cerebral blood flow functional magnetic resonance imaging during forepaw stimulation in the rat. J. Cereb. Blood Flow. Metab. 19, 871–879 (1999).

11.

Sicard, K. M. & Duong, T. Q. Effects of hypoxia, hyperoxia, and hypercapnia on baseline and stimulus-evoked BOLD, CBF, and CMRO2 in spontaneously breathing animals. NeuroImage 25, 850–858 (2005).

12.

Grüne, M., Pillekamp, F., Schwindt, W. & Hoehn, M. Gradient echo time dependence and quantitative parameter maps for somatosensory activation in rats at 7 T. Magn. Reson. Med. 42, 118–126 (1999).

13.

Speck, O. & Hennig, J. Functional imaging by I0- and T2*-parameter mapping using multi-image EPI. Magn. Reson. Med. 40, 243–248 (1998).

14.

Hu, X. & Yacoub, E. The story of the initial dip in fMRI. NeuroImage 62, 1103–1108 (2012).

15.

Yu, X., Qian, C., Chen, D.-y, Dodd, S. J. & Koretsky, A. P. Deciphering laminar-specific neural inputs with line-scanning fMRI. Nat. Methods 11, 55–58 (2014).

16.

Silva, A. C. & Kim, S.-G. Pseudo-continuous arterial spin labeling technique for measuring CBF dynamics with high temporal resolution. Magn. Reson. Med. 42, 425–429 (1999).

17.

Yaseen, M. A. et al. Microvascular oxygen tension and flow measurements in rodent cerebral cortex during baseline conditions and functional activation. J. Cereb. Blood Flow. Metab. 31, 1051–1063 (2011).

18.

Abe, Y., Van Nguyen, K., Tsurugizawa, T., Ciobanu, L. & Le Bihan, D. Modulation of water diffusion by activation-induced neural cell swelling in aplysia californica. Sci. Rep. 7, 6178 (2017).

19.

Sundaram, P. et al. Direct neural current imaging in an intact cerebellum with magnetic resonance imaging. NeuroImage 132, 477–490 (2016).

20.

Jun, J. J. et al. Fully integrated silicon probes for high-density recording of neural activity. Nature 551, 232 (2017).

21.

Hutzler, M. et al. High-Resolution multitransistor array recording of electrical field potentials in cultured brain slices. J. Neurophysiol. 96, 1638–1645 (2006).

22.

Handwerker, J., Schlecker, B., Ortmanns, M. & Anders, J. Integrated circuit technology for next generation Point-of-Care spectroscopy applications. IEEE Commun. Mag. 55, 143–151 (2017).

23.

Handwerker, J., Pérez Rodas, M., Ortmanns, M., Scheffler, K. & Anders, J. Towards CMOS-based in-vivo NMR spectroscopy and microscopy. In IEEE International Symposium on Circuits and Systems (ISCAS) 1–4 (IEEE, 2017); https://doi.org/10.1109/ISCAS.2017.8049753

24.

NEMA Standards Publication MS 1-2008 (R2014)—Determination of Signal-to-Noise Ratio (SNR) in Diagnostic Magnetic Resonance Imaging (National Electrical Manufacturers Association, 2015).

25.

Schlegel, F., Schroeter, A. & Rudin, M. The hemodynamic response to somatosensory stimulation in mice depends on the anesthetic used: Implications on analysis of mouse fMRI data. NeuroImage 116, 40–49 (2015).

26.

Khajehim, M. & Nasiraei Moghaddam, A. Investigating the spatial specificity of S2-SSFP fMRI: a Monte Carlo simulation approach. Magn. Reson. Imaging 37, 282–289 (2017).

27.

Weisskoff, R., Zuo, C. S., Boxerman, J. L. & Rosen, B. R. Microscopic susceptibility variation and transverse relaxation: theory and experiment. Magn. Reson. Med. 31, 601–610 (1994).

28.

Bieri, O. & Scheffler, K. Effect of diffusion in inhomogeneous magnetic fields on balanced steady-state free precession. NMR Biomed. 20, 1–10 (2007).

29.

Báez-Yánez, M. G. et al. The impact of vessel size, orientation and intravascular contribution on the neurovascular fingerprint of BOLD bSSFP fMRI. NeuroImage 163, 13–23 (2017).

30.

Cox, R. W. AFNI: software for analysis and visualization of functional magnetic resonance neuroimages. Comput. Biomed. Res. 29, 162–173 (1996).

31.

Volz, S. et al. Quantitative proton density mapping: correcting the receiver sensitivity bias via pseudo proton densities. NeuroImage 63, 540–552 (2012).

32.

Tian, P. et al. Cortical depth-specific microvascular dilation underlies laminar differences in blood oxygenation level-dependent functional MRI signal. Proc. Natl Acad. Sci. USA 107, 15246–15251 (2010).
Acknowledgements
We thank H. Merkle (LFMI-NINDS, National Institutes of Health, Bethesda, MD, USA) for building the surface coils and for suggestions on the in vitro setup. We thank J. Leupold and M. Wapler (University of Freiburg, Germany) for providing us with the laser-cut polyimide foil. We thank M. Ortmanns (University of Ulm, Germany) for hosting J.A. and J.H. in his lab and providing access to software tools and mixed-signal electrical characterization equipment. We thank C. Kranz (University of Ulm, Germany) for applying a biocompatible Parylene-C coating to an intermediate cable prototype. This work was supported by the German research foundation, Deutsche Forschungsgemeinschaft Grant AN 984/4-1 (J.A.) and KS 658/7-1 (K.S.).
Ethics declarations
Competing interests
A.B., N.F. and F.V. are employees of Bruker BioSpin AG. The other authors declare no competing interests.
Additional information
Peer review information Nina Vogt was the primary editor on this article and managed its editorial process and peer review in collaboration with the rest of the editorial team.
Publisher's note Springer Nature remains neutral with regard to jurisdictional claims in published maps and institutional affiliations.
Integrated supplementary information
Supplementary Information
Supplementary Figs.1–9 and Table 1.
About this article
Cite this article
Handwerker, J., Pérez-Rodas, M., Beyerlein, M. et al. A CMOS NMR needle for probing brain physiology with high spatial and temporal resolution. Nat Methods 17, 64–67 (2020). https://doi.org/10.1038/s41592-019-0640-3
Received:

Accepted:

Published:

Issue Date:
Further reading
Jens Anders

,

Frederik Dreyer

,

Daniel Krüger

,

Ilai Schwartz

,

Martin B. Plenio

&

Fedor Jelezko

Journal of Magnetic Resonance (2021)

Justine Deborne

,

Noël Pinaud

&

Yannick Crémillieux

Metabolites (2021)

Nergiz Sahin Solmaz

,

Marco Grisi

,

Alessandro V. Matheoud

,

Gabriele Gualco

&

Giovanni Boero

Analytical Chemistry (2020)