Abstract
To decipher cell state transitions from single-cell transcriptomes it is crucial to quantify weak expression of lineage-determining factors, which requires computational methods that are sensitive to the variability of weakly expressed genes. Here, I introduce VarID, a computational method that identifies locally homogenous neighborhoods in cell state space, permitting the quantification of local variability in gene expression. VarID delineates neighborhoods with differential gene expression variability and reveals pseudo-temporal dynamics of variability during differentiation.
Access options
Subscribe to Journal
Get full journal access for 1 year
$259.00
only $21.58 per issue
All prices are NET prices.
VAT will be added later in the checkout.
Rent or Buy article
Get time limited or full article access on ReadCube.
from$8.99
All prices are NET prices.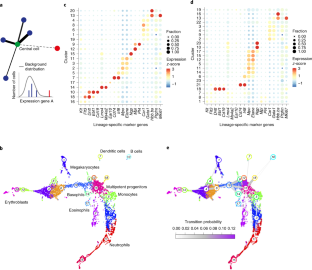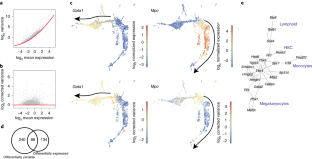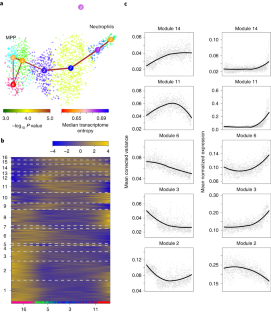 References
1.

Grün, D. Revealing routes of cellular differentiation by single-cell RNA-seq. Curr. Opin. Syst. Biol. 11, 9–17 (2018).

2.

Grün, D., Kester, L. & van Oudenaarden, A. Validation of noise models for single-cell transcriptomics. Nat. Methods 11, 637–640 (2014).

3.

Vallejos, C. A., Marioni, J. C. & Richardson, S. BASiCS: Bayesian analysis of single-cell sequencing data. PLoS Comput. Biol. 11, e1004333 (2015).

4.

Eling, N., Richard, A. C., Richardson, S., Marioni, J. C. & Vallejos, C. A. Correcting the mean-variance dependency for differential variability testing using single-cell RNA sequencing data. Cell Syst. 7, 284–294 (2018).

5.

Macosko, E. Z. et al. Highly parallel genome-wide expression profiling of individual cells using nanoliter droplets. Cell 161, 1202–1214 (2015).

6.

Satija, R., Farrell, J. A., Gennert, D., Schier, A. F. & Regev, A. Spatial reconstruction of single-cell gene expression data. Nat. Biotechnol. 33, 495–502 (2015).

7.

Setty, M. et al. Wishbone identifies bifurcating developmental trajectories from single-cell data. Nat. Biotechnol. 34, 637–645 (2016).

8.

Herman, J. S. FateID infers cell fate bias in multipotent progenitors from single-cell RNA-seq data. Nat. Methods 15, 379–386 (2018).

9.

Grün, D. et al. Single-cell messenger RNA sequencing reveals rare intestinal cell types. Nature 525, 251–255 (2015).

10.

Tusi, B. K. et al. Population snapshots predict early haematopoietic and erythroid hierarchies. Nature 555, 54–60 (2018).

11.

Brennecke, P. et al. Accounting for technical noise in single-cell RNA-seq experiments. Nat. Methods 10, 1093–1095 (2013).

12.

Hafemeister, C. & Satija, R. Normalization and variance stabilization of single-cell RNA-seq data using regularized negative binomial regression. Preprint bioRxiv at https://doi.org/10.1101/576827 (2019).

13.

Hu, H. et al. AnimalTFDB 3.0: a comprehensive resource for annotation and prediction of animal transcription factors. Nucleic Acids Res. 47, D33–D38 (2019).

14.

Huynh-Thu, V. A., Irrthum, A., Wehenkel, L. & Geurts, P. Inferring regulatory networks from expression data using tree-based methods. PLoS ONE 5, e12776 (2010).

15.

Liting, X., Gerstein, R., Socolovsky, M. & Castilla, L. H. Deletion of core binding factors Runx1 and Runx2 leads to perturbed hematopoiesis in multiple lineages. Blood 122, 46 (2013).

16.

Komorowska, K. et al. Hepatic leukemia factor maintains quescence of hematopoietic stem cells and protects the stem cell pool during regeneration. Cell Rep. 21, 3514–3523 (2017).

17.

Paul, F. et al. Transcriptional heterogeneity and lineage commitment in myeloid progenitors. Cell 163, 1663–1677 (2015).

18.

Doi, Y. et al. SATB1 expression marks lymphoid-lineage biased hematopoietic stem cells in mouse bone marrow. Blood 126, 2356 (2015).

19.

Jones, C. L. et al. ETV6 regulates Pax5 expression in early B cell development. Blood 128, 2655 (2016).

20.

Haber, A. L. et al. A single-cell survey of the small intestinal epithelium. Nature 551, 333–339 (2017).

21.

McInnes, L., Healy, J. & Melville, J. UMAP: uniform manifold approximation and projection for dimension reduction. Preprint at arXiv https://arxiv.org/abs/1802.03426v2 (2018).

22.

Yu, G. & He, Q.-Y. ReactomePA: an R/Bioconductor package for reactome pathway analysis and visualization. Mol. Biosyst. 12, 477–479 (2016).

23.

Aibar, S. et al. SCENIC: single-cell regulatory network inference and clustering. Nat. Methods 14, 1083–1086 (2017).

24.

Anders, S. & Huber, W. Differential expression analysis for sequence count data. Genome Biol. 11, R106 (2010).
Acknowledgements
This study was supported by the Max Planck Society, the German Research Foundation (DFG) (grant numbers SPP1937 GR4980/1-1, GR4980/3-1, and GRK2344 MeInBio), by the DFG under Germany's Excellence Strategy (CIBSS, EXC-2189, Project ID 390939984), by the ERC (818846, ImmuNiche, ERC-2018-COG), and by the Behrens-Weise-Foundation.
Ethics declarations
Competing interests
The author declares no competing interests.
Additional information
Peer review information Nicole Rusk and Nina Vogt were the primary editors on this article and managed its editorial process and peer review in collaboration with the rest of the editorial team.
Publisher's note Springer Nature remains neutral with regard to jurisdictional claims in published maps and institutional affiliations.
Integrated supplementary information
Supplementary information
Supplementary Figures 1–8, Supplementary Results
Custom R code for reproducing the analysis of murine hematopoietic and intestinal epithelial single-cell RNA-seq data.
About this article
Cite this article
Grün, D. Revealing dynamics of gene expression variability in cell state space. Nat Methods 17, 45–49 (2020). https://doi.org/10.1038/s41592-019-0632-3
Received:

Accepted:

Published:

Issue Date:
Further reading
Simone Probst

,

Sagar

,

Jelena Tosic

,

Carsten Schwan

,

Dominic Grün

&

Sebastian J. Arnold

Development (2021)

Xiaoshu Zhu

,

Jian Li

,

Hong-Dong Li

,

Miao Xie

&

Jianxin Wang

Frontiers in Genetics (2020)

Andrew E. Teschendorff

&

Ning Wang

npj Genomic Medicine (2020)