Abstract
The ability to simulate high-throughput chromatin conformation (Hi-C) data is foundational for benchmarking Hi-C data analysis methods. Here we present a nonparametric strategy named FreeHi-C to simulate Hi-C data from the interacting genome fragments. Data from FreeHi-C exhibit high fidelity to biological Hi-C data. FreeHi-C boosts the precision and power of differential chromatin interaction detection through data augmentation under preserved false discovery rate control.
Access options
Subscribe to Journal
Get full journal access for 1 year
$242.00
only $20.17 per issue
All prices are NET prices.
VAT will be added later in the checkout.
Rent or Buy article
Get time limited or full article access on ReadCube.
from$8.99
All prices are NET prices.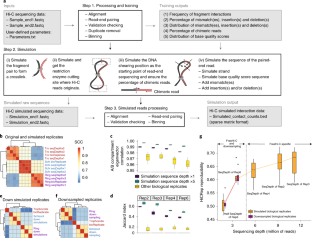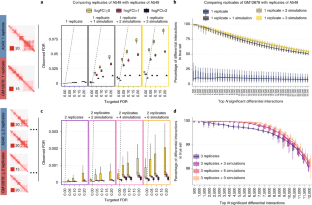 Data availability
To study the operating features of FreeHi-C, we utilized two publicly available human Hi-C datasets as examples of large genomes with independent experiments using four cell cultures, which are referred to as four biological replicates, from the GM12878 (ref. 3) cell line and another four from A549 (ref. 25). Raw FASTQ files for GM12878 were downloaded from GEO26 under the accession code GSE63525 and raw sequences for A549 were obtained from the ENCODE portal27 (https://www.encodeproject.org) with accession code ENCSR662QKG. For evaluation of FreeHi-C performance on small genomes, we leveraged three different stages of malaria parasite P. falciparum red blood cell cycles16. Raw sequences for P. falciparum were downloaded from GEO26 under the accession code GSE50199. GM12878 and A549 were both processed at 40 kb resolution, and P. falciparum at 10 kb. For validating the differential interaction detection with a differential expression analysis, we utilized RNA-seq gene expression data from the ENCODE portal (accession ENCSR000AED for GM12878 and ENCSR000CTM for A549). Similarly, the CTCF ChIP–seq peak signal files were also downloaded from ENCODE under accession ENCSR000DZN for GM12878 and ENCSR000DPF for A549. The data used in this paper are summarized in Supplementary Table 1. All the simulated data used in the analysis and Juicebox28 visualization data are available at Zenodo (https://doi.org/10.5281/zenodo.3345896).
Code availability
FreeHi-C pipeline is implemented in Python with C accelerated core calculations and it naturally fits in the high-performance computing environments for parallelization. The source codes and instructions for running FreeHi-C are publicly available at https://github.com/keleslab/FreeHiC.
References
1.

Dekker, J., Rippe, K., Dekker, M. & Kleckner, N. Capturing chromosome conformation. Science 295, 1306–1311 (2002).

2.

Lieberman-Aiden, E. et al. Comprehensive mapping of long-range interactions reveals folding principles of the human genome. Science 326, 289–293 (2009).

3.

Rao, S. S. P. et al. A 3D map of the human genome at kilobase resolution reveals principles of chromatin looping. Cell 159, 1665–1680 (2014).

4.

Roy, S. et al. A predictive modeling approach for cell line-specific long-range regulatory interactions. Nucleic Acids Res. 44, 1977–1978 (2016).

5.

Yardımcı, G. G. et al. Measuring the reproducibility and quality of hi-c data. Genome Biol. 20, 57 (2019).

6.

Lun, A. T. & Smyth, G. K. diffHic: a Bioconductor package to detect differential genomic interactions in Hi-C data. BMC Bioinformatics 16, 258 (2015).

7.

Forcato, M. et al. Comparison of computational methods for Hi-C data analysis. Nat. Methods 14, 679–685 (2017).

8.

Ursu, O. et al. Genomedisco: a concordance score for chromosome conformation capture experiments using random walks on contact map graphs. Bioinformatics 34, 2701–2707 (2018).

9.

Djekidel, M. N., Chen, Y. & Zhang, M. Q. Find: differential chromatin interactions detection using a spatial poisson process. Genome Res. 28, 412–422 (2018).

10.

Stansfield, J. C., Cresswell, K. G., Vladimirov, V. I. & Dozmorov, M. G. Hiccompare: an R package for joint normalization and comparison of hi-c datasets. BMC Bioinformatics 19, 279 (2018).

11.

Ardakany, A. R., Ay, F. & Lonardi, S. Selfish: discovery of differential chromatin interactions via a self-similarity measure. Bioinformatics 35, i145–i153 (2019).

12.

Ay, F., Bailey, T. L. & Noble, W. S. Statistical confidence estimation for Hi-C data reveals regulatory chromatin contacts. Genome Res. 24, 999–1011 (2014).

13.

Yang, T. et al. HiCRep: assessing the reproducibility of Hi-C data using a stratum-adjusted correlation coefficient. Genome Res. 27, 1939–1949 (2017). gr–220640.

14.

DeMaere, M. Z. & Darling, A. E. Sim3c: simulation of hi-c and meta3c proximity ligation sequencing technologies. GigaScience 7, gix103 (2017).

15.

DeMaere, M. Z. & Darling, A. E. bin3c: exploiting hi-c sequencing data to accurately resolve metagenome-assembled genomes. Genome Biol. 20, 46 (2019).

16.

Ay, F. et al. Three-dimensional modeling of the P. falciparum genome during the erythrocytic cycle reveals a strong connection between genome architecture and gene ex- pression. Genome Res. 24, 974–988 (2014).

17.

Stansfield, J. C., Cresswell, K. G. & Dozmorov, M. G. multiHiCcompare: joint normalization and comparative analysis of complex hi-c experiments. Bioinformatics 35, 2916–2923 (2019).

18.

Benjamini, Y. & Hochberg, Y. Controlling the false discovery rate: a practical and powerful approach to multiple testing. J. R. Stat. Soc. B 57, 289–300 (1995).

19.

Zheng, X. & Zheng, Y. Cscoretool: fast hi-c compartment analysis at high resolution. Bioinformatics 34, 1568–1570 (2017).

20.

Giorgetti, L. et al. Structural organization of the inactive x chromosome in the mouse. Nature 535, 575–579 (2016).

21.

Servant, N. et al. HiC-Pro: an optimized and flexible pipeline for Hi-C data processing. Genome Biol. 16, 259 (2015).

22.

Zheng, Y., Ay, F. & Keles, S. Generative modeling of multi-mapping reads with mHi-C advances analysis of Hi-C studies. eLife 8, e38070 (2019).

23.

Fisher, R. A. Statistical Methods for Research Workers (Genesis Publishing Pvt Ltd, 2006).

24.

Love, M. I., Huber, W. & Anders, S. Moderated estimation of fold change and dispersion for RNA-seq data withdeseq2. Genome Biol. 15, 550 (2014).

25.

Dixon, J. R. et al. Integrative detection and analysis of structural variation in cancer genomes. Nat. Genet. 50, 1388–1398 (2018).

26.

Barrett, T. et al. NCBI GEO: archive for functional genomics data sets update. Nucleic Acids Res. 41, D991–D995 (2012).

27.

The ENCODE Project Consortium. An integrated encyclopedia of DNA elements in the human genome. Nature 489, 57–74 (2012).

28.

Durand, N. C. et al. Juicebox provides a visualization system for Hi-C contact maps with unlimited zoom. Cell Syst. 3, 99–101 (2016).
Acknowledgements
This work was supported by NIH grants HG009744, HG003747 and HG007019 to S.K.
Ethics declarations
Competing interests
The authors declare no competing interests.
Additional information
Peer review information Nicole Rusk was the primary editor on this article and managed its editorial process and peer review in collaboration with the rest of the editorial team.
Publisher's note Springer Nature remains neutral with regard to jurisdictional claims in published maps and institutional affiliations.
Integrated supplementary information
Supplementary information
Supplementary Figs. 1–14, Table 1 and note.
About this article
Cite this article
Zheng, Y., Keleş, S. FreeHi-C simulates high-fidelity Hi-C data for benchmarking and data augmentation. Nat Methods (2019) doi:10.1038/s41592-019-0624-3
Received

Accepted

Published