Abstract
Extracellular vesicles (EVs) are secreted nanosized particles with many biological functions and pathological associations. The inability to image EVs in fixed tissues has been a major limitation to understanding their role in healthy and diseased tissue microenvironments. Here, we show that crosslinking mammalian tissues with formaldehyde results in significant EV loss, which can be prevented by additional fixation with 1-ethyl-3-(3-dimethylaminopropyl) carbodiimide (EDC) for visualization of EVs in a range of normal and cancer tissues.
Relevant articles
Open Access articles citing this article.
Mikkel Ø. Nørgård

,

Lasse B. Steffensen

…

Per Svenningsen

Scientific Reports Open Access 11 January 2022
Access options
Access Nature and 54 other Nature Portfolio journals
Get Nature+, our best-value online-access subscription
$29.99 / 30 days
cancel any time
Subscribe to this journal
Receive 12 print issues and online access
$209.00 per year
only $17.42 per issue
Rent or buy this article
Get just this article for as long as you need it
$39.95
Prices may be subject to local taxes which are calculated during checkout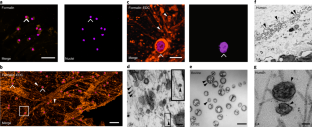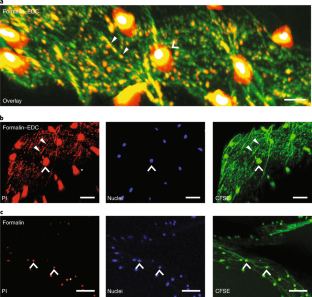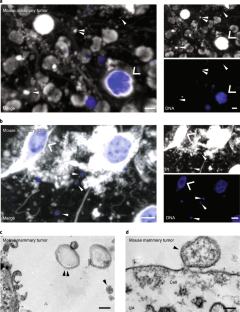 References
Gyorgy, B. et al. Membrane vesicles, current state-of-the-art: emerging role of extracellular vesicles. Cell Mol. Life Sci. 68, 2667–2688 (2011).

Zhang, H. et al. Identification of distinct nanoparticles and subsets of extracellular vesicles by asymmetric flow field-flow fractionation. Nat. Cell Biol. 20, 332–343 (2018).

Hristov, M., Erl, W., Linder, S. & Weber, P. C. Apoptotic bodies from endothelial cells enhance the number and initiate the differentiation of human endothelial progenitor cells in vitro. Blood 104, 2761–2766 (2004).

Raposo, G. & Stoorvogel, W. Extracellular vesicles: exosomes, microvesicles, and friends. J. Cell Biol. 200, 373–383 (2013).

Zomer, A. et al. In vivo imaging reveals extracellular vesicle-mediated phenocopying of metastatic behavior. Cell 161, 1046–1057 (2015).

D'Souza-Schorey, C. & Clancy, J. W. Tumor-derived microvesicles: shedding light on novel microenvironment modulators and prospective cancer biomarkers. Genes Dev. 26, 1287–1299 (2012).

Lai, C. P. et al. Visualization and tracking of tumour extracellular vesicle delivery and RNA translation using multiplexed reporters. Nat. Commun. 6, 7029 (2015).

Ridder, K. et al. Extracellular vesicle-mediated transfer of functional RNA in the tumor microenvironment. Oncoimmunology 4, e1008371 (2015).

Tkach, M. & Thery, C. Communication by extracellular vesicles: where we are and where we need to go. Cell 164, 1226–1232 (2016).

Le Goff, M. M. & Bishop, P. N. Adult vitreous structure and postnatal changes. Eye 22, 1214–1222 (2008).

Ragusa, M. et al. miRNA profiling in vitreous humor, vitreal exosomes and serum from uveal melanoma patients: Pathological and diagnostic implications. Cancer Biol. Ther. 16, 1387–1396 (2015).

Dragovic, R. A. et al. Sizing and phenotyping of cellular vesicles using nanoparticle tracking analysis. Nanomedicine 7, 780–788 (2011).

Ikeda, K. et al. Extraction and analysis of diagnostically useful proteins from formalin-fixed, paraffin-embedded tissue sections. J. Histochem. Cytochem. 46, 397–403 (1998).

Pena, J. T. et al. miRNA in situ hybridization in formaldehyde and EDC-fixed tissues. Nat. Methods 6, 139–141 (2009).

Consortium, E.-T. et al. EV-TRACK: transparent reporting and centralizing knowledge in extracellular vesicle research. Nat. Methods 14, 228–232 (2017).

Valadi, H. et al. Exosome-mediated transfer of mRNAs and microRNAs is a novel mechanism of genetic exchange between cells. Nat. Cell Biol. 9, 654–659 (2007).

Suzuki, T., Fujikura, K., Higashiyama, T. & Takata, K. DNA staining for fluorescence and laser confocal microscopy. J. Histochem. Cytochem. 45, 49–53 (1997).

Pulaski, B. A. & Ostrand-Rosenberg, S. Mouse 4T1 breast tumor model. Curr Protoc Immunol Ch. 20, Unit 20 (2001).

Thakur, B. K. et al. Double-stranded DNA in exosomes: a novel biomarker in cancer detection. Cell Res. 24, 766–769 (2014).

Skog, J. et al. Glioblastoma microvesicles transport RNA and proteins that promote tumour growth and provide diagnostic biomarkers. Nat. Cell Biol. 10, 1470–1476 (2008).

Thery, C., Amigorena, S., Raposo, G. & Clayton, A. Isolation and characterization of exosomes from cell culture supernatants and biological fluids. Curr. Protoc. Cell Biol. Ch., Unit 3.22 (2006).

Renwick, N., Cekan, P., Bognanni, C. & Tuschl, T. Multiplexed miRNA fluorescence in situ hybridization for formalin-fixed paraffin-embedded tissues. Methods Mol. Biol. 1211, 171–187 (2014).

Bronner-Fraser, M. Alterations in neural crest migration by a monoclonal antibody that affects cell adhesion. J. Cell Biol. 101, 610–617 (1985).

Schneider, C. A., Rasband, W. S. & Eliceiri, K. W. NIH Image to ImageJ: 25 years of image analysis. Nat. Methods 9, 671–675 (2012).

Schindelin, J. et al. Fiji: an open-source platform for biological-image analysis. Nat. Methods 9, 676–682 (2012).

Ito, S. & Karnovsk, Mj Formaldehyde-glutaraldehyde fixatives containing trinitro compounds. J. Cell Biol. 39, A168 (1968).

de Bruijn, W. C. Glycogen, its chemistry and morphologic appearance in the electron microscope. I. A modified OsO 4 fixative which selectively contrasts glycogen. J. Ultrastruct. Res. 42, 29–50 (1973).

Venable, J. H. & Coggeshall, R. A simplified lead citrate stain for use in electron Microscopy. J. Cell Biol. 25, 407–408 (1965).

Gruber, H. E., Leslie, K. P., Ingram, J. A. & Hanley, E. N. Jr. Optimization of 5-(and-6)-carboxyfluorescein diacetate succinimidyl ester for labeling human intervertebral disc cells in vitro. Biotech. Histochem. 75, 118–123 (2000).

Ishihama, Y., Rappsilber, J. & Mann, M. Modular stop and go extraction tips with stacked disks for parallel and multidimensional Peptide fractionation in proteomics. J. Proteome Res. 5, 988–994 (2006).

Cox, J. & Mann, M. MaxQuant enables high peptide identification rates, individualized p.p.b.-range mass accuracies and proteome-wide protein quantification. Nat. Biotechnol. 26, 1367–1372 (2008).

Tyanova, S. et al. The Perseus computational platform for comprehensive analysis of (prote)omics data. Nat. Methods 13, 731–740 (2016).

UniProt, C. UniProt: a hub for protein information. Nucleic Acids Res. 43, D204–D212 (2015).

Perez-Riverol, Y. et al. The PRIDE database and related tools and resources in 2019: improving support for quantification data. Nucleic Acids Res. 47, D442–D450 (2019).
Acknowledgements
We thank J. Moore for his technical support for this manuscript. This work was performed in part at the Weill Cornell Medicine Imaging Core (for Electron Microscopy), and Genomics Resources Core, Cornell NanoScale Facility, a member of the National Nanotechnology Coordinated Infrastructure (NNCI), which is supported by the National Science Foundation (Grant NNCI-1542081). The Heed Foundation supported M.G. and J.T.G.P. The Rockefeller University Proteomics Resource Center acknowledges funding from the Leona M. and Harry B. Helmsley Charitable Trust for mass spectrometer instrumentation. T.T. was supported by an Extracellular RNA Communication grants U19CA179564 from the NIH. D.L. was supported by NCI R35 CA232093 Outstanding Investigator Award from the NIH. J.T.G.P. supported by Daedalus Fund at Weill Cornell Medicine, The Shulsky Foundation, Research to Prevent Blindness Foundation and Knights Templar Eye Foundation Inc.
Ethics declarations
Competing interests
J.T.G.P., M.P.G. and D.J.D. have submitted a patent on the work. J.T.G.P. has licensed the technology from Cornell University and founded a biotechnology company, Aufbau Holdings Limited. Other authors have no conflicts of interest.
Additional information
Peer review information Rita Strack and Christian Schnell were the primary editors on this article and managed its editorial process and peer review in collaboration with the rest of the editorial team.
Publisher's note Springer Nature remains neutral with regard to jurisdictional claims in published maps and institutional affiliations.
Integrated supplementary information
Supplementary information
Supplementary Figures 1–13 and Supplementary Tables 1–5
Nanoparticle tracking analysis (NTA) video demonstrates that extracellular vesicles (EVs) are lost from formalin-fixed bovine vitreous humor tissues, but undetected in formalin–EDC-fixed
About this article
Cite this article
Gupta, M.P., Tandalam, S., Ostrager, S. et al. Non-reversible tissue fixation retains extracellular vesicles for in situ imaging. Nat Methods 16, 1269–1273 (2019). https://doi.org/10.1038/s41592-019-0623-4
Received:

Accepted:

Published:

Issue Date:

DOI: https://doi.org/10.1038/s41592-019-0623-4
This article is cited by
Mikkel Ø. Nørgård
Lasse B. Steffensen
Per Svenningsen

Scientific Reports (2022)