Abstract
We demonstrate that a deep neural network can be trained to virtually refocus a two-dimensional fluorescence image onto user-defined three-dimensional (3D) surfaces within the sample. Using this method, termed Deep-Z, we imaged the neuronal activity of a Caenorhabditis elegans worm in 3D using a time sequence of fluorescence images acquired at a single focal plane, digitally increasing the depth-of-field by 20-fold without any axial scanning, additional hardware or a trade-off of imaging resolution and speed. Furthermore, we demonstrate that this approach can correct for sample drift, tilt and other aberrations, all digitally performed after the acquisition of a single fluorescence image. This framework also cross-connects different imaging modalities to each other, enabling 3D refocusing of a single wide-field fluorescence image to match confocal microscopy images acquired at different sample planes. Deep-Z has the potential to improve volumetric imaging speed while reducing challenges relating to sample drift, aberration and defocusing that are associated with standard 3D fluorescence microscopy.
Your institute does not have access to this article
Relevant articles
Open Access articles citing this article.
Sindhoora Kaniyala Melanthota

,

Dharshini Gopal

…

Nirmal Mazumder

Biophysical Reviews Open Access 06 April 2022

Enrico Pomarico

,

Cédric Schmidt

…

Jérôme Extermann

Scientific Reports Open Access 02 March 2022

Light: Science & Applications Open Access 14 February 2022
Access options
Subscribe to Nature+
Get immediate online access to the entire Nature family of 50+ journals
Subscribe to Journal
Get full journal access for 1 year
$119.00
only $9.92 per issue
All prices are NET prices.
VAT will be added later in the checkout.
Tax calculation will be finalised during checkout.
Buy article
Get time limited or full article access on ReadCube.
$32.00
All prices are NET prices.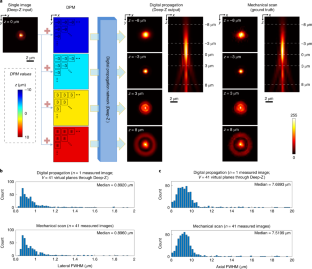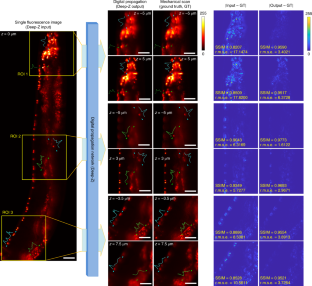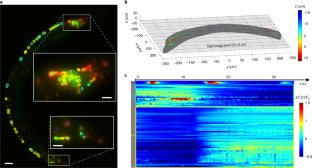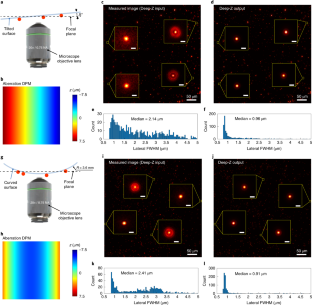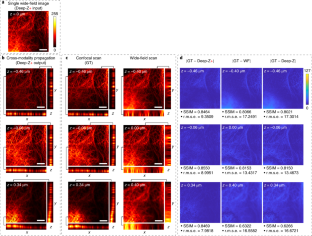 Data availability
We declare that all the data supporting the findings of this work are available within the manuscript and its supplementary information.
Code availability
Deep learning models reported in this work used standard libraries and scripts that are publicly available in TensorFlow. Through a custom-written Fiji-based plugin, we provided our trained network models (together with some sample test images) for the following objective lenses: Leica HC PL APO 20×/0.80 NA DRY (two different network models trained on TxRd and FITC channels), Leica HC PL APO 40×/1.30 NA oil (trained on TxRd channel), Olympus UPLSAPO20X 0.75 NA (trained on TxRd channel). We made this custom-written plugin and our models publicly available through the following links: http://bit.ly/deep-z-git and http://bit.ly/deep-z.
References
Nguyen, J. P. et al. Whole-brain calcium imaging with cellular resolution in freely behaving Caenorhabditis elegans. Proc. Natl Acad. Sci. USA 113, E1074–E1081 (2016).

Schrödel, T., Prevedel, R., Aumayr, K., Zimmer, M. & Vaziri, A. Brain-wide 3D imaging of neuronal activity in Caenorhabditis elegans with sculpted light. Nat. Methods 10, 1013–1020 (2013).

Tomer, R. et al. SPED light sheet microscopy: fast mapping of biological system structure and function. Cell 163, 1796–1806 (2015).

Siedentopf, H. & Zsigmondy, R. Uber sichtbarmachung und größenbestimmung ultramikoskopischer teilchen, mit besonderer anwendung auf goldrubingläser. Ann. Phys. 315, 1–39 (1902).

Lerner, T. N. et al. Intact-brain analyses reveal distinct information carried by SNc dopamine subcircuits. Cell 162, 635–647 (2015).

Hell, S. W. & Wichmann, J. Breaking the diffraction resolution limit by stimulated emission: stimulated-emission-depletion fluorescence microscopy. Opt. Lett. 19, 780–782 (1994).

Hell, S. W. Far-field optical nanoscopy. Science 316, 1153–1158 (2007).

Henriques, R. et al. QuickPALM: 3D real-time photoactivation nanoscopy image processing in Image. J. Nat. Methods 7, 339–340 (2010).

Abraham, A. V., Ram, S., Chao, J., Ward, E. S. & Ober, R. J. Quantitative study of single molecule location estimation techniques. Opt. Express 17, 23352–23373 (2009).

Dempsey, G. T., Vaughan, J. C., Chen, K. H., Bates, M. & Zhuang, X. Evaluation of fluorophores for optimal performance in localization-based super-resolution imaging. Nat. Methods 8, 1027–1036 (2011).

Juette, M. F. et al. Three-dimensional sub-100 nm resolution fluorescence microscopy of thick samples. Nat. Methods 5, 527–529 (2008).

Pavani, S. R. P. et al. Three-dimensional, single-molecule fluorescence imaging beyond the diffraction limit by using a double-helix point spread function. Proc. Natl Acad. Sci. USA 106, 2995–2999 (2009).

Prevedel, R. et al. Simultaneous whole-animal 3D imaging of neuronal activity using light-field microscopy. Nat. Methods 11, 727–730 (2014).

Levoy, M., Ng, R., Adams, A., Footer, M. & Horowitz, M. Light Field Microscopy. In ACM SIGGRAPH 2006 Papers 924–934 (ACM, 2006).

Pégard, N. C. et al. Compressive light-field microscopy for 3D neural activity recording. Optica 3, 517–524 (2016).

Broxton, M. et al. Wave optics theory and 3-D deconvolution for the light field microscope. Opt. Express 21, 25418–25439 (2013).

Cohen, N. et al. Enhancing the performance of the light field microscope using wavefront coding. Opt. Express 22, 24817–24839 (2014).

Wagner, N. et al. Instantaneous isotropic volumetric imaging of fast biological processes. Nat. Methods 16, 497–500 (2019).

Rosen, J. & Brooker, G. Non-scanning motionless fluorescence three-dimensional holographic microscopy. Nat. Photonics 2, 190–195 (2008).

Brooker, G. et al. In-line FINCH super resolution digital holographic fluorescence microscopy using a high efficiency transmission liquid crystal GRIN lens. Opt. Lett. 38, 5264–5267 (2013).

Siegel, N., Lupashin, V., Storrie, B. & Brooker, G. High-magnification super-resolution FINCH microscopy using birefringent crystal lens interferometers. Nat. Photonics 10, 802–808 (2016).

Abrahamsson, S. et al. Fast multicolor 3D imaging using aberration-corrected multifocus microscopy. Nat. Methods 10, 60–63 (2013).

Abrahamsson, S. et al. MultiFocus polarization microscope (MF-PolScope) for 3D polarization imaging of up to 25 focal planes simultaneously. Opt. Express 23, 7734–7754 (2015).

Belthangady, C. & Royer, L. A. Applications, promises, and pitfalls of deep learning for fluorescence image reconstruction. Nat. Methods https://doi.org/10.1038/s41592-019-0458-z (2019).

Rivenson, Y. et al. Deep learning microscopy. Optica 4, 1437–1443 (2017).

Ouyang, W., Aristov, A., Lelek, M., Hao, X. & Zimmer, C. Deep learning massively accelerates super-resolution localization microscopy. Nat. Biotechnol. 36, 460–468 (2018).

Nehme, E., Weiss, L. E., Michaeli, T. & Shechtman, Y. Deep-STORM: super-resolution single-molecule microscopy by deep learning. Optica 5, 458–464 (2018).

Rivenson, Y. et al. Deep learning enhanced mobile-phone microscopy. ACS Photonics 5, 2354–2364 (2018).

Haan, K., de, Ballard, Z. S., Rivenson, Y., Wu, Y. & Ozcan, A. Resolution enhancement in scanning electron microscopy using deep learning. Sci. Rep. 9, 1–7 (2019).

Wang, H. et al. Deep learning enables cross-modality super-resolution in fluorescence microscopy. Nat. Methods 16, 103– (2019).

Weigert, M. et al. Content-aware image restoration: pushing the limits of fluorescence microscopy. Nat. Methods 15, 1090– (2018).

Zhang, X. et al. Deep learning optical-sectioning method. Opt. Express 26, 30762–30772 (2018).

Wu, Y. et al. Bright-field holography: cross-modality deep learning enables snapshot 3D imaging with bright-field contrast using a single hologram. Light Sci. Appl. 8, 25 (2019).

Barbastathis, G., Ozcan, A. & Situ, G. On the use of deep learning for computational imaging. Optica 6, 921–943 (2019).

Goodfellow, I. et al. Generative Adversarial Nets. Adv. Neural Inf. Process. Syst. 27, 2672–2680 (2014).

Mirza, M. & Osindero, S. Conditional Generative Adversarial Nets. Preprint at arXiv https://arxiv.org/abs/1411.1784 (2014).

Shaw, P. J. & Rawlins, D. J. The point-spread function of a confocal microscope: its measurement and use in deconvolution of 3-D data. J. Microsc. 163, 151–165 (1991).

Kirshner, H., Aguet, F., Sage, D. & Unser, M. 3-D PSF fitting for fluorescence microscopy: implementation and localization application. J. Microsc. 249, 13–25 (2013).

Nguyen, J. P., Linder, A. N., Plummer, G. S., Shaevitz, J. W. & Leifer, A. M. Automatically tracking neurons in a moving and deforming brain. PLoS Comput. Biol. 13, e1005517 (2017).

Gonzalez, R. C., Woods, R. E. & Eddins, S. L. Digital Image Processing Using MATLAB (McGraw-Hill, 2004).

Tinevez, J.-Y. et al. TrackMate: an open and extensible platform for single-particle tracking. Methods 115, 80–90 (2017).

Kato, S. et al. Global brain dynamics embed the motor command sequence of Caenorhabditis elegans. Cell 163, 656–669 (2015).

Nagy, S., Huang, Y.-C., Alkema, M. J. & Biron, D. Caenorhabditis elegans exhibit a coupling between the defecation motor program and directed locomotion. Sci. Rep. 5, 17174 (2015).

Toyoshima, Y. et al. Accurate automatic detection of densely distributed cell nuclei in 3D space. PLoS Comput. Biol. 12, e1004970 (2016).

Huang, B., Wang, W., Bates, M. & Zhuang, X. Three-dimensional super-resolution imaging by stochastic optical reconstruction microscopy. Science 319, 810–813 (2008).

Antipa, N. et al. DiffuserCam: lensless single-exposure 3D imaging. Optica 5, 1–9 (2018).

Shechtman, Y., Sahl, S. J., Backer, A. S. & Moerner, W. E. Optimal point spread function design for 3D imaging. Phys. Rev. Lett. 113, 133902 (2014).

Brenner, S. The genetics of Caenorhabditis elegans. Genetics 77, 71–94 (1974).

Strange, K. (Ed.) C. elegans: Methods and Applications (Humana Press, 2006).

Thevenaz, P., Ruttimann, U. E. & Unser, M. A pyramid approach to subpixel registration based on intensity. IEEE Trans. Image Process. 7, 27–41 (1998).

Forster, B., Van de Ville, D., Berent, J., Sage, D. & Unser, M. Complex wavelets for extended depth-of-field: a new method for the fusion of multichannel microscopy images. Microsc. Res. Tech. 65, 33–42 (2004).

Zack, G. W., Rogers, W. E. & Latt, S. A. Automatic measurement of sister chromatid exchange frequency. J. Histochem. Cytochem. 25, 741–753 (1977).

Mao, X. et al. Least squares generative adversarial networks. In Proc. 2017 IEEE International Conference on Computer Vision 2813–2821 (IEEE, 2017).

Ronneberger, O., Fischer, P. & Brox, T. U-Net: convolutional networks for biomedical image segmentation. In Medical Image Computing and Computer-Assisted Intervention 2015 (eds Navab, N. et al.) 234–241 (Springer, 2015).

Wu, Y. et al. Extended depth-of-field in holographic imaging using deep-learning-based autofocusing and phase recovery. Optica 5, 704–710 (2018).

Glorot, X. & Bengio, Y. Understanding the difficulty of training deep feedforward neural networks. In Proc. Thirteenth International Conference on Artificial Intelligence and Statistics 249–256 (2010).

Abadi, M. et al. TensorFlow: a system for large-scale machine learning. In Proc. 12th USENIX Symposium on Operating Systems Design and Implementation 265–283 (USENIX, 2016).

Wang, Z., Bovik, A. C., Sheikh, H. R. & Simoncelli, E. P. Image quality assessment: from error visibility to structural similarity. IEEE Trans. Image Process. 13, 600–612 (2004).

Shi, J. & Malik, J. Normalized cuts and image segmentation. IEEE Trans. Pattern Anal. Mach. Intell. 22, 888–905 (2000).

von Luxburg, U. A tutorial on spectral clustering. Stat. Comput. 17, 395–416 (2007).
Acknowledgements
The authors acknowledge Y. Luo, X. Tong, T. Liu, H. C. Koydemir and Z. S. Ballard of University of California, Los Angeles (UCLA), as well as Leica Microsystems for their help with some of the experiments. The Ozcan group at UCLA acknowledges the support of Koc Group, National Science Foundation and the Howard Hughes Medical Institute. Y.W. also acknowledges the support of a SPIE John Kiel scholarship. Some of the reported optical microscopy experiments were performed at the Advanced Light Microscopy/Spectroscopy Laboratory and the Leica Microsystems Center of Excellence at the California NanoSystems Institute at UCLA with funding support from National Institutes of Health Shared Instrumentation grant S10OD025017 and National Science Foundation Major Research Instrumentation grant CHE-0722519. We also thank Double Helix Optics for providing their SPINDLE system and DH-PSF phase mask, which was used for engineered PSF data capture, and acknowledge X. Yang and M.P. Lake for their assistance with these engineered PSF experiments and related analysis.
Ethics declarations
Competing interests
A.O., Y.W. and Y.R. have a pending patent application on the presented framework.
Additional information
Peer review information Rita Strack was the primary editor on this article and managed its editorial process and peer review in collaboration with the rest of the editorial team.
Publisher's note Springer Nature remains neutral with regard to jurisdictional claims in published maps and institutional affiliations.
Integrated supplementary information
Supplementary information
About this article
Cite this article
Wu, Y., Rivenson, Y., Wang, H. et al. Three-dimensional virtual refocusing of fluorescence microscopy images using deep learning. Nat Methods 16, 1323–1331 (2019). https://doi.org/10.1038/s41592-019-0622-5
Received:

Accepted:

Published:

Issue Date:

DOI: https://doi.org/10.1038/s41592-019-0622-5