Abstract
High-throughput complementary DNA sequencing technologies have advanced our understanding of transcriptome complexity and regulation. However, these methods lose information contained in biological RNA because the copied reads are often short and modifications are not retained. We address these limitations using a native poly(A) RNA sequencing strategy developed by Oxford Nanopore Technologies. Our study generated 9.9 million aligned sequence reads for the human cell line GM12878, using thirty MinION flow cells at six institutions. These native RNA reads had a median length of 771 bases, and a maximum aligned length of over 21,000 bases. Mitochondrial poly(A) reads provided an internal measure of read-length quality. We combined these long nanopore reads with higher accuracy short-reads and annotated GM12878 promoter regions to identify 33,984 plausible RNA isoforms. We describe strategies for assessing 3′ poly(A) tail length, base modifications and transcript haplotypes.
Relevant articles
Open Access articles citing this article.
Sungwon Lee

,

Hyewon Kim

…

Kwangseog Ahn

Scientific Reports Open Access 11 November 2022

Guillermo Carbajosa

,

Aminah T. Ali

&

Alan Hodgkinson

BMC Biology Open Access 22 July 2022

Marcus J. Viscardi

&

Joshua A. Arribere

BMC Genomics Open Access 22 July 2022
Access options
Subscribe to Nature+
Get immediate online access to Nature and 55 other Nature journal
Subscribe to Journal
Get full journal access for 1 year
$99.00
only $8.25 per issue
All prices are NET prices.
VAT will be added later in the checkout.
Tax calculation will be finalised during checkout.
Buy article
Get time limited or full article access on ReadCube.
$32.00
All prices are NET prices.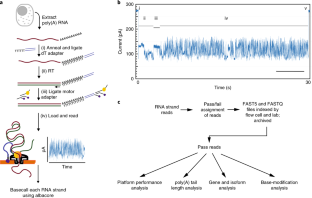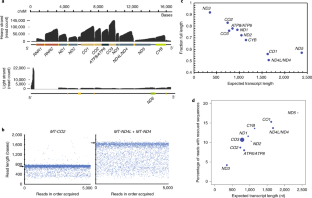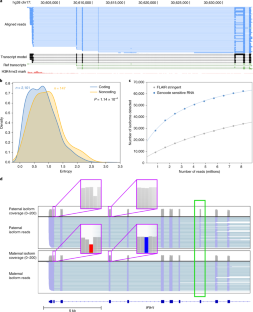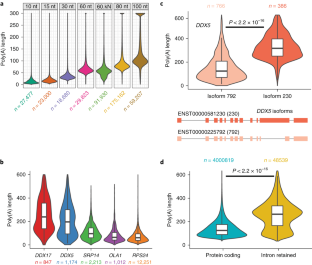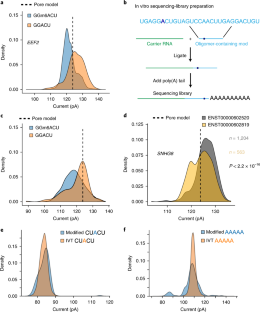 Data availability
Sequence data including raw signal files (FAST5), event-level data (FAST5), base-calls (FASTQ) and alignments (BAM) are available as an Amazon Web Services Open Data set, for download from https://github.com/nanopore-wgs-consortium/NA12878. The scripts used for various analyses are also available from the same GitHub under nanopore-human-transcriptome/scripts.
References
Adams, M. D. Complementary DNA sequencing: expressed sequenced tags and human genome project. Science 252, 1651–1656 (1991).

Temin, H. M. & Mizutani, S. RNA-dependent DNA polymerase in virions of Rous sarcoma virus. Nature 226, 1211–1213 (1970).

Baltimore, D. Viral RNA-dependent DNA polymerase: RNA-dependent DNA polymerase in virions of RNA tumour viruses. Nature 226, 1209 (1970).

Saiki, R. K. et al. Primer-directed enzymatic amplification of DNA with a thermostable DNA polymerase. Science 239, 487–491 (1988).

Garalde, D. R. et al. Highly parallel direct RNA sequencing on an array of nanopores. Nat. Methods 15, 201–206 (2018).

Jenjaroenpun, P. et al. Complete genomic and transcriptional landscape analysis using third-generation sequencing: a case study of Saccharomyces cerevisiae CEN.PK113-7D. Nucleic Acids Res. 46, e38 (2018).

Smith, A. M., Jain, M., Mulroney, L., Garalde, D. R. & Akeson, M. Reading canonical and modified nucleobases in 16S ribosomal RNA using nanopore native RNA sequencing. PLoS One 14, e0216709 (2019).

Steijger, T. et al. Assessment of transcript reconstruction methods for RNA-seq. Nat. Methods 10, 1177–1184 (2013).

Venturini, L., Caim, S., Kaithakottil, G. G., Mapleson, D. L. & Swarbreck, D. Leveraging multiple transcriptome assembly methods for improved gene structure annotation. Gigascience 7, giy093 (2018).

Li, H. Minimap2: pairwise alignment for nucleotide sequences. Bioinformatics 34, 3094–3100 (2018).

Jain, M. et al. Improved data analysis for the MinION nanopore sequencer. Nat. Methods 12, 351–356 (2015).

Jain, M. et al. Nanopore sequencing and assembly of a human genome with ultra-long reads. Nat. Biotechnol. 36, 338 (2018).

Szczesny, R. J. et al. RNA degradation in yeast and human mitochondria. Biochim. Biophys. Acta 1819, 1027–1034 (2012).

Payne, A., Holmes, N., Rakyan, V. & Loose, M. BulkVis: a graphical viewer for Oxford nanopore bulk FAST5 files. Bioinformatics 35, 2193–2198 (2018).

Tilgner, H., Grubert, F., Sharon, D. & Snyder, M. P. Defining a personal, allele-specific, and single-molecule long-read transcriptome. Proc. Natl Acad. Sci. USA 111, 9869–9874 (2014).

Cho, H. et al. High-resolution transcriptome analysis with long-read RNA sequencing. PLoS ONE 9, e108095 (2014).

Bernstein, B. E. et al. Genomic maps and comparative analysis of histone modifications in human and mouse. Cell 120, 169–181 (2005).

Ernst, J. & Kellis, M. Discovery and characterization of chromatin states for systematic annotation of the human genome. Nat. Biotechnol. 28, 817–825 (2010).

Ernst, J. et al. Mapping and analysis of chromatin state dynamics in nine human cell types. Nature 473, 43–49 (2011).

Deveson, I. W. et al. Universal alternative splicing of noncoding exons. Cell Syst. 6, 245–255 (2018).

Gonzàlez-Porta, M., Frankish, A., Rung, J., Harrow, J. & Brazma, A. Transcriptome analysis of human tissues and cell lines reveals one dominant transcript per gene. Genome Biol. 14, R70 (2013).

Baralle, F. E. & Giudice, J. Alternative splicing as a regulator of development and tissue identity. Nat. Rev. Mol. Cell Biol. 18, 437–451 (2017).

Edge, P., Bafna, V. & Bansal, V. HapCUT2: robust and accurate haplotype assembly for diverse sequencing technologies. Genome Res. 27, 801–812 (2017).

Rozowsky, J. et al. AlleleSeq: analysis of allele-specific expression and binding in a network framework. Mol. Syst. Biol. 7, 522 (2011).

Brown, C. J. et al. A gene from the region of the human X inactivation centre is expressed exclusively from the inactive X chromosome. Nature 349, 38 (1991).

Eckmann, C. R., Rammelt, C. & Wahle, E. Control of poly(A) tail length. Wiley Interdiscip. Rev. RNA 2, 348–361 (2011).

Subtelny, A. O., Eichhorn, S. W., Chen, G. R., Sive, H. & Bartel, D. P. Poly(A)-tail profiling reveals an embryonic switch in translational control. Nature 508, 66–71 (2014).

Chang, H., Lim, J., Ha, M. & Kim, V. N. TAIL-seq: genome-wide determination of poly(A) tail length and 3' end modifications. Mol. Cell 53, 1044–1052 (2014).

Temperley, R. J., Wydro, M., Lightowlers, R. N. & Chrzanowska-Lightowlers, Z. M. Human mitochondrial mRNAs—like members of all families, similar but different. Biochim. Biophys. Acta Bioenerg. 1797, 1081–1085 (2010).

Simpson, J. T. et al. Detecting DNA cytosine methylation using nanopore sequencing. Nat. Methods 14, 407–410 (2017).

Rand, A. C. et al. Mapping DNA methylation with high-throughput nanopore sequencing. Nat. Methods 14, 411–413 (2017).

Liu, N. & Pan, T. N6-methyladenosine–encoded epitranscriptomics. Nat. Struct. Mol. Biol. 23, 98–102 (2016).

Dai, D., Wang, H., Zhu, L., Jin, H. & Wang, X. N6-methyladenosine links RNA metabolism to cancer progression. Cell Death Dis. 9, 124 (2018).

Sibbritt, T., Patel, H. R. & Preiss, T. Mapping and significance of the mRNA methylome. Wiley Interdiscip. Rev. RNA 4, 397–422 (2013).

Meyer, K. D. et al. Comprehensive analysis of mRNA methylation reveals enrichment in 3' UTRs and near stop codons. Cell 149, 1635–1646 (2012).

Roost, C. et al. Structure and thermodynamics of N6-methyladenosine in RNA: a spring-loaded base modification. J. Am. Chem. Soc. 137, 2107–2115 (2015).

Licht, K., Kapoor, U., Mayrhofer, E. & Jantsch, M. F. Adenosine to Inosine editing frequency controlled by splicing efficiency. Nucleic Acids Res. 44, 6398–6408 (2016).

Nishikura, K. Functions and regulation of RNA editing by ADAR deaminases. Annu. Rev. Biochem. 79, 321–349 (2010).

Tajaddod, M., Jantsch, M. F. & Licht, K. The dynamic epitranscriptome: A to I editing modulates genetic information. Chromosoma 125, 51–63 (2016).

Tardaguila, M. et al. SQANTI: extensive characterization of long-read transcript sequences for quality control in full-length transcriptome identification and quantification. Genome Res. 28, 396–411 (2018).

Anvar, S. Y. et al. Full-length mRNA sequencing uncovers a widespread coupling between transcription initiation and mRNA processing. Genome Biol. 19, 46 (2018).

Wang, L. et al. Transcriptomic characterization of SF3B1 mutation reveals its pleiotropic effects in chronic lymphocytic leukemia. Cancer Cell 30, 750–763 (2016).

Bradley, R. K., Merkin, J., Lambert, N. J. & Burge, C. B. Alternative splicing of RNA triplets is often regulated and accelerates proteome evolution. PLoS Biol. 10, e1001229 (2012).

Bresson, S. M., Hunter, O. V., Hunter, A. C. & Conrad, N. K. Canonical Poly(A) polymerase activity promotes the decay of a wide variety of mammalian nuclear RNAs. PLoS Genet. 11, e1005610 (2015).

Yi, H. et al. PABP cooperates with the CCR4-NOT complex to promote mRNA deadenylation and block precocious decay. Mol. Cell 70, 1081–1088 (2018).

Parker, R. & Song, H. The enzymes and control of eukaryotic mRNA turnover. Nat. Struct. Mol. Biol. 11, 121–127 (2004).

Li, X., Xiong, X. & Yi, C. Epitranscriptome sequencing technologies: decoding RNA modifications. Nat. Methods 14, 23–31 (2016).

Roundtree, I. A., Evans, M. E., Pan, T. & He, C. Dynamic RNA modifications in gene expression regulation. Cell 169, 1187–1200 (2017).

Lee, M., Kim, B. & Kim, V. N. Emerging roles of RNA modification: m(6)A and U-tail. Cell 158, 980–987 (2014).

Tang, A. D. et al. Full-length transcript characterization of SF3B1 mutation in chronic lymphocytic leukemia reveals downregulation of retained introns. Preprint at bioRxiv https://doi.org/10.1101/410183 (2018).

Hinrichs, A. S. et al. The UCSC genome browser database: update 2006. Nucleic Acids Res. 34, D590–D598 (2006).

Eberle, M. A. et al. A reference data set of 5.4 million phased human variants validated by genetic inheritance from sequencing a three-generation 17-member pedigree. Genome Res. 27, 157–164 (2016).

Molinie, B. et al. m6A-LAIC-seq reveals the census and complexity of the m6A epitranscriptome. Nat. Methods 13, 692 (2016).
Acknowledgements
The authors are grateful for support from the following individuals. L. Snell, B. Sipos and D. Turner (ONT) provided materials and advice relevant to the 3′ poly(A) standards used to test nanopolish-polya. D. Garalde (ONT) provided early advice on use of the MinION for RNA sequencing. N. Conrad gave insight into the correlation of intron retention and poly(A) tail length. M. Diekhans reviewed the isoform analysis. Z. M. Chrzanowska-Lightowlers, T. Suzuki and S. Okada commented on early drafts of the manuscript. A. Beggs, L. Tee and T. Nieto (University of Birmingham, UK) provided cell cultures used in the Birmingham sequencing runs. The project was supported by the following grants: NIH HG010053 (A.N.B., B.P. and M.A.), NIH 5T32HG008345 (A.D.T.), NIH HG010538 (W.T.), NIH U54HG007990 (B.P.), U01 HL137183-02 (B.P.), Oxford Nanopore Research Grant SC20130149 (M.A.), National Institutes of Health Research Surgical Reconstruction and Microbiology Research Centre (J.Q.), Medical Research Council CLIMB Fellowship (N.L.), Wellcome Trust 204843/Z/16/Z (M.L.), BBSRC BB/N017099/1 and BB/M020061/1 (M.L.), the Canada Research Chair in Biotechnology and Genomics-Neurobiology (T.P.S.), the Canadian Institutes of Health Research (no. 10677; T.P.S.), the Canadian Epigenetics, Environment and Health Research Consortium (T.P.S.), the Koerner Foundation (T.P.S.), Genome Canada (OGI-136, J.T.S.), and the Ontario Institute for Cancer Research through funds provided by the Government of Ontario (J.T.S.), Pew Charitable Trust (A.N.B.).
Ethics declarations
Competing interests
M.A. holds options in Oxford Nanopore Technologies (ONT). M.A. is a paid consultant to ONT. R.E.W., W.T., T.G., J.R.T., J.Q., N.J.L., J.T.S., N.S., A.N.B., M.A., H.E.O., M.J. and M.L. received reimbursement for travel, accommodation and conference fees to speak at events organised by ONT. N.L. has received an honorarium to speak at an ONT company meeting. W.T. has two patents (8,748,091 and 8,394,584) licensed to ONT. M.A. is an inventor on 11 UC patents licensed to ONT (6,267,872, 6,465,193, 6,746,594, 6,936,433, 7,060,50, 8,500,982, 8,679,747, 9,481,908, 9,797,013, 10,059,988, and 10,081,835). J.T.S., M.L. and M.A. received research funding from ONT.
Additional information
Peer review information Nicole Rusk was the primary editor on this article and managed its editorial process and peer review in collaboration with the rest of the editorial team.
Publisher's note Springer Nature remains neutral with regard to jurisdictional claims in published maps and institutional affiliations.
Integrated supplementary information
Supplementary information
About this article
Cite this article
Workman, R.E., Tang, A.D., Tang, P.S. et al. Nanopore native RNA sequencing of a human poly(A) transcriptome. Nat Methods 16, 1297–1305 (2019). https://doi.org/10.1038/s41592-019-0617-2
Received:

Accepted:

Published:

Issue Date:

DOI: https://doi.org/10.1038/s41592-019-0617-2