Abstract
We present cleared-tissue axially swept light-sheet microscopy (ctASLM), which enables isotropic, subcellular resolution imaging with high optical sectioning capability and a large field of view over a broad range of immersion media. ctASLM can image live, expanded, and both aqueous and non-aqueous chemically cleared tissue preparations. Depending on the optical configuration, ctASLM provides up to 260 nm of axial resolution, a three to tenfold improvement over confocal and other reported cleared-tissue light-sheet microscopes. We imaged millimeter-scale cleared tissues with subcellular three-dimensional resolution, which enabled automated detection of multicellular tissue architectures, individual cells, synaptic spines and rare cell–cell interactions.
Your institute does not have access to this article
Relevant articles
Open Access articles citing this article.
Bin Yang

,

Merlin Lange

…

Loic A. Royer

Nature Methods Open Access 21 March 2022

Benjamin Landenberger

,

Yatish

&

Alexander Rohrbach

Nature Communications Open Access 26 November 2021

Max Hahn

,

Christoffer Nord

…

Ulf Ahlgren

Communications Biology Open Access 10 September 2021
Access options
Subscribe to Nature+
Get immediate online access to the entire Nature family of 50+ journals
Subscribe to Journal
Get full journal access for 1 year
$119.00
only $9.92 per issue
All prices are NET prices.
VAT will be added later in the checkout.
Tax calculation will be finalised during checkout.
Buy article
Get time limited or full article access on ReadCube.
$32.00
All prices are NET prices.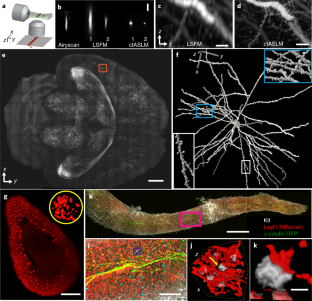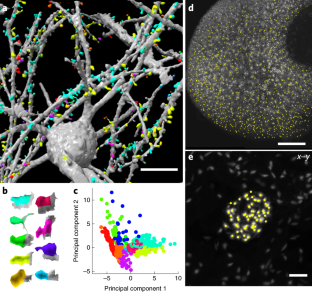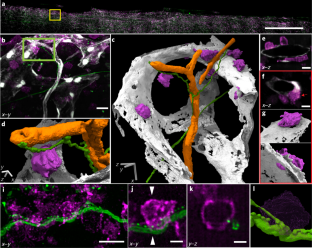 Data availability
The datasets acquired for this study are available from the corresponding authors upon reasonable request.
Code availability
The instrument control software can be requested for academic use from the corresponding authors and will be delivered under material transfer agreements with Howard Hughes Medical Institute and UT Southwestern Medical Center.
References
Villani, A.-C. et al. Single-cell RNA-seq reveals new types of human blood dendritic cells, monocytes and progenitors. Science 356, eaah4573 (2017).

Wang, K. et al. Rapid adaptive optical recovery of optimal resolution over large volumes. Nat. Methods 11, 625–628 (2014).

Richardson, D. S. & Lichtman, J. W. Clarifying tissue clearing. Cell 162, 246–257 (2015).

Welf, ErikS. et al. Quantitative multiscale cell imaging in controlled 3D microenvironments. Dev. Cell 36, 462–475 (2016).

Huisken, J. Optical sectioning deep inside live embryos by selective plane illumination microscopy. Science 305, 1007–1009 (2004).

Dodt, H.-U. et al. Ultramicroscopy: three-dimensional visualization of neuronal networks in the whole mouse brain. Nat. Methods 4, 331–336 (2007).

Stefaniuk, M. et al. Light-sheet microscopy imaging of a whole cleared rat brain with Thy1–GFP transgene. Sci. Rep. 6, 28209 (2016).

Pende, M. et al. High-resolution ultramicroscopy of the developing and adult nervous system in optically cleared Drosophila melanogaster. Nat. Commun. 9, 4731 (2018).

Tomer, R. et al. SPED light sheet microscopy: fast mapping of biological system structure and function. Cell 163, 1796–1806 (2015).

Buytaert, J. A. & Dirckx, J. J. Tomographic imaging of macroscopic biomedical objects in high resolution and three dimensions using orthogonal-plane fluorescence optical sectioning. Appl. Opt. 48, 941–948 (2009).

Santi, P. A. et al. Thin-sheet laser imaging microscopy for optical sectioning of thick tissues. Biotechniques 46, 287–294 (2009).

Dean, KevinM. et al. Deconvolution-free subcellular imaging with axially swept light sheet microscopy. Biophysical J. 108, 2807–2815 (2015).

Botcherby, E. J. et al. Aberration-free three-dimensional multiphoton imaging of neuronal activity at kHz rates. Proc. Natl Acad. Sci. USA 109, 2919–2924 (2012).

Gao, L. Extend the field of view of selective plan illumination microscopy by tiling the excitation light sheet. Opt. Express. 23, 6102–6111 (2015).

Voigt, F. F. et al. The mesoSPIM initiative: open-source light-sheet microscopes for imaging cleared tissue. Nat. Methods https://doi.org/10.1038/s41592-019-0554-0 (2019).

Hörl, D. et al. BigStitcher: reconstructing high-resolution image datasets of cleared and expanded samples. Nat. Methods 16, 870–874 (2019).

Gao, R. et al. Cortical column and whole-brain imaging with molecular contrast and nanoscale resolution. Science 363, eaau8302 (2019).

Fu, Q., Martin, B. L., Matus, D. Q. & Gao, L. Imaging multicellular specimens with real-time optimized tiling light-sheet selective plane illumination microscopy. Nat. Commun. 7, 11088 (2016).

Crane, G. M., Jeffery, E. & Morrison, S. J. Adult haematopoietic stem cell niches. Nat. Rev. Immunol. 17, 573–590 (2017).

Driscoll, M. K. et al. Robust and automated detection of subcellular morphological motifs in 3D microscopy images. Nat. Methods 16, 1037–1044 (2019).

Acar, M. et al. Deep imaging of bone marrow shows non-dividing stem cells are mainly perisinusoidal. Nature 526, 126–130 (2015).

Comazzetto, S. et al. Restricted hematopoietic progenitors and erythropoiesis require scf from leptin receptor + niche cells in the bone marrow. Cell Stem Cell 24, 477–486 (2018).

Tomer, R., Ye, L., Hsueh, B. & Deisseroth, K. Advanced CLARITY for rapid and high-resolution imaging of intact tissues. Nat. Protoc. 9, 1682–1697 (2014).

Migliori, B. et al. Light-sheet theta microscopy for rapid high-resolution imaging of large biological samples. BMC Biol. 16, 57 (2018).

Guenthner, CaseyJ. et al. Permanent genetic access to transiently active neurons via TRAP: targeted recombination in active populations. Neuron 78, 773–784 (2013).

Jing, D. et al. Tissue clearing of both hard and soft tissue organs with the PEGASOS method. Cell Res. 28, 803–818 (2018).

Sorensen, I., Adams, R. H. & Gossler, A. DLL1-mediated notch activation regulates endothelial identity in mouse fetal arteries. Blood 113, 5680–5688 (2009).

Xu, W. & Sudhof, T. C. A neural circuit for memory specificity and generalization. Science 339, 1290–1295 (2013).

Tillberg, P. W. et al. Protein-retention expansion microscopy of cells and tissues labeled using standard fluorescent proteins and antibodies. Nat. Biotechnol. 34, 987–992 (2016).

Preibisch, S., Saalfeld, S. & Tomancak, P. Globally optimal stitching of tiled 3D microscopic image acquisitions. Bioinformatics 25, 1463–1465 (2009).

Schindelin, J. et al. Fiji: an open source platform for biological image analysis. Nat. Methods 9, 676–682 (2012).

Applegate, K. T. et al. plusTipTracker: quantitative image analysis software for the measurement of microtubule dynamics. J. Struct. Biol. 176, 168–184 (2011).

Cignoni, P. et al. MeshLab: an open source mesh processing tool. In Proc. Eurographics Italian Chapter Conference (eds Scarano, V. et al) 129–136 (Eurographics Association, 2008).
Acknowledgements
We thank the Cancer Prevention Research Institute of Texas (grant nos. RR160057 to R.F. and R1225 to G.D.) for their generous funding, as well as the National Institutes of Health (grant nos. F32GM116370 and K99GM123221 to M.K.D., R01GM067230 to G.D., R01AG055577 and R01NS056224 to I.B., R01DK118032 and R01DK099478 to D.M., R01DC015784 and R21NS104826 to J.M., R33CA235254 and R35GM133522 to R.F., and DP2MH119423 to R.T.). R.H. acknowledges support by the Collaborative Research Center SFB 1278 (PolyTarget, project C04) funded by the Deutsche Forschungsgemeinschaft. We are grateful to the Live cell imaging facility at UT Southwestern for access to the Zeiss Airyscan confocal microscope (supported by grant no. 1S10OD021684-01). We thank D. Saucier and J. Amatruda for providing the zebrafish specimens and E. Sapoznik for his assistance with computer-aided design.
Ethics declarations
Competing interests
The authors declare no competing interests.
Additional information
Peer review information Rita Strack was the primary editor on this article and managed its editorial process and peer review in collaboration with the rest of the editorial team.
Publisher's note Springer Nature remains neutral with regard to jurisdictional claims in published maps and institutional affiliations.
Integrated supplementary information
Supplementary information
About this article
Cite this article
Chakraborty, T., Driscoll, M.K., Jeffery, E. et al. Light-sheet microscopy of cleared tissues with isotropic, subcellular resolution. Nat Methods 16, 1109–1113 (2019). https://doi.org/10.1038/s41592-019-0615-4
Received:

Accepted:

Published:

Issue Date:

DOI: https://doi.org/10.1038/s41592-019-0615-4