Abstract
Super-resolution microscopy offers tremendous opportunities to unravel the complex and dynamic architecture of living cells. However, current super-resolution microscopes are well suited for revealing protein distributions or cell morphology, but not both. We present a super-resolution platform that permits correlative single-molecule imaging and stimulated emission depletion microscopy in live cells. It gives nanoscale access to the positions and movements of synaptic proteins within the morphological context of growth cones and dendritic spines.
Access options
Subscribe to Journal
Get full journal access for 1 year
$59.00
only $4.92 per issue
All prices are NET prices.
VAT will be added later in the checkout.
Tax calculation will be finalised during checkout.
Rent or Buy article
Get time limited or full article access on ReadCube.
from$8.99
All prices are NET prices.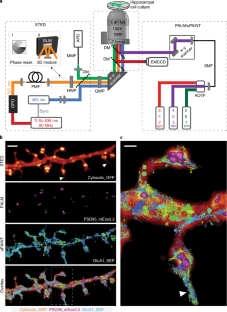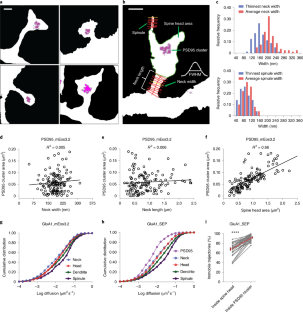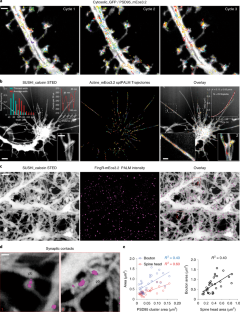 Data availability
The data that support the findings of this study are available from the corresponding author upon responsible request.
Code availability
The custom-made SML-Transformer software to overlay STED and SMLM images is available as Supplementary Software with training data.
References
1.

Furstenberg, A. & Heilemann, M. Phys. Chem. Chem. Phys. 15, 14919–14930 (2013).

2.

Cognet, L., Leduc, C. & Lounis, B. Curr. Opin. Chem. Biol. 20, 78–85 (2014).

3.

Nägerl, U. V., Willig, K. I., Hein, B., Hell, S. W. & Bonhoeffer, T. Proc. Natl Acad. Sci. USA 105, 18982–18987 (2008).

4.

Testa, I. et al. Neuron 75, 992–1000 (2012).

5.

Dudok, B. et al. Nat. Neurosci. 18, 75–86 (2015).

6.

Hamel, V. et al. Biomed. Opt. Express 5, 3326–3336 (2014).

7.

Kopek, B. G., Shtengel, G., Xu, C. S., Clayton, D. A. & Hess, H. F. Proc. Natl Acad. Sci. USA 109, 6136–6141 (2012).

8.

Balzarotti, F. et al. Science 355, 606–612 (2017).

9.

Tønnesen, J., Inavalli, V. V. G. K. & Nägerl, U. V. Cell 172, 1108–1121 (2018).

10.

Kellermayer, B. et al. Neuron 100, 106–119 (2018).

11.

Rossier, O. et al. Nat. Cell Biol. 14, 1057–1067 (2012).

12.

Penn, A. C. et al. Nature 549, 384–388 (2017).

13.

Hosy, E., Butler, C. & Sibarita, J. B. Curr. Opin. Chem. Biol. 20, 120–126 (2014).

14.

Constals, A. et al. Neuron 85, 787–803 (2015).

15.

Petralia, R. S., Wang, Y. X., Mattson, M. P. & Yao, P. J. Neuromol. Med. 17, 211–240 (2015).

16.

Nair, D. et al. J. Neurosci. 33, 13204–13224 (2013).

17.

Bartol, T. M. et al. eLife 4, e10778 (2015).

18.

Omotade, O. F., Pollitt, S. L. & Zheng, J. Q. Mol. Cell Neurosci. 84, 4–10 (2017).

19.

Galland, R. et al. Nat. Methods 12, 641–644 (2015).

20.

Jahr, W., Velicky, P. & Danzl, J. G. Methods https://doi.org/10.1016/j.ymeth.2019.07.019 (2019).

21.

Schönle, A. Imspector image acquisition software v0.1. http://www.imspector.de (2006).

22.

Kechkar, A., Nair, D., Heilemann, M., Choquet, D. & Sibarita, J. B. PLoS ONE 8, e62918 (2013).

23.

Racine, V. et al. In ISBI (eds Basto, R. & Oegema, K.) 1020–1023 (Acad. Press, 2006).

24.

Nieuwenhuizen, R. P. et al. Nat. Methods 10, 557–562 (2013).

25.

Kaech, S. & Banker, G. Nat. Protoc. 1, 2406–2415 (2006).

26.

Gross, G. G. et al. Neuron 78, 971–985 (2013).

27.

Giannone, G. et al. Biophys. J. 99, 1303–1310 (2010).

28.

Holschneider, M., Kronland-Martinet, R., Morlet, J. & Tchamitchian, P. in Wavelets. Inverse Problems and Theoretical Imaging (eds Combes J. M. et al.) 289–297 (Springer-Verlag, 1990).
Acknowledgements
We thank E. Gouaux for the anti-GluA2 antibody and the IINS Cell Biology Core Facility for cell culture and plasmid production. This work was supported by funding from the Conseil Régional d'Aquitaine, Labex BRAIN, France-BioImaging (grant no. ANR-10-INBS-04), Fondation pour la Recherche Médicale (grant no. DEQ20160334901 to U.V.N.) and European Research Council (ERC grant no. 787340 Dyn-Syn-Mem to D.C.). We thank members of the Nägerl team for comments on the manuscript.
Ethics declarations
Competing interests
The authors declare no competing interests.
Additional information
Peer review information Rita Strack was the primary editor on this article and managed its editorial process and peer review in collaboration with the rest of the editorial team.
Publisher's note Springer Nature remains neutral with regard to jurisdictional claims in published maps and institutional affiliations.
Integrated supplementary information
Supplementary information
About this article
Cite this article
Inavalli, V.V.G.K., Lenz, M.O., Butler, C. et al. A super-resolution platform for correlative live single-molecule imaging and STED microscopy. Nat Methods 16, 1263–1268 (2019). https://doi.org/10.1038/s41592-019-0611-8
Received:

Revised:

Accepted:

Published:

Issue Date: