Abstract
Intracellular antibodies have become powerful tools for imaging, modulating and neutralizing endogenous target proteins. Here, we describe an optogenetically activated intracellular antibody (optobody) consisting of split antibody fragments and blue-light inducible heterodimerization domains. We expanded this optobody platform by generating several optobodies from previously developed intracellular antibodies, and demonstrated that photoactivation of gelsolin and β2-adrenergic receptor (β2AR) optobodies suppressed endogenous gelsolin activity and β2AR signaling, respectively.
Access options
Subscribe to Journal
Get full journal access for 1 year
$259.00
only $21.58 per issue
All prices are NET prices.
VAT will be added later in the checkout.
Rent or Buy article
Get time limited or full article access on ReadCube.
from$8.99
All prices are NET prices.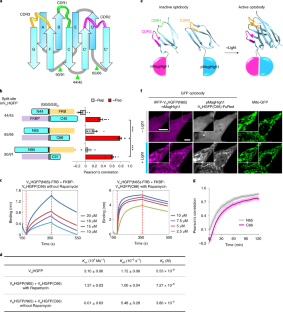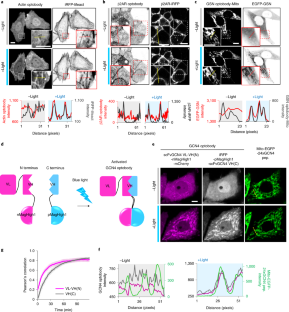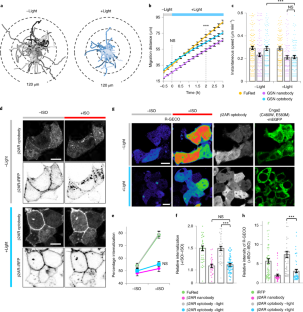 Data availability
The data supporting the findings of this study are available within the paper and its Supplementary Information files. Extra data are available from the corresponding author upon reasonable request.
Code availability
The code for high-throughput analysis of two-channel time-lapse colocalization in individual cells are available in Supplementary code files.
References
1.

Marschall, A. L., Dubel, S. & Boldicke, T. MAbs 7, 1010–1035 (2015).

2.

Miller, T. W. & Messer, A. Mol. Ther. 12, 394–401 (2005).

3.

Helma, J., Cardoso, M. C., Muyldermans, S. & Leonhardt, H. J. Cell Biol. 209, 633–644 (2015).

4.

Bethuyne, J. et al. Nucleic Acids Res. 42, 12928–12938 (2014).

5.

Tang, J. C. et al. eLife 5, e15312 (2016).

6.

Tischer, D. & Weiner, O. D. Nat. Rev. Mol. Cell Biol. 15, 551–558 (2014).

7.

Kirchhofer, A. et al. Nat. Struct. Mol. Biol. 17, 133–138 (2010).

8.

Kawano, F., Suzuki, H., Furuya, A. & Sato, M. Nat. Commun. 6, 6256 (2015).

9.

Proba, K., Honegger, A. & Pluckthun, A. J. Mol. Biol. 265, 161–172 (1997).

10.

Guntas, G. et al. Proc. Natl Acad. Sci. USA 112, 112–117 (2015).

11.

Caussinus, E., Kanca, O. & Affolter, M. Nat. Struct. Mol. Biol. 19, 117–121 (2011).

12.

Katoh, Y. et al. J. Biol. Chem. 291, 10962–10975 (2016).

13.

Panza, P., Maier, J., Schmees, C., Rothbauer, U. & Sollner, C. Development 142, 1879–1884 (2015).

14.

Staus, D. P. et al. Mol. Pharm. 85, 472–481 (2014).

15.

Van den Abbeele, A. et al. Cell Mol. Life Sci. 67, 1519–1535 (2010).

16.

Tanenbaum, M. E., Gilbert, L. A., Qi, L. S., Weissman, J. S. & Vale, R. D. Cell 159, 635–646 (2014).

17.

Gorelik, R. & Gautreau, A. Nat. Protoc. 9, 1931–1943 (2014).

18.

Siuda, E. R. et al. Nat. Commun. 6, 8480 (2015).
Acknowledgements
We thank J. Gettemans for kindly providing the GSN nanobody and S.-C. Kim for helpful discussions about intrabodies. We are grateful to N. Kim for statistical analysis and discussion, to J.-H. Kim and Y. Lee for experimental support and to S. Lee for discussions. This work was supported by a grant from the Institute for Basic Science (no. IBS-R001-G1), the National Research Fund (NRF-2018R1A2B3004764) and the KAIST Institute for the BioCentury, Republic of Korea.
Ethics declarations
Competing interests
South Korean patent no. 10-2016-0013121 has been awarded to Institute for Basic Science (to D.Y., B.O.P. and W.D.H., being the inventors) for the optobody and chemobody technology described in this paper. The technology has been sold to Hulux and W.D.H. is a shareholder.
Additional information
Peer review information Rita Strack was the primary editor on this article and managed its editorial process and peer review in collaboration with the rest of the editorial team.
Publisher's note Springer Nature remains neutral with regard to jurisdictional claims in published maps and institutional affiliations.
Supplementary information
About this article
Cite this article
Yu, D., Lee, H., Hong, J. et al. Optogenetic activation of intracellular antibodies for direct modulation of endogenous proteins. Nat Methods 16, 1095–1100 (2019). https://doi.org/10.1038/s41592-019-0592-7
Received:

Accepted:

Published:

Issue Date: