Abstract
Electron cryotomography is currently the only method capable of visualizing cells in three dimensions at nanometer resolutions. While modern instruments produce massive amounts of tomography data containing extremely rich structural information, data processing is very labor intensive and the results are often limited by the skills of the personnel rather than the data. We present an integrated workflow that covers the entire tomography data processing pipeline, from automated tilt series alignment to subnanometer resolution subtomogram averaging. Resolution enhancement is made possible through the use of per-particle per-tilt contrast transfer function correction and alignment. The workflow greatly reduces human bias, increases throughput and more closely approaches data-limited resolution for subtomogram averaging in both purified macromolecules and cells.
Access options
Subscribe to Journal
Get full journal access for 1 year
$59.00
only $4.92 per issue
All prices are NET prices.
VAT will be added later in the checkout.
Tax calculation will be finalised during checkout.
Rent or Buy article
Get time limited or full article access on ReadCube.
from$8.99
All prices are NET prices.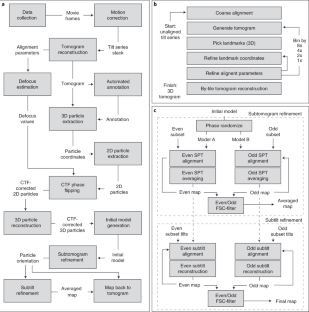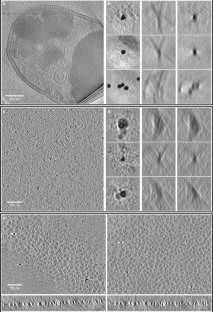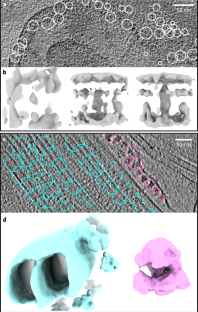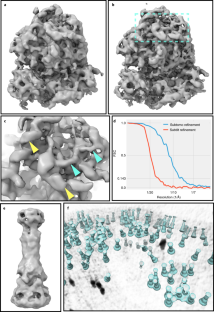 References
1.

Asano, S., Engel, B. D. & Baumeister, W. In situ cryo-electron tomography: a post-reductionist approach to structural biology. J. Mol. Biol. 428, 332–343 (2016).

2.

Kremer, J. R., Mastronarde, D. N. & McIntosh, J. R. Computer visualization of three-dimensional image data using IMOD. J. Struct. Biol. 116, 71–76 (1996).

3.

Frangakis, A. S. et al. Identification of macromolecular complexes in cryoelectron tomograms of phantom cells. Proc. Natl Acad. Sci. USA 99, 14153–14158 (2002).

4.

Amat, F. et al. Markov random field based automatic image alignment for electron tomography. J. Struct. Biol. 161, 260–275 (2008).

5.

Hrabe, T. et al. PyTom: a python-based toolbox for localization of macromolecules in cryo-electron tomograms and subtomogram analysis. J. Struct. Biol. 178, 177–188 (2012).

6.

Galaz-Montoya, J. G. et al. Alignment algorithms and per-particle CTF correction for single particle cryo-electron tomography. J. Struct. Biol. 194, 383–394 (2016).

7.

Bharat, T. A. M. & Scheres, S. H. W. Resolving macromolecular structures from electron cryo-tomography data using subtomogram averaging in RELION. Nat. Protoc. 11, 2054–2065 (2016).

8.

Himes, B. A. & Zhang, P. emClarity: software for high-resolution cryo-electron tomography and subtomogram averaging. Nat. Methods 15, 955–961 (2018).

9.

Mastronarde, D. N. & Held, S. R. Automated tilt series alignment and tomographic reconstruction in IMOD. J. Struct. Biol. 197, 102–113 (2017).

10.

Noble, A. J. & Stagg, S. M. Automated batch fiducial-less tilt-series alignment in Appion using Protomo. J. Struct. Biol. 192, 270–278 (2015).

11.

Khoshouei, M., Pfeffer, S., Baumeister, W., Förster, F. & Danev, R. Subtomogram analysis using the Volta phase plate. J. Struct. Biol. 197, 94–101 (2017).

12.

Gilbert, P. Iterative methods for the three-dimensional reconstruction of an object from projections. J. Theor. Biol. 36, 105–117 (1972).

13.

Penczek, P. A. Image restoration in cryo-electron microscopy. Methods Enzymol. 482, 35–72 (2010).

14.

Taylor, K. A., Tang, J., Cheng, Y. & Winkler, H. The use of electron tomography for structural analysis of disordered protein arrays. J. Struct. Biol. 120, 372–386 (1997).

15.

Bernard Heymann, J., Cardone, G., Winkler, D. C. & Steven, A. C. Computational resources for cryo-electron tomography in Bsoft. J. Struct. Biol. 161, 232–242 (2008).

16.

Chen, Y. et al. FIRT: filtered iterative reconstruction technique with information restoration. J. Struct. Biol. 195, 49–61 (2016).

17.

Du, D. et al. Structure of the AcrAB-TolC multidrug efflux pump. Nature 509, 512–515 (2014).

18.

Noble, A. J. et al. Reducing effects of particle adsorption to the air–water interface in cryo-EM. Nat. Methods 15, 793–795 (2018).

19.

Galaz-Montoya, J. G., Flanagan, J., Schmid, M. F. & Ludtke, S. J. Single particle tomography in EMAN2. J. Struct. Biol. 190, 279–290 (2015).

20.

Chen, M. et al. Convolutional neural networks for automated annotation of cellular cryo-electron tomograms. Nat. Methods 14, 983–985 (2017).

21.

Xiong, Q., Morphew, M. K., Schwartz, C. L., Hoenger, A. H. & Mastronarde, D. N. CTF determination and correction for low dose tomographic tilt series. J. Struct. Biol. 168, 378–387 (2009).

22.

Bohm, J. et al. Toward detecting and identifying macromolecules in a cellular context: template matching applied to electron tomograms. Proc. Natl Acad. Sci. USA 97, 14245–14250 (2000).

23.

Punjani, A., Rubinstein, J. L., Fleet, D. J. & Brubaker, M. A. cryoSPARC: algorithms for rapid unsupervised cryo-EM structure determination. Nat. Methods 14, 290–296 (2017).

24.

Henderson, R. et al. Outcome of the first electron microscopy validation task force meeting. Structure 20, 205–214 (2012).

25.

Shi, X. et al. In situ structure and assembly of the multidrug efflux pump AcrAB-TolC. Nat. Commun. 10, 2635 (2019).

26.

Tang, G. et al. EMAN2: an extensible image processing suite for electron microscopy. J. Struct. Biol. 157, 38–46 (2007).

27.

Powell, M. J. D. An efficient method for finding the minimum of a function of several variables without calculating derivatives. Comput. J. 7, 155–162 (1964).

28.

Oliphant, T. E. Python for scientific computing. Comput. Sci. Eng. 9, 10–20 (2007).

29.

Ortega, D. R., Oikonomou, C. M., Ding, H. J., Rees-Lee, P. & Jensen, G. J. ETDB-Caltech: a blockchain-based distributed public database for electron tomography. PLoS ONE 14, e0215531 (2019).

30.

Goddard, T. D., Huang, C. C. & Ferrin, T. E. Visualizing density maps with UCSF Chimera. J. Struct. Biol. 157, 281–287 (2007).

31.

Goddard, T. D. et al. UCSF ChimeraX: meeting modern challenges in visualization and analysis. Protein Sci. 27, 14–25 (2018).
Acknowledgements
This work was partially supported by NIH grant nos. R01GM080139 and P01GM121203, the Welch Foundation (grant no. Q-1967-20180324), BCM BMB department seed funds and a Houston Area Molecular Biophysics Program training grant from the Keck Center of the Gulf Coast Consortium (NIH grant no. T32 GM008280-30). We also thank early users for testing the workflow and providing valuable feedback.
Ethics declarations
Competing interests
The authors declare no competing interests.
Additional information
Peer review information Rita Strack was the primary editor on this article and managed its editorial process and peer review in collaboration with the rest of the editorial team.
Publisher's note Springer Nature remains neutral with regard to jurisdictional claims in published maps and institutional affiliations.
Integrated supplementary information
Supplementary information
About this article
Cite this article
Chen, M., Bell, J.M., Shi, X. et al. A complete data processing workflow for cryo-ET and subtomogram averaging. Nat Methods 16, 1161–1168 (2019). https://doi.org/10.1038/s41592-019-0591-8
Received:

Accepted:

Published:

Issue Date:
Further reading
Jonathan Bouvette

,

Hsuan-Fu Liu

,

Xiaochen Du

,

Ye Zhou

,

Andrew P. Sikkema

,

Juliana da Fonseca Rezende e Mello

,

Bradley P. Klemm

,

Rick Huang

,

Roel M. Schaaper

,

Mario J. Borgnia

&

Alberto Bartesaghi

Nature Communications (2021)

Dimitry Tegunov

,

Liang Xue

,

Christian Dienemann

,

Patrick Cramer

&

Julia Mahamid

Nature Methods (2021)