Abstract
DNA points accumulation in nanoscale topography (DNA-PAINT) is a relatively easy-to-implement super-resolution technique. However, image acquisition is slow compared to most other approaches. Here, we overcome this limitation by designing optimized DNA sequences and buffer conditions. We demonstrate our approach in vitro with DNA origami and in situ using cell samples, and achieve an order of magnitude faster imaging speeds without compromising image quality or spatial resolution. This improvement now makes DNA-PAINT applicable to high-throughput studies.
Access options
Access options
Subscribe to Journal
Get full journal access for 1 year
$278.00
only $23.17 per issue
All prices are NET prices.
VAT will be added later in the checkout.
Rent or Buy article
Get time limited or full article access on ReadCube.
from$8.99
All prices are NET prices.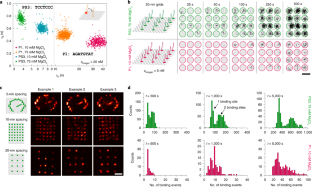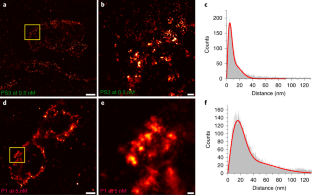 Data availability
All raw data is available upon reasonable request from the authors.
References
1.

Sahl, S. J., Hell, S. W. & Jakobs, S. Nat. Rev. Mol. Cell Biol. 18, 685–701 (2017).

2.

Schnitzbauer, J., Strauss, M. T., Schlichthaerle, T., Schueder, F. & Jungmann, R. Nat. Protoc. 12, 1198–1228 (2017).

3.

Dai, M., Jungmann, R. & Yin, P. Nat. Nanotechnol. 11, 798–807 (2016).

4.

Strauss, S. et al. Nat. Methods 15, 685–688 (2018).

5.

Auer, A., Strauss, M. T., Schlichthaerle, T. & Jungmann, R. Nano Lett. 17, 6428–6434 (2017).

6.

Lee, J., Park, S. & Hohng, S. Mol. Brain 11, 70 (2018).

7.

Jungmann, R. et al. Nat. Methods 13, 439–442 (2016).

8.

Jayasinghe, I. et al. Cell Rep. 22, 557–567 (2018).

9.

Stehr, F., Stein, J., Schueder, F., Schwille, P. & Jungmann, R. Nat. Commun. 10, 1268 (2019).

10.

Ouldridge, T. E., Sulc, P., Romano, F., Doye, J. P. & Louis, A. A. Nucleic Acids Res 41, 8886–8895 (2013).

11.

Cisse, I. I., Kim, H. & Ha, T. Nat. Struct. Mol. Biol. 19, 623–627 (2012).

12.

He, G., Li, J., Ci, H., Qi, C. & Guo, X. Angew. Chem. Int Ed. Engl. 55, 9036–9040 (2016).

13.

Schickinger, M., Zacharias, M. & Dietz, H. Proc. Natl. Acad. Sci. USA 115, E7512–E7521 (2018).

14.

Zhang, J. X. et al. Nat. Chem. 10, 91–98 (2018).

15.

Zadeh, J. N. et al. J. Comput Chem. 32, 170–173 (2011).

16.

Tokunaga, M., Imamoto, N. & Sakata-Sogawa, K. Nat. Methods 5, 159–161 (2008).

17.

Endesfelder, U., Malkusch, S., Fricke, F. & Heilemann, M. Histochem Cell Biol. 141, 629–638 (2014).

18.

Edelstein, A. D. et al. J. Biol. Methods 1, pii: e10. (2014).

19.

Vaughan, J. C., Jia, S. & Zhuang, X. Nat. Methods 9, 1181–1184 (2012).

20.

Lee, J., Park, S., Kang, W. & Hohng, S. Mol. Brain 10, 63 (2017).

21.

Schueder, F. et al. Nat. Commun. 8, 2090 (2017).

22.

Legant, W. R. et al. Nat. Methods 13, 359–365 (2016).

23.

Beghin, A. et al. Nat. Methods 14, 1184–1190 (2017).

24.

Aitken, C. E., Marshall, R. A. & Puglisi, J. D. Biophysical J. 94, 1826–1835 (2008).

25.

Agasti, S. S. et al. Chem. Sci. 8, 3080–3091 (2017).
Acknowledgements
We thank J. Bauer and P. Schueler for initial experiments. We thank J. Lara-Gutiérrez and G. Cardone for fruitful discussions. This work has been supported in part by the German Research Foundation through the Emmy Noether Program (no. DFG JU 2957/1-1), the SFB1032 (project no. A11), the European Research Council through an ERC Starting Grant (MolMap; grant agreement no. 680241), the Allen Distinguished Investigator Program through the Paul G. Allen Frontiers Group, the Max Planck Foundation and the Max Planck Society. J.S., F.Stehr and A.A. acknowledge support by the QBM graduate school. M.T.S. acknowledges support from the International Max Planck Research School for Molecular and Cellular Life Sciences.
Ethics declarations
Competing interests
The authors declare no competing interests.
Additional information
Peer review information Rita Strack was the primary editor on this article and managed its editorial process and peer review in collaboration with the rest of the editorial team.
Publisher's note Springer Nature remains neutral with regard to jurisdictional claims in published maps and institutional affiliations.
Integrated supplementary information
Supplementary information