Abstract
Single-cell molecular profiling technologies are gaining rapid traction, but the manual process by which resulting cell types are typically annotated is labor intensive and rate-limiting. We describe Garnett, a tool for rapidly annotating cell types in single-cell transcriptional profiling and single-cell chromatin accessibility datasets, based on an interpretable, hierarchical markup language of cell type-specific genes. Garnett successfully classifies cell types in tissue and whole organism datasets, as well as across species.
Access options
Subscribe to Journal
Get full journal access for 1 year
$259.00
only $21.58 per issue
All prices are NET prices.
VAT will be added later in the checkout.
Rent or Buy article
Get time limited or full article access on ReadCube.
from$8.99
All prices are NET prices.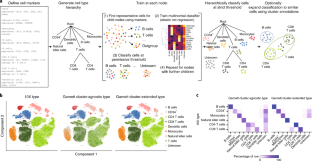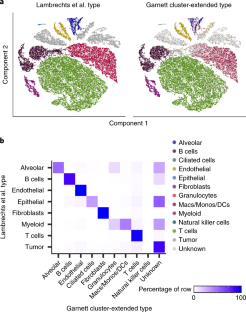 Data availability
No new data was generated for this study. All data used in this study is publicly available.
References
1.

Svensson, V., Vento-Tormo, R. & Teichmann, S. A. Nat. Protoc. 13, 599–604 (2018).

2.

Tabula Muris Consortium Nature 562, 367–372 (2018).

3.

Han, X. et al. Cell 173, 1307 (2018).

4.

Zhang, X. et al. Nucleic Acids Res. 47, D721–D728 (2019).

5.

Diehl, A. D. et al. J. Biomed. Semant. 7, 44 (2016).

6.

Bard, J., Rhee, S. Y. & Ashburner, M. Genome Biol. 6, R21 (2005).

7.

Cusanovich, D. A. et al. Cell 174, 1309–1324 (2018).

8.

Zheng, G. X. Y. et al. Nat. Commun. 8, 14049 (2017).

9.

Levine, J. H. et al. Cell 162, 184–197 (2015).

10.

Pliner, H. A. et al. Mol. Cell 71, 858–871 (2018).

11.

Cao, J. et al. Science 357, 661–667 (2017).

12.

Zeisel, A. et al. Cell 174, 999–1014.e22 (2018).

13.

Merkin, J., Russell, C., Chen, P. & Burge, C. B. Science 338, 1593–1599 (2012).

14.

Lambrechts, D. et al. Nat. Med. 24, 1277–1289 (2018).

15.

Rosenberg, A. B. et al. Science 360, 176–182 (2018).

16.

Alavi, A., Ruffalo, M., Parvangada, A., Huang, Z. & Bar-Joseph, Z. Nat. Commun. 9, 4768 (2018).

17.

Zou, H. & Hastie, T. J. R. Stat. Soc. Ser. B. 67, 301–320 (2005).

18.

Carlson, M., Falcon, S., Pages, H. & Li, N. AnnotationDbi: Annotation Database Interface. R package v.1.44.0 (2018).

19.

Jones, K. S. J. Doc. 28, 11–21 (1972).

20.

Baglama, J., Reichel, L. & Lewis, B. W. irlba: Fast Truncated Singular Value Decomposition and Principal Components Analysis for Large Dense and Sparse Matrices. R package v.2.3.3 (2017).

21.

Friedman, J., Hastie, T. & Tibshirani, R. J. Stat. Software 33, 1–22 (2010).

22.

Lun, A. et al. Genome Biol. 20, 63 (2019).

23.

Griffiths, J. A., Richard, A. C., Bach, K., Lun, A. T. L. & Marioni, J. C. Nat. Commun. 9, 2667 (2018).
Acknowledgements
We gratefully acknowledge S. Tapscott, W. Noble and D. Witten as well as members of the Shendure and Trapnell laboratories, particularly A. Hill, for their advice. Z. Pliner named the software. This work was supported by the following funding: NIH grant nos. U54DK107979 and U54HL145611 to J.S. and C.T.; NIH grant nos. DP2HD088158, RC2DK114777 and R01HL118342 to C.T.; NIH grant nos. DP1HG007811 and R01HG006283 to J.S. and the Paul G. Allen Frontiers Group to J.S. and C.T. J.S. is an Investigator of the Howard Hughes Medical Institute. C.T. is partly supported by an Alfred P. Sloan Foundation Research Fellowship. H.A.P. was supported by the National Science Foundation Graduate Research Fellowship under grant no. DGE-1256082.
Ethics declarations
Competing interests
The authors declare no competing interests.
Additional information
Peer review information: Nicole Rusk was the primary editor on this article and managed its editorial process and peer review in collaboration with the rest of the editorial team.
Publisher's note: Springer Nature remains neutral with regard to jurisdictional claims in published maps and institutional affiliations.
Integrated supplementary information
Supplementary information
About this article
Cite this article
Pliner, H.A., Shendure, J. & Trapnell, C. Supervised classification enables rapid annotation of cell atlases. Nat Methods 16, 983–986 (2019). https://doi.org/10.1038/s41592-019-0535-3
Received:

Accepted:

Published:

Issue Date: