Abstract
Accurately modeling cellular response to perturbations is a central goal of computational biology. While such modeling has been based on statistical, mechanistic and machine learning models in specific settings, no generalization of predictions to phenomena absent from training data (out-of-sample) has yet been demonstrated. Here, we present scGen (https://github.com/theislab/scgen), a model combining variational autoencoders and latent space vector arithmetics for high-dimensional single-cell gene expression data. We show that scGen accurately models perturbation and infection response of cells across cell types, studies and species. In particular, we demonstrate that scGen learns cell-type and species-specific responses implying that it captures features that distinguish responding from non-responding genes and cells. With the upcoming availability of large-scale atlases of organs in a healthy state, we envision scGen to become a tool for experimental design through in silico screening of perturbation response in the context of disease and drug treatment.
Access options
Subscribe to Journal
Get full journal access for 1 year
$242.00
only $20.17 per issue
All prices are NET prices.
VAT will be added later in the checkout.
Rent or Buy article
Get time limited or full article access on ReadCube.
from$8.99
All prices are NET prices.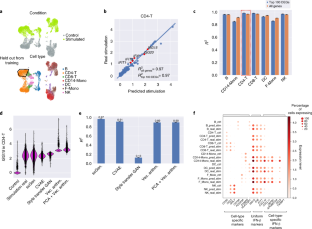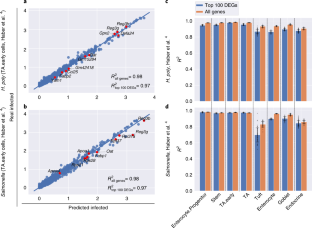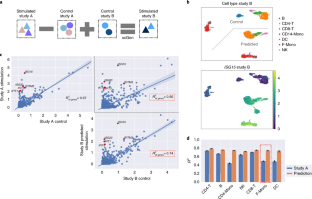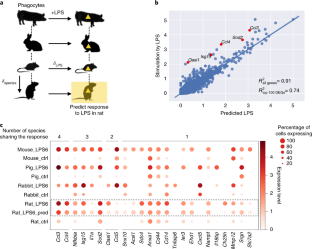 References
1.

Stubbington, M. J. T., Rozenblatt-Rosen, O., Regev, A. & Teichmann, S. A. Single-cell transcriptomics to explore the immune system in health and disease. Science 358, 58–63 (2017).

2.

Angerer, P. et al. Single cells make big data: New challenges and opportunities in transcriptomics. Curr. Opin. Syst. Biol. 4, 85–91 (2017).

3.

Kang, H. M. et al. Multiplexed droplet single-cell RNA-sequencing using natural genetic variation. Nat. Biotechnol. 36, 89–94 (2018).

4.

Haber, A. L. et al. A single-cell survey of the small intestinal epithelium. Nature 551, 333–339 (2017).

5.

Hagai, T. et al. Gene expression variability across cells and species shapes innate immunity. Nature 563, 197–202 (2018).

6.

Dixit, A. et al. Perturb-Seq: dissecting molecular circuits with scalable single-cell RNA profiling of pooled genetic screens. Cell 167, 1853–1866 (2016).

7.

Adamson, B. et al. A multiplexed single-cell CRISPR screening platform enables systematic dissection of the unfolded protein response. Cell 167, 1867–1882 (2016).

8.

Datlinger, P. et al. Pooled CRISPR screening with single-cell transcriptome readout. Nat. Methods 14, 297–301 (2017).

9.

Kharchenko, P. V., Silberstein, L. & Scadden, D. T. Bayesian approach to single-cell differential expression analysis. Nat. Methods 11, 740–742 (2014).

10.

Vallejos, C. A., Marioni, J. C. & Richardson, S. BASiCS: Bayesian analysis of single-cell sequencing data. PLoS Comput. Biol. 11, e1004333 (2015).

11.

Fröhlich, F. et al. Efficient parameter estimation enables the prediction of drug response using a mechanistic pan-cancer pathway model. Cell Syst. 7, 567–579.e6 (2018).

12.

Choi, K., Hellerstein, J., Wiley, S. & Sauro, H. M. Inferring reaction networks using perturbation data. Preprint at bioRxiv https://www.biorxiv.org/content/10.1101/351767v1 (2018).

13.

Lopez, R., Regier, J., Cole, M. B., Jordan, M. I. & Yosef, N. Deep generative modeling for single-cell transcriptomics. Nat. Methods 15, 1053–1058 (2018).

14.

Eraslan, G., Simon, L. M., Mircea, M., Mueller, N. S. & Theis, F. J. Single-cell RNA-seq denoising using a deep count autoencoder. Nat. Commun. 10, 390 (2019).

15.

Ding, J., Condon, A. & Shah, S. P. Interpretable dimensionality reduction of single cell transcriptome data with deep generative models. Nat. Commun. 9, 2002 (2018).

16.

Ghahramani, A., Watt, F. M. & Luscombe, N. M. Generative adversarial networks simulate gene expression and predict perturbations in single cells.Preprint at bioRxiv https://doi.org/10.1101/262501 (2018).

17.

Marouf, M. et al. Realistic in silico generation and augmentation of single cell RNA-seq data using generative adversarial neural networks. Preprint at bioRxiv https://doi.org/10.1101/390153 (2018).

18.

Saelens, W., Cannoodt, R., Todorov, H. & Saeys, Y. A comparison of single-cell trajectory inference methods. Nat. Biotechnol. 37, 547–554 (2019).

19.

Kingma, D. P. & Welling, M. Auto-encoding variational Bayes. Preprint at arXiv https://arxiv.org/abs/1312.6114 (2013).

20.

Sohn, K., Lee, H. & Yan, X. in Advances in Neural Information Processing Systems 28 (eds Cortes, C. et al.) 3483–3491 (Curran Associates, Inc., 2015).

21.

Abadi, M. et al. Tensorflow: a system for large-scale machine learning. Preprint at https://arxiv.org/abs/1605.08695v2 (2016).

22.

Wolf, F. A., Angerer, P. & Theis, F. J. SCANPY: large-scale single-cell gene expression data analysis. Genome Biol. 19, 15 (2018).

23.

Bendall, S. C. et al. Single-cell trajectory detection uncovers progression and regulatory coordination in human B cell development. Cell 157, 714–725 (2014).

24.

Wolf, F. A. et al. PAGA: graph abstraction reconciles clustering with trajectory inference through a topology preserving map of single cells. Genome Biol. 20, 59 (2019).

25.

Radford, A., Metz, L. & Chintala, S. Unsupervised representation learning with deep convolutional generative adversarial networks. Preprint at arXiv https://arxiv.org/abs/1511.06434 (2015).

26.

Mikolov, T., Chen, K., Corrado, G. & Dean, J. Efficient estimation of word representations in vector space. Preprint arXiv https://arxiv.org/abs/1301.3781 (2013).

27.

Liu, M.-Y. & Tuzel, O. in Advances in Neural Information Processing Systems 29 (eds Lee, D. D. et al.) 469–477 (Curran Associates, Inc., 2016).

28.

Zhu, J.-Y., Park, T., Isola, P. & Efros, A. A. Unpaired image-to-image translation using cycle-consistent adversarial networks. In IEEE International Conference on Computer Vision (2017).

29.

Amodio, M. & Krishnaswamy, S. MAGAN: Aligning biological manifolds. In Proceedings of the 35th International Conference on Machine Learning Vol. 80 (eds Dy, J. & Krause, A.) 215–223 (PMLR, Stockholmsmässan, Stockholm, 2018).

30.

Clift, M. J. D. et al. A novel technique to determine the cell type specific response within an in vitro co-culture model via multi-colour flow cytometry. Sci. Rep. 7, 434 (2017).

31.

Schubert, M. et al. Perturbation-response genes reveal signaling footprints in cancer gene expression. Nat. Commun. 9, 20 (2018).

32.

Butler, A., Hoffman, P., Smibert, P., Papalexi, E. & Satija, R. Integrating single-cell transcriptomic data across different conditions, technologies, and species. Nat. Biotechnol. 36, 411–420 (2018).

33.

Regev, A. et al. The human cell atlas. eLife 6, e27041 (2017).

34.

Zheng, G. X. Y. et al. Massively parallel digital transcriptional profiling of single cells. Nat. Commun. 8, 14049 (2017).

35.

Way, G. P. & Greene, C. S. Extracting a biologically relevant latent space from cancer transcriptomes with variational autoencoders. Pac. Symp. Biocomput. 23, 80–91 (2018).

36.

Smillie, C. S. et al. Rewiring of the cellular and inter-cellular landscape of the human colon during ulcerative colitis. Preprint at bioRxiv https://doi.org/10.1101/455451 (2018).

37.

McInnes, L. & Healy, J. UMAP: uniform manifold approximation and projection for dimension reduction. Preprint at arXiv https://arxiv.org/abs/1802.03426v2 (2018).

38.

Doersch, C. Tutorial on variational autoencoders. Preprint at arXiv https://arxiv.org/abs/1606.05908 (2016).

39.

Park, J.-E., Polanski, K., Meyer, K. & Teichmann, S. A. Fast batch alignment of single cell transcriptomes unifies multiple mouse cell atlases into an integrated landscape. Preprint at bioRxiv https://doi.org/10.1101/397042 (2018).

40.

Pedregosa, F. et al. Scikit-learn: machine learning in python. J. Mach. Learn. Res. 12, 2825–2830 (2011).
Acknowledgements
We are grateful to all members of the Theis lab, in particular, D.S. Fischer for early comments on predicting across species. M.L. is grateful for valuable feedback from L.Haghverdi regarding batch effect removal. F.A.W. acknowledges discussions with N. Stranski on responding and non-responding cells and support by the Helmholtz Postdoc Program, Initiative and Networking Fund of the Helmholtz Association. This work was supported by BMBF grant nos. 01IS18036A and 01IS18053A, by the German Research Foundation within the Collaborative Research Center 1243, Subproject A17, by the Helmholtz Association (Incubator grant sparse2big, grant no. ZT-I-0007) and by the Chan Zuckerberg Initiative DAF (advised fund of Silicon Valley Community Foundation, no. 182835).
Ethics declarations
Competing interests
F.J.T. reports receiving consulting fees from Roche Diagnostics GmbH and Cellarity Inc., and ownership interest in Cellarity, Inc.
Additional information
Peer review information: Nicole Rusk was the primary editor on this article and managed its editorial process and peer review in collaboration with the rest of the editorial team.
Publisher's note: Springer Nature remains neutral with regard to jurisdictional claims in published maps and institutional affiliations.
Integrated supplementary information
Supplementary information
Supplementary Figs. 1–13, Supplementary Notes 1–9 and Supplementary Tables 1–3.
About this article
Cite this article
Lotfollahi, M., Wolf, F.A. & Theis, F.J. scGen predicts single-cell perturbation responses. Nat Methods 16, 715–721 (2019) doi:10.1038/s41592-019-0494-8
Received

Accepted

Published

Issue Date
Further reading
Current Genetic Medicine Reports (2019)