Abstract
Point-scanning two-photon microscopy enables high-resolution imaging within scattering specimens such as the mammalian brain, but sequential acquisition of voxels fundamentally limits its speed. We developed a two-photon imaging technique that scans lines of excitation across a focal plane at multiple angles and computationally recovers high-resolution images, attaining voxel rates of over 1 billion Hz in structured samples. Using a static image as a prior for recording neural activity, we imaged visually evoked and spontaneous glutamate release across hundreds of dendritic spines in mice at depths over 250 µm and frame rates over 1 kHz. Dendritic glutamate transients in anesthetized mice are synchronized within spatially contiguous domains spanning tens of micrometers at frequencies ranging from 1–100 Hz. We demonstrate millisecond-resolved recordings of acetylcholine and voltage indicators, three-dimensional single-particle tracking and imaging in densely labeled cortex. Our method surpasses limits on the speed of raster-scanned imaging imposed by fluorescence lifetime.
Relevant articles
Open Access articles citing this article.
Hao Xie

,

Xiaofei Han

…

Qionghai Dai

Nature Biomedical Engineering Open Access 06 December 2023

Yu Kang T. Xu

,

Austin R. Graves

…

Jeremias Sulam

Nature Methods Open Access 11 May 2023

Abhi Aggarwal

,

Rui Liu

…

Kaspar Podgorski

Nature Methods Open Access 04 May 2023
Access options
Access Nature and 54 other Nature Portfolio journals
Get Nature+, our best-value online-access subscription
$29.99 / 30 days
cancel any time
Subscribe to this journal
Receive 12 print issues and online access
$259.00 per year
only $21.58 per issue
Rent or buy this article
Prices vary by article type
from$1.95
to$39.95
Prices may be subject to local taxes which are calculated during checkout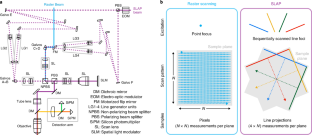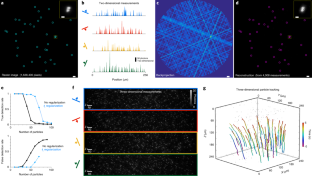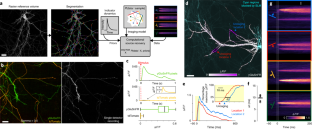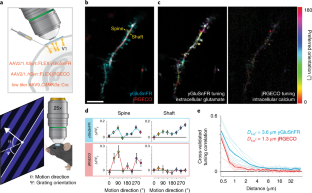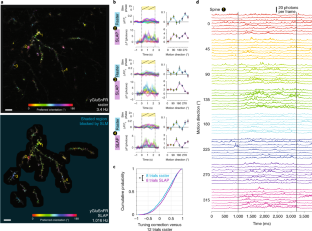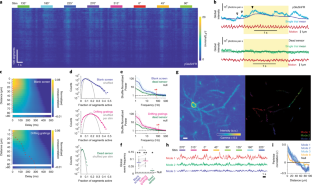 Data availability
Optical and mechanical designs and instructions for use are available through the Janelia Open Science portal at www.janelia.org/open-science. Example data sets and demonstrations, are available in Supplementary Software 1, and at www.github.com/KasparP/SLAP. All other resources and data are available from the corresponding author upon reasonable request.
Code availability
Software was written in MATLAB (R 2015b–2018b), C and LabView FPGA. Custom code used for microscope control, data processing, analysis and simulations are available in Supplementary Software 1, and at www.github.com/KasparP/SLAP. All other custom code is available from the corresponding author upon reasonable request.
References
Yang, W. & Yuste, R. In vivo imaging of neural activity. Nat. Methods 14, 349–359 (2017).

Sofroniew, N. J., Flickinger, D., King, J. & Svoboda, K. A large field of view two-photon mesoscope with subcellular resolution for in vivo imaging. eLife 5, e14472 (2016).

Peterka, D. S., Takahashi, H. & Yuste, R. Imaging voltage in neurons. Neuron 69, 9–21 (2011).

Prevedel, R. et al. Fast volumetric calcium imaging across multiple cortical layers using sculpted light. Nat. Methods 13, 1021–1028 (2016).

Chen, X., Leischner, U., Rochefort, N. L., Nelken, I. & Konnerth, A. Functional mapping of single spines in cortical neurons in vivo. Nature 475, 501–505 (2011).

Strickler, S. J. & Berg, R. A. Relationship between absorption intensity and fluorescence lifetime of molecules. J. Chem. Phys. 37, 814–822 (1962).

Sobczyk, A., Scheuss, V. & Svoboda, K. NMDA receptor subunit-dependent [Ca2+] signaling in individual hippocampal dendritic spines. J. Neurosci. 25, 6037–6046 (2005).

Hao, J. & Oertner, T. G. Depolarization gates spine calcium transients and spike-timing-dependent potentiation. Curr. Opin. Neurobiol. 22, 509–515 (2012).

Pnevmatikakis, E. A. & Paninski, L. Sparse nonnegative deconvolution for compressive calcium imaging: algorithms and phase transitions. In Advances in Neural Information Processing Systems Vol. 26 (eds Burges, C. J. C. et al.) 1250–1258 (Curran Associates, Inc., 2013).

Pnevmatikakis, E. A. et al. Simultaneous denoising, deconvolution, and demixing of calcium imaging data. Neuron 89, 285–299 (2016).

Szalay, G. et al. Fast 3D imaging of spine, dendritic, and neuronal assemblies in behaving animals. Neuron 92, 723–738 (2016).

Bullen, A., Patel, S. S. & Saggau, P. High-speed, random-access fluorescence microscopy: I. high-resolution optical recording with voltage-sensitive dyes and ion indicators. Biophys. J. 73, 477–491 (1997).

Yang, W. et al. Simultaneous multi-plane imaging of neural circuits. Neuron 89, 269–284 (2016).

Lu, R. et al. Video-rate volumetric functional imaging of the brain at synaptic resolution. Nat. Neurosci. 20, 620–628 (2017).

Song, A. et al. Volumetric two-photon imaging of neurons using stereoscopy (vTwINS). Nat. Methods 14, 420–426 (2017).

Botcherby, E. J., Juškaitis, R. & Wilson, T. Scanning two photon fluorescence microscopy with extended depth of field. Opt. Commun. 268, 253–260 (2006).

Thériault, G., Cottet, M., Castonguay, A., McCarthy, N. & De Koninck, Y. Extended two-photon microscopy in live samples with Bessel beams: steadier focus, faster volume scans, and simpler stereoscopic imaging. Front. Cell. Neurosci. 8, 139 (2014).

Field, J. J. et al. Superresolved multiphoton microscopy with spatial frequency-modulated imaging. Proc. Natl Acad. Sci. USA 113, 6605–6610 (2016).

Richardson, W. H. Bayesian-based iterative method of image restoration. JOSA 62, 55–59 (1972).

Lucy, L. B. An iterative technique for the rectification of observed distributions. Astron. J. 79, 745 (1974).

Neil, Ma. A., Juškaitis, R. & Wilson, T. Method of obtaining optical sectioning by using structured light in a conventional microscope. Opt. Lett. 22, 1905–1907 (1997).

Gustafsson, M. G. Extended resolution fluorescence microscopy. Curr. Opin. Struct. Biol. 9, 627–628 (1999).

Preibisch, S. et al. Efficient Bayesian-based multiview deconvolution. Nat. Methods 11, 645–648 (2014).

Broxton, M. et al. Wave optics theory and 3-D deconvolution for the light field microscope. Opt. Express 21, 25418–25439 (2013).

Antipa, N. et al. DiffuserCam: lensless single-exposure 3D imaging. Optica 5, 1–9 (2018).

Prevedel, R. et al. Simultaneous whole-animal 3D imaging of neuronal activity using light-field microscopy. Nat. Methods 11, 727–730 (2014).

Brown, G. D., Yamada, S. & Sejnowski, T. J. Independent component analysis at the neural cocktail party. Trends Neurosci. 24, 54–63 (2001).

Candes, E. J. The restricted isometry property and its implications for compressed sensing. Comptes Rendus Math. 346, 589–592 (2008).

Lustig, M., Donoho, D. & Pauly, J. M. Sparse MRI: the application of compressed sensing for rapid MR imaging. Magn. Reson. Med. 58, 1182–1195 (2007).

Pégard, N. C. et al. Compressive light-field microscopy for 3D neural activity recording. Optica 3, 517–524 (2016).

Chen, G.-H., Tang, J. & Leng, S. Prior image constrained compressed sensing (PICCS): a method to accurately reconstruct dynamic CT images from highly undersampled projection data sets. Med. Phys. 35, 660–663 (2008).

von Diezmann, A., Shechtman, Y. & Moerner, W. E. Three-dimensional localization of single molecules for super-resolution imaging and single-particle tracking. Chem. Rev. 117, 7244–7275 (2017).

Kazemipour, A., Babada, B., Wu, M., Podgorski, K. & Druckmann, S. Multiplicative updates for optimization problems with dynamics. In 51st Asilomar Conference on Signals, Systems, and Computers (ed. Matthews, M. B.) 2025–2029 (IEEE, 2017).

Marvin, J. S. et al. Stability, affinity, and chromatic variants of the glutamate sensor iGluSnFR. Nat. Methods 15, 936 (2018).

Deal, P. E., Kulkarni, R. U., Al-Abdullatif, S. H. & Miller, E. W. Isomerically pure tetramethylrhodamine voltage reporters. J. Am. Chem. Soc. 138, 9085–9088 (2016).

Gray, E. G. Electron microscopy of synaptic contacts on dendrite spines of the cerebral cortex. Nature 183, 1592–1593 (1959).

Mainen, Z. F., Malinow, R. & Svoboda, K. Synaptic calcium transients in single spines indicate that NMDA receptors are not saturated. Nature 399, 151–155 (1999).

Mayer, M. L., Westbrook, G. L. & Guthrie, P. B. Voltage-dependent block by Mg2+ of NMDA responses in spinal cord neurones. Nature 309, 261–263 (1984).

Chen, T.-W. et al. Ultrasensitive fluorescent proteins for imaging neuronal activity. Nature 499, 295–300 (2013).

Dana, H. et al. Sensitive red protein calcium indicators for imaging neural activity. eLife 5, e12727 (2016).

Tan, A. Y. Y., Brown, B. D., Scholl, B., Mohanty, D. & Priebe, N. J. Orientation selectivity of synaptic input to neurons in mouse and cat primary visual cortex. J. Neurosci. 31, 12339–12350 (2011).

Jensen, T. P. et al. Multiplex imaging relates quantal glutamate release to presynaptic Ca2+ homeostasis at multiple synapses in situ. Nat. Commun. 10, 1414 (2019).

Nahum-Levy, R., Tam, E., Shavit, S. & Benveniste, M. Glutamate but not glycine agonist affinity for NMDA receptors is influenced by small cations. J. Neurosci. 22, 2550–2560 (2002).

Harris, K. D. & Thiele, A. Cortical state and attention. Nat. Rev. Neurosci. 12, 509–523 (2011).

Luczak, A., Bartho, P. & Harris, K. D. Gating of sensory input by spontaneous cortical activity. J. Neurosci. 33, 1684–1695 (2013).

Stringer, C. et al. Spontaneous behaviors drive multidimensional, brainwide activity. Science 364, eaav7893 (2019).

Buzsáki, G., Logothetis, N. & Singer, W. Scaling brain size, keeping timing: evolutionary preservation of brain rhythms. Neuron 80, 751–764 (2013).

Cohen, M. R. & Maunsell, J. H. R. Attention improves performance primarily by reducing interneuronal correlations. Nat. Neurosci. 12, 1594–1600 (2009).

Yamamoto, J., Suh, J., Takeuchi, D. & Tonegawa, S. Successful execution of working memory linked to synchronized high-frequency gamma oscillations. Cell 157, 845–857 (2014).

Zucca, S. et al. An inhibitory gate for state transition in cortex. eLife 6, e26177 (2017).

Constantinople, C. M. & Bruno, R. M. Effects and mechanisms of wakefulness on local cortical networks. Neuron 69, 1061–1068 (2011).

Okun, M. et al. Population rate dynamics and multineuron firing patterns in sensory cortex. J. Neurosci. 32, 17108–17119 (2012).

Xie, Y. et al. Resolution of high-frequency mesoscale intracortical maps using the genetically encoded glutamate sensor iGluSnFR. J. Neurosci. 36, 1261–1272 (2016).

Schuett, S., Bonhoeffer, T. & Hübener, M. Mapping retinotopic structure in mouse visual cortex with optical imaging. J. Neurosci. 22, 6549–6559 (2002).

Wu, J. et al. Kilohertz in vivo imaging of neural activity. Preprint at bioRxiv https://doi.org/10.1101/543058 (2019).

Laissue, P. P., Alghamdi, R. A., Tomancak, P., Reynaud, E. G. & Shroff, H. Assessing phototoxicity in live fluorescence imaging. Nat. Methods 14, 657–661 (2017).

Podgorski, K. & Ranganathan, G. Brain heating induced by near-infrared lasers during multiphoton microscopy. J. Neurophysiol. 116, 1012–1023 (2016).

Brainard, D. H. The psychophysics toolbox. Spat. Vis. 10, 433–436 (1997).

Sommer, C., Straehle, C., Köthe, U. & Hamprecht, F. A. Ilastik: Interactive learning and segmentation toolkit. In 2011 IEEE International Symposium on Biomedical Imaging: From Nano to Macro (eds Wright, S. et al.) 230–233 (2011).

Sakoe, H. & Chiba, S. Dynamic programming algorithm optimization for spoken word recognition. IEEE Trans. Acoust. Speech Signal Process. 26, 43–49 (1978).

Podgorski, K. & Haas, K. Fast non-negative temporal deconvolution for laser scanning microscopy. J. Biophotonics 6, 153–162 (2013).
Acknowledgements
E.W.M., P.E.D. and S.H.A. acknowledge funding support from the following sources: National Institutes of Health (R35GM119855, R01NS098088), National Science Foundation (NeuroNex 1707350) and the Klingenstein-Simons Fellowship Award in Neurosciences. Work by the remaining authors was funded by the Howard Hughes Medical Institute. The authors thank H. Davies for logistical support; S. Dilisio, J. Hagemeier, A. Hu, B. Shields, D. Walpita and O. Zelenka for experimental support; V. Goncharov, S. Sawtelle, C. McRaven, N. Ji, A. Kerlin, J. Little, B. Mensh, B. Mohar, M. Mohr, M. Pachitariu, C. Stringer and S. Turaga for discussions and comments on the manuscript.
Ethics declarations
Competing interests
A.K., D.F. and K.P. are listed as inventors on a patent application No. 62/502,643 claiming SLAP, filed by HHMI.
Additional information
Peer review information: Nina Vogt was the primary editor on this article and managed its editorial process and peer review in collaboration with the rest of the editorial team.
Publisher's note: Springer Nature remains neutral with regard to jurisdictional claims in published maps and institutional affiliations.
Integrated supplementary information
Supplementary information
About this article
Cite this article
Kazemipour, A., Novak, O., Flickinger, D. et al. Kilohertz frame-rate two-photon tomography. Nat Methods 16, 778–786 (2019). https://doi.org/10.1038/s41592-019-0493-9
Received:

Accepted:

Published:

Issue Date:

DOI: https://doi.org/10.1038/s41592-019-0493-9