Abstract
Super-resolution microscopy allows imaging of cellular structures with high throughput and detail. However, the efficient and quantitative analysis of images generated is challenging with existing tools. Here, we develop ASAP (automated structures analysis program) to enable rapid and automated detection, classification and quantification of super-resolved structures. We validate ASAP on ground truth data and demonstrate its broad applicability by analyzing images of nucleoporins, TORC1 complexes, endocytic vesicles and Bax pores.
Access options
Subscribe to Journal
Get full journal access for 1 year
$59.00
only $4.92 per issue
All prices are NET prices.
VAT will be added later in the checkout.
Tax calculation will be finalised during checkout.
Rent or Buy article
Get time limited or full article access on ReadCube.
from$8.99
All prices are NET prices.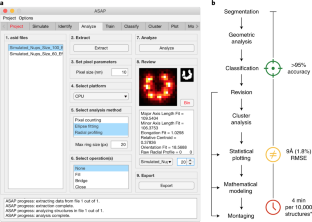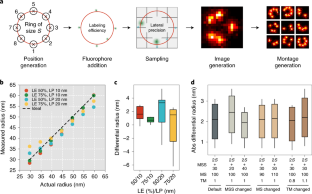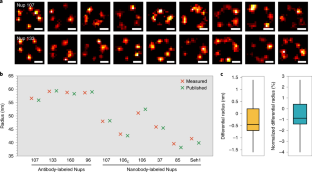 Data availability
The data that support the findings of this study are available from the corresponding authors upon request.
References
1.

Prouteau, M. et al. Nature 550, 265 (2017).

2.

Salvador-Gallego, R et al. EMBO J. 35, 389–401 (2016).

3.

Bisson-Filho, A. W. et al. Science 355, 739–743 (2017).

4.

Betzig, E. et al. Science 313, 1642–1645 (2006).

5.

Zhao, Z. W. et al. Proc. Natl Acad. Sci. USA 111, 681–686 (2013).

6.

Chojnacki, J. et al. Science 338, 524–528 (2012).

7.

Jans, D. et al. Proc. Natl Acad. Sci. USA 110, 8936–8941 (2013).

8.

Holden, S. J. et al. Proc. Natl Acad. Sci. USA 111, 4566–4571 (2014).

9.

Gustafsson, N. et al. Nat. Commun. 7, 12471 (2016).

10.

Chen, B. C. et al. Sci. 346, 1257998 (2014).

11.

Almada, P. et al. Nat. Commun. 10, 1223 (2019).

12.

Szymborska, A. et al. Science 341, 655–658 (2013).

13.

Grossman, E., Medalia, O. & Zwerger, M. Annu. Rev. Biophys. 41, 557–584 (2012).

14.

Beck, M. & Hurt, E. Nat. Rev. Mol. Cell Biol. 18, 73 (2016).

15.

Mund, M. et al. Cell 174, 884–896.e17 (2018).

16.

Holden, S. J. et al. Proc. Natl Acad. Sci. 111, 4566–4571 (2014).

17.

Li, D. et al. Science 349, aab3500 (2015).
Acknowledgements
We would like to thank C. Sieben and S. Manley (Ecole polytechnique fédérale de Lausanne, EPFL) for providing super-resolved images of TORC1, M. Mund and J. Ries (European Molecular Biology Laboratory, EMBL) for data sets of proteins involved in clathrin-mediated endocytosis and useful discussions, R. Salvador-Gallego (University of Colorado Boulder) for helpful discussions on the data sets of the apoptotic protein Bax, and S. Alexander and J. Ellenberg (EMBL) for super-resolved images of nucleoporins. We acknowledge a Max Planck Society (Max-Planck-Gesellschaft) postdoctoral fellowship, awarded to J.S.H.D. This work was supported by Deutsche Forschungsgemeinschaft (DFG) grant GA164/3-1 and the European Research Council (ERC) starting grant 309966 awarded to A.J.G.S.
Ethics declarations
Competing interests
The authors declare no competing interests.
Additional information
Peer review information: Rita Strack was the primary editor on this article and managed its editorial process and peer review in collaboration with the rest of the editorial team.
Publisher's note: Springer Nature remains neutral with regard to jurisdictional claims in published maps and institutional affiliations.
Supplementary information
About this article
Cite this article
Danial, J.S.H., Garcia-Saez, A.J. Quantitative analysis of super-resolved structures using ASAP. Nat Methods 16, 711–714 (2019). https://doi.org/10.1038/s41592-019-0472-1
Received:

Accepted:

Published:

Issue Date: