Abstract
Ubiquitin (Ub) conjugation is an essential post-translational modification that affects nearly all proteins in eukaryotes. The functions and mechanisms of ubiquitination are areas of extensive study, and yet the dynamics and regulation of even free (that is, unconjugated) Ub are poorly understood. A major impediment has been the lack of simple and robust techniques to quantify Ub levels in cells and to monitor Ub release from conjugates. Here, we describe avidity-based fluorescent sensors that address this need. The sensors bind specifically to free Ub, have dissociation constant Kd values down to 60 pM and, together with a newly developed workflow, allow us to distinguish and quantify the pools of free, protein-conjugated and thioesterified forms of Ub from cell lysates. Alternatively, free Ub in fixed cells can be visualized microscopically by staining with a sensor. Real-time assays using the sensors afford unprecedented flexibility and precision to measure deubiquitination of virtually any (poly)Ub conjugate.
Access options
Subscribe to Journal
Get full journal access for 1 year
$59.00
only $4.92 per issue
All prices are NET prices.
VAT will be added later in the checkout.
Tax calculation will be finalised during checkout.
Rent or Buy article
Get time limited or full article access on ReadCube.
from$8.99
All prices are NET prices.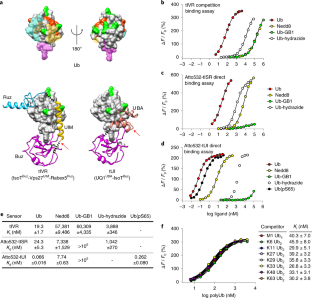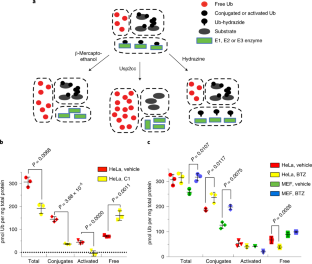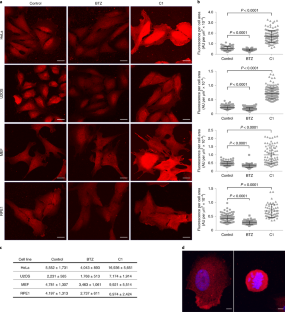 Data availability
The data that support the findings of this paper are available from the corresponding author on reasonable request.
References
1.

Komander, D. & Rape, M. The ubiquitin code. Annu Rev. Biochem. 81, 203–229 (2012).

2.

Park, C. W. & Ryu, K. Y. Cellular ubiquitin pool dynamics and homeostasis. BMB Rep. 47, 475–482 (2014).

3.

Ryu, K. Y., Garza, J. C., Lu, X. Y., Barsh, G. S. & Kopito, R. R. Hypothalamic neurodegeneration and adult-onset obesity in mice lacking the Ubb polyubiquitin gene. Proc. Natl Acad. Sci. USA 105, 4016–4021 (2008).

4.

Ryu, K. Y. et al. The mouse polyubiquitin gene UbC is essential for fetal liver development, cell-cycle progression and stress tolerance. EMBO J. 26, 2693–2706 (2007).

5.

Ryu, K. Y. et al. The mouse polyubiquitin gene Ubb is essential for meiotic progression. Mol. Cell Biol. 28, 1136–1146 (2008).

6.

Kimura, Y. et al. An inhibitor of a deubiquitinating enzyme regulates ubiquitin homeostasis. Cell 137, 549–559 (2009).

7.

Wang, C. H. et al. USP5/Leon deubiquitinase confines postsynaptic growth by maintaining ubiquitin homeostasis through Ubiquilin. eLife 6, e26886 (2017).

8.

Crimmins, S. et al. Transgenic rescue of ataxia mice with neuronal-specific expression of ubiquitin-specific protease 14. J. Neurosci. 26, 11423–11431 (2006).

9.

Chen, P. C. et al. The proteasome-associated deubiquitinating enzyme Usp14 is essential for the maintenance of synaptic ubiquitin levels and the development of neuromuscular junctions. J. Neurosci. 29, 10909–10919 (2009).

10.

Oh, C., Park, S., Lee, E. K. & Yoo, Y. J. Downregulation of ubiquitin level via knockdown of polyubiquitin gene Ubb as potential cancer therapeutic intervention. Sci. Rep. 3, 2623 (2013).

11.

Kedves, A. T. et al. Recurrent ubiquitin B silencing in gynecological cancers establishes dependence on ubiquitin C. J. Clin. Invest 127, 4554–4568 (2017).

12.

Hallengren, J., Chen, P. C. & Wilson, S. M. Neuronal ubiquitin homeostasis. Cell Biochem. Biophys. 67, 67–73 (2013).

13.

Dantuma, N. P., Groothuis, T. A., Salomons, F. A. & Neefjes, J. A dynamic ubiquitin equilibrium couples proteasomal activity to chromatin remodeling. J. Cell Biol. 173, 19–26 (2006).

14.

Yau, R. & Rape, M. The increasing complexity of the ubiquitin code. Nat. Cell Biol. 18, 579–586 (2016).

15.

Kaiser, S. E. et al. Protein standard absolute quantification (PSAQ) method for the measurement of cellular ubiquitin pools. Nat. Methods 8, 691–696 (2011).

16.

Reyes-Turcu, F. E. et al. The ubiquitin binding domain ZnF UBP recognizes the C-terminal diglycine motif of unanchored ubiquitin. Cell 124, 1197–1208 (2006).

17.

Swanson, K. A., Kang, R. S., Stamenova, S. D., Hicke, L. & Radhakrishnan, I. Solution structure of Vps27 UIM-ubiquitin complex important for endosomal sorting and receptor downregulation. EMBO J. 22, 4597–4606 (2003).

18.

Lee, S. et al. Structural basis for ubiquitin recognition and autoubiquitination by Rabex-5. Nat. Struct. Mol. Biol. 13, 264–271 (2006).

19.

Penengo, L. et al. Crystal structure of the ubiquitin binding domains of rabex-5 reveals two modes of interaction with ubiquitin. Cell 124, 1183–1195 (2006).

20.

Maupin-Furlow, J. A. Ubiquitin-like proteins and their roles in archaea. Trends Microbiol. 21, 31–38 (2013).

21.

Choi, Y. S., Jeon, Y. H., Ryu, K. S. & Cheong, C. 60th residues of ubiquitin and Nedd8 are located out of E2-binding surfaces, but are important for K48 ubiquitin-linkage. FEBS Lett. 583, 3323–3328 (2009).

22.

Zhang, D., Raasi, S. & Fushman, D. Affinity makes the difference: nonselective interaction of the UBA domain of Ubiquilin-1 with monomeric ubiquitin and polyubiquitin chains. J. Mol. Biol. 377, 162–180 (2008).

23.

Sokratous, K. et al. Probing affinity and ubiquitin linkage selectivity of ubiquitin-binding domains using mass spectrometry. J. Am. Chem. Soc. 134, 6416–6424 (2012).

24.

Swaney, D. L., Rodriguez-Mias, R. A. & Villen, J. Phosphorylation of ubiquitin at Ser65 affects its polymerization, targets, and proteome-wide turnover. EMBO Rep. 16, 1131–1144 (2015).

25.

Kane, L. A. et al. PINK1 phosphorylates ubiquitin to activate Parkin E3 ubiquitin ligase activity. J. Cell Biol. 205, 143–153 (2014).

26.

Ordureau, A. et al. Defining roles of PARKIN and ubiquitin phosphorylation by PINK1 in mitochondrial quality control using a ubiquitin replacement strategy. Proc. Natl Acad. Sci. USA 112, 6637–6642 (2015).

27.

Koyano, F. et al. Ubiquitin is phosphorylated by PINK1 to activate parkin. Nature 510, 162–166 (2014).

28.

Harper, J. W., Ordureau, A. & Heo, J. M. Building and decoding ubiquitin chains for mitophagy. Nat. Rev. Mol. Cell Biol. 19, 93–108 (2018).

29.

Wauer, T. et al. Ubiquitin Ser65 phosphorylation affects ubiquitin structure, chain assembly and hydrolysis. EMBO J. 34, 307–325 (2015).

30.

Dang, L. C., Melandri, F. D. & Stein, R. L. Kinetic and mechanistic studies on the hydrolysis of ubiquitin C-terminal 7-amido-4-methylcoumarin by deubiquitinating enzymes. Biochemistry 37, 1868–1879 (1998).

31.

Geurink, P. P. et al. Development of diubiquitin-based FRET probes to quantify ubiquitin linkage specificity of deubiquitinating enzymes. Chem. Bio. Chem. 17, 816–820 (2016).

32.

Yao, T. & Cohen, R. E. Ubiquitin-ovomucoid fusion proteins as model substrates for monitoring degradation and deubiquitination by proteasomes. Methods Enzym. 398, 522–540 (2005).

33.

Wang, T. et al. Evidence for bidentate substrate binding as the basis for the K48 linkage specificity of otubain 1. J. Mol. Biol. 386, 1011–1023 (2009).

34.

Wiener, R. et al. E2 ubiquitin-conjugating enzymes regulate the deubiquitinating activity of OTUB1. Nat. Struct. Mol. Biol. 20, 1033–1039 (2013).

35.

Gates, Z. P., Stephan, J. R., Lee, D. J. & Kent, S. B. Rapid formal hydrolysis of peptide-alphathioesters. Chem. Commun. 49, 786–788 (2013).

36.

Shahnawaz, M., Thapa, A. & Park, I. S. Stable activity of a deubiquitylating enzyme (Usp2-cc) in the presence of high concentrations of urea and its application to purify aggregation-prone peptides. Biochem. Biophys. Res. Commun. 359, 801–805 (2007).

37.

Kim, W. et al. Systematic and quantitative assessment of the ubiquitin-modified proteome. Mol. Cell 44, 325–340 (2011).

38.

Yang, X. et al. Absolute quantification of E1, ubiquitin-like proteins and Nedd8-MLN4924 adduct by mass spectrometry. Cell Biochem. Biophys. 67, 139–147 (2013).

39.

Chen, J. J. et al. Mechanistic studies of substrate-assisted inhibition of ubiquitin-activating enzyme by adenosine sulfamate analogues. J. Biol. Chem. 286, 40867–40877 (2011).

40.

Bianchi, M. et al. Dynamic transcription of ubiquitin genes under basal and stressful conditions and new insights into the multiple UBC transcript variants. Gene 573, 100–109 (2015).

41.

Liu, Z. et al. Noncovalent dimerization of ubiquitin. Angew. Chem. Int. Ed. Engl. 51, 469–472 (2012).

42.

Joo, H. Y. et al. Regulation of cell cycle progression and gene expression by H2A deubiquitination. Nature 449, 1068–1072 (2007).

43.

Jencks, W. P. On the attribution and additivity of binding energies. Proc. Natl Acad. Sci. USA 78, 4046–4050 (1981).

44.

Scott, D., Oldham, N. J., Strachan, J., Searle, M. S. & Layfield, R. Ubiquitin-binding domains: mechanisms of ubiquitin recognition and use as tools to investigate ubiquitin-modified proteomes. Proteomics 15, 844–861 (2015).

45.

Hicke, L., Schubert, H. L. & Hill, C. P. Ubiquitin-binding domains. Nat. Rev. Mol. Cell Biol. 6, 610–621 (2005).

46.

Morrow, M. E. et al. Active site alanine mutations convert deubiquitinases into high-affinity ubiquitin-binding proteins. EMBO Rep. 19, e45680 (2018).

47.

Harrigan, J. A., Jacq, X., Martin, N. M. & Jackson, S. P. Deubiquitylating enzymes and drug discovery: emerging opportunities. Nat. Rev. Drug Disco. 17, 57–78 (2018).

48.

Majetschak, M. Extracellular ubiquitin: immune modulator and endogenous opponent of damage-associated molecular pattern molecules. J. Leukoc. Biol. 89, 205–219 (2011).

49.

Raasi, S. & Pickart, C. M. Ubiquitin chain synthesis. Methods Mol. Biol. 301, 47–55 (2005).

50.

Whitby, F. G., Xia, G., Pickart, C. M. & Hill, C. P. Crystal structure of the human ubiquitin-like protein NEDD8 and interactions with ubiquitin pathway enzymes. J. Biol. Chem. 273, 34983–34991 (1998).

51.

Wilkinson, K. D. et al. Metabolism of the polyubiquitin degradation signal: structure, mechanism, and role of isopeptidase T. Biochemistry 34, 14535–14546 (1995).

52.

Wilkinson, K. D. Quantitative analysis of protein–protein interactions. Methods Mol. Biol. 261, 15–32 (2004).

53.

Pasupala, N. et al. OTUB1 non-catalytically stabilizes the E2 ubiquitin-conjugating enzyme UBE2E1 by preventing its autoubiquitination. J. Biol. Chem. 293, 18285–18295 (2018).
Acknowledgements
We thank A. Ma (University of California, San Francisco) for MEF cells, C. Wolberger (Johns Hopkins University) for OTUB1 protein and B. Brasher (Boston Biochem) for phosphoubiquitin. We also thank O. Peersen for assistance with the rapid-kinetics experiments and use of the Bio-Logic stopped-flow spectrofluorometer, and R. Handa for use of the Imaris image analysis software. This research was supported by NIH-NIGMS grant no. R01 GM115997 (to R.E.C.) and NIH-NIEHS grant no. R21 ES029150 (to R.E.C. and T.Y.).
Ethics declarations
Competing interests
U.S. patent no. 10,018,634 has been awarded to Colorado State University Research Foundation (R.E.C. and Y.C., inventors) for ubiquitin sensors and assays described in this paper.
Additional information
Peer review information: Rita Strack was the primary editor on this article and managed its editorial process and peer review in collaboration with the rest of the editorial team.
Publisher's note: Springer Nature remains neutral with regard to jurisdictional claims in published maps and institutional affiliations.
Integrated supplementary information
Supplementary information
About this article
Cite this article
Choi, YS., Bollinger, S.A., Prada, L.F. et al. High-affinity free ubiquitin sensors for quantifying ubiquitin homeostasis and deubiquitination. Nat Methods 16, 771–777 (2019). https://doi.org/10.1038/s41592-019-0469-9
Received:

Accepted:

Published:

Issue Date: